Abstract
The carbon storage and conservation value of old-growth tropical forests is clear, but the value of logged forest is less certain. Here we analyse >100,000 observations of individuals from 11 taxonomic groups and >2,500 species, covering up to 19 years of post-logging regeneration, and quantify the impacts of logging on carbon storage and biodiversity within lowland dipterocarp forests of Sabah, Borneo. We estimate that forests lost ca. 53% of above-ground biomass as a result of logging but despite this high level of degradation, logged forest retained considerable conservation value: floral species richness was higher in logged forest than in primary forest and whilst faunal species richness was typically lower in logged forest, in most cases the difference between habitats was no greater than ca. 10%. Moreover, in most studies >90% of species recorded in primary forest were also present in logged forest, including species of conservation concern. During recovery, logged forest accumulated carbon at five times the rate of natural forest (1.4 and 0.28 Mg C ha−1 year−1, respectively). We conclude that allowing the continued regeneration of extensive areas of Borneo's forest that have already been logged, and are at risk of conversion to other land uses, would provide a significant carbon store that is likely to increase over time. Protecting intact forest is critical for biodiversity conservation and climate change mitigation, but the contribution of logged forest to these twin goals should not be overlooked.
Access options
Buy single article
Instant access to the full article PDF.
USD 39.95
Price includes VAT (USA)
Tax calculation will be finalised during checkout.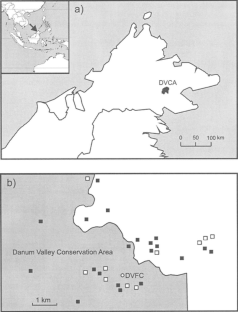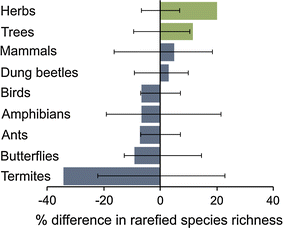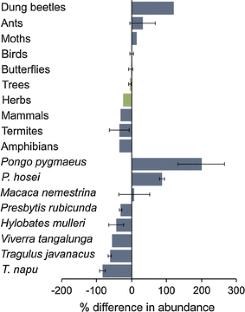 References
Ahmed A (2001) Frugivores and fruit production in primary and logged tropical rain forests. PhD Thesis, University Kebangsaan Malaysia, Selangor, Malaysia

Baker TR, Phillips OL, Mahli Y, Almeida S, Arroyo L, Fiore A et al (2004) Increasing biomass in Amazonian forest plots. Phil Trans R Soc Lond B 359:353–365

Barlow J, Gardner TA, Araujo IS, Avila-Pires TC, Bonaldo AB, Costa JE et al (2007) Quantifying the biodiversity value of tropical primary, secondary, and plantation forests. Proc Natl Acad Sci 104:18555–18560

Bekessy SA, Wintle BA (2008) Using carbon investment to grow the biodiversity bank. Conserv Biol 22:510–513

Berry NJ, Phillips OL, Ong R, Hamer KC (2008) Impacts of selective logging on diversity of trees across a Bornean rain forest landscape: the importance of spatial scale. Landsc Ecol 23:915–929

Bestelmeyer BT, Agosti D, Alonso LE, Brandao CRF, Brown WL Jr, Delabie JHC (2000) Field techniques for the study of ground-dwelling ants: an overview, description, and evaluation. In: Agosti D, Majer J, Alonso E, Schultz TR et al (eds) Ants: standard methods for measuring and monitoring biodiversity. Smithsonian Institution Press, Washington, pp 122–144

Canadell JG, Raupach MR (2008) Managing forests for climate change mitigation. Science 320:1456–1457

Chave J, Andalo C, Brown S, Cairos MA, Chambers JQ, Eamus D, Fölster H, Fromard F, Higuchi N, Kira T, Lescure J-P, Nelson BW, Ogawa H, Puig H, Riéra B, Yamakura T (2005) Tree allometry and improved estimation of carbon stocks and balance in tropical forests. Oecologia 145:87–99

Chave J, Muller-Landau HC, Baker TR, Easdale TA, ter Steege H, Webb CO (2006) Regional and phylogenetic variation of wood density across 2456 neotropical tree species. Ecol Appl 16:2356–2367

Chave J, Condit R, Muller-Landau HC, Thomas SC, Ashton PS, Bunyavejchewin S et al (2008) Assessing evidence for a pervasive alteration in tropical tree communities. PLoS Biol 6:e45. doi:10.1371/journal.pbio.0060045

Colón CP (2002) Ranging behaviour and activity of the Malay civet (Viverra tangalunga) in a logged and an unlogged forest in Danum Valley, east Malaysia. J Zool Lond 257:473–485

Davis AJ, Holloway JD, Huijbregts H, Krikken J, Kirk-Spriggs AH, Sutton SL (2001) Dung beetles as indicators of change in the forests of northern Borneo. J Appl Ecol 38:593–616

Delaney AM (2007) Diversity in seedlings and saplings in logged and primary forest on Borneo. MRes Thesis, University of Leeds, Leeds, UK

Dent DH, Wright SJ (2009) The future of tropical species in secondary forests: a quantitative review. Biol Conserv. doi:10.1016/jbiocon.2009.05.035

Donovan SE, Georgianne JK, Griffiths RH, Winder L (2007) The spatial pattern of soil-dwelling termites in primary and logged forest in Sabah, Malaysia. Ecol Entomol 32:1–10

Dumbrell AJ, Hill JK (2005) Impacts of selective logging on canopy and ground assemblages of tropical forest butterflies: implications for sampling. Biol Conserv 125:123–131

Dunn RR (2004) Managing the tropical landscape: a comparison of the effects of logging and forest conversion to agriculture on ants, birds, and lepidoptera. For Ecol Manag 191:215–224

Edwards DP, Ansell FA, Ahmad AH, Nilus R, Hamer KC (2009) The value of rehabilitated logged rainforest for birds. Conserv Biol 23:1628–1633

Gale FP (1998) The tropical timber trade regime. MacMillan Press, London

Gibbs HK, Brown S, Niles JO, Foley JA (2007) Monitoring and estimating tropical forest carbon stocks: making REDD a reality. Environ Res Lett 2:045023

Gullison RE, Frumhoff PC, Canadell JG, Field CB, Nepstad DC, Hayhoe K, Avissar R, Curran LM, Friedlingstein P, Jones CD, Nobrell C (2007) Tropical forests and climate policy. Science 316:985–986

Hamer KC, Hill JK, Benedick S, Mustaffa N, Sherratt TN, Maryati M, Chey VK (2003) Ecology of butterflies in natural and selectively-logged forests of northern Borneo: the importance of habitat heterogeneity. J Appl Ecol 40:150–162

Heydon MJ, Bulloh P (1997) Mouse deer densities in a tropical rainforest: the impact of selective logging. J Appl Ecol 34:484–496

Hill JK, Hamer KC (2004) Determining impacts of habitat modification on diversity of tropical forest fauna: the importance of spatial scale. J Appl Ecol 41:744–754

Holloway JD, Kirk-Spriggs AH, Chey VK (1992) The response of some rain forest insect groups to logging and conversion to plantation. Phil Trans R Soc B 335:425–436

ICRAF (2007) Wood density database. World Agroforestry Centre, Nairobi, Kenya. http://www.worldagroforestrycentre.org/sea/Products/AFDbases/WD/

IUCN (2007) 2007 IUCN red list of threatened species. International Union for Conservation of Nature, Gland, Switzerland

Johns AD (1992) Vertebrate responses to selective logging: implications for the design of logging systems. Phil Trans R Soc B 335:437–442

Johns AG (1997) Timber production and biodiversity conservation in tropical rain forests. Cambridge University Press, Cambridge

Kettle C (2010) Ecological considerations for restoration of lowland dipterocarp forests in Southeast Asia. Biodivers Conserv. doi:10.1007/s10531-009-9772-6

Kitayama K, Aiba S-I (2002) Ecosystem structure and productivity of tropical rain forests along altitudinal gradients with contrasting soil phosphorous pools on Mount Kinabalu, Borneo. J Ecol 90:37–51

Köhler P (1998) Parameter research for the tropical rain forest growth model FORMIX4. Report P9801. Centre for Environmental Systems Research, University of Kassel, Germany

Lambert FR (1992) The consequences of selective logging for Bornean lowland forest birds. Phil Trans R Soc B 335:443–457

Laurance WF (2007) Have we overstated the tropical biodiversity crisis? Trends Ecol Evol 22:65–70

Lawton JH, Bignell DE, Bolton B, Bloemers GF, Eggleton P, Hammond PM et al (1998) Biodiversity inventories, indicator taxa and effects of habitat modification in tropical forest. Nature 391:72–76

Lewis SL, Lopez-Gonzalez G, Sonke B, Affum-Bafoe K, Baker TR et al (2009) Increasing carbon storage in intact African tropical forests. Nature 457:1003-U3

Magintan D (2000) Diversity, abundance and distribution of ground herbs in primary and selectively logged forest of Danum Valley (North Eastern Borneo). MSc Thesis, Universiti Malaysia Sabah, Kota Kinabalu, Malaysia

Marsh CW, Greer AG (1992) Forest land-use in Sabah, Malaysia: an introduction to Danum Valley. Phil Trans R Soc B 335:331–339

Martin-Smith KM (1998) Effects of disturbance caused by selective timber extraction on fish communities in Sabah, Malaysia. Environ Biol Fish 53:155–167

Meijaard E, Sheil D (2007) A logged forest in Borneo is better than none at all. Nature 446:974

Meijaard E, Sheil D (2008) The persistence and conservation of Borneo's mammals in lowland rain forests managed for timber: observations, overviews and opportunities. Ecol Res 23:21–34

Meijaard E, Shiel D, Nasi R, Augeri D, Rosenbaum B et al (2005) Life after logging. Reconciling wildlife conservation and production forestry in Indonesian Borneo. Centre for International Forestry Research, Jakarta

Miles L, Kapos V (2008) Reducing greenhouse gas emission from deforestation and forest degradation: global land-use implications. Science 320:1454–1455

Moura Costa P, Karolus A (1992) Innoprize Corporation Sdn Bhd Timber Extraction Volumes (1970–1991) Ulu Segama Forest Reserve. Innoprise, Kota Kinabalu, Malaysia

Nakicenovic N, Alcamo J, Davis G, De Vries B, Fenhann J, Gaffin S et al (2000) IPCC special report on emissions scenarios. Cambridge University Press, Cambridge

Neeff T, von Luepke H, Schoene D (2006) Choosing a forest definition for the clean development mechanism. Forests and Climate Change Working Paper 4. FAO, Rome

Osunkoya OO, Sheng TK, Mahmund N, Damit N (2007) Variation in wood density, wood water content, stem growth and mortality among twenty-seven tree species in a tropical rainforest on Borneo Island. Aust Ecol 32:191–201

Paoli GD, Curran LM, Slik JWF (2008) Soil nutrients affect spatial patterns of aboveground biomass and emergent tree density in southwestern Borneo. Oecologia 155:287–299

Phillips OL, Lewis SL, Baker TR, Chao K, Higuchi N (2008) The changing Amazon forest. Phil Trans R Soc Lond B 363:1819–1827

Pinard MA, Cropper WP (2000) Simulated effects of logging on carbon storage in dipterocarp forest. J Appl Ecol 37:267–283

Pinard MA, Putz FE (1996) Retaining forest biomass by reducing logging damage. Biotropica 28:278–295

Putz FE, Redford KH (2009) Dangers of carbon-based conservation. Glob Environ Change. doi:10.1016/jgloenvcha.2009.07.005

Putz FE, Sirot LK, Pinard MA (2001) Tropical forest management and wildlife: silvicultural effects on forest structure, fruit production, and locomotion of arboreal animals. In: Fimbel RA, Grajal A, Robinson G (eds) The cutting edge: conserving wildlife in logged tropical forests. Columbia University Press, New York, USA, pp 11–34

Putz FE, Zuidema P, Pinard MA, Boot RGA, Sayer JA, Shiel D, Sist P, Elias, Vanclay JK (2008) Improved tropical forest management for carbon retention. PLoS Biol 6:1368–1369

Sasaki N, Putz FE (2009). Critical need for new definitions of "forest" and "forest degradation" in global climate change agreements. Conserv Lett. doi:10.1111/j.1755-263x.2009.00067.x

Sodhi NS, Koh LP, Brook BW, Ng PKL (2004) Southeast Asian biodiversity: an impending disaster. Trends Ecol Evol 19:654–660

Sodhi NS, Lee TM, Koh LP, Brook BW (2009) A meta-analysis of the impact of anthropogenic forest disturbance on Southeast Asia's biotas. Biotropica 41:103–109

Solow AR (1993) A simple test for change in community structure. J Anim Ecol 62:191–193

Suzuki E (1999) Diversity in specific gravity and water content of wood among Bornean tropical rainforest trees. Ecol Res 14:211–224

Venter O, Meijaard E, Possingham H, Dennis R, Sheil D, Wich S, Hovani L, Wilson K (2009) Carbon payments as a safeguard for threatened tropical mammals. Conserv Lett 2:123–129

Walsh RDP, Newbery DM (1999) The ecoclimatology of Danum, Sabah, in the context of the world's rainforest regions, with particular reference to dry periods and their impact. Phil Trans R Soc Lond B 354:1869–1883

Whitmore TC (1984) Tropical rain forests of the Far East, 2nd edn. Clarendon Press, Oxford

Wilcove DS, Koh LP (2010). Addressing the threats to biodiversity from oil palm agriculture. Biodivers Conserv. doi:10.1007/s10531-009-9760-x

Willott SJ (1999) The effects of selective logging on the distribution of moths in a Bornean rainforest. Phil Trans R Soc B 354:1783–1790

Wong A (2006) The impact of forestry practices on frog communities in Sabah, Malaysia. MSc Thesis, Universiti Putra Malaysia, Kuala Lumpur, Malaysia

Woodruff D (2010) Biogeography and conservation in Southeast Asia: how 2.7 million years of repeated environmental fluctuations affect today's patterns and the future of the remaining refugial-phase biodiversity. Biodivers Conserv. doi:10.1007/s10531-010-9783-3

Yoneda T, Yoda K, Kira T (1977) Accumulation and decomposition of big wood timber in Pasoh Forest, West Malaysia. Jpn J Ecol 27:53–60
Acknowledgments
We thank staff at the Danum Valley Field Centre for their assistance, especially Bernadus Bala Ola for help identifying seedlings, Alexander Karolus and Shaidih Samat for assistance with fieldwork, and Glen Reynolds for logistical support. Leopold Madani and Diwol Sundaling at the Forest Research Centre Sabah also assisted with seedling identification. Mike Gray helped collect and identify ants, and Aoife Delaney assisted with the seedling survey. We thank Yayasan Sabah, the Danum Valley Management Committee, the State Secretary, Sabah Chief Minister's Department, and the Economic Planning Unit of the Prime Minister's Department, Kuala Lumpur for permission to conduct research at Danum Valley. This study is part of the Royal Society's Southeast Asia Rain Forest Research Programme (Project No. RS235) and was supported by a University of Leeds Earth and Biosphere Institute studentship. SLL was supported by a Royal Society University Research Fellowship.
About this article
Cite this article
Berry, N.J., Phillips, O.L., Lewis, S.L. et al. The high value of logged tropical forests: lessons from northern Borneo. Biodivers Conserv 19, 985–997 (2010). https://doi.org/10.1007/s10531-010-9779-z
Received:

Accepted:

Published:

Issue Date:
Keywords
Biodiversity

Clean development mechanism

REDD

Tropical forestry

UNFCCC