Abstract
Biological invasions are an important cause of biodiversity loss, American mink being one of the worst invasive species in Europe. We performed a 13-week control program of the species in the Butron river system (Northern Spain), where a natural population of the European mink is found. Three population estimates were considered: an absolute minimum, an intermediate scenario and a pessimistic one (n = 35, 49 and 70 animals, respectively). After 2,242 cage trap-nights, trapping success varied from 44 to 89% of these estimates. In addition, we evaluated the costs of eradicating the estimated populations; costs ranged between 652.5 and 2,970 € per mink, and would rise up to 83,462 € for the intermediate estimate under an exponential function linking captures and costs, or ca. 172.500 € to capture the highest estimate under a log-function. The implications of these numbers for the design and implementation of future control projects are discussed.
Access options
Buy single article
Instant access to the full article PDF.
US$ 39.95
Tax calculation will be finalised during checkout.
Subscribe to journal
Immediate online access to all issues from 2019. Subscription will auto renew annually.
US$ 119
Tax calculation will be finalised during checkout.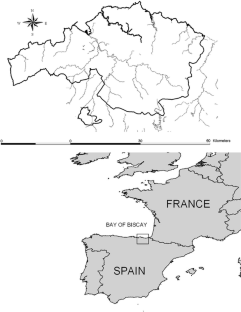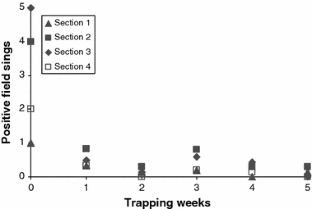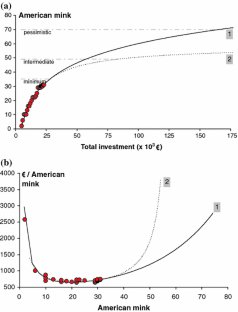 References
Barea-Azcón JM, Virgos E, Ballesteros-Duperón E, Moleón M, Chirosa M (2006) Surveying carnivores at large scales: a comparison of tour broad-applied methods. Biodivers Conserv 16(4):1213–1230. doi:10.1007/s10531-006-9114-x

Bartoszewicz M, Zalewski A (2003) American mink, Mustela vison diet and predation on waterfowl in the Slonsk Reserve, western Poland. Folia Zool (Brno) 52(3):225–238

Bonesi L, Macdonald DW (2004) Evaluation of sign surveys as a way to estimate the relative abundance of American mink (Mustela vison). J Zool (Lond) 262:65–72. doi:10.1017/S0952836903004448

Bonesi L, Palazon S (2006) The American mink in Europe: status, impact, and control. Biol Conserv. doi:10.1016/j.biocon.2006.09.006

Bonesi L, Rushton SP, Maconald DW (2007) Trapping for mink control and water vole survival: identifying key criteria using a spatially explicit individual based model. Biol Conserv 136:636–650. doi:10.1016/j.biocon.2007.01.008

Bowman J, Kidd AG, Gorman RM, Schulte-Hostedde AI (2007) Assessing the potential for impacts by feral mink on wild mink in Canada. Biol Conserv 139:12–18. doi:10.1016/j.biocon.2007.05.020

Burness GP, Morris RD (1993) Direct and indirect consequences of mink presence in a common tern colony. Condor 95:708–711. doi:10.2307/1369614

Clout MN, Veitch CR (2002) Turning the tide of biological invasions: the potential for eradicating invasive species. In: Veitch CR, Clout MN (eds) Proceedings of the international conference on Eradication of Island invasives. Occasional paper of the IUCN Species Survival Commission No. 27. Gland, Switzerland, and Cambridge, UK, pp 1–3

Conway CJ, Garcia V, Smith MD, Hughes K (2008) Factors affecting detection of Burrowing owl nests during standardized surveys. J Wildl Manage 72(3):688–696. doi:10.2193/2007-321

Delibes M, Clavero M, Prenda J, Blázquez MC, Ferreras P (2004) Potential impact of an exotic mammal on rocky intertidal communities of northwestern Spain. Biol Invasions 6:213–219. doi:10.1023/B:BINV.0000022141.47102.5c

European Environment Agency (2007). Europe's environment. The fourth assessment. European Environment Agency. Copenhagen, Denmark, 452 pp

Fernández N, Delibes M, Palomares F (2007) Habitat-related heterogeneity in breeding in a metapopulation of the Iberian lynx. Ecography 30:431–439. doi:10.1111/j.0906-7590.2007.05005.x

Ferraro PJ, Pattanayak SK (2006) Money for nothing? A call for empirical evaluation of biodiversity conservation investments. PLoS Biol 4(4):e105. doi:10.1371/journal.pbio.0040105

Ferreras P, Macdonald DW (1999) The impact of American mink Mustela vison on water birds in the Upper Thames. J Appl Ecol 36:701–708. doi:10.1046/j.1365-2664.1999.00431.x

Foresman KR, Pearson DE (1998) Comparison of proposed survey procedures for detection of forest carnivores. J Wildl Manage 62:1217–1226. doi:10.2307/3801985

Goswami VR, Madhusudan MD, Karanth KU (2007) Application of photographic capture-recapture modelling to estimate demographic parameters for male Asian elephants. Anim Conserv 10:391–399. doi:10.1111/j.1469-1795.2007.00124.x

Heggenes J, Borgström R (1988) Effect of mink, Mustela vison Schreber, predation on cohorts of juvenile Atlantic salmon, Salmo salmo L., and brown trout, Salmo trutta L., in three streams. J Fish Biol 33:885–894. doi:10.1111/j.1095-8649.1988.tb05536.x

Macdonald DW, Thom MD (2001) Alien carnivores: unwelcome experiments in ecological theory. In: Gittleman JL, Funk SM, Macdonald DW, Wayne RK (eds) Carnivore conservation. Cambridge University Press, Cambridge, UK, pp 93–122

Macdonald DW, Sidorovich VE, Maran T, Kruuk H (2002) The Darwin Initiative. European mink, Mustela lutreola: analyses for conservation. Wildlife Conservation Research Unit, Oxford

Maran T (1996) Ex situ and in situ conservation of the European mink. Int Zoo News 43:399–407

Maran T, Macdonald DW, Kruuk H, Sidorovich V, Rozhnov VV (1998) The continuing decline of the European mink Mustela lutreola: evidence for the intraguild aggression hypothesis. In: Dunston N, Gorman ML (eds) Behaviour and ecology of riparian mammals. Symposium of the Zoological Society of London, 71. Cambridge University Press, Cambridge, pp 297–323

Martín López B, Montes C, Benayas J (2008) Economic valuation of biodiversity conservation: the meaning of numbers. Conserv Biol 22(3):624–635

Meine C, Soulé M, Noss RF (2006) A Mission-Driven discipline: the growth of conservation biology. Conserv Biol 20(3):631–651. doi:10.1111/j.1523-1739.2006.00449.x

Melero Y, Palazón S, Revilla E, Martelo J (2008) Space use and habitat preferences of the invasive American mink (Mustela Vison) in a Mediterranean area. Eur J Wildl Res. doi:10.1007/sl0344-008-0186-7

Ministry of the Environment (2007) Perfil ambiental de España. Informe basado en indicadores. Ministerio de Medio Ambiente, Madrid, España, p 287

Moore NP, Roy SS, Helyar A (2003) Mink (Mustela vison) eradication to protect ground-nesting birds in the Western Isles, Scotaland, United Kingdom. NZ J Zool 30:443–452

Ruiz-Olmo J, Saavedra D, Jimenez J (2001) Testing the surveys and visual and track censuses of Eurasian otters (Lutra lutra). J Zool (Lond) 253:359–369. doi:10.1017/S0952836901000334

Sargeant GA, Johnson DH, Berg WE (1998) Interpreting carnivore scent-station surveys. J Wildl Manage 62:1235–1245. doi:10.2307/3801987

Schipper J (2007) Camera-trap avoidance by Kinkajous Potos flavus: rethinking the "non invasive" paradigm. Small Carnivore Conserv 36:38–41

Sit V, Poulin-Costello M (1994) Catalogue of curves for curve fitting. Biometrics Information Handbook No. 4. Ministry of Forest. British Columbia, 110

StatSoft (2001) Statistica (data analysis software system), version 6. www.statsoft.com

Sutherland WJ, Pullin AS, Dolman PM, Knight TM (2004) The need for evidence-based conservation. Trends Ecol Evol 19(6):305–308. doi:10.1016/j.tree.2004.03.018

Wilson GJ, Delahay RJ (2001) A review of methods to estimate the abundance of terrestrial carnivores using field signs and observation. Wildl Res 28:151–164. doi:10.1071/WR00033

Woodroffe GL, Lawton JH, Davison WL (1990) The impact of feral mink Mustela vison on water voles Arvicola terrestris in the North Yorkshire Moors National Park. Biol Conserv 51:49–62. doi:10.1016/0006-3207(90)90031-J

Yamaguchi N, Macdonald DW (2003) The burden of co-occupancy: intraspecific resource competition and spacing patterns in American mink, Mustela vison. J Mammal 84(4):1341–1355. doi:10.1644/1545-1542(2003)084<1341:TBOCIR>2.0.CO;2

Zabala J, Zuberogoitia I, Garin I, Aihartza JR (2001) Small carnivore trappability: seasonal changes and mortality. A case study on European mink Mustela lutreola and Spotted genet Genetta genetta. Small Carnivore Conserv 25:9–11

Zabala J, Zuberogoitia I, Martínez JA (2007a) Winter habitat preferences of feral American mink Mustela vison Schreber, 1777 in Biscay (Northern Iberian Peninsula). Acta Theriol (Warsz) 52(1):27–36

Zabala J, Zuberogoitia I, Martínez JA (2007b) Spacing pattern, intrasexual competition and niche segregation in American Mink. Annal. Zool. Fennici 44:249–258

Zielinski WJ, Kucera TE (1996) American marten, fisher, lynx and wolverine: surveys methods for their detection. Pacific Southwestern Research Station. Forest Service. U.S. Department of Agriculture, Albany, California

Zuberogoitia I, Zabala J (2003a) Aproximación a la distribución del Visón Americano en Bizkaia. Galemys 15(1):29–35

Zuberogoitia I, Zabala J (2003b) Does European Mink use only rivers or do they also use other habitats? Small Carnivore Conservation 28, April, 7–8

Zuberogoitia I, Zabala J, Martínez JA (2006a) Diurnal activity and observations of the hunting and ranging behaviour of the American mink (Mustela Vison). Mammalia 70:310–312. doi:10.1515/MAMM.2006.046

Zuberogoitia I, Zabala J, Martínez JA (2006b) Evaluation of sign surveys and trappability of American mink. Consequences for management. Folia Zool (Brno) 55(3):257–263
Acknowledgements
This research was funded by the Regional Council of Biscay's Conservation and Nature Reserves Area. The authors wish to express their gratitude to A. Azkona for her assistance in the field.
About this article
Cite this article
Zuberogoitia, I., González-Oreja, J.A., Zabala, J. et al. Assessing the control/eradication of an invasive species, the American mink, based on field data; how much would it cost?. Biodivers Conserv 19, 1455–1469 (2010). https://doi.org/10.1007/s10531-010-9776-2
Received:

Accepted:

Published:

Issue Date:
Keywords
American mink

Economic assessment

Eradication program

European mink

Invasive species

Pest control program