Abstract
Here we report the first conclusive evidence of an introduced reptile (Chamaeleo jacksonii) feeding on Hawaiian taxa, including 11 snails in four endemic genera from two families, including four individuals of an endangered species (Achatinella mustelina), and native insects in five genera. Native Hawaiian invertebrates were discovered in the dissected stomachs of wild caught Jackson's chameleons collected from June to November 2009 on the island of Oahu. Although Jackson's chameleons were introduced to the Hawaiian Islands in the early 1970s, ecological impacts have never been documented. Of particular concern is the fact that chameleons have previously only rarely been found in native Hawaiian habitat, although 12 were recently collected in a mid-elevation native forest, an area that is not likely to be suitable for their long-term persistence, but that is adjacent to higher elevation pristine forest where endemic prey are abundant and favorable climatic conditions exist for chameleon persistence. One concern is that Jacksons's chameleons may be undergoing a range expansion into upper elevation pristine forests. If chameleons reach and establish populations in these areas, devastating impacts to the native ecosystem are possible. A thorough understanding of the impacts of chameleons on Hawaiian fauna will require additional evaluation and sampling, but dissemination of this discovery in a timely fashion is important as it provides new information regarding this threat. Monitoring and collection of chameleons is ongoing, particularly in native Hawaiian forest habitats at mid and upper elevations (600–1,300 m).
Access options
Buy single article
Instant access to the full article PDF.
USD 39.95
Price includes VAT (USA)
Tax calculation will be finalised during checkout.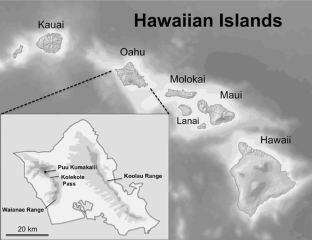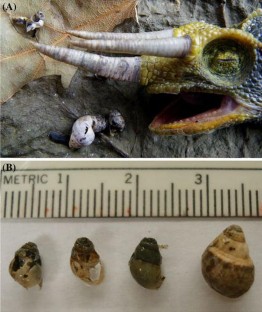 References
Eason P (1990) The effect of recent diet on prey choice in Senegalese chameleons (Chamaeleo senegalensis). J Herpetol 24:383–387

Hadfield MG (1986) Extinction in Hawaiian achatinelline snails. Malacologia 27:67–81

Holland BS, Christensen CC, Hayes KA, Cowie RH (2008) Biocontrol in Hawaii: ecological and regulatory perspectives. Proc Hawaii Entomol Soc 40:81–83

IUCN (2009) 2009 Red List of Threatened Species. IUCN, Gland, Switzerland. http://www.iucnredlist.org. Accessed 26 Aug 2009

McKeown S (1996) A field guide to reptiles and amphibians in the Hawaiian islands. Diamond Head Publishing Inc, Los Osos

Necas P (1999) Chameleons: nature's hidden jewels. Edition Chimaira, Frankfurt, Germany

USFWS (1981) Endangered and threatened wildlife and plants; listing the Hawaiian (O'ahu) tree snails of the genus Achatinella as endangered species. Prepared by the U.S. Department of the Interior, U.S. Fish and Wildlife Service. Fed Regist 46:3178–3182
Acknowledgments
We thank Mike Walker and Mandy Hardman for field assistance, Joy Browning and Mike Hadfield for discussions, and Anita Manning, Timothy Pearce and Robert Cowie for helpful comments that improved this manuscript. BSH was supported by a grant from the US Army Directorate of Public Works during this study.
About this article
Cite this article
Holland, B.S., Montgomery, S.L. & Costello, V. A reptilian smoking gun: first record of invasive Jackson's chameleon (Chamaeleo jacksonii) predation on native Hawaiian species. Biodivers Conserv 19, 1437–1441 (2010). https://doi.org/10.1007/s10531-009-9773-5
Received:

Accepted:

Published:

Issue Date:
Keywords
Achatinella mustelina

Oahu tree snails

Auriculella sp

Impacts of introduced predators

Conservation

Native Hawaiian insects