Abstract
Oil-palm agriculture is the greatest immediate threat to biodiversity in Southeast Asia. Despite the efforts of environmentalists, oil palm continues to expand across the tropics. Those concerned about the impacts of oil palm on biodiversity must face some harsh social, economic, and ecological realities: (i) oil palm has been a very profitable crop; (ii) palm oil is used in so many products that simple, direct actions, such as boycotts, are unlikely to succeed; (iii) there is currently insufficient demand for certified sustainable palm oil and inadequate political clout from environmental groups in two of the biggest markets for palm oil—China and India—to slow the rate of forest conversion; and (iv) oil-palm agriculture has improved the lives of poor rural communities in Southeast Asia (although it has also disenfranchised some indigenous communities). To address the threats posed by oil-palm agriculture to biodiversity, environmentalists must change the behavior of the palm oil business through: (i) regulations to curb undesirable activities (e.g., a ban on converting forests to oil palm); (ii) financial incentives to promote desirable behavior (e.g., production of certified, sustainable oil palm); (iii) financial disincentives designed to discourage undesirable behavior (e.g., consumer pressure on major manufacturers and retailers to use palm oil that does not come from plantations created at the expense of forests); and (iv) the promotion of alternative, more biodiversity-friendly uses of forested land that might otherwise be converted to oil palm. There is no single best approach for dealing with the oil-palm crisis in Southeast Asia; a mixture of regulations, incentives, and disincentives targeted at all sectors of the oil-palm industry is necessary to protect the region's rapidly disappearing forests.
This is a preview of subscription content, log in to check access.
Access options
Buy single article
Instant access to the full article PDF.
US$ 39.95
Price includes VAT for USA
Subscribe to journal
Immediate online access to all issues from 2019. Subscription will auto renew annually.
US$ 199
This is the net price. Taxes to be calculated in checkout.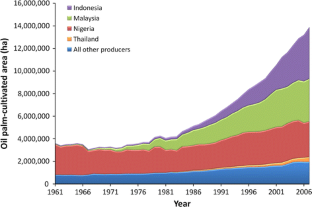 References
Berry NJ, Phillips OL, Lewis SL, Hill JK, Edwards DP, Tawatao NB, Ahmad N, Magintan D, Chey VK, Maryati M, Ong RC, Hamer KC (2010) The value of logged tropical forests: lessons from northern Borneo. Biodivers Conserv (this issue)

Brühl CA, Eltz T (2009) Fuelling the biodiversity crisis: species loss of ground-dwelling forest ants in oil palm plantations in Sabah, Malaysia (Borneo). Biodivers Conserv. doi:10.1007/s10531-009-9596-4

Butler RA (2008) Palm oil industry moves into the Amazon Rainforest. Mongabay.com. Available via URL. http://news.mongabay.com/2008/0709-amazon_palm_oil.html. Accessed June 2009

Butler RA (2009a) Sime Darby signs palm oil deal in Liberia. Mongabay.com. Available via URL. http://news.mongabay.com/2009/0504-liberia_palm_oil.html. Accessed June 2009

Butler RA (2009b) Malaysian palm oil firms seek 100,000 ha in the Philippines. Mongabay.com. Available via URL. http://news.mongabay.com/2009/0608-mindanao_palm_oil.html. Accessed June 2009

Butler RA (2009c) Consumers show no interest in eco-certified palm oil; WWF threatens naming and shaming campaign. Mongabay.com. Available via URL. http://news.mongabay.com/2009/0513-palm_oil_wwf_rspo.html. Accessed June 2009

Butler RA, Laurance WF (2009) Is oil palm the next emerging threat to the Amazon? Trop Conserv Sci 2:1–10

Butler RA, Koh LP, Ghazoul J (2009) REDD in the red: palm oil could undermine carbon payment schemes. Conserv Lett 2:67–73

Colchester M, Jiwan N (2006) Ghosts on our own land: Indonesian oil palm smallholders and the Roundtable on Sustainable Palm Oil. Forest Peoples Programme, Moreton-in-Marsh, UK, and Perkumpulan Sawit Watch, Bogor, Indonesia. Available via URL. http://www.forestpeoples.org/documents/prv_sector/oil_palm/ghosts_on_our_own_land_txt_06_eng.pdf. Accessed June 2009

CSPI (2006) Cruel oil: how palm oil harms health, rainforest and wildlife. Center for Science in the Public Interest (CSPI), Washington, DC. Available via URL. http://www.cspinet.org/palm/. Accessed June 2009

Danielsen F, Beukema H, Burgess ND, Parish F, Bruhl CA, Donald PF, Murdiyarso D, Phalan B, Reijnders L, Struebig M, Fitzherbert EB (2009) Biofuel plantations on forested lands: double jeopardy for biodiversity and climate. Conserv Biol 23:348–358

Dunn RR (2004) Managing the tropical landscape: a comparison of the effects of logging and forest conversion to agriculture on ants, birds, and lepidoptera. For Ecol Manag 191:215–224

FAO (2009) FAOSTAT online statistical service. Food and Agriculture Organization of the United Nations (FAO), Rome, Italy. Available via URL. http://faostat.fao.org/. Accessed June 2009

Fitzherbert EB, Struebig MJ, Morel A, Danielson F, Brühl CA, Donald PF, Phalan B (2008) How will oil palm expansion affect biodiversity? Trends Ecol Evol 23:538–545

FoE (2005) Palm oil—rainforest in your shopping. Friends of the Earth Trust (FoE), London. Available via URL. http://www.foe.co.uk/campaigns/biodiversity/case_studies/palmoil_index.html. Accessed June 2009

Greenpeace (2007) Palm oil: cooking the climate. Greenpeace International, Amsterdam. Available via URL. http://www.greenpeace.org/international/news/palm-oil_cooking-the-climate. Accessed June 2009

Hamer KC, Hill JK, Benedick S, Mustaffa N, Sherratt TN, Maryati M, Chey VK (2003) Ecology of butterflies in natural and selectively logged forests of northern Borneo: the importance of habitat heterogeneity. J Appl Ecol 40:150–162

ITTO (2005) Status of tropical forest management 2005: Malaysia. International Tropical Timber Organization (ITTO), Nishi-ku, Yokohama, Japan. Available via URL. http://www.itto.int/en/sfm_detail/id=12410000. Accessed June 2009

Koh LP (2008a) Can oil palm plantations be made more hospitable for forest butterflies and birds? J Appl Ecol 45:1002–1009

Koh LP (2008b) Birds defend oil palms from herbivorous insects. Ecol Appl 18:821–825

Koh LP, Wilcove DS (2007) Cashing in palm oil for conservation. Nature 448:993–994

Koh LP, Wilcove DS (2008) Is oil palm agriculture really destroying tropical biodiversity? Conserv Lett 1:60–64

Koh LP, Wilcove DS (2009) Oil palm: disinformation enables deforestation. Trends Ecol Evol 24:67–68

Koh LP, Ghazoul J, Butler RA, Laurance WF, Sodhi NS, Mateo-Vega J, Bradshaw CJA (2010) Wash and spin cycle threats to tropical biodiversity. Biotropica (in press). doi:10.1111/j.1744-7429.2009.00588.x

Lambert FR (1992) The consequences of selective logging for Bornean lowland forest birds. Philos Trans R Soc Lond, Ser B: Biol Sci 335:443–457

Laurance WF (2006) A new initiative to use carbon trading for tropical forest conservation. Biotropica 39:20–24

Laurance WF, Koh LP, Butler RA, Sodhi NS, Bradshaw CJA, Neidel JD, Consunji H, Mateo-Vega J (2010) Improving the performance of the roundtable on sustainable palm oil for nature conservation. Conserv Biol (in press)

Lopez GP, Laan T (2008) Biofuels—at what cost? Government support for biodiesel in Malaysia. International Institute for Sustainable Development—Global Subsidies Initiative, Geneva, Switzerland. Available via URL. http://www.globalsubsidies.org/en/research/biofuel-subsidies-malaysia. Accessed June 2009

Miles L, Kapos V (2008) Reducing greenhouse gas emissions from deforestation and forest degradation: global land-use implications. Science 320:1454–1455

Rist L, Feintrenie L, Levang P (2010) "I want to change my fate now!" The livelihood impacts of oil palm in Indonesia. Biodivers Conserv (this issue)

RSPO (2008) Proceedings of the 6th Roundtable Meeting on Sustainable Palm Oil (Session 3 questions and answers), 18–20 November, Bali, Indonesia. Roundtable on Sustainable Palm Oil (RSPO), Kuala Lumpur, Malaysia. Available via URL. http://www.rspo.org/Proceedings$$_6th_Roundtable_Meeting_on_Sustainable_Palm_Oil_(RT6).aspx. Accessed June 2009

Turner WR, Oppenheimer M, Wilcove DS (2009) A force to fight global warming. Nature 462:278–279

Wilcove DS, Lee J (2004) Using economic and regulatory incentives to restore endangered species: lessons learned from three new programs. Conserv Biol 18:639–645
Acknowledgments
L.P.K. was supported by an ETH Fellowship (FEL-0508-2) and a Swiss National Science Foundation research grant (105314125186). D.S.W. thanks the High Meadows Foundation for its support of his work on palm oil and deforestation in Southeast Asia. The authors thank Rhett Butler, David McLaughlin, Stuart Pimm, and an anonymous reviewer for their comments on earlier versions of this paper.
About this article
Cite this article
Wilcove, D.S., Koh, L.P. Addressing the threats to biodiversity from oil-palm agriculture. Biodivers Conserv 19, 999–1007 (2010). https://doi.org/10.1007/s10531-009-9760-x
Received:

Accepted:

Published:

Issue Date:
Keywords
Tropical deforestation

Oil palm

Monoculture

Biodiversity conservation

Reconciliation ecology

Biofuels