Abstract
We evaluated 516 species and/or subspecies of European stoneflies for vulnerability to climate change according to autoecological data. The variables considered were stream zonation preference, altitude preference, current preference, temperature range preference, endemism and rare species. Presence in ecoregions was used to analyse the vulnerability of taxa in relation to their distribution. We selected the variables that provided information on vulnerability to change in climate. Thus, we chose strictly crenal taxa, high-altitude taxa, rheobionts, cold stenotherm taxa, micro-endemic taxa and rare taxa. Our analysis showed that at least 324 taxa (62.79%) can be included in one or more categories of vulnerability to climate change. Of these, 43 taxa would be included in three or more vulnerability categories, representing the most threatened taxa. The most threatened species and the main factors affecting their distribution are discussed. Endangered potamal species, with populations that have decreased mainly as a consequence of habitat alteration, also could suffer from the effects of climate change. Thus, the total number of taxa at risk is particularly high. Not only are a great diversity of European stoneflies concentrated in the Alps, Pyrenees and Iberian Peninsula, but so are the most vulnerable taxa. These places are likely to be greatly affected by climate change according to climate models. In general, an impoverishment of European Plecoptera taxa will probably occur as a consequence of climate change, and only taxa with wide tolerance ranges will increase in abundance, resulting in lower overall faunal diversity.
Access options
Buy single article
Instant access to the full article PDF.
US$ 39.95
Tax calculation will be finalised during checkout.
Subscribe to journal
Immediate online access to all issues from 2019. Subscription will auto renew annually.
US$ 119
Tax calculation will be finalised during checkout.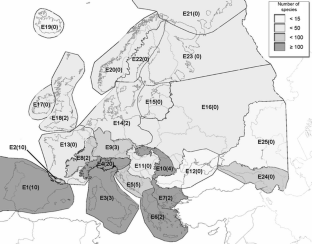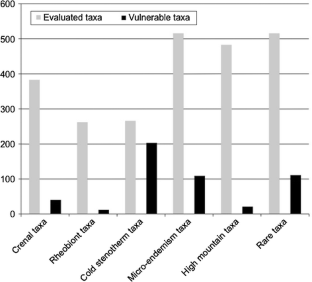 References
Alcamo J, Flörke M, Marker M (2007) Future long-term changes in global water resources driven by socio-economic and climatic change. Hydrol Sci J 52:247–275

Allan JD, Castillo MM (2008) Stream ecology. Structure and function of running waters, 2nd edn. Springer, Dordrecht

Arnell NW (2004) Climate change and global water resources: SRES emissions and socioeconomics scenarios. Glob Environ Change 14:31–52

Boulton AJ, Lake PS (2008) Effects of drought on stream insects and its ecological consequences. In: Lancaster J, Briers RA (eds) Aquatic insects. Challenges to populations. CABI, Oxford

EEA (European Environment Agency) (2008) Impacts of Europe's changing climate—2008 indicator-based assessment. Joint EEA-JRC-WHO report, Copenhagen

Euro-Limpacs consortium (2008) The taxa and autecology database for freshwater organisms. http://www.freshwaterecology.info. Version 3.2, last update: 08.04.2009. Cited 20 Apr 2009

Fochetti R, Tierno de Figueroa JM (2006) Notes on diversity and conservation of the European fauna of Plecoptera (Insecta). J Nat Hist 40(41–43):2361–2369

Fochetti R, Tierno de Figueroa JM (2008) Global diversity of stoneflies (Plecoptera; Insecta) in freshwater. Hydrobiol 595:365–377

Gitay H, Suñarez A, Watson RT, Dokken DJ (eds) (2002) Climate change and biodiversity. Intergovernmental Panel on Climate Change. WMO-UNEP, Cambridge

Graf W (1999) Checkliste der Steinfliegen (Plecoptera) Österreichs. Lauterbornia. 3. Fachtagung der Stein- und Eintagsfliegen in Bad Bevensen. Heft 37:35–46

Graf W (2005) Leuctra astridae, a new species of Plecoptera from the Austrian Alps. Illiesia 1(8):47–51

Graf W, Stradner D, Weiss S (2008) A new Siphonoperla species from the Eastern Alps (Plecoptera: Chloroperlidae), with comments on the genus. Zootaxa 1891:31–38

Graf W, Lorenz AW, Tierno de Figueroa JM, Lücke S, López-Rodríguez MJ, Davies C (2009) Distribution and ecological preferences of European freshwater organisms. vol 2: Plecoptera. Schmidt-Kloiber A, Hering D (Series editors). Pensoft, Sofia

Hynes HBN (1970) The ecology of running waters. University of Toronto Press, Toronto

Illies J (ed) (1978) Limnofauna Europaea. A checklist of the animals inhabiting European inland waters, with an account of their distribution and ecology. Gustav Fischer Verlag, Stuttgart

Knispel S, Rosciszewska E, Vinçon G, Lubini V (2002) The status of Perlodes jurassicus Aubert, 1946 (Insecta: Plecoptera: Perlodidae). Mitt Schweiz Ent Ges 75:183–189

Milly PCD, Dunne KA, Vecchia AV (2005) Global pattern of trends in stream flow and water availability in a changing climate. Nature 438(7066):347–350

Nakicenovic N, Alcamo J, Davis G et al. (2000) Special Report on Emissions Scenarios: a special report of working group III of the Intergovernmental Panel on Climate Change. Cambridge University Press, Cambridge. http://www.grida.no/climate/ipcc/emission/index.htm

Ravizza C (2005) Leuctra gardinii, an apteroud new species of Leuctridae (Plecoptera) from the Western Italian Alps. Aquat Insects 27(2):95–97

Ravizza C, Fochetti R (1999) I Plecotteri Taeniopterygidae della regione italica (Plecoptera). Mem Soc entomol ital 77:123–159

Ravizza C, Vinçon G (1998) Les Leuctridés (Plecoptera, Leuctridae) des Alpes. Mitt Schweiz Ent Ges 71:285–342

Resh VH, Rosenberg DM (1984) The ecology of aquatic insects. Preager Publishers, New York

Rosenberg DM, Resh VH (1993) Freshwater biomonitoring and benthic macroinvertebrates. Chapman & Hall, London

Shuter BJ, Post JR (1990) Climate, population viability and the zoogeography of temperate fishes. Trans Am Fish Soc 119:314–336

Sweeney BW, Jackson JK, Newbold JD, Funk DH (1992) Climate change and the life histories and biogeography of aquatic insects in eastern North America. In: Firth P, Fisher SG (eds) Global climate change and freshwater ecosystems. Springer-Verlag, New York

Tierno de Figueroa JM, Sánchez-Ortega A, Membiela Iglesia P, Luzón-Ortega JM (2003) Plecoptera. In: Ramos MA et al (eds) Fauna Ibérica, vol 22. Museo Nacional de Ciencias Naturales, CSIC, Madrid

Vinçon G, Pardo I (2004) The stoneflies (Plecoptera, Insecta) of the northwestern Iberian Peninsula. Ann Limnol 40(1):43–62

Zwick P (1980) Plecoptera (Steinfliegen). In: Handb. Zool. Berlin, 26. Walter de Gruyter, Berlin

Zwick P (1992) Stream habitat fragmentation—a threat to biodiversity. Biodivers Conserv 1:80–97

Zwick P (2004) Key to the West Paleartic genera of stoneflies (Plecoptera) in the larval stage. Limnologica 34:315–348
Acknowledgements
The authors want to thank to all the experts that have provided the ecological data used in the development of the Plecoptera database and to two anonymous reviewers for their valuable comments that greatly improved the original manuscript. This study was supported by the EU-funded Integrated Project Euro-limpacs (GOCE-CT-2003-505540), Workpackage 7 (Indicators of Ecosystem Health).
About this article
Cite this article
Tierno de Figueroa, J.M., López-Rodríguez, M.J., Lorenz, A. et al. Vulnerable taxa of European Plecoptera (Insecta) in the context of climate change. Biodivers Conserv 19, 1269–1277 (2010). https://doi.org/10.1007/s10531-009-9753-9
Received:

Accepted:

Published:

Issue Date:
Keywords
Stoneflies

Vulnerability

Threatened taxa

Global change

Climate models

Temperature

Precipitation

Europe