Abstract
Darwin's medium tree finch (Camarhynchus pauper) meets the 2009 International Union for Conservation of Nature Red List criteria for a critically endangered species because it has "a very small range on a single island" and is "declining rapidly owing to the effects of the parasite Philornis downsi", habitat degradation, and introduced predators. The medium tree finch is only found in patches of remnant highland forest on Floreana Island, where it co-exists with breeding populations of small and large tree finches (C. parvulus and C. psittacula). Here, we examine the intensity of P. downsi in nests of small, medium, and large tree finches on Floreana. We expected that parasite intensity would increase with finch body size, and with greater rainfall, and would also correlate with increased nestling mortality. We found a trend in the expected direction for parasite intensity and rainfall. Combined meta-analytically with data from a previous study, the overall trend for the two studies was significant. We also found a significant linear trend in parasite intensity with finch body size. In addition, the medium tree finch exhibited a somewhat higher parasite intensity than would be expected based on body mass alone. Of 63 active medium tree finch nests, 17 nests had nestlings: all of which were infested with P. downsi. Only 25% of medium tree finch nestlings fledged, 28% were depredated, 41% died due to P. downsi parasitism, and 6% died for other reasons.
This is a preview of subscription content, log in to check access.
Access options
Buy single article
Instant access to the full article PDF.
US$ 39.95
Price includes VAT for USA
Subscribe to journal
Immediate online access to all issues from 2019. Subscription will auto renew annually.
US$ 199
This is the net price. Taxes to be calculated in checkout.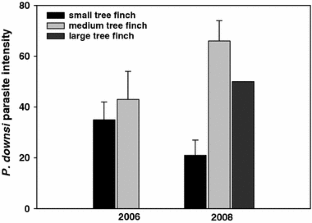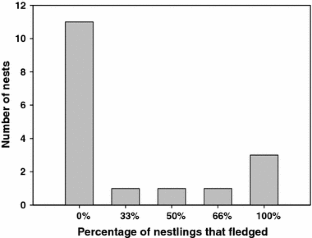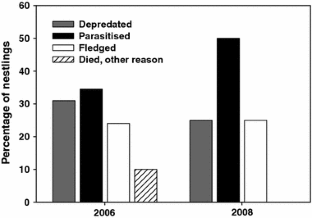 References
Baskin Y (2002) A plague of rats and rubber vines: the growing threat of species invasions. Island Press, Washington

BirdLife International (2009) Species factsheet: Camarhynchus pauper. Downloaded from http://www.birdlife.org on 7/8/2009

Boag PT, Grant PR (1984) Darwin's Finches (Geospiza) on Isla Daphne Major, Galapagos: breeding and feeding ecology in a climatically variable environment. Ecol Monogr 54:463–489

Breitwisch R (1989) Mortality patterns, sex ratios, and parental investment in monogamous birds. Curr Ornithol 6:1–50

Briskie JV, Martin PR, Martin TE (1999) Nest predation and the evolution of nestling begging calls. Proc R Soc Lond B 266:21533–22159

Bush AO, Lafferty KD, Lotz J, Shostak AW (1997) Parasitology meets ecology on its own terms: Margolis et al. revisited. J Parasitol 83:575–583

Causton CE, Peck SB, Sinclair BJ, Roque-Albelo L, Hodgson CJ, Landry B (2006) Alien insects: threats and implications for conservation of Galápagos Islands. Ann Entomol Soc Am 99:121–143

Christensen R, Kleindorfer S (2008) Jack-of-all-trades or master of one? Variation in foraging specialisation across years in Darwin's tree finches (Camarhynchus spp.). J Ornithol. doi:10.1007/s10336-008-0358-y

Cruz F, Cruz JB (1990) Breeding, morphology, and growth of the endangered dark-rumped petrel. Auk 107:317–326

Dudaniec RY, Kleindorfer S (2006) The effects of the parasitic flies of the genus Philornis (Diptera: Muscidae) on birds. Emu 10:13–20

Dudaniec RY, Kleindorfer S, Tebbich S (2006) Effects of the introduced ectoparasite Philornis downsi on haemoglobin level and nestling survival in Darwin's Small Ground Finch (Geospiza fuliginosa). Austral Ecol 31:88–94

Dudaniec RY, Kleindorfer S, Fessl B (2007) Interannual and interspecific variation in intensity of the parasitic fly, Philornis downsi, in Darwin's finches. Biol Conserv 139:325–332

Dudaniec RY, Gardner MG, Donellan S, Kleindorfer S (2008) Genetic variation in the invasive avian parasite, Philornis downsi (Diptera, Muscidae) on the Galapagos Archipelago. BMC Ecol. doi:10.1186/1472-6785-8-13

Durham WH (2008) Fishing for solutions: ecotourism and conservation in Galapagos national park. In: Stronza A, Durham WH (eds) Ecotourism and conservation in the Americas. CABI, Cambridge, pp 66–90

Dvorak M, Vargas H, Fessl B, Tebbich S (2004) On the verge of extinction: a survey of the mangrove finch Cactospiza heliobates and its habitat on the Galapagos Islands. Oryx 38:171–179

Estes G, Grant T, Grant PR (2000) Darwin in Galápagos: his footsteps through the archipelago. Notes Rec R Soc Lond 54:343–368

Fessl B, Tebbich S (2002) Philornis downsi—a recently discovered parasite on the Galápagos Archipelago—a threat for Darwin's finches? Ibis 144:445–451

Fessl B, Couri MS, Tebbich S (2001) Philornis downsi Dodge and Aitken, new to the Galápagos Islands (Diptera, Muscidae). Stud Dipterol 8:317–322

Fessl B, Kleindorfer S, Tebbich S (2006a) An experimental study on the effects of an introduced parasite in Darwin's finches. Biol Conserv 127:55–61

Fessl B, Sinclair BJ, Kleindorfer S (2006b) The life cycle of Philornis downsi (Diptera: Muscidae) parasitizing Darwin's finches and its impacts on nestling survival. Parasitology 133:739–747

Grant PR (1999) Ecology and evolution of Darwin's finches, 2nd edn. Princeton University Press, Princeton

Grant PR, Grant BR (1997) The rarest of Darwin's finches. Conserv Biol 11:119–126

Grant PR, Grant BR (2008) How and why species multiply: the radiation of Darwin's finches. Princeton University Press, Princeton

Grant PR, Grant BR, Petren K, Keller LF (2005) Extinction behind our backs: the possible fate of one of the Darwin's finch species on Isla Floreana, Galápagos. Biol Conserv 122:499–503

Huber SK (2008) Effects of the introduced parasite Philornis downsi on nestling growth and mortality in the medium ground finch (Geospiza fortis). Biol Conserv 141:601–609

Kleindorfer S (2007) Nesting success in Darwin's small tree finch (Camarhynchus parvulus): evidence of female preference for older males and more concealed nests. Anim Behav 74:795–804

Kleindorfer S, Dudaniec R (2009) Love thy neighbour? Social nesting pattern, host mass and nest size affect ectoparasite intensity in Darwin's finches. Behav Ecol Sociobiol 63:731–739

Lack D (1947) Darwin's finches. Cambridge University Press, Cambridge

Martin TE (1992) Breeding productivity considerations: what are the appropriate habitat features for management? In: Hagan JM, Johnston DW (eds) Ecology and conservation of neotropical migrants. Smithsonian Institution Press, Washington, pp 455–473

Martin TE, Scott J, Menge C (2000) Nest predation increases with parental activity: separating nest site and parental activity effects. Proc R Soc Lond B 267:2287–2293

Price T (1985) Reproductive responses to varying food supply in a population of Darwin's finches: clutch size, growth rates and hatching synchrony. Oecologia 66:411–416

Ricklefs RE (1969) An analysis of nesting mortality in birds. Smithson Contrib Zool 9:1–48

Snell HM, Stone PA, Snell HL (1996) A summary of geographical characteristics of the Galápagos Islands. J Biogeogr 23:619–624

Steadman D (1986) Holocene vertebrate fossils from Isla Floreana, Galápagos. Smithson Contrib Zool 413:1–103

Sulloway FJ (1982) The Beagle collections of Darwin's finches (Geospizinae). Bull Br Mus (Nat Hist) Zool Ser 43:49–94

Trivers RL (1972) Parental investment and sexual selection. In: Campbell B (ed) Sexual selection and the descent of man, 1871-1971. Aldine, Chicago, pp 136–179

Wiedenfeld DA, Jiménez GA, Fessl B, Kleindorfer S, Valerezo JC (2007) Distribution of the introduced parasitic fly Philornis downsi (Diptera, Muscidae) in the Galapagos Islands. Pac Conserv Biol 13:14–19

Wikelski M, Foufopoulos J, Vargas H, Snell H (2004) Galápagos birds and diseases: invasive pathogens as threats for island species. Ecol Soc 9 [online] URL: http://www.ecologyandsociety.org/vol9/iss1/art5. Accessed 01 May 2009
Acknowledgments
This paper is contribution number 2003 of the Charles Darwin Foundation for the Galápagos Islands. We are grateful to the Charles Darwin Research Station and Galápagos National Park Service for the opportunity to work on the Galápagos, and for logistical support. This work was generously supported by Flinders University (Research Establishment Grant to SK), Conservation International, the Winifred Violet Scott Trust, and the American Bird Conservancy with awards to SK and also the Royal Zoological Society of South Australia, and the Australian Federation of University Women (SA) with awards to JO'C. TAME airlines provided reduced airfares. We thank Rebekah Christensen and Santos Humberto for field assistance, and Rachael Dudaniec for field assistance and comments on the manuscript. We extend special thanks to the community of Floreana Island, and the local National Parks team for their invaluable assistance and support.
About this article
Cite this article
O'Connor, J.A., Sulloway, F.J., Robertson, J. et al. Philornis downsi parasitism is the primary cause of nestling mortality in the critically endangered Darwin's medium tree finch (Camarhynchus pauper). Biodivers Conserv 19, 853–866 (2010). https://doi.org/10.1007/s10531-009-9740-1
Received:

Accepted:

Published:

Issue Date:
Keywords
Bird

Body size

Fledging success

Galápagos Islands

Introduced species

Larvae

Mortality

Parasite