Abstract
We evaluated the collision risk of Galapagos Petrels Pterodroma phaeopygia with a wind energy development recently constructed in the highlands of San Cristóbal Island, Galapagos. Trained observers recorded the movements of petrels at dusk and dawn from the wind project site, and from control sites located along ravines that host nesting colonies. Collision mortality was also assessed by monitoring circular plots and transect lines located under human-made structures. Petrel flight activity showed a bimodal pattern, with the majority of the movements recorded in the hours previous to sunrise. Most petrels (96%) moved along major ravines that descend from the highlands to the south–southeastern coast of the island. Significant differences in passage rates were found between the project and control sites, with only five petrels recorded on the site selected for turbine installation. Although our data suggest that wind farms will not be more detrimental to petrels than other existing man-made structures, a word of caution is made because even very low levels of additional mortality might be significant for a species with such low productivity and slow maturation rates. Moreover, some other possible indirect effects on habitat change and disturbance might occur that were not assessed in our study. A post-construction monitoring program should be implemented to adequately assess long-term effects on petrels and to enable these uncertainties to be satisfactorily addressed.
Access options
Buy single article
Instant access to the full article PDF.
US$ 39.95
Tax calculation will be finalised during checkout.
Subscribe to journal
Immediate online access to all issues from 2019. Subscription will auto renew annually.
US$ 119
Tax calculation will be finalised during checkout.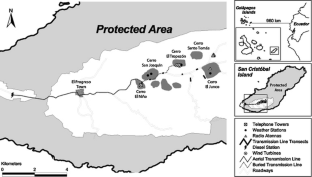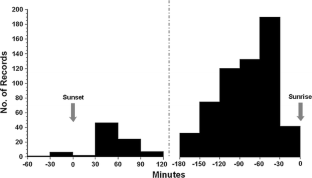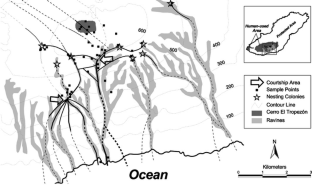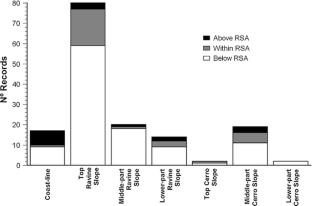 References
Ainley DG, Podolsky R, DeForest L, Spencer G (1997) New insights into the status of the Hawaiian Petrel on Kaui. Colon Waterbirds 20:24–30

Anderson R, Morrison M, Sinclair K, Strickland D (1999) Studying wind energy-bird interactions: a guidance document. Avian Subcommittee and National Wind Coordinating Committee. Available at http://www.nationalwind.org/publications/wildlife/avian99/avian_booklet.pdf. Cited 9 Apr 2009

Arnett EB, Brown WK, Erickson WP, Fiedler JK, Hamilton BL, Henry TH, Jain A, Johnson GD, Kerns J, Koford RR, Nicholson CP, O'Connell TJ, Piorkowski MD, Tankersley RD (2008) Patterns of bat fatalities at wind energy facilities in North America. J Wildl Manag 72:61–78

Bensted-Smith R (ed) (2002) A biodiversity vision for the Galapagos Islands. Charles Darwin Foundation and World Wildlife Fund, Galapagos, Ecuador

CONELEC (2006) Resolución No DE-06–001. Consejo Nacional de Electricidad, Ecuador

Cooper B, Day R (2003) Movement of the Hawaiian Petrel to Inland breeding sites on Maui Island, Hawaii. Waterbirds 26:62–71

Coulter MC (1984) Seabird conservation in the Galapagos Islands, Ecuador. ICBP Tech Publ 2:237–244

Coulter MC, Cruz F, Cruz JB (1985) A programme to save the Dark-rumped Petrel, Pterodroma phaeopygia, on Floreana Island, Galapagos, Ecuador. ICBP Tech Publ 3:177–180

Cruz JB, Cruz F (1987) Conservation of the Dark-rumped Petrel Pterodroma phaeopygia of the Galapagos Islands, Ecuador. Biol Conserv 42:303–311

Cruz F, Cruz JB (1990) Breeding, morphology, and growth of the endangered Dark-rumped Petrel. Auk 107:317–326

Cruz-Delgado F (2005) Biología reproductiva de Pterodroma phaeopygia (Procellariidae), Isla San Cristóbal, Galápagos. Dissertation, Universidad Central del Ecuador, Quito

Day RH, Cooper BA (1995) Patterns of movement of dark-rumped petrels and Newell's shearwaters on Kauai'i. Condor 97:1011–1027

De Lucas M, Janss GFE, Ferrer M (2004) The effects of a wind farm on birds in a migration point: the Strait of Gibraltar. Biodivers Conserv 13:395–407

Desholm M, Kahlert J (2005) Avian collision risk at an offshore wind farm. Biol Lett 1:296–298

Desholm M, Fox AD, Beasley PDL, Kahlert J (2006) Remote techniques for counting and estimating the number of bird-wind turbine collisions at sea: a review. Ibis 148:79–89

Dieter CD, Higgins KF, Nieger RD, Osborn RG, Usgaard RE (2000) Bird mortality associated with wind turbines at the Buffalo Ridge Wind Resource Area, Minnesota. Am Midl Nat 143:41–52

Drewitt A, Langston R (2006) Assessing the impacts of wind farms on birds. Ibis 148:29–42

Drewitt A, Langston R (2008) Collision effects of wind power generators and other obstacles on birds. Ann NY Acad Sci 1134:233–266

Erickson WP, Johnson GD, Strickland MD, Young DP, Sernja KJ Jr, Good RE (2001) Avian collisions with wind turbines: a summary of existing studies and comparisons to other sources of avian collision mortality in the United States. Western Ecosystems Technology Inc., National Wind Coordinating Committee Resource Document. Available at http://www.nationalwind.org/publications/wildlife/avian_collisions.pdf. Cited 9 Apr 2009

Evans WR (2000) Applications of acoustic bird monitoring for the wind power industry. In: Proceedings of the National Avian-Wind Power Planning Meeting III, San Diego, California, May 2000. Prepared for the National Wind Coordinating Committee. L.G.L. Ltd., Ontario

Everaert J, Stienen EWM (2007) Impact of wind turbines on birds in Zeebrugge (Belgium). Significant effect on breeding tern colony due to collisions. Biodivers Conserv 16:3345–3359

EWEA (2009) Wind energy: the facts. The European Wind Energy Association, Brussels. Available at http://www.ewea.org. Cited 9 Apr 2009

Fox AD, Desholm M, Kahlert J, Christensen TK, Petersen IK (2006) Information needs to support environmental impact assessment of the effects of European marine offshore wind farms on birds. Ibis 148:129–144

Friesen VL, González JA, Cruz-Delgado F (2006) Population genetic structure and conservation of the Galápagos petrel (Pterodroma phaeopygia). Conserv Genet 7:105–115

González JA, Montes C, Rodríguez J, Tapia W (2008) Rethinking the Galapagos Islands as a complex social-ecological system: implications for conservation and management. Ecol Soc 13(2):13

Granizo T, Pacheco C, Rivadeneira M, Guerrero M, Suárez L (2002) Libro Rojo de las aves del Ecuador. Serie Libros Rojos del Ecuador, vol 2. Simbioe, Conservación Internacional, Ecociencia, Ministerio del Ambiente and UICN, Quito, Ecuador

Grant G, Warham J, Pettit T, Whittow C (1983) Reproductive behavior and vocalizations of the Bonin Petrel. Wilson Bull 95:522–539

Harris M (1970) The biology of an endangered species, the Dark-rumped Petrel (Pterodroma phaeopygia), in the Galapagos Islands. Condor 72:76–84

Hilton-Taylor C (ed) (2000) The 2000 IUCN red list of threatened species. IUCN, Gland, Switzerland and Cambridge, UK

Kingsley A, Whittam B (2001) Potential impacts of wind turbines on birds at North Cape, Prince Edward Island. Bird Studies Canada, Sackville, New Brunswick

Kunz TH, Arnett EB, Cooper BM, Erickson WP, Larkin RP, Mabee T, Morrison ML, Strickland MD, Szewczak JM (2007) Assessing impacts of wind-energy development on nocturnally active birds and bats: a guidance document. J Wildl Manag 71:2449–2486

Kuvlesky WP Jr, Brennan LA, Morrison ML, Boydston KK, Ballard BM, Bryant FC (2007) Wind energy development and wildlife conservation: challenges and opportunities. J Wildl Manag 71:2487–2498

Larsen JK, Guillemette M (2007) Effects of wind turbines on flight behaviour of wintering common eiders: implications for habitat use and collision risk. J Appl Ecol 44:516–522

Le Corre M, Ollivier A, Ribes S, Jouventin P (2002) Light-induced mortality of petrels: a 4-year study fron Réunion Island (Indian Ocean). Biol Conserv 105:93–102

Leddy K, Higgins K, Naugle D (1999) Effects of wind turbines on upland nesting birds in conservation reserve program grasslands. Wilson Bull 111:100–104

Morrison ML (2002) Searcher bias and scavenging rates in bird-wind energy studies. National Renewable Laboratory Report NREL/SR-500-30876, Golden, Colorado. Available at http://www.nrel.gov/wind/pdfs/30876.pdf. Cited 10 October 2008

Nelson HK, Curry RC (1995) Assessing avian interactions with windplant development and operation. Trans N Am Wildl Nat Resour Conf 60:266–287

NRC (National Research Council) (2007) Environmental impacts of wind-energy projects. The National Academies Press, Washington, DC

Osborn RG, Dieter CD, Higgins KF, Usgaard RE (1998) Bird flight characteristics near wind turbines in Minnesota. Am Midl Nat 139:20–38

Podolsky R, Kress S (1992) Attraction of the endangered dark-rumped petrel to recorded vocalizations in the Galapagos Islands. Condor 94:448–453

Podolsky R, Ainley DG, Spencer G, Deforest L, Nur N (1998) Mortality of Newell's shearwaters caused by collisions with urban structures on Kauai. Colon Waterbirds 21:20–34

Snell HL, Tye A, Causton CE, Bensted-Smith R (2002) Current status of and threats to the terrestrial biodiversity of Galapagos. In: Bensted-Smith R (ed) A biodiversity vision for the Galapagos Islands. Charles Darwin Foundation, and World Wildlife Fund, Galapagos, Ecuador, pp 30–47

Stewart GB, Pullin AS, Coles CF (2007) Poor evidence-base for assessment of windfarm impacts on birds. Environ Conserv 34:1–11

Tomkins R (1985) Breeding success and mortality of dark-rumped petrels in the Galapagos, and control of their predators. ICBP Tech Publ 3:159–175

Tomkins R, Milne B (1991) Differences among dark-rumped petrel (Pterodroma phaeopygia) populations within the Galapagos Archipelago. Notornis 38:1–35

Warham J (1990) The petrels: their ecology and breeding systems. Academic Press, London
Acknowledgements
We thank all the staff at the Charles Darwin Foundation for providing facilities to conduct this study, and particularly to Priscila Ramos, Stalin Llerena, Renzo Betancourt, Diego Badillo, and Pablo Díaz, who collaborated in the observations of nocturnal flight patterns, as well as Efrén Torres, who collaborated in petrel nest monitoring. We also would like to thank the Galapagos National Park Service for its continuous support and guidance during the field work, and particularly to the ranger Rafael Díaz. We are also grateful to Tatiana Santander, Tjitte de Vries, Pierre Lamothe and Claude Tessièr for their contributions to the design of the research methodology and their suggestions related to management implications. Vicki L. Friesen made interesting comments on a previous version of the manuscript. Finally, special thanks to the e8 Fund, which provided the financial support for the study, under the technical supervision of Peter Leonard, Jim Tolan and Luis Vintimilla.
About this article
Cite this article
Cruz-Delgado, F., Wiedenfeld, D.A. & González, J.A. Assessing the potential impact of wind turbines on the endangered Galapagos Petrel Pterodroma phaeopygia at San Cristóbal Island, Galapagos. Biodivers Conserv 19, 679–694 (2010). https://doi.org/10.1007/s10531-009-9727-y
Received:

Accepted:

Published:

Issue Date:
Keywords
Collision risk

Flight patterns

Galapagos Islands

Galapagos Petrel

Wind turbines