Abstract
Consistent information on threatened habitat types is needed for land use planning and for prioritizing conservation, management, and restoration actions. However, detailed background data for assessing extinction risks of habitat types exists only in few countries. We present a new, flexible procedure for assigning habitat types into Red List Categories similar to those used for species by the World Conservation Union (IUCN). The procedure allows variation in the character or scale of assessment units and it is applicable even with incomplete data. The assessment protocol consists of two primary criteria: the change in the quantity and the change in the quality of the habitat type. The criteria are analyzed by expert groups with a transparent and repeatable stepwise procedure. The quantitative and qualitative changes in habitat types over the last 50 years serve as a starting point for the assessment, and the status is adjusted by assessing sub-criteria that address earlier changes, predicted future change, and the overall commonness or rarity of the habitat type. We also report the main results of the first assessment of threatened habitat types in Finland, and illustrate the application of the criteria by two case studies.
This is a preview of subscription content, log in to check access.
Access options
Buy single article
Instant access to the full article PDF.
US$ 39.95
Price includes VAT for USA
Subscribe to journal
Immediate online access to all issues from 2019. Subscription will auto renew annually.
US$ 199
This is the net price. Taxes to be calculated in checkout.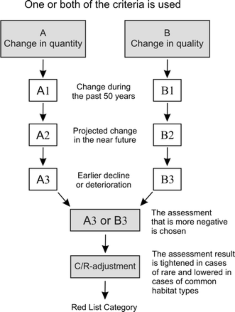 References
Andren H (1994) Effects of habitat fragmentation on birds and mammals in landscapes with different proportions of suitable habitat. Oikos 71:355–366

Benson JS (2006) New South Wales vegetation classification and assessment: introduction – the classification, database, assessment of protected areas and threat status of plant communities. Cunninghamia 9:331–382

Blab J, Riecken U, Ssymank A (1995) Proposal on a criteria system for a National Red Data Book of Biotopes. Landsc Ecol 10:41–50

Blake JG, Karr JR (1987) Breeding birds of isolated woodlots: area and habitat relationships. Ecology 68:1724–1734

Brown JH (1971) Species richness of boreal mammals living on the montane islands of the Great Basin. Am Nat 105:467–478

Cousins SAO, Eriksson O (2002) The influence of management history and habitat on plant species richness in a rural hemiboreal landscape, Sweden. Landsc Ecol 17:517–529

EPBC Act (1999) Environment protection and biodiversity conservation act. Commonwealth of Australia

Essl F, Egger G, Ellmauer T (2002) Rote liste gefährdeter biotoptypen österreichs. Konzept. Umweltbundesamt GmbH, Wien

Eurola S, Hicks S, Kaakinen E (1984) Key to finnish mire types. In: Moore PD (ed) European mires. Academic Press, London

Eurola S, Aapala K, Kokko A, Nironen M (1991) Mire type statistics in the bog and southern aapa mire areas of Finland (60–66°N). Ann Bot Fenn 28:15–36

Fahrig L (1997) Relative effects of habitat loss and fragmentation on population extinction. J Wildl Manage 61:606–610

Ferraz G, Russell GJ, Stouffer PC, Bierregaard RO, Pimm SL, Lovejoy TE (2003) Rates of species loss from Amazonian forest fragments. Proc Natl Acad Sci USA 100:14069–14073

Finnish Forest Research Institute (2008) National forest inventory (NFI). In: Metla, Finnish Forest Research Institute. http://www.metla.fi/ohjelma/vmi/info-en.htm. Cited 2 Jan 2009

Franklin JF (1993) Preserving biodiversity: species, ecosystems, or landscapes? Ecol Appl 3:202–205

Fremstad E, Moen A (eds) (2001) Truete vegetasjonstyper i Norge. Norges teknisk-naturvitenskapelige universitet, Vitenskapsmuseet, Trondheim

IUCN (1994) IUCN Red List categories. IUCN Species Survival Commission, Gland, Switzerland

IUCN (2001) IUCN Red List categories and criteria: version 3.1. IUCN Species Survival Commission Gland, Switzerland and Cambridge, UK

IUCN (2008) Guidelines for using the IUCN Red List categories and criteria: version 7.0. Standards and petitions working group for the IUCN species survival commissions biodiversity assessments sub-committee, Gland, Switzerland

Kaakinen E, Aapala K, Kokko A (2008) The diversity and current condition of Finnish mires. In: Korhonen L, Korpela L, Sarkkola S (eds) Finland–Fenland. Research and sustainable utilisation of mires and peat. Suoseura & Maahenki, Helsinki

Keltikangas M, Laine J, Puttonen P, Seppälä K (1986) Vuosina 1930–1978 metsäojitetut suot: ojitusalueiden inventoinnin tuloksia. Acta Forestalia Fennica 193:1–94

Lindborg R, Eriksson O (2004) Historical landscape connectivity affects present plant species diversity. Ecology 85:1840–1845

Luoto M, Heikkinen RK, Carter TR (2004) Loss of palsa mires in Europe and biological consequences. Environ Conserv 31:30–37

Master LL, Faber-Langendoen D, Bittman R, Hammerson GA, Heidel B, Ramsay L, Tomaino A (2007) NatureServe conservation status factors. NatureServe, Arlington

McCarty JP (2001) Ecological consequences of recent climate change. Conserv Biol 15:320–331

Moyle PB (1996) Status of aquatic habitat types. In: Sierra Nevada Ecosystem Project: final report to Congress, vol II, Assessments and scientific basis for management options. Davis, California

Nicholson E, Keith DA, Wilcove DS (2009) Assessing the threat status of ecological communities. Conserv Biol 23:259–274

Noss RF (1990) Indicators for monitoring biodiversity: a hierarchical approach. Conserv Biol 4:355–364

Paal J (1998) Rare and threatened plant communities of Estonia. Biodivers Conserv 7:1027–1049

Paasovaara P (1990) Kuusamon suot. Licensiate thesis, University of Oulu

Palviainen M, Finér L, Laurén A, Mannerkoski H, Piirainen S, Starr M (2007) Development of ground vegetation biomass and nutrient pools in a clear-cut disc-plowed boreal forest. Plant Soil 297:43–52

Parmesan C, Yohe G (2003) A globally coherent fingerprint of climate change impacts across natural systems. Nature 421:37–42

Pykälä J (2004) Cattle grazing increases plant species richness of most species trait groups in mesic semi-natural grasslands. Plant Ecol 175:217–226

Rassi P (ed) (1993) Suomen kovakuoriaisten (Coleoptera) frekvenssipisteet 1.1.1960–1.1.1990. WWF, Helsinki

Rassi P, Alanen A, Kanerva T, Mannerkoski I (eds) (2001) Suomen lajien uhanalaisuus 2000 (The 2000 Red List of Finnish Species). Ministry of the Environment & Finnish Environment Institute, Helsinki

Raunio A, Schulman A, Kontula T (eds) (2008) Suomen luontotyyppien uhanalaisuus (Assessment of threatened habitat types in Finland). Finnish Environment Institute, Helsinki

Regan TJ, Master LL, Hammerson GA (2004) Capturing expert knowledge for threatened species assessments: a case study using NatureServe conservation status ranks. Acta Oecologica 26:95–107

Rodríguez JP, Balch JK, Rodríguez-Clark KM (2007) Assessing extinction risk in the absence of species-level data: quantitative criteria for terrestrial ecosystems. Biodivers Conserv 16:183–209

Root TL, Price JT, Hall KR, Schneider SH, Rosenzweig C, Pounds JA (2003) Fingerprints of global warming on wild animals and plants. Nature 421:57–60

Rowe SJ, Scotter GW (1973) Fire in the boreal forest. Quat Res 3:444–464

Rush C, Rajkumar R (2001) Expert judgement in cost estimating: modelling the reasoning process. Concurr Eng 9:271–284

Siitonen J (2001) Forest management, coarse woody debris and saproxylic organisms: Fennoscandian boreal forests as an example. Ecol Bull 49:11–41
Acknowledgments
We are grateful to all those who participated in the assessment of threatened habitat types in Finland. We also thank K. Aapala, J. Pykälä and an anonymous referee for their constructive comments on the manuscript. The study was supported by the Ministry of the Environment and the Ministry of Agriculture and Forestry, and it was part of the MOSSE research program.
About this article
Cite this article
Kontula, T., Raunio, A. New method and criteria for national assessments of threatened habitat types. Biodivers Conserv 18, 3861 (2009). https://doi.org/10.1007/s10531-009-9684-5
Received:

Accepted:

Published:
Keywords
Conservation status

Ecological communities

Extinction risk

Red List

Threat categories

Threatened biotopes

Threatened habitats