Abstract
A historical perspective on the use and production of species of Dactylopius (Hemipetera: Dactylopiidae) and Opuntia (Cactaceae: Opuntioidae), information on their origin, diversity and distribution in Mexico are reviewed, and aspects of their conservation are discussed. The use and exploitation of both genera are part of Mexican cultures since prehistory. Opuntia species were among the main components of human diet during pre-agricultural times. Cochineal was used and probably cultivated at least from the Tenth century. During the colonial period, cochineal generated significant benefits to the Spaniard colonizers and Mexico was the world's first producer of insects and dyes until the mid Nineteenth century. Currently, Mexico is the main producer of Opuntia cladodes and prickly pear, but cochineal cultivation is marginal and only maintained in traditional indigenous systems. Mexico is one of the main areas of diversity of Opuntia, having 83–104 out of nearly 200 species worldwide. More than 50 species are used mainly as food, fodder and medicine and 20 species are cultivated with different degrees of domestication. The genus Dactylopius includes nine species, with five of them naturally occurring in Mexico. Only D. coccus has been cultivated and domesticated but other wild species have been used throughout history. Arid and semiarid areas of Mexico are among the most important reservoirs of biological diversity for both genera, particularly for D. coccus. Specific measures for protection of such biodiversity and generic resources are required. Strategies for in situ conservation combined with re-established use and cochineal production may enhance conservation policies.
Access options
Buy single article
Instant access to the full article PDF.
US$ 39.95
Tax calculation will be finalised during checkout.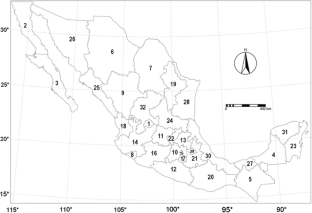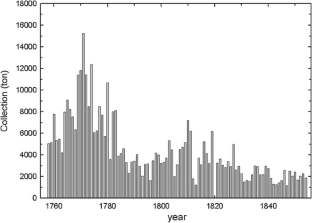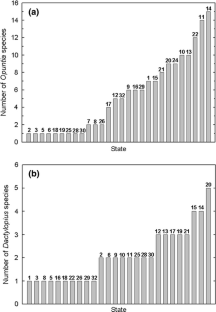 References
Anderson AJO (1981) Florentine codex: general history of the things of New Spain. Book 11-earthly things. University of Utah Press, USA

Anderson EF (2001) The Cactus family. Timber Press, Portland

Balaram-Tolat P (2002) History of cochineal in India. In: Portillo L, Vigueras AL (eds) Proceedings of 2nd international congress of the cochineal & natural dyes. 2nd international meeting of the working group on cochineal CactusNet FAO, Guadalajara, pp 57

Ben-Dov Y, Marotta S (2001) Taxonomy and family placement of Coccus bassi Targioni Tozzetti, 1867 (Hemiptera: Coccoidea). Phytoparasitica 29(2):1–2

Bravo-Hollis H, Sánchez-Mejorada H (1978) Las Cactáceas de Mexico. Vols I and III. Universidad Nacional Autónoma de Mexico (UNAM), Mexico

Britton NL, Rose JN (1963) The Cactaceae. Vols 1 and 2. Dover Publications Inc, New York

Butler GA (2006) A perfect red: empire, espionage, and the quest for the color of desire. Harper Perennial, NY

Campos-Figueroa M, Llanderal-Cázares C (2003) Producción de Grana cochinilla Dactylopius coccus (Homoptera: Dactylopiidae) en invernadero. Agrociencia 37(2):149–155

Casas A, Barbera G (2002) Mesoamerican domestication and diffusion of cacti. In: Nobel SP (ed) Cacti: biology and uses. University of California Press, Los Angeles, pp 143–162

Claps LE, de Haro ME (2001) Coccoidea (Insecta: Hemiptera) associated with Cactaceae in Argentina. J PACD 4:77–83

Cortés H (1962) Five letters of Cortés to the emperor. W.W. Norton & Company Inc, NY

Dahlgren B (1990) La grana cochinilla. Porrúa e hijos sucesores, Mexico

De Lotto G (1974) On the status and identity of the cochineal insects (Homoptera: Coccoidea: Dactylopiidae). J Ent Soc S Af 37(1):167–193

Díaz del Castillo B (1963) The conquest of New Spain. Penguin Putnam Inc, NY

Duxbury DD (1990) Replacement colors and blends for banned FD&C Red 3 Lake. Food Process 5(2):89–90

Fernandez ML, Lin ECK, Trejo A, McNamara DJ (1992) Prickly pear (Opuntia sp.) pectin reverses low density lipoprotein receptor suppression induced by a hypercholesterolemic diet in Guinea pigs. J Nutr 122(12):2330–2340

Flores-Hernández A, Murillo-Amador B, Rueda-Puente EO, Salazar-Torres JC, García-Hernández JL, Troyo-Diéguez E (2006) Reproducción de cochinilla silvestre Dactylopius opuntiae (Homoptera: Dactylopiidae). Rev Mex Biodiver 77:97–102

Food & Drug Administration (2006) Listing of color additives exempt from certification; food, drug, and cosmetic labeling: cochineal extract and carmine declaration federal register. http://www.cfsan.fda.gov/~lrd/fr060130.html. Cited on June 2006

Frati AC, Gordillo BE, Altamirano P, Ariza CR, Cortés-Franco R, Chávez-Negrete A, Islas-Andrade S (1991) Influence of nopal intake upon fasting glycemia in type II diabetics and healthy subjects. Arch Invest Med (Mex) 22(1):51–56

Gibson C (1964) The Aztecs under Spanish rule: a history of the Indians of the Valley of Mexico, 1519–1810. Stanford University Press, Stanford

González DA, Riojas LME, Arreola NHJ (2001) El género Opuntia en Jalisco. Guía de campo. Univ de Guadalajara y Comisión Nacional para el Conocimiento y Uso de la Biodiversidad (CONABIO), Guadalajara

González M, Méndez J, Carnero A, Lobo MG, Afonso A (2002) Optimized conditions for the extraction of pigments in cochineals (Dactylopius coccus Costa) using response surface methodology. J Agric Food Chem 50:6968–6974. doi:10.1021/jf025756r

Griffith MP (2004) The origins of an important cactus crop, Opuntia ficus-indica (Cactaceae): new molecular evidence. Am J Bot 91:1915–1921. doi:10.3732/ajb.91.11.1915

Gullan PJ, Kosztarab M (1997) Adaptations in scale insects. Annu Rev Entomol 42:23–50. doi:10.1146/annurev.ento.42.1.23

Guzmán U, Arias S, Dávila P (2003) Catálogo de Cactáceas Mexicanas. UNAM y Consejo Nacional para el Conocimiento y uso de la Biodiversidad (CONABIO), Mexico

Harris TM (1833) A dictionary of natural history of the bible; or a Description of all the quadrupeds, birds, fishes, reptiles, and insects, trees, plants, flowers, gums and precious stones, mentioned in the sacred scriptures. Tegg TT and J, London

Harrow B, Perkin WH (2009) Founder of dyestuff industry in: eminent chemists of our time. http://www.colorantshistory.org/PerkinBiography.html. Cited April 2009

Headrick A (2007) The Teotihuacan trinity: the sociopolitical structure of an Ancient Mesoamerican city. University of Texas Press, USA

Humboldt A (1966) Political essay on the kingdom of New Spain. AMS Press, NY

Hunt D, Taylor N (2002) Studies in the Opuntioideae (Cactaceae). David Hunt, England

Kiesling R (1998) Origen, domesticación y distribución de Opuntia ficus-indica. J. PACD 3:50–59

MacGregor LR (1976) La Grana o Cochinilla del Nopal usada como colorante desde el Mexico Antiguo hasta nuestros días. Cact Suc Mex 21(4):93–99

MacGregor LR, Sampedro GR (1984) Catálogo de Cóccidos Mexicanos—I. Familia Dactylopiidae (Homoptera: Coccoidea). An Inst Biol Univ Nac Auton Mex Ser Zool 54(1):217–223

MacNeish RS (1992) The origins of agriculture and settled life. University of Oklahoma Press, Norman

Mann J (1969) Cactus-feeding insects and mites. US Natl Mus Bull 256:1–158

Martín del Campo R (1957) Las Cactáceas entre los Mexicas. Cact Suc Mex Tomo 2(1):27–38

Meyer MC, Beezley WH (2000) The oxford history of Mexico. Oxford University Press, USA

Miller DR (1996) Checklist of the scale insects (Coccoidea: Homoptera) of Mexico. Proc Entomol Soc Wash 98(1):68–89

Pérez-Guerra G, Kosztarab M (1992) Biosystematics of the family Dactylopiidae (Homoptera: Coccinea) with emphasis on the life cycle of Dactylopius coccus Costa. Studies on the morphology and systematic of scale insects No. 16 Virginia agricultural experiment station (VAES), Virginia Polytechnic Institute and State University, Blacksburg, Virginia. Bulletin 92(1):90

Pérez-Sandi M (2001a) La cochinilla. Comisión Nacional para el conocimiento y uso de la Biodiversidad (CONABIO). Boletín bimestral de la Comisión Nacional para el Conocimiento y uso de la Biodiversidad 6(36):1–8

Pérez-Sandi M (2001b) Addressing the threat of Cactoblastis cactorum (Lepidoptera: Pyralidae), to Opuntia in Mexico. Fla Entomol 84(4):499–502. doi:10.2307/3496378

Perkin WH (1896) The origin of the coal-tar colour industry, and the contributions of Hofmann and his pupils. J Chem Soc Trans 69:596–637. doi:10.1039/ct8966900596

Piña I (1977) La grana o cochinilla del nopal. Monografías LANFI. No 1, Mexico, p 54

Piña I (1980) Dispersión de dos especies del género Opuntia en las Islas Canarias. Cact Suc Mex 25:3–6

Piña I (1981) Observaciones sobre la grana y sus nopales hospederos en el Perú. Cact Suc Mex 26:10–15

Portillo L, Arreola-Nava HJ (1994) Los nopales hospederos de la cochinilla fina o cultivada (Dactylopius coccus Costa). Cact Suc Mex 39:90–95

Portillo L, Vigueras-Guzmán AL (2003) The genus Dactylopius (Homoptera: Dactylopiidae) and its hosts in Jalisco, Mexico. Boll Zool Agr Bachic Ser II. 33(3):249–251

Quijano PW, Vergara V (2007) Determinación de energía metabolizable del subproducto de cochinilla "Dactylopius coccus Costa (1835)" y su evaluación productiva en reemplazo de harina de pescado en dietas para pollos de carne. In: http://www.engormix.com/determinacion_energia_metabolizable_subproducto_s_articulos_1554_AVG.htm.pdf Cited 29 May 2007. Departamento de Nutrición-UNALM, both of Universidad Nacional Agraria La Molina (UNALM). Perú

Reyes-Agüero JA, Aguirre-Rivera JR, Valiente-Banuet A (2005a) Reproductive biology of Opuntia: a review. J Arid Environ 64(4):549–585. doi:10.1016/j.jaridenv.2005.06.018

Reyes-Agüero JA, Aguirre-Rivera JR, Hernández HM (2005b) Systematic notes and a detailed description of Opuntia ficus-indica (L) Mill. (Cactaceae). Agrociencia 39:395–408

Reyes-Agüero JA, Aguirre-Rivera JR, Flores-Flores JL (2005c) Variación morfológica de Opuntia (Cactaceae) en relación con su domesticación en la altiplanicie meridional de Mexico. INCI 30(8):476–484

SeMARNat (1994) NOM-059-ECO-1994: Norma de Protección ambiental de especies nativas de Mexico de flora y fauna silvestre, categorías de riesgo y especificaciones para su inclusión o cambio, listas de especies en riesgo. Secretaria del Medio Ambiente y Recursos Naturales (SeMARNat), Mexico, p 106

Smith CE (1967) Plant remains. In: Byers DS (ed) The prehistory of the Tehuacan Valley. Vol I: environment and subsistence. University of Texas Press, Austin, pp 220–225

Thiéry de Menonville NJ (1787) Traité de la culture du nopal et de l'education de la cochenille dans les colonies Francaises de l'Amerique; Précédé d'un voyage à Guaxaca. Cap-Francais

Volchansky CR, Hoffmann JH, Zimmermann HG (1999) Host-plant affinities of two biotypes of Dactylopius opuntiae (Homoptera: Dactylopiidae): enhanced prospects for biological control of Opuntia stricta (Cactaceae) in South Africa. J Appl Ecol 36:85

Wouters J, Verhecken A (1989) The scale insect dyes (Homoptera: Coccoidea). Species recognition by HPLC and diode-array analysis of the dyestuffs. Ann Soc Entomol Fr 25:393–410

Yamada S, Noda N, Mikami E, Hayakawa J (1993) Analysis of natural coloring matters in food. Methylation of cochineal colour with diazomethane for the analysis of food products. J Agric Food Chem 41:1071–1075. doi:10.1021/jf00031a011

Zimmermann HG, Granata G (2002) Insect pests and diseases. In: Nobel SP (ed) Cacti: biology and uses. University of California Press, Los Angeles, pp 143–162

Zimmermann HG, Moran VC, Hoffmann JH (2001) The renowned cactus moth, Cactoblastis cactorum (Lepidoptera: pyralidae): Its natural history and threat to native Opuntia floras in Mexico and the United States of America. Fla Entomol 84(4):543–551. doi:10.2307/3496386
Acknowledgments
The authors thank CONACYT (research project C01-0544) and DGAPA-UNAM (research project IN219608) for financial support. C.K. Chávez-Moreno also thanks CONACYT (198191) and DGEP for scholarships. We also express our gratitude to the people of the Herbario Nacional de Mexico (IB-UNAM) and to María Cristina Mayorca Martínez (CNIN-IB-UNAM) for allowing us access to the Opuntia and Dactylopius collections, respectively. Special thanks to Dr. Leia Scheinvar (IB-UNAM) and Dr. Juan Antonio Reyes-Agüero (IIZD-UASLP) for their valuable support with scientific information on the Opuntia genus. We also thank Dr. Lucía Claps (ISE "Dr. Abraham Willink"-UNT, Argentina) for information on the genus Dactylopius. The assistance of Lurdes Hurtado with English language is also appreciated. Thanks are also given to the reviewers for useful suggestions to improve the paper.
About this article
Cite this article
Chávez-Moreno, C.K., Tecante, A. & Casas, A. The Opuntia (Cactaceae) and Dactylopius (Hemiptera: Dactylopiidae) in Mexico: a historical perspective of use, interaction and distribution. Biodivers Conserv 18, 3337 (2009). https://doi.org/10.1007/s10531-009-9647-x
Received:

Accepted:

Published:
Keywords
Cactaceae

Conservation

Dactylopius

Hemiptera

Mexico

Opuntia