Abstract
Originally prepared as a keynote address for the 2008 La Tapoa Workshop on Natural Resource Management (NRM) and Community Based Natural Resource Management (CBNRM), this paper examines the Southern African experience in CBNRM over the past 20 years. From this experience the paper draws lessons on when and where CBNRM is appropriate, what can make it work, and what can make it work better. These lessons are discussed under the three categories of benefit, conservation and empowerment. Benefit is usually conceptualized in terms of financial revenue, and using a Zimbabwean case study the paper shows how in unusual circumstances this can be substantial. Normally, however, natural resource production can only supplement inputs from agriculture and other modes of production, and the paper warns against regarding CBNRM as a panacea for rural poverty. Benefit should also be understood in non-pecuniary terms, and when economic benefit is linked with authority and responsibility large increments in social capital can result. The conservation interests of donors are often perceived as being at odds with local perspectives, a perception which fails to take into consideration means-end-sequencing. A socially constructed stalemate often occurs when external agencies impose their agendas upon local populations, a stalemate which can be broken when communities are given the authority and responsibility necessary to create internally legitimate regimes. A new science which combines professional and civil inputs is required to achieve CBNRM's goal—empowered and dynamic local regimes integrated into larger scale systems of conservation and development.
This is a preview of subscription content, log in to check access.
Access options
Buy single article
Instant access to the full article PDF.
US$ 39.95
Price includes VAT for USA
Subscribe to journal
Immediate online access to all issues from 2019. Subscription will auto renew annually.
US$ 199
This is the net price. Taxes to be calculated in checkout.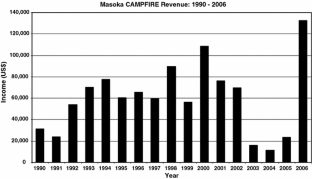 Notes
1.

CAMPFIRE. The acronym for Zimbabwe's national CBNRM programme, "Communal Areas Management Programme For Indigenous Resources".
References
Ake C (2000) The feasability of democracy in Africa. Council for the Development of Social Science Research in Africa, Dakar

Barrow E, Murphree M (2001) Community conservation: from concept to practice. In: Hulme D, Murphree M (eds) African wildlife and livelihoods. James Currey, Oxford, pp 24–37

CAMPFIRE Monitoring and Evaluation Data Base (various years) Harare: WWF

Christoffersen N, Campbell C, du Toit J (eds) (1998) Communities and sustainable use: Pan-African perspectives. IUCN, Harare

Constantin F (1998) Nihil Novi sub sole: natural resources, popular participation and public policy in Africa, in Christoffersen N et al., Communities and sustainable use: Pan-African perspectives. Harare: IUCN, pp.8–18

Dzomba T (2000) Basic information: CAMPFIRE. Kanyurira Ward 11, Guruwe Rural District Council. Typescript 5 pp

Jones B (2000) The evolution of a community-based approach to wildlife management at Kunene, Namibia. In: Hulme D, Murphree M (eds) African wildlife and livelihoods. James Currey, Oxford, pp 160–176

Lee K (1993) Compass and gyroscope. Integrating science and politics for the environment. Island Press, Washington, DC

Masoka Ward Wildlife Records (Various years)

Murphree MW (1993) Communities as resource management institutions. IIED, Gatekeeper Series No. 36, London

Murphree MW (1997) Congruent objectives, competing interests and strategic compromise. Concept and process in Zimbabwe's CAMPFIRE programme. Paper presented to the conference on "Representing Communities: Histories and Politics of Community-Based Resource Management" Helen, Georgia

Rihoy E (ed) (1995) The commons without the tragedy? strategies for community-based natural resources management in Southern Africa. USAID, Lilongwe

Ruitenbeek J, Cartier C (2001) The invisible wand: adaptive co-management as an emergent strategy in complex bio-economic systems. CIFOR, Bogor
About this article
Cite this article
Murphree, M.W. The strategic pillars of communal natural resource management: benefit, empowerment and conservation. Biodivers Conserv 18, 2551–2562 (2009). https://doi.org/10.1007/s10531-009-9644-0
Received:

Accepted:

Published:

Issue Date:
Keywords
Keynote address

Communal

Community

Natural resources

Management

Benefit

Empowerment

Conservation

CBNRM