Abstract
Red squirrels have undergone a 30% contraction of their range in the last 10 years in Ireland, a decline attributed to the introduced grey squirrel. Large regions in the west of Ireland are free of both species of squirrel, due to the isolation of forests there and their relatively recent planting. The potential of these forests as translocation sites for red squirrels was investigated to ascertain the possibility of increasing the range of red squirrels in Ireland. Nineteen red squirrels were moved into Derryclare wood, Co. Galway using a soft release into enclosures, and their subsequent survival and settlement in the wood was monitored, using trapping and radio-tracking. The successful release of 94.7% of squirrels from the enclosure, and 68.4% survival to the start of the following year's breeding season were in excess of the target survival rates of 75 and 50%, respectively. Five of the females were found to be lactating in May 2006, and seven offspring captured in August 2006. A squirrel was observed in a follow-up visit in October 2007. Radio-tracked red squirrels tended to remain in the general vicinity of release, incorporating supplementary feeders as part of their home ranges. Squirrels also fed on the natural food available in the wood, with feeding signs readily observed in the wider woodland. The techniques used proved very successful in survival, retention and future reproduction of the translocated population. Timing of release may be an important consideration for future translocations with survival better in summer-released animals.
Access options
Buy single article
Instant access to the full article PDF.
US$ 39.95
Tax calculation will be finalised during checkout.
Subscribe to journal
Immediate online access to all issues from 2019. Subscription will auto renew annually.
US$ 119
Tax calculation will be finalised during checkout.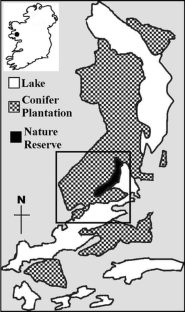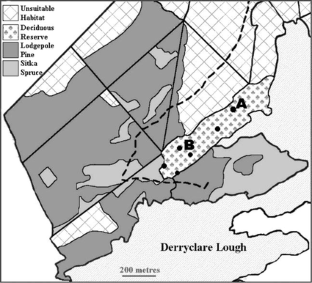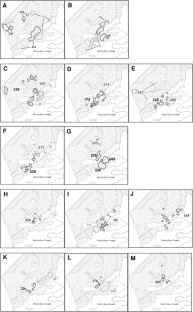 References
Anon (2008) All-Ireland species action plan—red squirrel. National Parks and Wildlife Service, Dublin, Ireland and Environment and Heritage Service, Belfast, Northern Ireland

Bertram BCR, Moultu D (1986) Reintroducing red squirrels into Regent's Park. Mammal Rev 16:81–88. doi:10.1111/j.1365-2907.1986.tb00025.x

Bright PW, Morris PA (1994) Animal translocation for conservation: performance of dormice in relation to release methods, origin and season. J Appl Ecol 31:699–708. doi:10.2307/2404160

Carey M, Hamilton G, Poole A, Lawton C (2007) The Irish squirrel survey 2007. COFORD, Dublin

Fornasari L, Casale P, Wauters L (1997) Red squirrel conservation: the assessment of a reintroduction experiment. Ital J Zool (Modena) 64:163–167. doi:10.1080/11250009709356190

Gurnell J (1987) The natural history of squirrels. Christopher Helm Ltd., Oxford

Gurnell J, Pepper HW (1991) Conserving the red squirrel—Forestry Commission research information note 205. HMSO, London

Hodder KH, Bullock JM (1997) Translocations of native species in the UK: implications for biodiversity. J Appl Ecol 34:547–565. doi:10.2307/2404906

Holm J (2003) Squirrels. Whittet Books Ltd, Stowmarket

IUCN (1987) The IUCN position statement on translocation of living organisms. Prepared by the IUCN/SSC Re-introduction Specialist Group. IUCN, Gland, Switzerland

IUCN (1998) Guidelines for re-introductions. Prepared by the IUCN/SSC Re-introduction Specialist Group. IUCN, Gland, Switzerland

Jackson NL (1998) Two trial releases of captive-bred red squirrels to a woodland site in Colwyn bay, North Wales. In: Collins L, Cooper M (eds) 3rd NPI Red Alert UK Forum for Red Squirrel Conservation. Scottish Natural Heritage, Perth, pp 67–78

Jackson NL, Shuttleworth C, Kenward R (2002) Red squirrel (Sciurus vulgaris) re-introduction into Newborough forest: a pilot study materials and methodologies. Menter Mon, Wales

Kenward RE, Hodder KH (1998) Red squirrels (Sciurus vulgaris) released in conifer woodland: the effects of source habitat, predation and interactions with grey squirrels (Sciurus carolinensis). J Zool 244:23–32. doi:10.1111/j.1469-7998.1998.tb00003.x

Lurz PWW, Garson PJ (1997) Forest management for red squirrels in conifer woodlands: a northern perspective. In: Gurnell J, Lurz P (eds) The conservation of red squirrels, Sciurus vulgaris L.. People's Trust for Endangered Species, London, pp 145–152

Lurz P, Garson PJ, Ogilvie JF (1998) Conifer species mixtures, cone crops and red squirrel conservation. Forestry 71:67–71. doi:10.1093/forestry/71.1.67

Lurz P, Garson PJ, Wauters LA (2000) Effects of temporal and spatial variations in food supply on the space and habitat use of red squirrels (Sciurus vulgaris L.). J Zool 251:167–178. doi:10.1111/j.1469-7998.2000.tb00601.x

McLean IFG (2001) Biological translocations: a conservation policy for Britain, consultation draft. Joint Nature Conservation Committee on behalf of The Countryside Council for Wales, English Nature and Scottish Natural Heritage

Molony SE, Dowding CV, Baker PJ, Cuthill IC, Harris S (2006) The effect of translocation and temporary captivity on wildlife rehabilitation success: an experimental study using European hedgehogs (Erinaceus europaeus). Biol Conserv 130:530–537. doi:10.1016/j.biocon.2006.01.015

Sainsbury AW, Deaville R, Lawson B, Cooley WA, Farelly SSJ, Stack MJ, Duff P, McInnes CJ, Gurnell J, Russell PH, Rushton SP, Pfeiffer DU, Nettleton P, Lurz PWW (2008) Poxviral disease in red squirrels Sciurus vulgaris in the UK: spatial and temporal trends of an emerging threat. EcoHealth 5(3):305–316. doi:10.1007/s10393-008-0191-z

Sarrazin F, Legendre S (2000) Demographic approach to releasing adults versus young in reintroductions. Conserv Biol 14:488–500. doi:10.1046/j.1523-1739.2000.97305.x

Tittensor AM (1970) The red squirrel (Sciurus vulgaris L.) in relation to its food resource. Ph.D. thesis, University of Edinburgh

Venning T, Sainsbury T, Gurnell J (1997) Red squirrel translocation and population reinforcement as a conservation tactic. In: Gurnell J, Lurz P (eds) The conservation of red squirrels, Sciurus vulgaris L.. People's Trust for Endangered Species, London, pp 133–144

Wauters LA, Dhondt AA (1989) Body weight, longevity and reproductive success in red squirrels (Sciurus vulgaris). J Anim Ecol 58:637–651. doi:10.2307/4853

Wauters LA, Dhondt AA (1992) Spacing behaviour of red squirrels, Sciurus vulgaris: variation between habitats and the sexes. Anim Behav 43:297–311. doi:10.1016/S0003-3472(05)80225-8

Wauters LA, Bijnens L, Dhondt AA (1993) Body mass at weaning and juvenile recruitment in the red squirrel. J Anim Ecol 62:280–286. doi:10.2307/5359

Wauters LA, Casale P, Dhondt AA (1994) Space use and dispersal of red squirrels in fragmented habitats. Oikos 69:140–146. doi:10.2307/3545294

Wauters LA, Somers L, Dhondt AA (1997) Settlement behaviour and population dynamics of reintroduced red squirrels (Sciurus vulgaris) in a park in Antwerp, Belgium. Biol Conserv 82:101–107. doi:10.1016/S0006-3207(97)00007-4

Wauters LA, Bertolino S, Adamo M, Dongen S, Tosi G (2005) Food shortage disrupts social organization: the case of red squirrels in conifer forests. Evol Ecol 19:375–404. doi:10.1007/s10682-005-8311-5

Wauters LA, Preatoni DG, Molinari A, Tosi G (2007) Radio-tracking squirrels: performance of home range density and linkage estimators with small range and sample size. Ecol Model 202:333–344. doi:10.1016/j.ecolmodel.2006.11.001
Acknowledgments
We would like to thank J. Gilleran, M. Morrissey, E. MacLoughlin and C. McCaw for their help with the fieldwork, and Professor W. Arthur for the support of the Zoology Department, NUIG. Thanks also to the National Parks and Wildlife Service and Coillte Teoranta, a State owned forestry company in Ireland, for permission to conduct this study on their respective property. This project was financed by the Embark Initiative of the Irish Research Council for Science Engineering and Technology.
About this article
Cite this article
Poole, A., Lawton, C. The translocation and post release settlement of red squirrels Sciurus vulgaris to a previously uninhabited woodland. Biodivers Conserv 18, 3205 (2009). https://doi.org/10.1007/s10531-009-9637-z
Received:

Accepted:

Published:
Keywords
Breeding success

Radio tracking

Settlement

Survival

Translocation