Abstract
In this study, the aquatic monocot Baldellia (Alismataceae) is used as a model for evaluating the general hindrances and shortfalls in the global conservation status assessment of a threatened taxon. Our study clearly shows that Linnean shortfalls (uncertainty in the number of species and taxonomy) and the Wallacean shortfall (fragmentary knowledge regarding distribution) form the basis for all other hindrances. We demonstrate that even in Europe, which has traditionally been very well investigated, between 60 and 75% of regions or countries possess no detailed distribution maps and/or data banks for Baldellia spp. Furthermore, between 50 and 60% of regions do not have any published red list category. Thus, only general conclusions concerning the global conservation status of the three Baldellia taxa are possible—a global assessment of conservation status for B. ranunculoides subsp. repens is nearly impossible. Baldellia ranunculoides s.str. shows a strong decline in practically all regions of its natural range, and thus it is probably the most threatened species in the genus. Baldellia alpestris is the least threatened species in the genus, even though it is a narrow endemic. Our case study clearly shows the need for reinforced coordination of research and conservation activities as well as an urgent need for data accessibility regarding taxonomic, chorological and conservation studies of endangered species.
This is a preview of subscription content, log in to check access.
Access options
Buy single article
Instant access to the full article PDF.
US$ 39.95
Price includes VAT for USA
Subscribe to journal
Immediate online access to all issues from 2019. Subscription will auto renew annually.
US$ 199
This is the net price. Taxes to be calculated in checkout.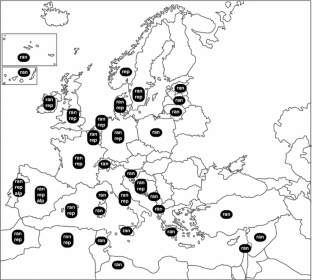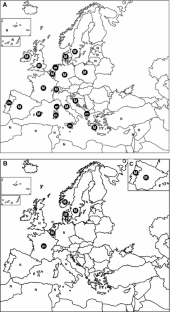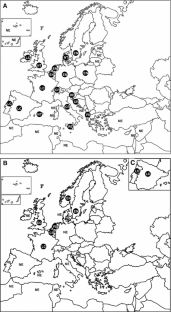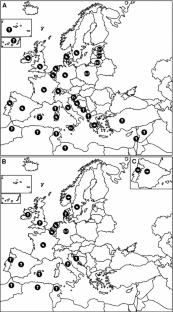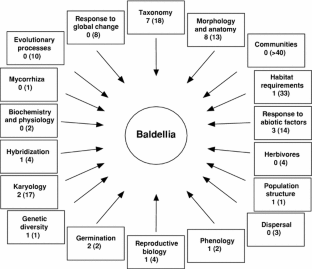 References
Aronsson M (1999) Rödlistade kärlväxter i Sverige, vol 1. ArtDatabanken SLU, Uppsala

Bini LM, Diniz-Filho JAF, Ranger TFLVB, Bastos RP, Plaza Pinto M (2006) Challenging Wallacean and Linnean shortfalls: knowledge gradients and conservation planning in a biodiversity hotspot. Divers Distrib 12:475–482. doi:10.1111/j.1366-9516.2006.00286.x

Brown JH, Lomolino MV (1998) Biogeography, 2nd edn. Sinauer Press, Sunderland

Butchart SHM, Stattersfield AJ, Bennun SM, Shutes SM, Akçakaya HR, Baillie JEM, Stuart SN, Hilton-Taylor C, Mace GM (2004) Measuring global trends in the status of biodiversity: red list indices for birds. PLoS Biol 2:2294–2304. doi:10.1371/journal.pbio.0020383

Casper SJ, Krausch H-D (1980) Pteridophyta und Anthophyta. In: Ettl H, Gerloff J, Heynig H (eds) Süsswasserflora von Mitteleuropa, Teil 1. Band 23. VEB Gustav Fisher, Jena, pp 169–173

Collar NJ (1998) Extinction by assumption: or, the Romeo Error on Zebu. Oryx 32:239. doi:10.1046/j.1365-3008.1998.d01-51.x

Cook CDK (1983) Aquatic plants endemic to Europe and the Mediterranean. Bot Jahrb 103:539–582

Cools JMA (1989) Atlas van de Nordbrabantse Flora. Stichting Uitgeverij van de Koninklijke Natuurhistorische Vereniging, Tilburg

Cosson ES-C (1864) Description de deux espèces nouvelles d'Espagne. Bull Soc Bot Fr 11:332–333

Delvosalle L, Vanhecke L (1982) Essai de notion quantitative de la rarefaction d'espèces aquatiques et palustres en Belgique entre 1960 et 1980. In: Symoens JJ, Hooper SS, Compère P (eds) Studies on aquatic vascular plants. Royal Botanical Society of Belgium, Brussels, pp 403–409

Eggenberg S, Landolt E (2006) Für welche Pflanzenarten hat die Schweiz eine internationale Verantwortung? Bot Helv 116:119–133. doi:10.1007/s00035-006-0763-x

Foley JA, DeFries R, Asner GP, Barford C, Bonan G, Carpenter SR, Chapin FS, Coe MT, Daily GC, Gibbs HK, Helkowski JH, Holloway T, Howard EA, Kucharik CJ, Monfreda C, Patz JA, Prentice IC, Ramankutty N, Snyder PK (2005) Global consequences of land use. Science 309:570–573. doi:10.1126/science.1111772

Glisson B (2004) Saussurea weberi Hulten (Weber's saw-wort): a technical conservation assessment. USDA Forest Service, Rocky Mountain Region. http://www.fs.fed.us. Accessed 11 Oct 2007

Glück H (1905) Biologische und morphologische Untersuchungen über Wasser- und Sumpfgewächse. Erster Teil: Die Lebensgeschichte der europäischen Alismaceen. Gustav Fischer, Jena

Glück H (1906) Alismataceae. In: Kirchner O, Loew E, Schröter C (eds) Lebensgeschichte der Blütenpflanzen Mitteleuropas, Band I, Abteilung I. Eugen Ulmer, Stuttgart, pp 584–648

Good TC, Zjhra ML, Kremen C (2006) Addressing data deficiency in classifying extinction risks: a case study of a radiation of Bignoniaceae from Madagascar. Conserv Biol 20:1099–1110. doi:10.1111/j.1523-1739.2006.00473.x

Ingelög T, Thor G, Hallingbäck T, Andersson R, Aronsson M (1991) Floravard i jordbrukslandskapet. Skyddsvärda växter, SBT, Lund

IUCN (2001) IUCN Red List categories and criteria: version 3.1. Species Survival Commission, IUCN, Gland. Switzerland and Cambridge, United Kingdom

Jones RA (2006) Creeping water-plantain (Dyfr lyriad ymlusgawl), Baldellia ranunculoides subsp. repens (Lam.) A. Löve & D. Löve in Wales. In: Leach SJ, Page CN, Peytoureau Y, Sanford MN (eds) Botanical links in the Atlantic arc. BSBI Conference Report No. 24, Camborne, pp 311–319

Kozlowski G (2008) Is the global conservation status assessment of a threatened taxon a utopia? Biodivers Conserv 17:445–448. doi:10.1007/s10531-007-9278-z

Kozlowski G, Jones RA, Nicholls-Vuille F-L (2008) Biological flora of Central Europe: Baldellia ranunculoides (Alismataceae). Perspect Plant Ecol Evol Syst 10:109–142. doi:10.1016/j.ppees.2007.12.003

Lawalrée A (1959) Baldellia repens (Lamk.) van Ooststroom en Belgique. Bull Jard Bot Etat Brux 29:7–14. doi:10.2307/3666990

Lid J, Lid DT (2005) Norsk flora, 7th edn. Det Norske Samlaget, Oslo

Lindblad R, Ståhl B (1989) Krypfloka (Apium inundatum) och flocksvalting (Baldellia ranunculoides) i norra Halland (SW Sweden). Sven Bot Tidskr 83:211–217

Lindblad R, Ståhl B (1990) Revsvalting, Baldellia repens, i Norden. Sven Bot Tidskr 84:253–258

Lomolino MV, Heaney LR (eds) (2004) Frontiers of biogeography: new directions in the geography of nature. Sinauer Associates, Sunderland

Marris E (2007a) The species and the specious. Nature 446:250–253. doi:10.1038/446250a

Marris E (2007b) What to let go. Nature 450:152–155. doi:10.1038/450152a

Master LL (1991) Assessing threats and seting priorities for conservation. Conserv Biol 5:559–563. doi:10.1111/j.1523-1739.1991.tb00370.x

Moreno Saiz JC, Sainz Ollero H (1992) Atlas corologico de las Monocotiledoneas endemicas de la poninsila Iberica y Baleares. Bases para una politica de conservacion. Colleccion Tecnica, Icona

Mrosovsky N (1997) IUCN's credibility critically endangered. Nature 389:436. doi:10.1038/38873

Mrosovsky N (2004) Predicting extinction: fundamental flaws in IUCN's red list system, exemplified by the case of Sea Turtles. University of Totonto press, Toronto

Pott R (1995) Die Pflanzengesellschaften Deutschlands, 2nd edn. Eugen Ulmer, Stuttgart

Preston CD, Croft JM (2001) Aquatic plants in Britain and Ireland. Harley Books, Colchester

Quayle JE, Ramsay LR (2005) Conservation status as a biodiversity trend indicator: recommendations from a decade of listing species at risks in British Columbia. Conserv Biol 19:1306–1311. doi:10.1111/j.1523-1739.2005.00083.x

Rich TCG, Karran AB (2006) Floristic changes in the British Isles: comparison of techniques for assessing changes in frequency of plants in time. Bot J Linn Soc 152:279–302. doi:10.1111/j.1095-8339.2006.00574.x

Rich TCG, Nicholls-Vuille F-L (2001) Taxonomy and distribution of European Damasonium (Alismataceae). Edinbourg J Bot 58:45–55

Rodrigues ASL (2006) Are global conservation efforts successful? Science 311:1051–1052. doi:10.1126/science.1131302

Schemske DW, Husband BC, Ruckelshaus MH, Goodwillie C, Parker IM, Bishop JD (1994) Evaluating approaches to the conservation of rare and endangered plants. Ecology 75:584–606. doi:10.2307/1941718

Schubert R, Hilbig W, Klotz S (1995) Bestimmungsbuch der Pflanzengesellschaften Mittel- und Nordostdeutschlands. Gustav Fischer, Stuttgart

Terschuren J (1999) Plan d'action en faveur de Cypripedium calceolus en Europe. Sauvegarde de la Nature: 100. Editions du Conseil de l'Europe

Triest L, Vuille F-L (1991) Isozyme variation in several seed collections and hybrids of Baldellia (Alismataceae). In: Triest L (ed) isozymes in water plants. Opera Bot Belg 4:37–48

Tutin TG (ed) (1980) Flora Europaea. Alismataceae to Orchidaceae, vol 5. Cambridge University Press, Cambridge

Vasconçellos JC (1970) Novas combinaçoes momenclaturais de plantas da flora Portuguesa. Bol Soc Brot Ser 2(44):81–83

Vuille F-L (1988) The reproductive biology of the genus Baldellia (Alismataceae). Plant Syst Evol 159:173–183. doi:10.1007/BF00935970

Welk E (2001) Arealkundliche Analyse und Bewertung der Schutzrelevanz seltener und gefährdeter Gefässpflanzen Deutschlands. PhD Thesis, Martin-Luther-Universität Halle-Wittenberg, Halle/Saale

Whittaker RJ, Araujo MB, Jepson P, Ladle RJ, Watson JEM, Willis KJ (2005) Conservation biogeography: assessment and project. Divers Distrib 11:3–23. doi:10.1111/j.1366-9516.2005.00143.x

Wilcove DS, Chen LY (1998) Management costs for endangered species. Conserv Biol 12:1405–1407. doi:10.1046/j.1523-1739.1998.97451.x
Acknowledgments
We would like to thank Benoît Clement and Susanne Bollinger from the Botanical Garden of the University of Fribourg (Switzerland) for their assistance during manuscript preparation. We are also indebted to Antony Buchala, University of Fribourg, for English improvement as well as to the Franklinia Foundation for its engagement and valuable support of field work. Further, we thank following local experts (alphabetical order): Paulo Alves, University of Porto, Portugal; Svein Baatvik, Directorat for Nature Management, Trondheim, Norway; Ramon Casimiro-Soriguer, Dep. Biologia Vegetal y Ecologia, Universidad de Sevilla, Spain; Kristijan Civic, State Institute for Nature Protection, Croatia; Christian Clerc, GEG Champ-Pittet, Switzerland; Antonio Crespi, Botanic Garden, University of Tras-os-Montes e Alto Douro, Vila Real, Portugal; Mohamed Fennane, Dépt. de Botanique et d'écologie végétale, University of Rabat, Morocco; Abdelkrim Hacène, Dept. de Botanique, Institut National Agronomique, University of Alger, Algeria; Andrew R. Jones, Countryside Council for Wales, UK; Mitja Kaligaric, Katedra za geobotaniko, Slovenia; Mart Külvik, Head of Research Centre. Environmental Protection Institute, Estonia; Leht Malle, The Estonian naturalist society, Estonia; Viesturus Melecis, Institute of Biology, University of Latvia; David Draper Munt, Museum Nacional de História Natural, Universidade de Lisboa, Portugual; Baudewijn Odé, Director of Stichting Foron, Leiden, the Netherlands; Francis Olivereau, Diréction régionale de l'environnement de la region Centre, France; Salvatore Pasta, Tutela delle specie vegetali prioritarie delle Isole Eolie, Sicily; Henrik Ærenlund Pedersen, University of Copenhagen, Denmark; Oscar Sánchez Pedraja, Grupo botànico cantàbrico, Cantabria, Spain; Uwe Raabe, Naturschutzamt Nordrhein-Westfalen, Deutschland; Jacqueline Saintenoy-Simon, A.M.B.E, Association pour l'Etude de la Floristique, Bruxelles, Belgium; Hanno Schäfer, author of "Flora of the Azores"; Anna Scoppola, Università Tuscia, Italy; Rubim da Silva, University of Porto, Portugal; Arne Strid, Göteborg Botanical Garden, Sweden; Thomas Raus, Botanischer Garten Berlin, Deutschland; Flora-Lise Vuille, University of Zürich, Switzerland; Joanna Zalewska, Department of Plant Taxonomy and Phytogeography, Institute of Botany, Jagiellonian University, Poland.
Electronic supplementary material
Below is the link to the electronic supplementary material.
About this article
Cite this article
Kozlowski, G., Rion, S., Python, A. et al. Global conservation status assessment of the threatened aquatic plant genus Baldellia (Alismataceae): challenges and limitations. Biodivers Conserv 18, 2307–2325 (2009). https://doi.org/10.1007/s10531-009-9589-3
Received:

Accepted:

Published:

Issue Date:
Keywords
Aquatic macrophyte

Conservation priority

Wallacean shortfall

Linnean shortfall

Red list