Abstract
Using IUCN Red List species as biodiversity surrogates, supplemented with additional analyses based on ecoregional diversity, priority areas for conservation in Mesoamerica, Chocó, and the Tropical Andes were identified using the methods of systematic conservation planning. Species' ecological niches were modeled from occurrence records using a maximum entropy algorithm. Niche models for 78 species were refined to produce geographical distributions. Areas were prioritized for conservation attention using a complementarity-based algorithm implemented in the ResNet software package. Targets of representation for Red List species were explored from 10 to 90% of the modeled distributions at 10% increments; for the 53 ecoregions, the target was 10% for each ecoregion. Selected areas were widely dispersed across the region, reflecting the widespread distribution of Red List species in Mesoamerica, Chocó, and the Tropical Andes, which underscores the region's importance for biodiversity. In general, existing protected areas were no more representative of biodiversity than areas outside them. Among the countries in the region, the protected areas of Belize performed best and those of Colombia and Ecuador worst. A high representation target led to the selection of a very large proportion of each country except Colombia and Ecuador (for a 90% target, 83–95% of each country was selected). Since such large proportions of land cannot realistically be set aside as parks or reserves, biodiversity conservation in Mesoamerica, Chocó, and the Tropical Andes will require integrative landscape management which combines human use of the land with securing the persistence of biota.
This is a preview of subscription content, log in to check access.
Access options
Buy single article
Instant access to the full article PDF.
US$ 39.95
Price includes VAT for USA
Subscribe to journal
Immediate online access to all issues from 2019. Subscription will auto renew annually.
US$ 199
This is the net price. Taxes to be calculated in checkout.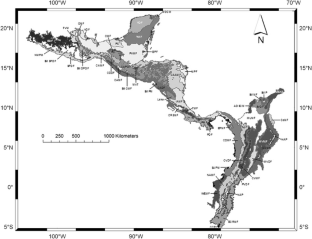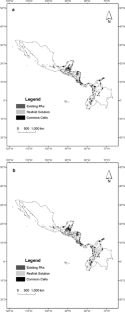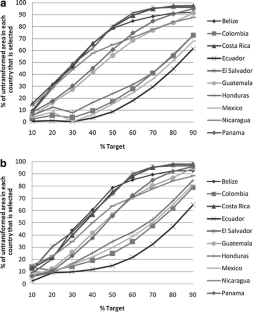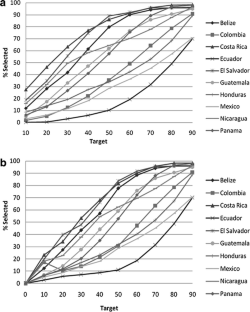 References
Agresti A (2002) Categorical data analysis, 2nd edn. Wiley, Hoboken

Albuja VL (1992) Mammal list; July trip. In: Parker TA III, Carr JL (eds) Status of forest remnants in the Cordillera de la Costa and adjacent areas of southwestern Ecuador. Conservation International Rapid Assessment Program Working Papers, Vol 2

Albuja VL (1999) Murciélagos del Ecuador, 2nd edn. Cicetrónic Compañía Limitada, Quito

Albuja VL, Ibarra M, Urgilés J et al (1980) Estudio preliminar de los vertebrados ecuatorianos. Escuela Politécnica Nacional, Quito

Anderson RP (2003) Real vs. artefactual absences in species distributions: tests for Oryzomys albigularis (Rodentia: Muridae) in Venezuela. J Biogeogr 30:591–605

Anderson RP, Peterson AT, Gómez-Laverde M (2002a) Using GIS-based niche modeling to test geographic predictions of competitive exclusion and competitive release in South America pocket mice. Oikos 98:3–16

Anderson RP, Gómez-Laverde M, Peterson AT (2002b) Geographical distributions of spiny pocket mice in South America: insights form predictive models. Glob Ecol Biogeogr 11:131–141

Best BJ, Kessler M (1995) Biodiversity and conservation in Tumbesian Ecuador and Peru. BirdLife International, Cambridge, UK

Bravo H, Scheinvar H, Scheinvar L (1999) El interesante mundo de las cactáceas, 2nd edn. Fondo de Cultura Económica, México

Briones M, Sánchez-Cordero V (2004) Diversidad de mamíferos del estado de Oaxaca. In: García-Mendoza A, Ordónez MJ, Briones-Salas M (eds) Diversidad biológica del estado de Oaxaca. Instituto de Biología, UNAM, Fondo Oaxaqueño para la Conservación de la Naturaleza, and World Wildlife Fund

Bryant D, Nielsen D, Tangley L (1997) The last frontier forests. Issues Sci Technol 14:85–87

Burke L, Kura Y, Kassem K et al (2000) Pilot analysis of global ecosystems: coastal ecosystems. World Resources Institute, Washington

Calderón R, Boucher T, Bryer M et al (2004) Setting biodiversity conservation priorities in Central America. The Nature Conservancy, Arlington

Carr MH, Lambert JD, Zwick PD (1994) Mapeo de la potencialidad de un corredor biológico continuo en América Central/Mapping of continuous biological corridor potential in Central America. Paseo Pantera. University of Florida, Gainesville

Casas-Andreu G, Méndez de la Cruz FR, Camarillo-Rangel JL (1996) Anfíbios y reptiles de Oaxaca: lista, distribución y conservación. Acta Zoológica Mexicana 69:1–35

CCAD (Comisión Centroamericana de Ambiente y Desarrollo) (1989) Central American agreement for the protection of the environment. CCAD, San Isidro

CCAD (Comisión Centroamericana de Ambiente y Desarrollo) (1993) Plan de acción forestal tropical para Centroamerica. CCAD, Guatemala City

CCAD (Comisión Centroamericana de Ambiente y Desarrollo) (1994) Central American alliance for sustainable development. CCAD, San José

CCAD (Comisión Centroamericana de Ambiente y Desarrollo) (2002) Nature, people, and well being. World Bank and CCAD, Paris

CONABIO (Comisión Nacional para el Conocimiento y Uso de la Biodiversidad) (1998) La diversidad biológica de México: estudio de país. Comisión Nacional para el Conocimiento y Uso de la Biodiversidad, Mexico City

Conservation International (2004) Conserving earth's living heritage: a proposed framework for designing biodiversity conservation strategies. Conservation International, Washington

Cowling RM, Pressey RL (2003) Introduction to systematic conservation planning in the cape floristic region. Biol Conserv 12:1–13

Cowling RM, Pressey RL, Sims-Castley R et al (2003) The expert or the algorithm?—comparison of priority conservation areas in the cape floristic region identified by park managers and reserve selection software. Biol Conserv 112:147–167

Cracraft J (1985) Historical biogeography and patterns of differentiation within the South American avifauna: areas of endemism. In: Buckley PA, Foster MS, Morton ES et al (eds). Neotropical ornithology. Ornithological Monographs. American Ornithologists' Union, Washington, DC, Vol 36

Csuti B, Polasky S, Williams PH et al (1997) A comparison of reserve selection algorithms using data on terrestrial vertebrates in Oregon. Biol Conserv 80:83–97

Delgadillo MC (2000) Mosses and the Caribbean connection between North and South America. Bryologist 103:82–86

Delgadillo MC, Villaseñor JL (2002) The status of the South American Grimmia herzogii (Musci). Taxon 51:123–129

Dinerstein E, Olson DM, Graham DJ (1995) A conservation assessment of the terrestrial ecoregions of Latin America and the Caribbean. World Bank, Washington, DC

Donnelly TW (1989) Geologic history of the Caribbean and Central America. In: Bally AW, Palmer AR (eds) Geological Society of America decade of North American geology, Vol. A, The geology of North America: an overview. Geological Society of America, Boulder

Elith J, Graham CH, Anderson RP et al (2006) Novel methods improve prediction of species' distributions from occurrence data. Ecography 29(2):129–151

Escalante T, Sánchez-Cordero V, Morrone JJ et al (2007) Parsimony analysis of endemicity, Goloboff fit, and areas of endemism in Mexico: a case study using species' ecological niche modelling of terrestrial mammals. Interciencia 32(3):151–159

Evans S (1999) The green republic: a conservation history of Costa Rica. University of Texas Press, Austin

Fa JE, Morales LM (1991) Mammals and protected areas in the Trans-Mexican Volcanic Belt. In: Mares MA, Schmidly DJ (eds) Latin American Mammalogy: History, Biodiversity, and Conservation. University of Oklahoma Press, Norman, Oklahoma

Faith DP, Margules CR, Walker PA (2001) A biodiversity conservation plan for Papua New Guinea based on biodiversity trade-offs analysis. Pac Conserv Biol 6:304–324

Fandiño-Lozano M (1996) Framework for ecological evaluation oriented at establishment and management of protected areas. Dissertation, University of Amsterdam

Fandiño-Lozano M, van Wyngaarden W (2005a) Focalize software. Grupo ARCO, Bogotá

Fandiño-Lozano M, van Wyngaarden W (2005b) Prioridades de consevación biológica para Colombia. Grupo ARCO, Bogotá

FAO (United Nations Food and Agriculture Association) (2005) State of the world's forests. United Nations Food and Agriculture Association, Rome

Ferrier S, Pressey RL, Barrett TW (2000) A new predictor of the irreplaceability of areas for achieving a conservation goal, its application to real-world planning, and a research agenda for further refinement. Biol Conserv 93:303–325

Figueroa F, Sánchez-Cordero V (2008) Effectiveness of natural protected areas to prevent land use and land cover change in Mexico. Biodivers Conserv 17:3223–3240

Garson J, Aggarwal A, Sarkar S (2002) ResNet Ver 1.2 manual. University of Texas Biodiversity and Biocultural Conservation Laboratory, Austin

Groves CR, Jensen DB, Valutis LL et al (2002) Planning for biodiversity conservation: putting conservation science into practice. BioScience 52:499–512

Hansen M, DeFries R, Townshend JRG et al (2000) Global land cover classification at 1 km resolution using a decision tree classifier. Int J Remote Sens 21:1331–1365

Hijmans RJ, Cameron SE, Parra JL et al (2005) Very high resolution interpolated climate surfaces for global land areas. Int J Climatol 25:1965–1978

Holdridge LR (1967) Life zone ecology. Tropical Science Center, San Jose

Hooghiemstra H, Cleef AM, Noldus G et al (1992) Upper quaternary vegetation dynamics and palaeoclimatology of the La Chonta Bog Area (Cordillera de Talamanca, Costa Rica). J Quart Sci 7:205–225

Illueca J (1997) The paseo pantera agenda for regional conservation. In: Coates AG (ed) Central America: a natural and cultural history. Yale University Press, New Haven

Jarrín-V P (2001) Mamíferos en la niebla: Otonga, un bosque nublado del Ecuador. Publicaciones Especiales, Museo de Zoología, Centro de Biodiversidad y Ambiente. Pontificia Universidad Católica del Ecuador 5:1–244

Joseph L, Stockwell D (2002) Climatic modeling of the distribution of some Pyrrhura parakeets of northwestern South America with notes on their systematics and special reference to Pyrrhura caeruleiceps Todd, 1947. Ornithol Neotrop 13:1–8

Jukofsky D (1992) Path of the panther. Wildlife Conserv 95(5):18–24

Kappelle M, Cleef AM, Chaverri A (1992) Phytogeography of Talamanca montane Quercus forests, Costa Rica. J Biogeogr 19:299–315

Margules CR, Pressey RL (2000) Systematic conservation planning. Nature 405:242–253

Margules CR, Sarkar S (2007) Systematic conservation planning. Cambridge University Press, Cambridge

Matthews E, Payne R, Rohweder M et al (2000) Pilot analysis of global ecosystems: forest ecosystems. World Resources Institute, Washington

Miller K, Chang E, Johnson N (2001) Defining common ground for the Mesoamerican biological corridor. World Resources Institute, Washington

Morris W, Doak D, Groom M et al (1999) A practical handbook for population viability analysis. The Nature Conservancy, Arlington

Morrone JJ (2005) Cladistic biogeography: identity and place. J Biogeogr 32:1281–1284

Myers N, Mittermeier RA, Mittermeier CG et al (2000) Biodiversity hotspots for conservation priorities. Nature 403:853–858

Olson DM, Dinerstein E, Wikramanayake ED et al (2001) Terrestrial ecoregions of the worlds: a new map of life on Earth. Bioscience 51:933–938

Pawar S, Koo MS, Kelley C et al (2007) Conservation assessment and prioritization of areas in northeast India: priorities for amphibians and reptiles. Biol Conserv 136:346–361

Peterson AT, Flores-Villela O, León-Paniagua L et al (1993) Conservation priorities in northern Middle America: moving up in the world. Biodivers Lett 1:33–38

Peterson AT, Soberón J, Sánchez-Cordero V (1999) Conservatism of ecological niches in evolutionary time. Science 285:1265–1267

Peterson AT, Caneco-Márquez L, Contreras Jiménez JL et al (2004) A preliminary biological survey of Cerro Piedra Larga, Oaxaca, Mexico: birds, mammals, reptiles, amphibians, and plants. An Inst Biol, Univ Nac Aut Méx, Serie Zool 75(2):439–466

Phillips SJ, Dudik M, Shapire RE (2004) A maximum entropy approach to species distribution modeling. In: Greiner R, Schuurmans D (eds) Proceedings of the twenty-first international conference on machine learning. ACM, New York, pp 655–662

Phillips SJ, Anderson RP, Schapire RE (2006) Maximum entropy modeling of species geographic distributions. Ecol Model 190:231–259

Pressey RL (1994) Ad hoc reservations: forward or backward steps in developing representative reserve systems. Conserv Biol 8:662–668

Pressey RL (1999) Applications of irreplaceability analysis to planning and management problems. Parks 9:42–51

Pressey RL, Ferrier S, Hager TC et al (1996) How well protected are the forests of north-eastern New South Wales? analyses of forest environments in relation to formal protection measures, land tenure, and vulnerability to clearing. For Ecol Manag 85:311–333

Raven PH, Axelrod DI (1974) Angiosperm biogeography and past continental movement. Ann Mo Bot Gard 61:539–673

Revenga C, Brunner J, Henninger N et al (2000) Pilot analysis of global ecosystems: freshwater systems. World Resources Institute, Washington

Ricketts TH, Dinerstein E, Olson DM et al (1995) Terrestrial ecoregions of North America: a conservation assessment. Island Press, Washington, DC

Sánchez-Cordero V, Figueroa F (2007) La efectividad de las Reservas de la Biosfera en México para contener procesos de cambio en el uso del suelo. In: Halffter G, Guevara S (eds) Hacia una cultura de conservación de la diversidad biológica Sociedad Entomológica Aragonesa, CONABIO, CONANP, CONACyT, Instituto de Ecología, A. C., MAB-UNESCO. Ministerio de Medio Ambiente-Gobierno de España, Zaragoza

Sarakinos H, Nicholls AO, Tubert A et al (2001) Area prioritization for biodiversity conservation in Québec on the basis of species distributions: a preliminary analysis. Biodivers Conserv 10:1419–1472

Sarkar S (2002) Defining 'biodiversity': assessing biodiversity. Monist 85:131–155

Sarkar S (2005) Biodiversity and environmental philosophy: an introduction to the issues. Cambridge University Press, Cambridge, UK

Sarkar S, Margules CR (2002) Operationalizing biodiversity for conservation planning. J Biosci 27(S2):299–308

Sarkar S, Aggarwal A, Garson J et al (2002) Place prioritization for biodiversity content. J Biosci 27(S2):339–346

Sarkar S, Pappas C, Garson J et al (2004) Place prioritization for biodiversity conservation using probabilistic surrogate distribution data. Divers Distrib 10:125–133

Sarkar S, Pressey RL, Faith DP et al (2006) Biodiversity conservation planning tools: present status and challenges for the future. Ann Rev Environ Res 31:123–159

Sarukhán J, Dirzo D (2001) Biodiversity rich countries. In: Levin SA (ed) Encyclopedia of biodiversity. Academic Press, San Diego, pp 419–436

Sarukhán J, Soberón J, Larson J (1996) Biological conservation in a high beta-diversity country. In: di Castri F, Younes T (eds) Biodiversity, science and development. Towards a new partnership. CAB International—IUBS, Paris, pp 246–263

Secretariat of the Convention on Biological Diversity (2002) Global strategy for plant conservation. Secretariat of the Convention on Biological Diversity, Montreal. http://www.bgci.org/files/7/0/global_strategy.pdf. Cited 24 June 2007

Sierra R, Campos F, Chamberlin J (2002) Conservation priorities in continental Ecuador: a study based on landscape and species level biodiversity patterns. Landsc Urban Plan 59:95–110

Simonoff JS (2003) Analyzing categorical data. Springer, Berlin

Smith RJ, Goodman PS, Matthews WS (2006) Systematic conservation planning: a review of perceived limitations and an illustration of the benefits, using a case study from Maputaland, South Africa. Oryx 40:400–410

Soberón J, Peterson AT (2005) Interpretation of models of fundamental ecological niches and species' distributional areas. Biodivers Inform 2:1–10

Soulé ME, Sanjayan MA (1998) Conservation targets—do they help? Science 279:2060–2061

Stehli FG, Webb SD (eds) (1985) The great american biotic interchance. Plenum, New York

The IUCN Species Survival Commission (2007) IUCN Red List of threatened species. http://www.iucnredlist.org/. Cited 26 May 2008

USGS (U. S. Geological Survey) (1998) GTOPO30 Global 30 arc-second digital elevation model. USGS, Reston. http://edcdaac.usgs.gov/gtopo30/gtopo30.html. Cited 31 May 2007

Utting P (1997) Deforestation in Central America: historical and contemporary dynamics. In: de Groot JP, Ruben R (eds) Sustainable agriculture in Central America. St. Martin's, New York, pp 9–29

WDPA Consortium (2007) World database on protected areas 2007. Available via World Conservation Union (IUCN) and UNEP-World Conservation Monitoring Centre (UNEP-WCMC). http://sea.unep-wcmc.org/wdbpa/index.htm. Cited 26 May 2008
Acknowledgments
Animal species data were obtained from MaNIS (http://manisnet.org, last accessed 4 April 2007), HerpNET (http://www.herpnet.org/, last accessed 4 April 2007), ORNIS (http://olla.berkeley.edu/ornisnet/, last accessed 4 April 2007), and REMIB (Red Mundial de Información sobre Biodiversidad; http://www.conabio.gob.mx/remib/doctos/remib_esp.html, last accessed 4 April 2007). Additional records were obtained from Smithsonian National Museum of Natural History (http://www.mnh.si.edu/rc/, last accessed 4 April 2007). Plant species data were obtained from the University of Missouri Botanical Garden, W3TROPICOS (http://mobot.mobot.org/W3T/Search/vast.html, last accessed 22 January 2007)—thanks are due to Nancy Shackelford for processing these data. MCL thanks the Consejo Nacional de Ciencia y Tecnología (CONACyT) for support and J. Nicolás Urbina-Cardona for assistance with the preparation of the Tables and Figures and for comments on an earlier draft. This work was supported by NSF Grant No. SES-0645884, 2007–2009 ("From Ecological Diversity to Biodiversity," PI: SS). TF acknowledges support from the Marion Elizabeth Eason Endowed Scholarship for the Study of Biology and the University Continuing Fellowship from the University of Texas.
Electronic supplementary material
Below is the link to the electronic supplementary material.
About this article
Cite this article
Sarkar, S., Sánchez-Cordero, V., Londoño, M.C. et al. Systematic conservation assessment for the Mesoamerica, Chocó, and Tropical Andes biodiversity hotspots: a preliminary analysis. Biodivers Conserv 18, 1793–1828 (2009). https://doi.org/10.1007/s10531-008-9559-1
Received:

Accepted:

Published:

Issue Date:
Keywords
Area prioritization

Ecological niche models

Mesoamerica

Tropical Andes

Chocó

Reserve selection algorithms

ResNet

Systematic conservation planning