Abstract
The future of the orangutan (Pongo spp.) is far from secure despite the species' high profile and media attention. The traditional threat to the orangutan has been widespread logging, but the continuing conversion of remaining habitat for oil palm (Elaeis guineensis) cultivation is hastening its extinction in the wild. This situation is driven by a robust global market for palm oil as a vegetable oil and biofuel. In tackling this conservation problem, therefore, economic factors cannot be overlooked. This article analyses these factors and how they curtail effective orangutan conservation. Of significance are the high opportunity costs of orangutan conservation and market failures associated with the public-goods nature of the orangutan's forest habitat. Conservationists should consider these constraints when formulating remedial action. This article assesses strategies that reduce the opportunity cost of conserving habitat (via supply-side approaches that divert oil palm cultivation away from forests) and enhance the realisable value of orangutan habitat (by capitalising on the demand for non-market values such as carbon storage). It is concluded that the former group of strategies are likely to have limited effect on curtailing deforestation, but with the right institutional policies in place they can act as stopgaps while strategies involving carbon financing and payments for biodiversity develop sufficiently to render habitat retention financially competitive.
Access options
Buy single article
Instant access to the full article PDF.
USD 39.95
Price excludes VAT (USA)
Tax calculation will be finalised during checkout.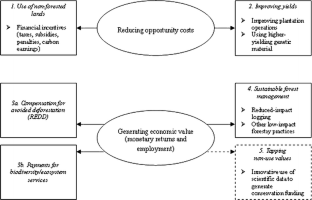 Notes
This estimate is obtained assuming palm oil expansion will result in 55–100% deforestation and that the proportion of this forest loss involving orangutan habitat is approximately 25%. The "25%" value is the average fractional share of orangutan habitat area out of the total extent of lowland forests in Borneo. This is calculated using (1) Langner et al.'s (2007, p. 2335) estimate of 92,286 km2 of peat swamp forests and 235,536 km2 of lowland forests (>40% crown cover) in Borneo (2005 figures), and (2) Wich et al.'s (2008, p. 333–334) areal estimate of remaining Bornean orangutan habitat (≈81,950 km2). This proportion is an average ballpark figure. It assumes that orangutan habitat is evenly distributed across Borneo's lowland forests. In general, though, the orangutan is unevenly distributed in "clumps" of varying density depending on the degree of habitat suitability. An alternate figure, suggested by Rijksen and Meijaard (1999, p. 284), put the proportion of orangutan habitat between 45 and 78% of the forest cover of Kalimantan and Sumatra's state forest estate prior to the 1997 forest fires.

Depending on the habitat type (floodplains or uplands), the carrying capacity of orangutans for Borneo may vary, on average, between 0.2 and 3.4 individuals/km2 (Soehartono et al. 2007, p. 8).

"Concession" refers to the relatively large area of land that is allocated by a government for enterprises to grow oil palm. Within a concession, disparate oil palm "complexes" may be found that consist of clusters of oil palm estates ("estates" being individually managed plantations) (see, e.g., Koh 2008). As such, the estate/plantation can be considered here the basic unit of cultivated oil palm land, typically comprising of operational units (i.e., under one estate manager) of 1,000–3,000 ha. Though smallholders own even smaller plots of oil palm-planted lands, measuring from a few hectares up to a few hundred hectares, here we concentrate on the case of the large-scale planters. The latter have more highly capitalised companies and a greater impact on the natural landscape.

These estimates were derived from a simple cost-revenue model built for a hypothetical, 25-year palm oil production project using production cost, oil palm yield and market price data. The lower-bound value for net profit applies if the 10-year (1998–2008) average crude palm oil price prevails for all future time periods of the model whereas the latter profit value applies if the 5-year (2003–2008) price is taken. An internal rate of return of 33 and 36% was obtained given the respective crude palm oil prices. The crude palm oil prices used are in current dollars normalised to 2005 average prices. Production costs and oil palm yield profiles are internal publications of the Malaysian Palm Oil Board obtained via e-mail correspondence. Tomich et al. (2002) calculated the opportunity cost for an Indonesian case to be US$617/ha, or US$1493/ha if timber sales are included (1997 figures). Koh and Wilcove (2007) calculated an annual net profit of US$2,078/ha based on data from an oil palm plantation in Sabah, but this is a static (single point-in-time) calculation.

In Malaysia, where labour costs are higher than in Indonesia, field workers in private plantations are largely migrant workers.
References
AFP (Agence France-Presse) (2008a) Indonesia looks to Papua to expand palm oil plantations: official. May 21. http://afp.google.com/article/ALeqM5jqwJenFP0c1gJL7446ZHZPz3_xOA. Cited 5 June 2008

AFP (Agence France-Presse) (2008b) Indonesia overtakes Malaysia as top palm oil producer: minister. April 14. http://afp.google.com/article/ALeqM5iGHPR8-RH1teVW3wTFb0a1XShgYw. Cited 20 May 2008

Ancrenaz M, Gimenez O, Ambu L, Ancrenaz K, Andau P, Goossens B, Payne J, Sawang A, Tuuga A, Lackman-Ancrenaz I (2005) Aerial surveys give new estimates for orangutans in Sabah, Malaysia. PLoS Biol 3:30–37

Ancrenaz M, Marshall A, Goossens B, van Schaik C, Sugardjito J, Gumal M, Wich S (2007a). Pongo pygmaeus. In: IUCN 2007. 2007 IUCN Red List of threatened species. http://www.redlist.org. Cited 6 September 2008

Ancrenaz M, Dabek L, O'Neil S (2007b) The cost of exclusion: recognizing a role for local communities in biodiversity conservation. PLoS Biol 5:2443–2448

Angelsen A, Kaimowitz D (2001) Agricultural technology and forests: a recapitulation. In: Angelsen A, Kaimowitz D (eds) Agricultural technologies and tropical deforestation. CAB International, Wallingford, UK, pp 383–402

Balmford A, Whitten T (2003) Who should pay for tropical conservation, and how could the costs be met? Oryx 37:238–250

Barlow C, Zen Z, Gondowarsito R (2003) The Indonesian oil palm industry. Oil Palm Ind Econ J 3:8–15

Basiron Y (2007) Palm oil production through sustainable plantations. Eur J Lipid Sci Tech 109:289–295

Butler R, Conway S (2007) Could peatland conservation be more profitable than palm oil? http://news.mongabay.com/2007/0822-indonesia.html. Cited 16 September 2008

Carter C, Finley W, Fry J, Jackson D, Willis L (2007) Palm oil markets and future supply. Eur J Lipid Sci Tech 109:307–314

Casson A (1999) The hesitant boom: Indonesia's oil palm sub-sector in an era of economic crisis and political change. Program on the underlying causes of deforestation. Centre for International Forestry Research (CIFOR), Bogor, Indonesia

Chikoye D (2003) Characteristics and management of Imperata cylindrica (L.) Raeuschel in smallholder farms in developing countries. In: Labrada R (ed). Weed management for developing countries (addendum 1). FAO, Rome. http://www.fao.org/docrep/006/y5031e/y5031e08.htm#bm08. Cited 20 July 2008

Clay J (2004) World agriculture and the environment: a commodity-by-commodity guide to impacts and practices. Island Press, Washington DC

Corley RHV (1996) What is the upper limit to oil extraction ratio? In: Rajanaidu N, Henson IE, Jalani BS (eds). Proceedings of the international conference on oil and kernel production in oil palm—a global perspective. Palm Oil Research Institute of Malaysia (PORIM), Kuala Lumpur, Malaysia, pp 256–269

Corley RHV, Tinker PB (2003) The oil palm, 4th edn. Blackwell Science, Oxford, UK

Curran LM, Trigg SN, McDonald AK, Astiani D, Hardiono YM, Siregar P, Caniago I, Kasischke E (2004) Lowland forest loss in protected areas of Indonesian Borneo. Science 303:1000–1003

Damodaran R (2007) Biofuels: the Malaysian story. New Straits Times, July 11. http://www.mpoc.org.my/download/prod/biofuels%20-%20the%20malaysian%20story.pdf. Cited 20 April 2008

FAO (Food and Agriculture Organisation) (2008) FAOSTAT online statistical service. http://faostat.fao.org/. Cited 1 September 2008

FAS (Foreign Agricultural Service of the United States Department of Agriculture) (2007) Commodity intelligence report: Indonesia: Palm oil production prospects continue to grow. http://www.pecad.fas.usda.gov/highlights/2007/12/Indonesia_palmoil/. Cited 1 September 2008

FAS (Foreign Agricultural Service of the United States Department of Agriculture) (2008) Reports: Oilseeds: Table 11: Palm oil: world supply and distribution. http://www.fas.usda.gov/psdonline. Cited 5 September 2008

Garrity DP, Soekardi M, van Noordwijk M, de la Cruz R, Pathak PS, Gunasena HP, Van So MN, Huijun G, Majid NM (1997) The imperata grasslands of tropical Asia: area, distribution and typology. Agrofor Syst 36:3–29

Gascon C, Mesquita R, Higuchi N (1998) Logging on in the rainforest. Science 4:1453

GRASP (Great Apes Survival Project) (2008) May 2008 update from the GRASP Secretariat. http://www.unep.org/grasp/Publications/Official_Documents/official_docs.asp. Cited 12 June 2008

Gullison RE, Frumhoff PC, Canadell JG, Field CB, Nepstad DC, Hayhoe K, Avissar R, Curran LM, Friedlingstein P, Jones CD, Nobre C (2007) Tropical forests and climate policy. Science 316:985–986

Holmes DA (2002) Where have all the forests gone? Environment and social development East Asia and Pacific region discussion paper series. The World Bank, Washington DC. http://go.worldbank.org/VQXBN177K0. Cited 11 June 2008

IMF (International Monetary Fund) (2008) IMF primary commodity prices. http://www.imf.org/external/np/res/commod/index.asp. Cited 7 September 2008

Jalani BS, Basiron Y, Darus A, Chan KW, Rajanaidu N (2002) Prospects of elevating national oil palm productivity: a Malaysian perspective. Oil Palm Ind Econ J 2:1–9

Koh LP (2008) Can oil palm plantations be made more hospitable for forest butterflies and birds? J Appl Ecol 45:1002–1009

Koh LP, Wilcove DS (2007) Cashing in palm oil for conservation. Nature 448:993–994

Koh LP, Wilcove DS (2008) Is oil palm agriculture really destroying tropical biodiversity? Conserv Lett 2:1–5

Langner A, Miettinen J, Siegert F (2007) Land cover change 2002–2005 in Borneo and the role of fire derived from MODIS imagery. Glob Change Biol 13:2329–2340

Laurance WF (2008) Can carbon trading save vanishing forests? BioScience 58:286–287

Marshall AJ, Nardiyono Engström LM, Pamungkas B, Palapa J, Meijaard E, Stanley SA (2006) The blowgun is mightier than the chainsaw in determining population density of Bornean orangutans (Pongo pygmaeus morio) in the forests of East Kalimantan. Biol Conserv 129:566–578

Meijaard E, Wich S (2007) Putting orang-utan population trends into perspective. Curr Biol 17:R540

Murdiyarso D, Puntodewo A, Widayati A, van Noordwijk M (2006) Determination of eligible lands for A/R CDM project activities and of priority districts for project development support in Indonesia. Centre for International Forestry Research (CIFOR), Bogor, Indonesia

Nellemann C, Miles L, Kaltenborn BP, Virtue M, Ahlenius H (eds) (2007) The last stand of the orangutan—state of emergency: illegal logging, fire and palm oil in Indonesia's national parks. United Nations Environmental Programme, GRID-Arendal, Norway. http://www.unep-wcmc.org/resources/publications/LastStand.htm. Cited 1 August 2008

Niesten ET, Rice RE (2007) Conservation incentive agreements as an alternative to tropical forest exploitation. In: Laurance WF, Peres CA (eds) Emerging threats to tropical forests. The University of Chicago Press, Chicago, pp 337–352

Pearce D, Putz FE, Vanclay JE (2003) Sustainable forestry in the tropics: panacea or folly? For Ecol Manag 172:229–247

Point Carbon (2008) Global carbon market worth €38bn in H1 2008, up €22.2bn on H1 2007 and bucking global economic gloom. http://www.pointcarbon.com/aboutus/pressroom/pressreleases/1.944317. Cited 1 September 2008

Potter L, Lee J (2007) Managing Imperata grasslands in Indonesia and Laos. In: Cairns M (ed) Voices from the forest: integrating indigenous knowledge into sustainable upland farming. RFF Press, Washington, pp 113–121

Purnomosidhi P, Hairiah K, Rahayu S, van Noordwijk M (2005) Smallholder options for reclaiming and using Imperata cylindrica L. (alang-alang) grasslands in Indonesia. In: Palm CA, Vosti SA, Sanchez PA, Ericksen PJ (eds) Slash-and-burn agriculture: the search for alternatives. Columbia University Press, New York, pp 248–262

Putz FE, Zuidema PA, Pinard MA, Boot RGA, Sayer JA, Sheil D, Sist P, Elias Vanclay JK (2008) Improved tropical forest management for carbon retention. PLoS Biol 6:1368–1369

Red Ape Encounters (2008) Red Ape Encounters: community-based orang utan ecotourism, Sukau, Kinabatangan. http://www.redapeencounters.com/. Cited 1 September. 2008

Rijksen HD, Meijaard E (1999) Our vanishing relative: the status of wild orang-utans at the close of the twentieth century. Kluwer, Dordrecht

Santoso D, Adiningsih S, Mutert E, Fairhurst T, van Noordwijk M (1997) Soil fertility management for reclamation of Imperata grasslands by smallholder agroforestry. Agroforest Sys 36:181–202

Simamora AP (2008a) Palm oil firms vow to stop using forests. The Jakarta Post, 13 May. http://www.thejakartapost.com/news/2008/05/13/palm-oil-firms-vow-stop-using-forests.html. Cited 10 June 2008

Simamora AP (2008b) Palm oil firms reject forest moratorium. The Jakarta Post, 27 August. http://www.thejakartapost.com/news/2008/08/27/palm-oil-firms-reject-forest-moratorium.html. Cited 14 September 2008

Singleton I, Wich SA, Husson S, Atmoko SU, Leighton M, Rosen N, Traylor-Holzer K, Lacy R, Byers O (2004) Orangutan population and habitat viability assessment: final report. IUCN/SSC Conservation Breeding Specialist Group. Apple Valley, MN, USA

SMH (The Syndey Morning Herald) (2007) Two firms in biodiversity credit venture. November 28. http://news.smh.com.au/business/two-firms-in-biodiversity-credit-venture-20071128-1ddw.html. Cited 24 July 2008

Soehartono T, Djoko Susilo H, Andayani N, Utami Atmoko SS, Sihite J, Saleh C, Sutrisno A (2007) Strategi dan rencana aksi konservasi orangutan Indonesia 2007–2017. Direktorat Jenderal Perlindungan Hutan dan Konservasi Alam, Departemen Kehutanan Republik Indonesia, Jakarta. http://www.dephut.go.id/files/Orangutan%20Action%20Plan%202007–2017_0.pdf. Cited 5 June 2008

Tisdell C (1999) Biodiversity, conservation and sustainable development: principles and practices with Asian examples. Edward Elgar, Cheltenham, UK

Tisdell C (2007) Behaviours of conservation organisations and their environmental implications: analysis based on new (and not so new) Institutional Economics. Institutional Change in Agriculture and Natural Resources (ICAR) Discussion Paper 19/2007. Division of Resource Economics, Humboldt University, Berlin

Tisdell C, Swarna Nantha H (Forthcoming) Supply-side policies to conserve biodiversity and save the orangutan from oil palm expansion: an economic assessment. In: Columbus F (ed). Nature conservation: global environmental and economic issues. Nova Science, New York

Toh SM, Grace KT (2006) Case study: Sabah forest ownership. In: FAO. Understanding forest tenure in South and Southeast Asia. Forest policy and institutions working paper 14. FAO, Rome, pp 254–279

Tomich TP, de Foresta H, Dennis R, Ketterings Q, Murdiyarso D, Palm C, Stolle F, Suyanto S, van Noordwijk M (2002) Carbon offsets for conservation and development in Indonesia? Am J Alternative Agr 17:125–137

Wich SA, Meijaard E, Marshall AJ, Husson S, Ancrenaz M, Lacy RC, van Schaik CP, Sugardjito J, Simorangkir T, Tralyor-Holzer K, Doughty M, Supriatna J, Dennis R, Gumal M, Knott CD, Singleton I (2008) Distribution and conservation status of the orang-utan (Pongo spp.) on Borneo and Sumatra: how many remain? Oryx 42:329–339

Wright T (2008) Planting the seeds for 'green' palm oil—big companies push to protect Indonesia, Malaysian forests. Wall Str J Asia, January 18
Acknowledgments
We thank Prof. David Hawksworth for his feedback on the manuscript. We benefited from correspondences with Drs. Lesley Potter and Lian Pin Koh. The usual caveat applies.
About this article
Cite this article
Swarna Nantha, H., Tisdell, C. The orangutan–oil palm conflict: economic constraints and opportunities for conservation. Biodivers Conserv 18, 487–502 (2009). https://doi.org/10.1007/s10531-008-9512-3
Received:

Accepted:

Published:

Issue Date:

DOI: https://doi.org/10.1007/s10531-008-9512-3
Keywords
Conservation

Land use

Oil palm

Opportunity cost

Orangutan

Public goods