Abstract
Local ecological knowledge (LEK) of those who earn their livelihoods from natural environments has long been recognized as providing far-reaching insights into ecological processes. It is being increasingly used by ecologists to address diverse questions that often focus on applied conservation issues and may incorporate local knowledge with biological data from more conventional research and monitoring. We characterize how LEK has been used in the ecological and conservation literature over the last 25 years by broadly examining 360 journals and by evaluating 12 prominent ecological and conservation journals in greater detail. Over this period, the use of LEK has increased considerably, although only 0.01% of papers in the broad and 0.42% of those in the more detailed evaluation incorporated LEK. Despite this increase, LEK-based publications remain nearly absent from the more established theoretical literature and are largely restricted to more recent and arguably less prestigious applied and interdisciplinary journals. Most LEK studies used interviews, but generally failed to actively include community members in the research process. Changes to the research and publishing process that include local people and address these shortcomings and the broader issues of power and influence in the sciences are critical to the successful utilization of LEK. These changes are necessary for the appropriate depiction of these knowledge systems and to ensure that local knowledge holders will continue participating in ecological research aimed at conservation.
Access options
Buy single article
Instant access to the full article PDF.
US$ 39.95
Tax calculation will be finalised during checkout.
Subscribe to journal
Immediate online access to all issues from 2019. Subscription will auto renew annually.
US$ 119
Tax calculation will be finalised during checkout.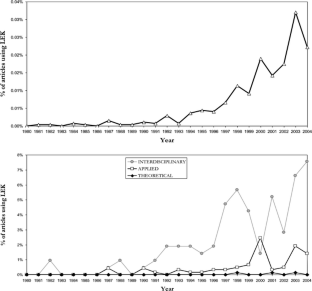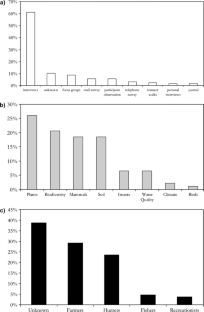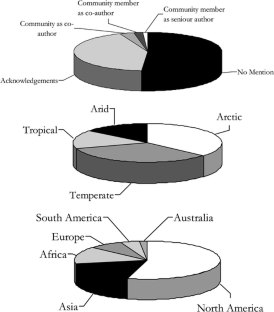 Abbreviations
LEK:

Local Ecological Knowledge
References
Agrawal A (1995) Indigenous and scientific knowledge: some critical comments. Indig Knowl Dev Monit 3(3):3–6

Assembly of First Nations, National Aboriginal Forestry Association (1995) The feasibility of representing Traditional Indigenous Knowledge in cartographic, pictorial or textual forms. Runge Press, Ottawa, Canada

Balram S, Dragićević S, Meredith T (2004) A collaborative GIS method for integrating local and technical knowledge in establishing biodiversity conservation priorities. Biodivers Conserv 13:1995–1208. doi:10.1023/B:BIOC.0000018152.11643.9c

Bart D (2006) Integrating local ecological knowledge and manipulative experiments to find the causes of environmental change. Front Ecol Environ 4:541–546. doi:10.1890/1540-9295(2006)4[541:ILEKAM]2.0.CO;2

Berkes F (1999) Sacred ecology—Traditional Ecological Knowledge and management systems. Taylor and Frances, Philadelphia

Berkes F (2004) Rethinking community-based conservation. Conserv Biol 18:621–630. doi:10.1111/j.1523-1739.2004.00077.x

Berkes F (2005) The scientist as facilitator or adaptive co-manager? Comm Proper Res Dig 75:4–5

Berkes F, Henley T (1997) Co-management and traditional knowledge: Threat or opportunity? Pol Opt 18:29–31

Berkes F, Colding J, Folke C (2000) Rediscovery of traditional ecological knowledge as adaptive management. Ecol Appl 10:1251–1262. doi:10.1890/1051-0761(2000)010[1251:ROTEKA]2.0.CO;2

Brook RK (2007) Elk-agriculture conflicts in the greater riding mountain ecosystem: building bridges between the natural and social sciences to promote sustainability. Dissertation, University of Manitoba

Brook RK, McLachlan SM (2005) On using expert-based science to "test" local knowledge. Ecol Soc 10: r3. http://www.ecologyandsociety.org/vol10/iss2/resp3/. Cited 24 March 2008

Brook RK, McLachlan SM (2006) Factors influencing farmers' concerns associated with bovine tuberculosis in wildlife and livestock around Riding Mountain National Park, Manitoba, Canada. J Environ Manage 80:156–166. doi:10.1016/j.jenvman.2005.08.022

Brook RK, M'Lot M, McLachlan SM (2006) Pitfalls to avoid when linking traditional and scientific knowledge. In: Riewe R, Oakes J (eds) Climate change: linking traditional and scientific knowledge. Aboriginal Issues Press, Winnipeg

Brush SB (1993) Indigenous knowledge of biological resources and intellectual property rights: the role of anthropology. Am Anthr 95:653–671. doi:10.1525/aa.1993.95.3.02a00060

Canadian Institutes of Health Research, Natural Sciences and Engineering Research Council of Canada, Social Sciences and Humanities Research Council of Canada (1998) Tri-Council policy statement: ethical conduct for research involving humans. http://pre.ethics.gc.ca/english/policystatement/policystatement.cfm. Cited 24 May 2008

Canadian Institutes of Health Research (2007) CIHR guidelines for health research involving aboriginal people. http://www.cihr-irsc.gc.ca/e/29134.html. Cited 1 July 2008

Davis A, Wagner J (2003) Who knows? On the importance of identifying "experts" when researching local ecological knowledge. Hum Ecol 31:463–489. doi:10.1023/A:1025075923297

Dickersin K (1990) The existence of publication bias and risk factors for its occurrence. JAMA 263(10):1385–1359. doi:10.1001/jama.263.10.1385

Duerden F, Kuhn RG (1998) Scale, context, and application of traditional knowledge of the Canadian north. Pol Rec 34:31–38

Ferguson MAD, Williamson RG, Messier F (1998) Inuit knowledge of long-term changes in a population of Arctic tundra caribou. Arctic 51:201–219

Gilchrist G, Mallory M, Merkel F (2005) Can local ecological knowledge contribute to wildlife management? Case studies of migratory birds. Ecol Soc 10:20. http://www.ecologyandsociety.org/vol10/iss1/art20/. Cited 24 March 2008

Halme KJ, Bodmer RE (2007) Correspondence between scientific and traditional ecological knowledge: rain forest classification by the non-indigenous ribereños in Peruvian Amazonia. Biodivers Conserv 16:1785–1801. doi:10.1007/s10531-006-9071-4

Hobson G (1993) Traditional knowledge is science. N Perspect 20:2–3

Howard A, Widdowson F (1996) Traditional knowledge threatens environmental assessment. Pol Opt 17:34–36

Huntington HP (2000) Using traditional ecological knowledge in science: methods and applications. Ecol Appl 10:1270–1274. doi:10.1890/1051-0761(2000)010[1270:UTEKIS]2.0.CO;2

ITK and NRI (2007) Negotiating research relationships with Inuit communities: A guide for researchers. In: Nickels S, Shirley J, Laidler G (eds) Inuit Tapiriit Kanatami and Nunavut Research Institute, Iqaluit

Johannes RE (1993) Integrating traditional ecological knowledge and management with environmental impact assessment. In: Inglis JT (ed) Traditional ecological knowledge: concepts and cases. Canadian Museum of Nature, Ottawa

Kimmerer RW (2002) Weaving Traditional Ecological Knowledge into biological education: a call to action. Bioscience 52:432–438

Kothari B (2002) Theoretical streams in marginalized peoples' knowledge(s): systems, asystems, and subaltern knowledge(s). Agric Hum Val 19:225–237

Kuhn TS (1962) The structure of scientific revolutions. University of Chicago Press, Chicago

Martin-Hill D, Soucy D (2005) Ganono'se'n e yo'gwilode'—ethical guidelines for aboriginal research elders and healers roundtable. Commissioned by the Aboriginal Ethics Policy Development Project and supported by the Ethics Office of the Canadian Institutes of Health Research, www.mcmaster.ca/…/download/Ethical%20Guidelines%20for%20Aboriginal%20Research-Final%20Report-2005.pdf. Cited 24 March 2008

Mauro IM, McLachlan SM (2008) Farmer knowledge and risk analysis: post-release evaluation of herbicide-tolerant canola in western Canada. Risk Anal 28:463–476

McGregor D (2000) The state of traditional ecological knowledge research in Canada: a critique of current theory and practice. In: Laliberte R, Settee P, Waldram J, Innes R, Macdougall B, McBain L, Barron F (eds) Expressions in Canadian native studies. University of Saskatchewan Extension Press, Saskatoon

Mulvihill PR, Baker DC (2001) Ambitious and restrictive scoping case studies from Northern Canada. Env Imp Assess Rev 23:39–49

Nadasdy P (1999) The politics of TEK: power and the "integration" of knowledge. Arct Anthropol 36:1–18

Olden JD (2007) How do ecological journals stack-up? Ranking of scientific quality according to the h index. Ecoscience 14:370–376

Popescu II (2003) Science journal ranking by average impact factors, version 2003, http://www.geocities.com/iipopescu. Cited 12 April 2006

Prichard A (1969) Statistical bibliography or bibliometrics. J Docum 25:348–349

Shiva V (1997) Western science and its destruction of local knowledge. In: Rahnema M, Bawtree V (eds) The post-development reader. Zed Books, New Jersey

Sillitoe P (1998) The development of indigenous knowledge. Curr Anthropol 39:223–252

Simpson L (2001a) Traditional ecological knowledge: marginalization, appropriation and continued disillusion, http://www.snowchange.org/views/indigenous/leanne_trad_en.html. Cited 24 March 2008

Simpson L (2001b) Listening to our ancestors: rebuilding Aboriginal Nations in the face of environmental destruction, http://www.snowchange.org/snowchange/content/view/29/2/. Cited 24 March 2008

Simpson L (2004) Anticolonial strategies for the recovery and maintenance of indigenous knowledge. Amer Ind Quart 28:373–384

Stave J, Oba G, Nordal I, Stenseth NC (2007) Traditional ecological knowledge of a riverine forest in Turkana, Kenya: implications for research and management. Biodivers Conserv 16:1471–1489

Stevenson MG (1998) Traditional Knowledge and environmental management: from commodity to process. Sustainable forest management network working paper 1998-14, http://sfmnetwork.ca/docs/e/WP_1998-14.pdf. Cited 24 March 2008

Sutherland WJ (1999) What do impact factors tell us? Tr Ecol Evol 14:382–385

Tesh SN (2000) Uncertain hazards: environmental activists and scientific proof. Cornell University Press, Ithaca

Thomson Corporation (2006) Biological abstracts, http://www.isinet.com. 22 June 2006

Turner NJ, Ignace MB, Ignace R (2000) Traditional ecological knowledge and wisdom of Aboriginal peoples in British Columbia. Ecol Appl 10:1275–1287

United States National Committee for the International Union of the History and Philosophy of Science (2001) USNC/IUHPS position paper on science and Indigenous Knowledge, http://www7.nationalacademies.org/usnc-iuhps/Indigenous_Knowledge.html. Cited 4 May 2002

Uriarte M, Ewing HA, Eviner VT, Weathers KC (2007) Constructing a broader and more inclusive value system in science. Bioscience 57:71–78

Usher PJ (2000) Traditional Ecological Knowledge in environmental assessment and management. Arctic 53:183–193

Ver Beek KA (2000) Spirituality: a development taboo. Dev Pract 10:31–43

Widdowson F, Howard A (2002) The Aboriginal industry's new clothes. Pol Opt 23:30–34
Acknowledgements
Special thanks to M. Potts and D. Potts from the Alexis Nakota Sioux Nation for their deep insights into the role of research with Aboriginal communities. We also wish to thank the residents of the Churchill region and Riding Mountain Biosphere Reserve, especially J. Whitaker, K. Kingdon, R. Armbruster, and C. Pawluk, I. Mauro, H. Lemelin, M. Gillespie, R. Riewe, J. Oakes, M. M'Lot, G. Lundie, N. Kenkel, P. Paquet, and the Environmental Conservation Lab for thoughtful discussions about the role of local knowledge in research. Special thanks to M. Cattet, I. Mauro, H. Lemelin, M. Gillespie, and two anonymous reviewers for input on earlier drafts. Funding for this on-going research was provided by the Social Sciences and Humanities Research Council (SSHRC); Agriculture and Agri-Foods Canada; Manitoba Conservation Sustainable Development Innovations Fund; Manitoba Agriculture, Food and Rural Initiatives, and Parks Canada.
About this article
Cite this article
Brook, R.K., McLachlan, S.M. Trends and prospects for local knowledge in ecological and conservation research and monitoring. Biodivers Conserv 17, 3501–3512 (2008). https://doi.org/10.1007/s10531-008-9445-x
Received:

Accepted:

Published:

Issue Date:
Keywords
Indigenous people

Farmer

Biodiversity conservation

Traditional ecological knowledge

Power

Collaboration

Communication