Abstract
Regular mowing of grassland is often necessary for plant conservation, but uncut vegetation is needed by many arthropods for overwintering. This may lead to conflicting management strategies for plant and arthropod conservation. Rotational fallows are a possible solution. They provide a spatio-temporal mosaic of mown and unmown areas that may combine benefits to both plants and arthropods. We tested if rotational fallows enhance spider overwintering in fen meadows. Rotational fallows consisted of three adjoining strips 10 m wide and 35–50 m long. Each year, one of these strips was left unmown (fallow) in an alternating manner so that each strip was mown two out of three years. Spiders were sampled during spring with emergence traps in nine pairs of currently unmown fallow strips and completely mown reference plots. Fallows significantly enhanced orb-weavers (Araneidae), sac spiders (Clubionidae) and ground spiders (Gnaphosidae). However, only 4.7% of the total variation in community composition was attributable to fallows. Community variation was larger between landscapes (34.5%) and sites (38.2%). Also β diversity was much higher between landscapes (45 species) and sites (22 species) than between fallows and mown reference plots (10 species). We conclude that the first priority for spider conservation is to preserve as many fen meadows in different landscapes as possible. Locally, rotational fallows enhance overwintering of the above-mentioned spider families, which are sensitive to mowing in other grassland types as well. Thus, rotational fallows would probably foster spider conservation in a wide range of situations. However, stronger effects can be expected from larger and/or older fallow areas.
Access options
Buy single article
Instant access to the full article PDF.
USD 39.95
Price includes VAT (USA)
Tax calculation will be finalised during checkout.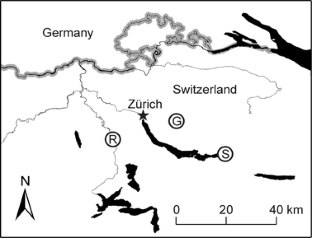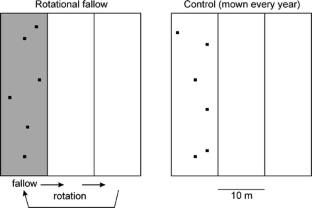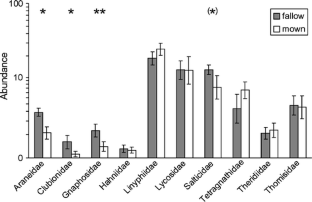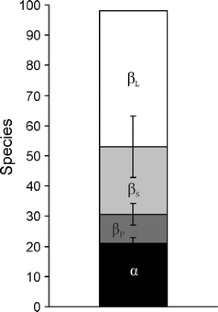 References
Bell JR, Wheater CP, Cullen WR (2001) The implications of grassland and heathland management for the conservation of spider communities: a review. J Zool (Lond) 255:377–387. doi:10.1017/S0952836901001479

Benton TG, Vickery JA, Wilson JD (2003) Farmland biodiversity: is habitat heterogeneity the key? Trends Ecol Evol 18:182–188. doi:10.1016/S0169-5347(03)00011-9

Billeter R, Hooftman DAP, Diemer M (2003) Differential and reversible responses of common fen meadow species to abandonment. Appl Veg Sci 6:3–12. doi:10.1658/1402-2001(2003)006[0003:DARROC]2.0.CO;2

Bundesrat (1998) Verordnung vom 7. Dezember 1998 über die Direktzahlungen an die Landwirtschaft (Direktzahlungsverordnung, DZV). SR 910.13

Cattin M-F, Blandenier G, Banasek-Richter C et al (2003) The impact of mowing as a management strategy for wet meadows on spider (Araneae) communities. Biol Conserv 113:179–188. doi:10.1016/S0006-3207(02)00297-5

Decleer K (1990) Experimental cutting of reedmarsh vegetation and its influence on the spider (Araneae) fauna in the Blankaart nature reserve, Belgium. Biol Conserv 52:161–185. doi:10.1016/0006-3207(90)90124-8

Diemer M, Oetiker K, Billeter R (2001) Abandonment alters community composition and canopy structure of Swiss calcareous fens. Appl Veg Sci 4:237–246

Ellenberg H (1996) Vegetation Mitteleuropas mit den Alpen. Ulmer, Stuttgart

Entling W, Schmidt MH, Bacher S et al (2007) Niche properties of Central European spiders: shading, moisture, and the evolution of the habitat niche. Glob Ecol Biogeogr 16:440–448. doi:10.1111/j.1466-8238.2006.00305.x

Gering JC, Crist TO, Veech JA (2003) Additive partitioning of species diverstiy across multiple spatial scales: implications for regional conservation of biodiversity. Conserv Biol 17:488–499. doi:10.1046/j.1523-1739.2003.01465.x

Gerstmeier R, Lang C (1996) Beitrag zu Auswirkungen der Mahd auf Arthropoden. Zeitschr Oekol Naturschutz 5:1–14

Grünig A (1994) Mires and man. WSL Birmensdorf, Zürich

Hänggi A, Stöckli E, Nentwig W (1995) Habitats of central European spiders. Centre Suisse de cartographie de la faune, Neuchâtel

Jensen K, Meyer C (2001) Effects of light competition and litter on the performance of Viola palustris and on species composition and diversity of an abandoned fen meadow. Plant Ecol 155:169–181. doi:10.1023/A:1013270628964

Langellotto GA, Denno RF (2004) Responses of invertebrate natural enemies to complex-structured habitats: a meta-analytical synthesis. Oecologia 139:1–10. doi:10.1007/s00442-004-1497-3

Morris MG (2000) The effects of structure and its dynamics on the ecology and conservation of arthropods in British grasslands. Biol Conserv 95:129–142. doi:10.1016/S0006-3207(00)00028-8

Morris MG, Rispin WE (1994) Rotational management of grasslands and invertebrate diversity. In: Haggar RJ, Peel S (eds) Grassland management and nature conservation. British Grassland Society, Reading

Moser D, Gygax A, Bäumler B et al (2002) Rote Liste der gefährdeten Farn- und Blütenpflanzen der Schweiz. BUWAL, Bern

Neumann D, Krüger M (1991) Schilfhalme im Winter - Überwinterungsquartier für Insekten und Spinnen sowie Nahrungsquelle für insektivore Singvögel. Natur Landschaft 66:166–168

Platnick NI (2008) The world spider catalog, version 8.5 http://research.amnh.org/entomology/spiders/catalog/index.html. Cited 30 Jan 2008

Pozzi S, Borcard D (2001) Effects of dry grassland management on spider (Arachnida: Araneae) communities on the Swiss occidental plateau. Ecoscience 8:32–44

Pühringer G (1979) Productivity of spiders living in the reed belt of lake "Neusiedler See" (Austria, Burgenland). Zool Jb Syst 106:500–528

Ratschker UM, Roth M (2000) Studies on ground dwelling spiders (Araneae) of agrarian habitat types in northeast Germany: ecological and nature conservation aspects. Ekologia (Bratisl) 19:213–225

Rothenbücher J, Schaefer M (2006) Submersion tolerance in floodplain arthropod communities. Basic Appl Ecol 7:398–408. doi:10.1016/j.baae.2006.05.005

Schaefer M (1976) Experimentelle Untersuchungen zum Jahreszyklus und zur Überwinterung von Spinnen (Araneidae). Zool Jb Syst 103:127–289

Schmidt MH, Tscharntke T (2005) The role of perennial habitats for Central European farmland spiders. Agric Ecosyst Environ 105:235–242. doi:10.1016/j.agee.2004.03.009

Schmidt MH, Lefebvre G, Poulin B et al (2005) Reed cutting affects arthropod communities, potentially reducing food for passerine birds. Biol Conserv 121:157–166. doi:10.1016/j.biocon.2004.03.032

Schmidt MH, Thies C, Nentwig W et al (2008) Contrasting responses of arable spiders to the landscape matrix at different spatial scales. J Biogeogr 35:157–166. doi:10.1111/j.1365-2699.2007.01774.x

SPSS Inc (2004) SPSS 13.0 for Windows. SPSS Inc, Chicago

Stoner KJL, Joern A (2004) Landscape vs. local habitat scale influences to insect communities from tallgrass prairie remnants. Ecol Appl 14:1306–1320. doi:10.1890/03-5112

ter Braak CJF, Smilauer P (2002) CANOCO reference manual: software for canonical community ordination (version 4.5). Microcomputer Powers, Ithaca NY

Thorbek P, Bilde T (2004) Reduced numbers of generalist arthropod predators after crop management. J Appl Ecol 41:526–539. doi:10.1111/j.0021-8901.2004.00913.x

van Buskirk J, Willi Y (2004) Enhancement of farmland biodiversity within set-aside land. Conserv Biol 18:987–994. doi:10.1111/j.1523-1739.2004.00359.x

van Diggelen R, Middleton B, Bakker J et al (2006) Fens and floodplains of the temperate zone: present status, threats, conservation and restoration. Appl Veg Sci 9:157–162. doi:10.1658/1402-2001(2006)9[157:FAFOTT]2.0.CO;2

Veech JA, Summerville KS, Crist TO et al (2002) The additive partitioning of species diversity: recent revival of an old idea. Oikos 99:3–9. doi:10.1034/j.1600-0706.2002.990101.x
Acknowledgments
We thank Stephan Bosshart, Markus Hofbauer and Therese Scheiwiller for their help in the field and laboratory. Ambros Hänggi and Christian Kropf kindly checked spider identifications. Doreen Gabriel, Franziska Tanneberger, Theo Blick and Thomas Walter gave valuable comments on earlier versions of the manuscript. Financial support was provided by the Nature Conservation Authorities of the Swiss Cantons Aargau, St. Gallen and Zürich.
Appendix
Appendix
About this article
Cite this article
Schmidt, M.H., Rocker, S., Hanafi, J. et al. Rotational fallows as overwintering habitat for grassland arthropods: the case of spiders in fen meadows. Biodivers Conserv 17, 3003 (2008). https://doi.org/10.1007/s10531-008-9412-6
Received:

Accepted:

Published:
Keywords
Additive partitioning

Araneae

Conservation

Emergence trap

Habitat management

Mowing

Partial ordination

Traditional land-use

Wetland