Abstract
The influence of natural disturbance on biodiversity is poorly known in the intensively cultivated landscape of Europe. As an example of insect disturbance we studied effects of gaps generated by outbreaks of the spruce bark beetle (Ips typographus) on biodiversity in the area of the National Park "Bavarian Forest" and compared them with openings (e.g. meadows) created by humans in these forests. Insects were sampled using flight interception traps across twelve ecotones between edges of closed forest, six bark beetle gaps and six meadows. The diversity and species density of true bugs and of bees/wasps increased significantly from the closed stand to the edge, and continued to increase inside the openings at interior and exterior edges. Species density in saproxylic beetles also increased significantly from closed forest to opening, but only across ecotones including bark beetle gaps. Similarly, the number of critically endangered saproxylic beetles increased significantly in bark beetle gaps. Using indicator species analysis a total of 60 species were identified as possessing a statistically significant value indicating preference for one of the habitat types along the ecotones: 29 of them preferred gaps, 24 preferred meadows, three were characteristic for edges of meadows, three for edges of bark beetle gaps, but only one was typical of closed forest. Most of our results support the thesis that I. typographus fulfils the majority of criteria for a keystone species, particularly that of maintenance of biodiversity in forests. Our results emphasize the value for the study and conservation of insect diversity of the policy of non-interference with natural processes pursued in some protected areas. As a recommendation to forest management for increasing insect diversity even in commercial forest, we suggest that logging in recent gaps in medium aged mixed montane stands should aim at retention of a part of the dead wood. Planting should be avoided, to lengthen the important phase of sunlit conditions.
Access options
Buy single article
Instant access to the full article PDF.
US$ 39.95
Tax calculation will be finalised during checkout.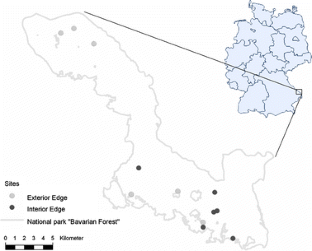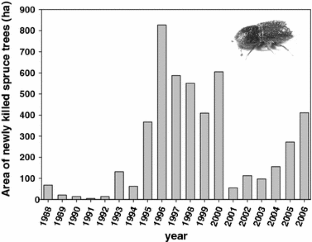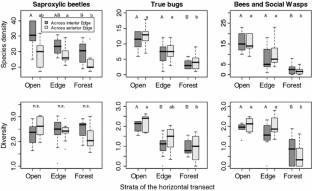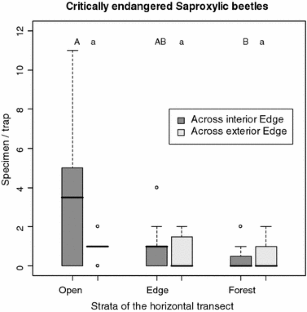 References
Angelstam P (1997) Landscape analysis as a tool for the scientific management of biodiversity. Ecol Bull 46:140–170

Bächli G, Flückinger PF, Obrist M, Duelli P (2006) On the microdistribution of species of Drosophilidae and some other Diptera across a forest edge. Mitt Schweiz Entomol Ges 79:117–126

Barbalat S (1998) Importance of forest structures on four beetle families (Col.: Buprestidae, Cerambycidae, Lucanidae and phytophagous Scarabaeidae) in the Areuse Gorges (Neuchâtel, Switzerland). Rev Suisse Zool 105:569–580

Basset Y, Springate ND, Aberlenc HP, Delvare G (1997) A review of methods for sampling arthropods in tree canopies. In: Stork NE, Adis J, Didham RK (eds) Canopy arthropods. Chapman & Hall, London, pp 27–52

Bedford SE, Usher MB (1994) Distribution of arthropod species across the margins of farm woodlands. Agric Ecosyst Environ 48:295–305. doi:10.1016/0167-8809(94)90111-2

Bense U (1995) Longhorn beetles. Illustrated key to the Cerambycidae and Vesperidae of Europe. Markgraf Verlag, Germany

Bouget C, Duelli P (2004) The effects of windthrow on forest insect communities: a literature review. Biol Conserv 118:281–299. doi:10.1016/j.biocon.2003.09.009

Bußler H, Müller J (2004) Borkenkäfer in wärmegetönten Eichenmischwäldern Nordbayerns. Forst u Holz 59:175–178

Casas-Crivillé A, Valera F (2005) The European bee-eater (Merops apiaster) as an ecosystem engineer in arid environments. J Arid Environ 60:227–238

Christensen M, Hahn K, Mountford EP, Ódor P, Standóvar T, Rozenbergar D et al (2005) Dead wood in European beech (Fagus sylvatica) forest reserves. For Ecol Manage 210:267–282. doi:10.1016/j.foreco.2005.02.032

Christianou M, Ebenmann B (2005) Keystone species and vulnerable species in ecological communities: strong or weak interactors? J Theor Biol 235:95–103. doi:10.1016/j.jtbi.2004.12.022

DeMaynadier P, Hunter M (1994) Keystone support. Bioscience 44:2. doi:10.2307/1312396

Duelli P (2006) Bewertung der Biodiversität in mitteleuropäischen Wäldern. AFZ/Der Wald, p 166

Duelli P, Obrist MK (2003) Regional biodiversity in an agricultural landscape: the contribution of seminatural habitat islands. Basic Appl Ecol 4:129–138. doi:10.1078/1439-1791-00140

Duelli P, Obrist MK, Fluckiger PF (2002a) Forest edges are biodiversity hotspots: also for Neuroptera. Acta Zool Hung 48:75–87

Duelli P, Obrist MK, Wermelinger B (2002b) Windthrow-induced changes in faunistic biodiversity in alpine spruce forest. For Snow Landsc Res 77:117–131

Dufrêne M, Legendre P (1997) Species assemblages and indicator species: the need for a flexible asymmetrical approach. Ecol Monogr 67:345–366

Dziock F, Henle K, Foekler F, Follner K, Scholz M (2006) Biological indicator systems in floodplains—a review. Int Rev Hydrobiol 91:292–313

Elling W, Bauer E, Klemm G, Koch H (1987) Klima und Böden, 2nd edn. Nationalpark Bayerischer Wald, Grafenau

Eriksson M, Lilja S, Roininen H (2006) Dead wood creation and restoration burning: implications for bark beetles and beetle induced tree deaths. For Ecol Manage 231:205–213. doi:10.1016/j.foreco.2006.05.050

Fayt P, Dufrêne M, Branquart E, Hastir P, Pontégnie C, Henin J-M et al (2006) Contrasting responses of saproxylic insects to focal habitat resources: the example of longhorn beetles and hoverflies in Belgian deciduous forests. J Insect Conserv 10:129–150. doi:10.1007/s10841-006-6289-0

Floren A, Schmidl J (1999) Faunistisch-ökologische Ergebnisse eines Baumkronen-Beneblungsprojektes in einem Eichenhochwald des Steigerwaldes. Beitr bayer Entomofaunistik 3:179–195

Flückiger PF, Bienz H, Glünkin R, Iseli K, Duelli P (2002) Vom Krautsaum bis ins Kronendach - Erforschung und Aufwertung der Waldränder im Kanton Solothurn. Mitt Natf Ges Solothurn 39:9–39

Flückinger PF (1999) Der Beitrag von Waldrandstrukturen zur regionalen Biodiversität. PhD thesis, Phil.-Naturwiss. Fakultät Univ., Basel

Freude H, Harde K, Lohse GA (1964–1983) Die Käfer Mitteleuropas. Goecke & Evers, Krefeld

Gotelli N, Colwell RK (2001) Quantifying biodiversity: procedures and pitfalls in the measurement and comparison of species richness. Ecol Lett 4:379–391. doi:10.1046/j.1461-0248.2001.00230.x

Grimbacher PS, Catterall CP, Kitching RL (2006) Beetle species' responses suggest that microclimate mediates fragmentation effects in tropical Australian rainforest. Austral Ecol 31:458–470. doi:10.1111/j.1442-9993.2006.01606.x

Grodzki W, McManus M, Knížek M, Meshkova V, Mihalciuc V, Novotny J et al (2004) Occurrence of spruce bark beetles in forest stands at different levels of air pollution stress. Environ Pollut 130:73–83. doi:10.1016/j.envpol.2003.10.022

Grove S (2000) Trunk window trapping: an effective technique for sampling tropical saproxylic insects. Mem Queensland Mus 46:149–160

Grove S (2002) Saproxylic insect ecology and the sustainable management of forests. Annu Rev Ecol Syst 33:1–23. doi:10.1146/annurev.ecolsys.33.010802.150507

Grove S, Yaxley B (2005) Wildlife habitat strips and native forest ground-active beetle assemblages in plantation nodes in northeast Tasmania. Aust J Entomol 44:331–343

Gruppe A, Müller J (2006) Distribution of Neuropterida in beech dominated forests in southern Germany. Ann Mus Civ St Nat Ferrara 5:145–152

Gruppe A, Goßner M, Engel K, Simon U (2007) Vertical stratification of arthropods in temperate forests. In: Floren A, Schmidl J (eds) Canopy arthropod research in Central Europe. Bioform, Heroldsbergs

Hacker H, Müller J (2007) Stratification of Macrolepidoptera in different forest types and tree species. In: Floren A, Schmidl J (eds) Canopy arthropod research in Central Europe. Bioform, Nürnberg

Hammond P, Harding PT (1991) Saproxylic invertebrate assamblages in British woodlands: their conservation significance and its evaluation. In: Read HJ (ed) Pollard and veteran tree management. Corporation of London, Burnham Beeches, pp 30–37

Hedgren PO, Schroeder LM (2004) Reproductive success of the spruce bark beetle Ips typographus (L.) and occurrence of associated species: a comparison between standing beetle-killed trees and cut trees. For Ecol Manage 203:241–250. doi:10.1016/j.foreco.2004.07.055

Hennevogel FvE (1905) Zur Käferfauna des Böhmerwaldes. Verlag der Gesellschaft für Physiokratie in Böhmen, Prag

Hothorn T, Hornik K (2005) The coin package—conditional inference procedure in a permutation test-framework. In: 0.4-1 edn. http://cran.r-project.org

Hothorn T, Hornik K, van de Wiel MA, Zeilis A (2006) A lego-system for conditional infernence. Am Stat 60:257–263. doi:10.1198/000313006X118430

Hyvärinen E, Kouki J, Martikainen P (2006) Fire and green-tree retention in conservation of red-listed and rare deadwood-dependent beetles in Finnish boreal forests. Conserv Biol 20:1711–1719

Jackson DR, Milstrey ER (1989) The fauna of gopher tortoise burrows. In: Diemer JE, Jackson DR, Landers JN, Layne JN, Wood DA (eds) Proceedings of the Gopher tortoise relocating symposium, Florida Game and Freshwater Fish Commission, Tallahassee, FL, pp 86–98

Jonášová M, Pracha K (2004) Central-European mountain spruce (Picea abies (L.) Karst.) forests: regeneration of tree species after a bark beetle outbreak. Ecol Eng 23:15–27. doi:10.1016/j.ecoleng.2004.06.010

Jonsell M, Nordlander G, Jonsson M (1999) Colonization patterns of insects breeding in wood-decaying fungi. J Insect Conserv 3:145–161. doi:10.1023/A:1009665513184

Jönsson AM, Harding S, Bärring L, Ravn HP (2007) Impact of climate change on the population dynamics of Ips typographus in southern Sweden. Agr Forest Meteorol 146:70–81

Jordán F, Liu W-C, Davis AJ (2006) Topological keystone species: measures of positional importance in food webs. Oikos 112:535–546. doi:10.1111/j.0030-1299.2006.13724.x

Kaila L, Martikainen P, Punttila P, Yakolev E (1994) Saproxylic beetles (Coleoptera) on dead birch trunks decayed by different polypore species. Ann Zool Fenn 31:97–107

Koprowski JL, Alanen MI, Lynch AM (2005) Nowhere to run and nowhere to hide: response of endemic Mt. Graham red squirrels to catastrophic forest damage. Biol Conserv 126:491–498. doi:10.1016/j.biocon.2005.06.028

Kotliar NB (2000) Application of the new keystone-species concept to prairie dogs: how well does it work? Conserv Biol 14:1715–1721

Kuhlmann M (2000) Zur Besiedlung von Windwürfen und abgestorbenen Waldflächen im Nationalpark Bayerischer Wald durch Wildbienen und aculeate Wespen (Hymenoptera, Aculeata). Ber Naturf Ges Bamberg 73:65–94

Lawton JH, Jones CG (1995) Linking species and ecosystems: organisms as ecosystem engineers. In: Jones CG, Lawton JH (eds) Linking species and ecosystems. Chapman & Hall, New York, pp 141–150

Magurran AE (1988) Ecological diversity and its measurement. Princeton University Press, Princeton

Martikainen P, Siitonen J, Kaila L, Punttila P, Rauh J (1999) Bark beetles (Coleoptera, Scolytidae) and associated beetle species in mature managed and old-growth boreal forests in southern Finland. For Ecol Manage 116:1–3

Martikainen P, Siitonen J, Punttila P, Kaila L, Rauh J (2000) Species richness of Coleoptera in mature managed and old-growth boreal forests in southern Finland. Biol Conserv 94:199–209. doi:10.1016/S0006-3207(99)00175-5

Martikainen P, Kouki J, Heikkala O (2006) The effects of green tree retention and subsequent prescribed burning on ground beetles (Coleoptera: Carabidae) in boreal pine-dominated forests. Ecography 29:659–670. doi:10.1111/j.2006.0906-7590.04562.x

McCune B, Mefford MJ (1999) Multivariate analysis of ecological data. In: 4.10 edn. MjM Software, Gleneden Beach, Oregon, USA

Menge BA, Berlow E, Balchette CA, Navarrete SA, Yamada SB (1994) The keystone species concept: variation in interaction strength in a rocky intertidal habitat. Ecol Monogr 64:249–286. doi:10.2307/2937163

Mills LS, Soule ME, Doak DF (1993) The keystone-species concept in ecology and conservation. Bioscience 43:219–224. doi:10.2307/1312122

Müller J, Bußler H, Bense U, Brustel H, Flechtner G, Fowles A, Kahlen M, Möller G, Mühle H, Schmidl J, Zabransky P (2005a) Urwald relict species—saproxylic beetles indicating structural qualities and habitat tradition. Waldökologie Online 2:106–113

Müller J, Gruppe A, Goßner M, Bußler H, Simon U, Gauderer M, Zöbel M, Gerstmeier R (2005b) Die Weißtanne (Abies alba), eine ökologische Alternative zur Fichte (Picea abies)? Forst u Holz 60:492–497

Müller J, Bußler H, Goßner M, Gruppe A, Jarzabek-Müller A, Preis M, Rettelbach T (2007a) Forest edges in the mixed-montane zone of the Bavarian Forest Nationalpark—hot spots of biodiversity. Silva Gabreta 13:1–27

Müller J, Bussler H, Kneib T (2007b) Saproxylic beetle assemblages related to silvicultural management intensity and stand structures in a beech forest in Southern Germany. J Insect Conserv. doi:10.1007/s10841-006-9065-2

Naiman RL, Melillo JM, Hobbie JE (1986) Alteration of North American streams by beavers (Castor canadensis). Ecology 67:1254–1289. doi:10.2307/1938681

Nilsson SG, Arup U, Baranowski R, Ekman S (1995) Tree-dependent lichens and beetles as indicators in conservation forests. Conserv Biol 9:1208–1215. doi:10.1046/j.1523-1739.1995.9051208.x

Nilsson SG, Hedin J, Niklasson M (2001) Biodiversity and its assessment in boreal and nemoral forests. Scand J For Res Suppl 3:10–26. doi:10.1080/028275801300090546

Ódor P, Heilmann-Clausen J, Christensen M, Aude E, Dort vKW, Piltaver A, Siller I, Veerkamp MT, Standovár T, Hees vAFM, Kosec J, Matocec N, Kraigher H, Grebenc T (2006) Diversity of dead wood inhabiting fungi and bryophytes in semi-natural beech forests in Europe. Biol Conserv 131:58–71. doi:10.1016/j.biocon.2006.02.004

Osten T (2000) Die Scoliiden des Mittelmeer-Gebietes und angrenzender Regionen (Hymenoptera). Ein Bestimmungsschlüssel. Linzer Biologische Beitraege 32:537–593

Paine RT (1969) A note on trophic complexity and community stability. Am Nat 103:91–93

Péricart J (1972) Hémiptères Anthocoridae, Cimicidae et Microphysidae de l'Ouest Paléarctique. Faune de Europe et du Bassin Méditerranéen, Paris

Péricart J (1983) Hémipteres Tingidae Euro-Méditerranéens. Fedération Francaise des Societés de Science Naturelles, Paris

Péricart J (1987) Hémipteres Nabidae d'Europe occidentale et du Maghreb. Fedération Francaise des Societés de Science Naturelles, Paris

Péricart J (1998) Hémipteres Lygaeidae Euro-Méditerranéens. Fedération Francaise des Societés de Science Naturelles, Paris

Reeve JD (1997) Predation and bark beetle dynamics. Oecologia 112:48–54. doi:10.1007/s004420050282

Rohde M, Waldmann R, Lunderstaedt J (1996) Induced defence reaction in the phloem of spruce (Picea abies) and larch (Larix decidua) after attack by Ips typographus and Ips cembrae. For Ecol Manage 86:1–3

Saetersdal M, Gjerde I, Blom HH, Ihlen PG, Myrseth EW, Pommeresche R et al (2004) Vascular plants as a surrogate species group in complementary site selection for bryophytes, macrolichens, spiders, carabids, staphylinids, snails and wood living polypore fungi in a northern forest. Biol Conserv 115:21–31. doi:10.1016/S0006-3207(03)00090-9

Schelhaas MJ, Nabuurs GJ, Schuck A (2003) Natural disturbances in the European forests in the 19th and 20th centuries. Glob Chang Biol 9:1620–1633. doi:10.1046/j.1365-2486.2003.00684.x

Scherzinger W (2007) Reaktionen der Vogelwelt auf den großflächigen Bestandeszusammenbruch des montanen Nadelwaldes im Inneren Bayerischen Wald. Vogelwelt 127:209–263

Schmid-Egger C, Wolf H (1992) Die Wegwespen Baden-Württembergs (Hymenoptera, Pompilidae). Veröff Natursch LandschPfl Bad Württ 67:267–370

Schmidl J, Bußler H (2004) Ökologische Gilden xylobionter Käfer Deutschlands. NUL 36:202–218

Schmidl J, Bußler H, Lorenz W (2003) Die Rote Liste gefährdeter Käfer Bayerns im Überblick. In: BLfU (ed) Schriftenreihe Bayer. Landesamt für Umweltschutz, vol 166, Augsburg, p 384

Schowalter TD (1985) Adaptions of insects to disturbance. In: Pickett S, White P (eds) The ecology of natural disturbance and patch dynamics. Academic Press, San Diego, pp 235–252

Schubert H, Gruppe A (1999) Netzflügler der Kronenregion - Bemerkenswerte Funde und Habitatpräferenzen. NachrBl bayer Ent 48:91–96

Simberloff D (1998) Flagships, umbrellas, and keystones: is single-species management passé in the landscape era? Biol Conserv 83:247–257. doi:10.1016/S0006-3207(97)00081-5

Similä M, Kouki J, Martikainen P (2003) Saproxylic beetles in managed and seminatural Scots pine forests: quality of dead wood matters. For Ecol Manage 174:365–381. doi:10.1016/S0378-1127(02)00061-0

Speight MCD (1989) Saproxylic invertebrates and their conservation. Council of Europe, Nature and environment series 42:1–79

Stork NE, Hammond PM, Russell BL, Hadwen WL (2001) The spatial distribution of beetles within the canopies of oak trees in Richmond Park, U.K. Ecol Entomol 26:302–311. doi:10.1046/j.1365-2311.2001.00323.x

Strobl R, Haug M (1993) Eine Landschaft wird Nationalpark. Schriftenreihe des Bayerischen Staatsministeriums für Ernährung, Landwirtschaft und Forsten 11:3–180

Sutherland WJ, Armstrong-Brown S, Armstrong PR, Brereton T, Brickland J, Campell CD, Chamberlain DE, Cooke AI, Dulvy NK, Dusic NR, Fitton M, Freckleton RP, Godfray HCJ, Grout N, Harvey HJ, Hedley C, Hopkins JJ, Kift NB, Kirby KJ, Kunin WE, MacDonald DW, Marker B, Naura M, Neale AR, Oliver T, Osborn D, Pullin AS, Shardlow MEA, Showler DA, Smith PL, Smithers RJ, Solandt J-L, Spencer J, Spray CJ, Thomas CD, Thompson J, Webb SE, Yalden DW, Watkinson AR (2006) The identification of 100 ecological questions of high policy relevance in the UK. J Appl Ecol 43:617–627. doi:10.1111/j.1365-2664.2006.01188.x

Walker BH (1995) Conserving biological diversity through ecosystem resilience. Conserv Biol 9:747–752. doi:10.1046/j.1523-1739.1995.09040747.x

Warren MS, Key RS (1991) Woodlands: past, present and potential for insects. In: Collins NM, Thomas JA (eds) The conservation of insects and their habitats. Academic Press, London, pp 155–212

Wermelinger B (2004) Ecology and management of the spruce bark beetle Ips typographus—a review of recent research. For Ecol Manage 202:67–82. doi:10.1016/j.foreco.2004.07.018

Wermelinger B, Duelli P, Obrist M, Odermatt O, Seifert M (1995) Faunistic development on windthrow areas with and without timber harvest. Schweiz Z Forstwes 146:913–928

Wermelinger B, Flückinger PF, Obrist MK, Duelli P (2007) Horizontal and vertical distribution of saproxylic beetles (Co., Buprestidae, Cerambycidae, Scolytidae) across sections of forest edges. J Appl Entomol 131:104–114

Weslien J (1992) The arthropod complex associated with Ips typographus (L.) (Coleoptera, Scolytidae): species composition, phenology and impact on bark beetle producitvity. Entomol Fenn 3:205–213

Westfall PH, Young SS (1993) On adjusting P-values for multiplicity. Biometrics 49:941–945

Westrich P (1989) Die Wildbienen Baden-Württembergs. Ulmer Verlag, Stuttgart
Acknowledgements
We thank the following persons and institutions: M. Preis and G. Sellmayer for assistance in the fieldwork, M. Preis for sorting the material, A. Liston for revising the language, Jens Esser for verification of determinations of some beetle specimens, two anonymous referees for their valuable comments, and the administration of the National Park "Bavarian Forest" for providing financial support.
About this article
Cite this article
Müller, J., Bußler, H., Goßner, M. et al. The European spruce bark beetle Ips typographus in a national park: from pest to keystone species. Biodivers Conserv 17, 2979 (2008). https://doi.org/10.1007/s10531-008-9409-1
Received:

Accepted:

Published:
Keywords
Bark beetles

Forest edge

Gaps

Saproxylic beetles

True bugs

Bees and wasps

Insect outbreak