Abstract
The monitoring of biodiversity at the level of habitats is becoming widespread in Europe and elsewhere as countries establish national habitat monitoring systems and various organisations initiate regional and local schemes. Parallel to this growth, it is increasingly important to address biodiversity changes on large spatial (e.g. continental) and temporal (e.g. decade-long) scales, which requires the integration of currently ongoing monitoring efforts. Here we review habitat monitoring and develop a framework for integrating data or activities across habitat monitoring schemes. We first identify three basic properties of monitoring activities: spatial aspect (explicitly spatial vs. non-spatial), documentation of spatial variation (field mapping vs. remote sensing) and coverage of habitats (all habitats or specific habitats in an area), and six classes of monitoring schemes based on these properties. Then we explore tasks essential for integrating schemes both within and across the major classes. Finally, we evaluate the need and potential for integration of currently existing schemes by drawing on data collected on European habitat monitoring in the EuMon project. Our results suggest a dire need for integration if we are to measure biodiversity changes across large spatial and temporal scales regarding the 2010 target and beyond. We also make recommendations for an integrated pan-European habitat monitoring scheme. Such a scheme should be based on remote sensing to record changes in land cover and habitat types over large scales, with complementary field mapping using unified methodology to provide ground truthing and to monitor small-scale changes, at least in habitat types of conservation importance.
Access options
Buy single article
Instant access to the full article PDF.
USD 39.95
Price excludes VAT (USA)
Tax calculation will be finalised during checkout.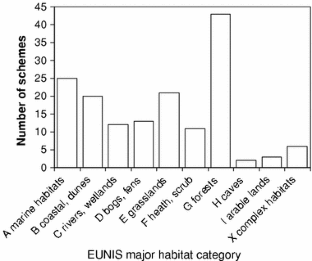 References
Anonymous (2004a) Development of plan and guidelines for indicators and monitoring to help achieve the 2010 target for biodiversity in Europe. Outcome of joint meeting of EIONET, IWG Bio-MIN and PEBLDS, Copenhagen, Denmark, 21–23 April 2004 (available at: http://www.strategyguide.org/stradocs.html)

Anonymous (2004b) Follow-up of the Kyiv biodiversity resolution: biodiversity monitoring and indicators action plan proposal "STRA-CO (2004) 3 f", Third intergovernmental conference "Biodiversity in Europe" and 8th meeting of the council for the Pan-European biological and landscape diversity strategy, 19–21 January 2004, Madrid, Spain (available at: http://www.strategyguide.org/stradocs.html)

Asner GP, Knapp DE, Broadbent EN et al (2005) Selective logging in the Brazilian Amazon. Science 310:480–482

Bakker JP, Olff H, Willems JH et al (1996) Why do we need permanent plots in the study of long-term vegetation dynamics? J Veg Sci 7:147–156

Balmford A, Green RE, Jenkins M (2003) Measuring the changing state of nature. Trends Ecol Evol 18:326–330

Balmford A, Crane P, Dobson A et al (2005) The 2010 challenge: Data availability, information needs and extraterrestrial insights. Philos Trans R Soc Lond B Biol Sci 360:221–228

Barkman JJ (1979) The investigation of vegetation texture and structure. In: Werger MJA (ed) The study of vegetation. Junk, The Hague, pp 125–160

Barr CJ, Bunce RGH, Clarke RT et al (1993) Countryside Survey 1990: Main Report. Department of the Environment, London

Bloch-Petersen M, Brandt J, Olsen M (2006) Integration of European habitat monitoring based on plant life form composition as an indicator of environmental change and change in biodiversity. Geografisk Tidsskrift Danish Journal of Geography 106:61–74

Blondel J (1995) Biogeographié. Approché ecologique et evolutive. Masson, Paris, New York

Bock M, Xofis P, Mitchley J, Rossner G, Wissen M (2005) Object-oriented methods for habitat mapping at multiple scales – case studies from Northern Germany and Wye Downs, UK. J Nat Conserv 13: 75–89

Brandt JJE, Bunce RGH, Howard DC et al (2002) General principles of monitoring land cover change based on two case studies in Britain and Denmark. Landsc Urban Plan 62:37–51

Braun-Blanquet J (1964) Pflanzensoziologie Grundziige der Vegetationskunde. 3. Aufl Springer, Wien

Bunce RGH, Groom GB, Jongman RHG et al (eds) (2005) Handbook for surveillance and monitoring of European habitats, 1st edn. EU FP5 Project EVK2-CT-2002-20018, Wageningen. Available at: http://www.biodiversityresearch.net/index.cgi?s_id=3&detail=40

Bunce RGH, Pérez-Soba M, Gómez-Sanz V et al (2006) European framework for surveillance and monitoring of habitats: a methodological approach for Spain. Invest Agrar Sist Recur For 15:249–261

Council of the European Communities (1992) Council Directive 92/43/EEC of 21 May 1992 on the conservation of natural habitats and of wild fauna and flora. Official Journal of the European Communities, series L, 206:750

Devillers P, Devillers-Terschuren J, Ledant JP (1991) CORINE biotopes manual. Habitats of the European Community. Office for Official Publications of the European Communities, Luxembourg

Dierschke H (1994) Pflanzensoziologie. Verlag Eugen Ulmer, Stuttgart

Dimopoulos P, Bergmeier E, Fischer P (2006) Natura 2000 habitat types of Greece evaluated in the light of distribution, threat and responsibility. Biol Environ Proc R Ir Acad 106:175–187

Dramstad WE, Fjellstad WJ, Strand GH et al (2002) Development and implementation of the Norwegian monitoring programme for agricultural landscapes. J Environ Manage 64:49–63

Duro DC, Coops NC, Wulder MA et al (2007) Development of a large area biodiversity monitoring system driven by remote sensing. Prog Phys Geogr 31:235–260

European Environmental Agency (2006) Land accounts for Europe 1990–2000: towards integrated land and ecosystem accounting. European Environment Agency, Copenhagen, Denmark. Available at: http://reports.eea.europa.eu/eea_report_2006_11/en

Firbank LG, Barr CJ, Bunce RGH et al (2003) Assessing stock and change in land cover and biodiversity in GB: an introduction to the Countryside Survey 2000. J Environ Manage 67:207–218

Gregory RD, Noble D, Field R et al (2003) Using birds as indicators of biodiversity. Ornis Hung 12–13:11–24

Gregory RD, van Strien A, Vorisek P et al (2005) Developing indicators for European birds. Phil Trans R Soc B 360:269–288

Groom G (2004) Integration of partial coverage and full coverage landscape monitoring information. In: Groom G (ed) Developments in strategic landscape monitoring for the Nordic countries (ANP 2004:705). Nordic Council of Ministers, Copenhagen, pp 119–127

Heer M de, Kapos V, ten Brink BJE (2005) Biodiversity trends in Europe: development and testing of a species trend indicator for evaluating progress towards the 2010 target. Phil Trans R Soc B Biol Sci 360:297–308

Henle et al (in review) Biodiversity monitoring and European biodiversity conservation policies—Editorial. Biodiversity and Conservation

Henry P-Y, Lengyel S, Nowicki P, Julliard R, Clobert J, Čelik T, Gruber B, Schmeller DS, Babij V, Henle K (in review) Integrating ongoing biodiversity monitoring: potential benefits and methods. Biodiversity and Conservation

Hinton JC (1996) GIS and remote sensing integration for environmental applications Int J Geogr Inf Sci 10:877–890

Jansen LJM (2004) Thematic harmonisation and analyses of Nordic data sets into Land Cover Classification System (LCCS) terminology. In: Groom G (ed) Developments in strategic landscape monitoring for the Nordic countries (ANP 2004:705). Nordic Council of Ministers, Copenhagen, pp 91–107

Lengyel S, Déri E, Varga Z, Horváth R, Tóthmérész B, Henry P-Y, Kobler A, Kutnar L, Babij V, Seliskar A, Christia C, Papastergiadou E, Gruber B, Henle K (in review) Habitat monitoring in Europe: a description of current practices. Biodiversity and Conservation

Lillesand TM, Kiefer RW, Chipman JW (2003) Remote sensing and image interpretation. John Wiley & Sons, New York

Longley PA, Goodchild MF, Maguire DJ, Rhind DW (2005) Geographic information systems and science. John Wiley & Sons, New York

MacDonald LH, Smart AW (1993) Beyond the guidelines: practical lesson for monitoring. Environ Monit Assess 26:203–218

Mace G, Delbaere B, Hanski I, Harrison J, Garcia F, Pereira H, Watt A, Weiner J, Murlis J (2005) A user's guide to biodiversity indicators. European Academy of Sciences Advisory Council. Available at http://www.easac.org/page.asp?id=44

Nagendra H (2001) Using remote sensing to assess biodiversity. Int J Remote Sens 22:2377–2400

Nagendra H, Tucker C, Carlson L et al (2004) Monitoring parks through remote sensing studies in Nepal and Honduras. Environ Manage 34:748–760

Parr TW, Ferretti M, Simpson IC et al (2002) Towards a long-term integrated monitoring programme in Europe: network design in theory and practice. Environ Monit Assess 78:253–290

Pereira HM, Cooper HD (2006) Towards the global monitoring of biodiversity change. Trends Ecol Evol 21:123–129

Pettorelli N, Vik JO, Mysterud A et al (2005) Using the satellite-derived NDVI to assess ecological responses to environmental change. Trends Ecol Evol 20:503–510

Rocchini D, Butini SA, Chiarucci A (2005) Maximizing plant species inventory efficiency by means of remotely sensed spectral distances. Glob Ecol Biogeogr 14:431–437

Tucker G, Bubb P, de Heer M et al (2005) Guidelines for biodiversity assessment and monitoring for protected areas. King Mahendra Trust for Nature Conservation and UNEP-World Conservation Monitoring Centre, Kathmandu, Nepal

Turner W, Spector S, Gardiner N et al (2003) Remote sensing for biodiversity science and conservation. Trends Ecol Evol 18:306–314

Vieno T, Toivonen T (2005) Report of analysis of observational biodiversity information needs and products to support the European Biodiversity Strategy and parallel activities. European Network for Biodiversity Information (ENBI), Report No WP7_D73_1/2005, University of Turku, Centre for Biodiversity

Weber D, Hintermann U, Zangger A (2004) Scale and trends in species richness: considerations for monitoring biological diversity for political purposes. Glob Ecol Biogeogr 13:97–104

Wyatt BK, Briggs DJ, Ryder P (2004) Building a European information capacity for environment and security. A contribution to the initial periods of the GMES Action Plan. Directorate General for Research, Sustainable Development, Global Change and Ecosystems, 237 pp

Yoccoz N, Nichols JD, Boulinier T (2001) Monitoring of biological diversity in space and time. Trends Ecol Evol 16:446–453
Acknowledgements
We are grateful to our colleagues in the EuMon project who have helped in contacting coordinators in each EU country. We are also indebted to the many monitoring coordinators who filled out the online questionnaire or provided us data in any other form. Two anonymous referees provided constructive comments on the manuscript. Financial support for the EuMon database and this study was provided by the EuMon project ("European wide monitoring methods and systems of surveillance for species and habitats of Community interest", http://eumon.ckff.si), funded by the European Commission (contract number 6463).
About this article
Cite this article
Lengyel, S., Kobler, A., Kutnar, L. et al. A review and a framework for the integration of biodiversity monitoring at the habitat level. Biodivers Conserv 17, 3341–3356 (2008). https://doi.org/10.1007/s10531-008-9359-7
Received:

Accepted:

Published:

Issue Date:

DOI: https://doi.org/10.1007/s10531-008-9359-7
Keywords