Abstract
Although farmers have managed west African parkland savanna systems for 1,000 of years, concerns have been raised about the sustainability of these agro-ecosystems due to human population growth, shortening of fallow periods, droughts, desertification and new orientations towards cash generation away from subsistence farming. We conducted a tree diversity survey in 16 villages from Burkina Faso, Mali, Niger and Senegal, recording total species composition for 300 quadrats (mainly 50 × 20 m2) that were randomly sampled from the main landuse categories of parklands of village fields (VF), bush fields (BF), sylvopastoral zone (SP) and forest reserves (FR). About 110 tree species were encountered, including 100 indigenous species. The results from balanced species accumulation curves (based on randomized subsampling of the same number of quadrats from each village) showed that the accumulated number of species was smallest in VF, largest in FR and almost equal in BF and SP, whereas classical (unbalanced) species accumulation curves yielded different results. Although there was a significant within-village reduction in species richness with increasing diameter class [averaging 8.5–13.1 more species in the smallest (<5 cm) compared to the largest diameter class (>80 cm)] for the different landuse categories, new species were also encountered in larger diameter classes (2.7–7.2 species). The evidence for tree regeneration problems (including problems in FR) suggest that farmer-managed tree regeneration should be further explored and that advances in domestication and marketing of indigenous tree species may be crucial to tree conservation in parkland systems.
Access options
Buy single article
Instant access to the full article PDF.
US$ 39.95
Tax calculation will be finalised during checkout.
Subscribe to journal
Immediate online access to all issues from 2019. Subscription will auto renew annually.
US$ 119
Tax calculation will be finalised during checkout.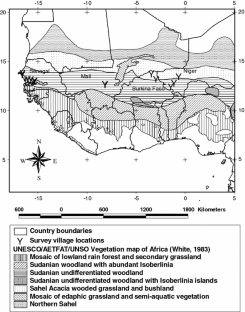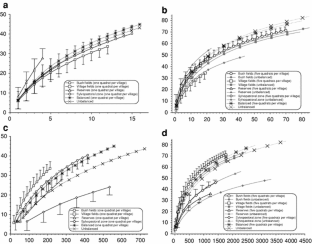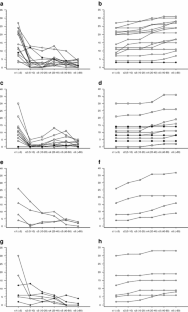 References
Abegg C, Bayala J, Belem M, Kalinganire A (2006) Analyse comparative de facteurs socio-économiques influençant la biodiversité ligneuse des parcs agroforestiers du plateau central du Burkina Faso. J Forest Suisse 157(1):17–23

Arbonnier M (2004) Trees, shrubs and lianas of West African dry zones. CIRAD, Margraf Publishers, MNHN, Paris

Ashley R, Russell D, Swallow B (2006) The policy terrain in protected area landscapes: challenges for agroforestry in integrated landscape conservation. Biodivers Conserv 15:663–689

Augusseau X, Nikiéma P, Torquebiau E (2006) Tree biodiversity, land dynamics and farmers' strategies on the agricultural frontier of south-western Burkina Faso. Biodivers Conserv 15:613–630

Boffa JM (1999) Agroforestry parklands in sub-Saharan Africa. FAO Conservation Guide No 34. Food and Agriculture Organization of the United Nations, Rome

Burgess N, D'Amico Hales J, Underwood E, Dinerstein E, Olson D, Itoua I, Schipper J, Ricketts T, Newman K (2004) Terrestrial eco-regions of Africa and Madagascar. Island Press, Washington

Colwell RK, Mao CX, Chang J (2004) Interpolating, extrapolating, and comparing incidence-based species accumulation curves. Ecology 85:2717–2727

Cunningham PJ, Abasse T (2005) Reforesting the Sahel: farmer managed natural regeneration. In: Kalinganire A, Niang A, Kone B (eds) Domestications des espèces agroforestières au sahel: situation actuelle et perspectives. ICRAF Working Paper 5. World Agroforestry Centre, Nairobi, pp 75–80

Devineau JL (1999) Seasonal rhythms and phonological plasticity of savanna woody species in a fallow farming system (south-west Burkina Faso). J Trop Ecol 15:497–513

Evans J, Turnbull JW (2004) Plantation forestry in the tropics: the role, silviculture, and use of planted forests for industrial, social, environmental, and agroforestry purposes. Oxford University Press, New York

GEF (2002) Desert Margins Programme (DMP): Project Document. United Nations Environment Programme. Global Environment Facility (GEF), Nairobi

Gonzalez P (2001) Desertification and a shift of forest species in the West African Sahel. Clim Res 17:217–228

Gotelli NJ, Colwell RK (2001) Quantifying biodiversity: procedures and pitfalls in the measurement and comparison of species richness. Ecol Lett 4:379–391

Gray LC (2005) What kind of intensification? Agricultural practice, soil fertility and socio-economic differentiation in rural Burkina Faso. Geogr J 171:70–82

Hastie TJ, Pregibon D (1993) Generalised linear models. In: Chambers JM, Hastie TJ (eds) Statistical models in S. Chapman and Hall, London

Kalinganire A, Kaya B, Niang A, Kindt R, Muraya P, Coe R (eds) (2005) Caractérisation de la biodiversité ligneuse dans les sites du programme des zones en marge du désert: Manuel de procédures. Occasional Paper No 3. World Agroforestry Centre, Nairobi

Kindt R, Coe R (2005) Tree diversity analysis. A manual and software for some common statistical methods for biodiversity and ecological analysis. World Agroforestry Centre (ICRAF), Nairobi. URL http://www.worldagroforestry.org/treesandmarkets. Accessed 22 Jan 2008

Kindt R, Van Damme P, Simons AJ (2006) Patterns of species richness at varying scales in western Kenya: planning for agroecosystem diversification. Biodivers Conserv 15:3235–3249

Kristensen M, Balslev H (2003) Perceptions, use and availability of woody plants among the Gourounsi in Burkina Faso. Biodivers Conserv 12:1715–1739

Larwanou M, Saadou M (2005) Biodiversity of ligneous species in semi-arid to arid zones of southwestern Niger according to anthropogenic and natural factors. Agric Ecosyst Environ 105:267–271

Larwanou M, Saadou M (2006) Arbres dans les systèmes agraires en zone sahélienne du Niger: Mode de gestion, atouts et contraintes. Tropicultura 24:8–14

Ly I, Kalinganire A, Niang A (2006) Essai d'analyse de la prise en compte des systemes agroforestiers par les législations forestières au sahel: Cas du Burkina Faso, du Mali, du Niger et du Sénégal. ICRAF Working Paper 29. World Agroforestry Centre, Nairobi

Lykke AM (1998) Assessment of species composition change in savanna vegetation by means of woody plants' size class distributions and local information. Biodivers Conserv 7:1261–1275

Lykke AM (2000) Local perceptions of vegetation change and priorities for conservation of woody-savanna vegetation in Senegal. J Environ Manage 59:107–120

Lykke AM, Kristensen MK, Ganaba S (2004) Valuation of local use and dynamics of 56 woody species in the Sahel. Biodivers Conserv 13:1961–1990

Maranz S, Wiesman Z (2003) Evidence for indigenous selection and distribution of the shea tree, Vitellaria paradoxa, and its potential significance to prevailing parkland savanna tree patterns in sub-Saharan Africa north of the equator. J Biogeogr 30:1505–1516

Mortimore M, Harris FMA, Turner B (1999) Implications of land use change for the production of plant biomass in densely populated Sahelo-Sudanian shrub-grasslands in north-east Nigeria. Glob Ecol Biogeogr 8:243–256

Oksanen J (1996) Is the humped relationship between species richness and biomass an artefact due to plot size? J Ecol 84:293–295

Oksanen J, Kindt R, Legendre P, O'Hara RB (2005) Vegan: community ecology package version 1.7-82. URL http://cc.oulu.fi/~jarioksa/

R Development core team (2005) R: a language and environment for statistical computing. R foundation for Statistical Computing, Vienna. URL http://www.R-project.org

Rinaudo T (2001) Utilizing the underground forest: farmer managed natural regeneration of trees. In: Pasternak D, Schlissel A (eds) Combating desertification with plants. Kluwer Academic/Plenum Publishers, New York, pp 325–336

Rosenzweig MI, Turner WR, Cox JG, Ricketts TH (2003) Estimating diversity in unsampled habitats of a biogeographical province. Conserv Biol 17:864–874

Teklehaimanot Z (2004) Exploiting the potential of indigenous agroforestry trees: Parkia biglobosa and Vitellaria paradoxa in sub-Saharan Africa. Agroforest Syst 61:207–220

Ugland KI, Gray JS, Ellingsen KE (2003) The species-accumulation curve and estimation of species richness. J Anim Ecol 72:888–897

Wezel A, Boecker R (1998) Fallow plant communities and site characteristics in semi-arid Niger, West Africa. J Arid Environ 40:269–280

Wezel A, Lykke AM (2006) Woody vegetation change in Sahelian Africa: evidence from local knowledge. Environ Dev Sustain 8:553–567

White F (1983) The vegetation of Africa. A descriptive memoir to accompany the Unesco/AETFAT/UNSO vegetation map of Africa. United Nations Educational, Scientific and Cultural Organization, Paris
Acknowledgements
We are very grateful for the collaboration provided by farmers during data collection. We thank GEF (DMP project) and IDRC (Tree Biodiversity Project) for funding data collection and analysis, the governments of Burkina Faso, Mali, Niger and Senegal for co-funding data collection (through INRA, IER, INRAN and ISRA, respectively), and Peter Muraya and Richard Coe for helping us with data preparation and initial analysis. Roeland Kindt thanks VVOB for co-funding training workshops for African researchers in methods of biodiversity analysis.
About this article
Cite this article
Kindt, R., Kalinganire, A., Larwanou, M. et al. Species accumulation within land use and tree diameter categories in Burkina Faso, Mali, Niger and Senegal. Biodivers Conserv 17, 1883–1905 (2008). https://doi.org/10.1007/s10531-008-9326-3
Received:

Accepted:

Published:

Issue Date:
Keywords
Agroforestry

Parkland systems

Regeneration

Sahel

Species accumulation curves

Tree diameter