Abstract
Part of the puzzle surrounding biodiversity loss lies in an incomplete understanding of how humans value the functions and services that flow from biodiversity conservation projects. This paper takes a closer look at the links between the conservation of biodiversity and the livelihoods of rural people who live on the fringes of the parks and protected areas. We revisit some of the key aspects of ecosystem valuation—purpose, methodology, and policy design and implementation—because the links between biodiversity conservation, ecosystem services, and human welfare are obscured by considerable smoke and mirrors. Using a biodiversity conservation project (Ruteng Park) on Flores Island in Indonesia as a case study, we build a concrete empirical example of ecosystem valuation. This conservation project has resulted in spatially patchy watershed protection that allows us to identify and estimate the impacts of watershed services on human health (diarrhea prevalence) in the buffer zone of the park. We conclude by offering a plan of research to improve the design of conservation interventions for protecting biodiversity and providing ecosystem services. These recommendations include developing more conceptual knowledge on the linkages between biodiversity and ecosystem services; scaling up valuation efforts of underappreciated services such as health; shifting focus from valuing services individually to valuing multiple benefits from the same area; and conducting conservation policy experiments to identify causal outcomes (including defensible estimates of ecosystem values).
Access options
Buy single article
Instant access to the full article PDF.
USD 39.95
Price excludes VAT (USA)
Tax calculation will be finalised during checkout.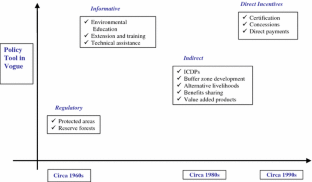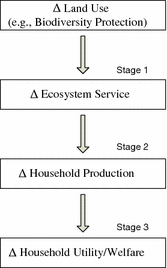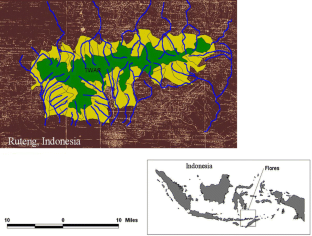 Notes
Furthermore, Pattanayak and Butry (2005) conducted auxiliary regressions to test whether ecosystem service flow (e.g., stream sedimentation and dry season baseflow) are exogenous to the households by using road density, population, and forest cover as instrumental variables. As a by product of this analysis, the authors confirmed the positive relationship between primary forest cover and baseflow, and the negative relationship between regenerating forest cover and baseflow.

The authors are aware of the scientific rigor needed to establish causality in public health studies and are currently conducting a multi-year multi-site large scale evaluation of water and sanitation impacts on health in several hundreds of Indian villages using randomized and non-randomized (matching) methods.
References
Adamowicz W (2004) What's it worth?: an examination of historical trends and future directions in environmental valuation. Aust J Agric Resour Econ 48(3):419–443

Balmford A (2006) Synergies and trade-offs in conserving both ecosystems and biodiversity. Presented at Kathyrn Fuller science for nature symposium, Washington, D.C., October 31

Berman P, Kendall C, Bhattacharyya K (1994) The household production of health: integrating social science perspectives on micro-level health determinants. Soc Sci Med 38(2):205–215

Binnies (1994) Master plan report: integrated water resources in Flores Island, Indonesia, vol 2. Directorate General of Water Resources Development, Ministry of Public Works, Indonesia

Bonnell M, Balek J (1993) Recent scientific developments and research needs in hydrological processes of the humid tropics. In: Bonnell M, Hufschmidt MM, Gladwell JS (eds) Hydrology and water management in the humid tropics. UNESCO/Cambridge University Press, Cambridge, UK

Boyd J, Wainger L (2003) Measuring ecosystem service benefits: the use of landscape analysis to evaluate environmental trades and compensation. RFF, Washington, DC

Brooks TM Mittermeier RA, da Fonseca GAB, Gerlach J, Hoffman M, Lamoreux JF, Mittermeier CG, Pilgrim JD, Rodgigues ASL (2006) Global biodiversity conservation priorities. Science 313(5783):58–61

Bruijnzeel LA (2004) Hydrological functions of tropical forests: not seeing the soil for the trees? Agric Ecosyst Environ 104:185–228

Bruijnzeel LA (2006) To plant or not to plant? Hydrological benefits of tropical forestation programs under scrutiny. Presented at The World Bank, October

Butry DT, Pattanayak SK (2001) Economic impacts of tropical forest conservation: the case of logger households around Ruteng Park. RTI Working Paper 01_01, Research Triangle Park, NC

Carpenter SR, DeFries R, Dietz T, Mooney HA, Polasky S, Reid WV, Scholes RJ (2006) Millennium ecosystem assessment: research needs. Science 314:257–258

Carret JC, Loyer D (2003) Madagascar protected area network sustainable financing: economic analysis perspective. Paper presented at World Parks Congress, Durban

Chan KMA, Shaw MR, Cameron DR, Underwood EC, Daily GC (2006) Conservation planning for ecosystem services. PLOS Biol 4(11):e379

Corvalan C, Hales S, McMichael A et al (2005) Ecosystems and human well-being: health synthesis. A report of the Millennium Ecosystem Assessment

Daily G (ed) (1997) Nature's services: societal dependence on natural ecosystems. Island Press, Washington, DC

Dasgupta P (2000) Valuing biodiversity. In: Levin (ed) Encyclopedia of biodiversity. Academic Press, New York

Dasgupta P, Levin S, Lubchenco J (2000) Economic pathways to ecological sustainability challenges for the new millennium. Bioscience 50(4):339–345

de Groot NJPM (2001) Water resources management. In: Aron JL, Patz JA (eds) Ecosystem change and public health: a global perspective. Johns Hopkins University Press, Baltimore

Douglas EM, Wood S, Sebastian K, Vorosmarty CJ, Chomitz KM, Tomich TP (2007) Policy implications of a pan-tropic assessment of the simultaneous hydrological and biodiversity impacts of deforestation. Water Resour Manage 21(1):211–232

Duraiappah AK (2004) Human well-being, poverty and ecosystem services. In: Slayen S (ed) Exploring the links, The United Nations Environment Programme and the International Institute for Sustainable Development

Ferraro PJ, Pattanayak SK (2006) Money for nothing? A call for empirical evaluation of biodiversity conservation investments. PLOS Biol 4(4):482–488

Fewtrell L, Kaufmann RB, Kay D, Enanoria W, Haller L, Colford JM (2005) Water, sanitation, and hygiene interventions to reduce diarrhea in less developed countries: a systematic review and meta-analysis. Lancet Infect Dis 5:42–52

Freeman A (1996) On valuing the services and functions of ecosystems. In: Simpson RD, Christensen NL (eds) Human activity and ecosystem function: reconciling economics and ecology. Chapman and Hall, New York

Gleick PH (2002) Dirty water: estimated deaths from water-related disease 2000–2020. Pacific Institute Research Report

Hamilton L (1992) Regression with graphics: a second course in applied statistics. Duxbury Press, California

Heal G (2000) Nature and the marketplace: capturing the value of ecosystem services. Island Press, Washington, DC

Heal GM, Barbier EB, Boyle KJ, Covich AP, Gloss SP, Hershner CH, Hoehn JP, Pringle CM, Polasky S, Segerson K, Shrader-Frechette K (2004) Valuing ecosystem services: toward better environmental decision making. The National Academies Press, Washington, DC

Jalan J, Ravallion M (2003) Does piped water reduce diarrhea for children in rural India. J Economet 112:153–173

Kramer R, Pattanayak S, Sills E, Simanjuntak S (1997) The economics of the Siberut and Ruteng protected areas. Final Report Submitted to the Directorate general of Forest Protection and Nature Conservation, Ministry of Forestry, Republic of Indonesia. Nicholas School of the Environment, Durham, NC

Kremen C, Niles JO, Dalton MG, Daily GC, Ehrlich PR, Fay JP, Grewal D, Guillery RP (2000) Economic incentives for rain forest conservation across scales. Science 288:1828–1832

Lal R (1993) Challenges in agriculture and forest hydrology in the humid tropics. In: Bonnell M, Hufschmidt MM, Gladwell JS (eds) Hydrology and water management in the humid tropics. UNESCO/Cambridge University Press, Cambridge, UK

Landell-Mills N, Porras IT (2002) Silver bullet or fools' gold? A global review of markets for forest environmental services and their impacts on the poor. International Institute for Environmental and Development (IIED), London

Lerman SJ, Shepard DS, Cash RA (1985) Treatment of diarrhoea in Indonesian children: what it costs and who pays for it. Lancet 21:651–654

McNeely JA (1999) Achieving financial sustainability in biodiversity conservation programmes. IUCN-The World Conservation Union, Gland, Switzerland

Millennium Ecosystem Assessment (2005a) Ecosystems and human well-being: biodiversity synthesis. World Resources Institute, Washington DC

Millennium Ecosystem Assessment (2005b) Chapter 6: concepts of ecosystem value and valuation approaches. In: Ecosystems and human well-being: a framework for assessment. World Resources Institute, Washington DC

Mosley, WH, Chen LC (1984) An analytical framework for the study of child survival in developing countries. Popul Dev Rev, Supplement to Vol. 10:25–45

Naidoo R, Ricketts TH (2006) Mapping the economic costs and benefits of conservation. PLOS Biol 4(11):e360

Pagiola S, Ritter K, Bishop J (2004) Assessing the economic value of ecosystem conservation. The World Bank Environment Department Paper No. 101, The World Bank, Washington DC

Panayotou T (1992) The economics of environmental degradation: problems, causes and responses. In: Markandya A, Richardson J (eds) Environmental economics: a reader. St. Martin's Press, New York

Pattanayak SK (2004) Valuing watershed services: concepts and empirics from southeast Asia. Agric Ecosyst Environ 104:171–184

Pattanayak SK (2006) How green are these valleys? Valuation, evaluation and institutions. Keynote address to international congress on ecosystem services in the neotropics. Valdivia, Chile

Pattanayak SK, Butry DT (2005) Spatial complementarity of forests and farms: accounting for ecosystem services. Am J Agric Econ 87(4):995–1008

Pattanayak SK, Depro BM (2004) Environmental services from agroforestry. In: Alavalpati JRR, Mercer DE (eds) Valuing agroforestry systems: methods and applications. Kluwer Academic, The Netherlands

Pattanayak SK, Kramer R (2001) Worth of watersheds: a producer surplus approach for valuing drought control in Eastern Indonesia. Environ Dev Econ 6:123–145

Pattanayak SK, Sills E, Kramer R (2004) Seeing the forests for the fuel. Environ Dev Econ 9(2):155–179

Pattanayak SK, Corey CG, Lau YF, Kramer R (2005) Conservation and health: a microeconomic study of forest protection and child malaria in Flores, Indonesia. RTI Working Paper 05-05. RTI International, Research Triangle Park, NC

Patz J, Confalonieri U et al (2005) Human health: ecosystem regulation of infectious diseases. A report of the Millennium Ecosystem Assessment

Polasky S (2006) Biodiversity conservation and ecosystem services. Keynote address. Third world congress of environment and resource economists, Kyoto, Japan

Polasky S, Costello C, Solow A (2005) The economics of biodiversity. In: Maler KG, Vincent JR (eds) Handbook of environmental economics, vol 3. Elsevier, New York

Popkin BM (1982) A household framework for examining the social and economic consequences of tropical diseases. Soc Sci Med 16(5):533–543

Priyanto A (1996) Hydrology specialist report on Ruteng. Directorate General of Forest Protection and Nature Conservation, Ministry of Forestry, Jakarta, Indonesia

Rehydration Project (2006) http://rehydrate.org/. Cited 10 February 2007

Roberts L, Confalonieri C, Aron JL (2001) Too little, too much: how the quantity of water affects human health. In: Aron JL, Patz JA (eds) Ecosystem change and public health: a global perspective. Johns Hopkins University Press, Baltimore

Silva P, Pagiola S (2003) A review of the environmental costs and benefits in World Bank projects. Paper no. 94, World Bank Environmental Economic Series, World Bank, Washington, DC

Smith VK, Pattanayak SK, Van Houtven G (2006) Structural benefits transfer: an example using VSL estimation. Ecol Econ 60(2):361–371

Swiss Intercooperation (1996) Performance of springs in Manggarai: summary of study by PDAM Ruteng. Ruteng, Flores

Tilman D (1997) Biodiversity and ecosystem functioning. In: Daily GF (ed) Nature's services: societal dependence on natural ecosystems. Island Press, Washington, DC

Tilman D, Polasky S, Lehman C (2005) Diversity, productivity and temporal stability in the economies of humans and nature. J Environ Econ Manage 49:405–426

UNICEF (2005) Water. http://childinfo.org/areas/water/. Cited 12 May 2006

UNICEF (2006) http://www.childinfo.org/areas/water/. Cited 10 February 2007

Vedeld P, Angelsen A, Sjaastad E, Berg GK (2004) Counting on the environment: forest incomes and the rural poor. The World Bank Environment Department Environmental Economics Series Paper No. 98, The World Bank, Washington DC

Wendland KJ, Honzak M, Portela R, Vitale B, Rubinoff S, Randrianarisoa J (submitted) Targeting and Implementing Payments for Multiple Ecosystem Service Conservation in Madagascar: theory and application. Ecol Econ

Wunder S (2005) Payments for environmental services: some nuts and bolts. CIFOR Occasional Paper No 42
About this article
Cite this article
Pattanayak, S.K., Wendland, K.J. Nature's care: diarrhea, watershed protection, and biodiversity conservation in Flores, Indonesia. Biodivers Conserv 16, 2801–2819 (2007). https://doi.org/10.1007/s10531-007-9215-1
Received:

Accepted:

Published:

Issue Date:

DOI: https://doi.org/10.1007/s10531-007-9215-1
Keywords
Conservation evaluation

Diarrhea

Eco-epidemiology

Indonesian parks

Watershed protection