Abstract
Mountain areas are recognized centres of endemism and diversity on account of their isolation and altitudinal diversity. In tropical regions, mountain tops usually stand as islands of xeric vegetation among mesophytic assemblages. Unlike the vegetation growing on other rock outcrops lithologies, such as inselbergs (granite/gneiss) or campos rupestres (quartz/arenite), ironstone outcrop plant communities still lack systematic studies in Brazil. These outcrops (locally known as canga) share most of the characteristics of other rock outcrops, such as isolation and edapho-climatic harshness, but differ in that they are the object of opencast mining, and thus subjected to irrecoverable degradation. In addition, they are expected to harbour metal-tolerant and hyperaccumulator plant species. A botanical survey of two ironstone outcrop locations in the most important mining region of southeastern Brazil, the Iron Quadrangle, revealed a high within-site (138 and 160 species per site), and between-site diversity (only 27% of common species), totaling 64 families and 234 species among basal families and eudicots (154 species), monocots (68 species), and ferns (12 species). Canga crusts are rich in dicots, several of which play an important role in community structuring, together with the more usual monocot aggregations. Distinct plant communities are found associated to different microhabitats within the iron crust, depending primarily on the amount of soil and moisture retention in the different microtopographies. The environmental uniqueness, high diversity, lack of studies and rapid destruction of these ecosystems pose an immediate challenge for their conservation.
Access options
Buy single article
Instant access to the full article PDF.
USD 39.95
Price includes VAT (USA)
Tax calculation will be finalised during checkout.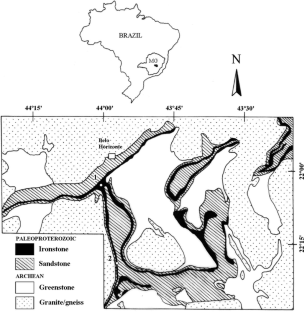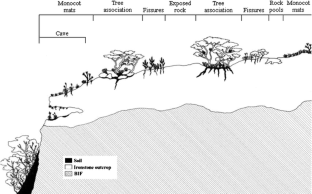 References
Alkmim FF, Marshak S (1998) Transamazonian orogeny in the southern São Francisco Craton Region, Minas Gerais, Brazil: evidence for paleoproterozoic collision and collapse in the Quadrilátero Ferrífero. Precambrian Res 90:29–58

Alves RJV, Kolbek J (1994) Plant species endemism in savanna vegetation on table mountais (Campo Rupestre) in Brazil. Vegetatio 113:125–139

Ambrosi JP, Nahon D (1986) Petrological and geochemical differentiation of lateritic iron crust profiles. Chem Geol 57:371–393

Antonovics J, Bradshaw AD, Turner RG (1971) Heavy metal tolerance in plants. Adv Ecol Res 7:1–85

Barthlott W, Groger A, Porembski S (1993) Some remarks on the vegetation of tropical inselbergs: diversity and ecological differentiation. Biogeographica 69:105–124

Beauvais A, Roquin C (1996) Petrological differentiation patterns and geomorphic distribution of ferricretes in Central Africa. Geoderma 73:63–82

Broadley MR, Willey NJ., Wilkins JC, Baker AJM, Mead A, White PJ (2001) Phylogenetic variation in heavy metal accumulation in angiosperms. New Phytol 152:9–27

Brooks RR (1998) Geobotany and hyperaccumulators. In: Brooks RR (ed) Plants that hyperaccumulate heavy metals: their role in phytoremediation, microbiology, archaeology, mineral exploration and phytomining. CAB International, Cambridge, 384 pp

Burke A (2003) Inselbergs in a changing world – global trends. Divers Distrib 9:375–383

Conceição AA, Pirani JR (2005) Delimitação de habitats em campos rupestres na Chapada Diamantina, Bahia: substratos, composição florística e aspectos estruturais. Bol Bot Univ São Paulo 23(1):85–111

Cook RE (1983) Clonal plant populations. Am Sci 71:244–253

DNPM – Departamento Nacional de Produção Mineral (2005) Ferro. Ministério de Minas e Energia, Brasília

Dorr JN (1964) Supergene iron ores of Minas Gerais, Brazil. Econ Geol 59:1203–1240

Drummond GM, Martins CS, Machado ABM, Sebaio FA, Antonini Y (eds) (2005) Biodiversidade em Minas Gerais: um atlas para sua conservação, 2nd edn. Fundação Biodiversitas, Belo Horizonte, 222 pp

Ferreira RL (2005) A vida subterrânea nos campos ferruginosos. O Carste 17:106–115

Frakes LA, Crowell JC (1969) Late Paleozoic glaciations: I – South America. Geol Soc Am Bull 80:1007–1042

Gaff DF (1977) Desiccation tolerant vascular plants of Southern Africa. Oecologia 31:95–109

Gaff DF (1987) Desiccation tolerant plants in South America. Oecologia 74:133–136

Ginocchio R, Baker AJM (2004) Metallophytes in Latin America: a remarkable biological and genetic resource scarcely known and studied in the region. Rev Chil Hist Nat 77:185–194

Giulietti AM, Menezes NL, Pirani JR, Meguro M, Wanderley MGL (1987) Flora da Serra do Cipó, Minas Gerais: caracterização e lista de espécies. Bol Bot Univ São Paulo 9:1–151

Giulietti AM, Pirani JR, Harley RM (1997) Espinhaço Range region – Eastern Brazil. In: Davis SD, Heywood VH, Herrera-MacBryde O, Villa-Lobos J, Hamilton AC (eds) Centres of plant diversity: a guide and strategy for their conservation, vol 3. The Americas. WWF/IUCN Publications Unit., Cambridge, pp 397–404

Groger A, Barthlott W (1996) Biogeography and diversity of the inselberg (laja) vegetation of southern Venezuela. Biodiv Lett 3:165–179

Ibisch PL, Rauer G, Rudolph D, Barthlott W (1995) Floristic, biogeographical, and vegetational aspects of pre-cambrian rock outcrops (inselbergs) in eastern Bolivia. Flora 190:299–314

Klein C (2000) Geochemistry and petrology of some Proterozoic banded iron-formations of the Quadrilátero Ferrífero, Minas Gerais, Brazil. Econ Geol Bull Soc Econ Geol 95:405–428

Ledru M-P, Salgado-Labouriau ML, Lorsscheitter ML (1998) Vegetation dynamics in southern and central Brazil during the last 10 000 yr B.P. Rev Palaeobot. Palynology 99:131–142

Lüttge U (2004) Ecophysiology of Crassulacean acid metabolism (CAM). Ann Bot 93:629–652

Marshak S, Alkmim FF (1989) Proterozoic contraction/extension tectonics of the Southern São Francisco Region, Minas Gerais, Brazil. Tectonics 8:555–571

Medina BMO, Ribeiro KT, Scarano FR (2006) Plant–plant and plant–topography interactions on a rock outcrop at high altitude in Southeastern Brazil. Biotropica 38:27–37

Meguro M, Pirani JR, Giulietti AM, Mello-Silva R (1994) Phytophysiognomy and composition of the vegetation of Serra do Ambrósio, Minas Gerais, Brazil. Rev Brasil Bot 17:149–166

Meirelles ST, Pivello VR, Joly CA (1999) The vegetation of granite rock outcrops in Rio de Janeiro, Brazil, and the need for its protection. Environ Conserv 26:10–20

Mittermeier RA, Gil PR, Hoffmann M, Pilgrim J, Brooks T, Mittermeier CG, Lamoreux J, Fonseca GAB (eds) (2004) Hotspots revisited. Earth's biologically richest and most endangered terrestrial ecoregions. CEMEX, Mexico

Nimer E, Brandão AMPM (1989) Balanço hídrico e clima da região dos Cerrados. Instituto Brasileiro de Geografia e Estatística (IBGE), Rio de Janeiro,166 pp

Oliveira-Filho AT, Fontes MAL (2000) Patterns of floristic differentiation among Atlantic forests in Southeastern Brazil and the influence of climate. Biotropica 32:793–810

Parmentier I (2003) Study of the vegetation composition in three inselbergs from continental Equatorial Guinea (Western Central Africa): effects of site, soil factors and position relative to forest fringe. Belg J Bot 136:63–72

Parmentier I, Stévart T, Hardy OJ (2005) The inselberg flora of Atlantic Central Africa. I. Determinants of species assemblages. J Biogeogr 32:685–696

Pennington RT, Lavin M, Prado DE, Pendry CA, Pell SK, Butterworth CA (2004) Historical climate change and speciation: neotropical seasonally dry forest plants show patterns of both Tertiary and Quaternary diversification. Phil Trans Royal Soc Lond B 359:515–537

Pirani JR, Mello-Silva R, Giulietti AM (2003) Flora de Grão-Mogol, Minas Gerais, Brasil. Bol Bot Univ São Paulo 21:1–24

Porembski S, Barthlott W (1997) Inselberg vegetation and the biodiversity of granite outcrops. J Royal Soc W Australia 80:193–199

Porembski S, Barthlott W (2000) Granitic and gneissic outcrop (inselbergs) as centers of diversity for desiccation-tolerant vascular plants. Plant Ecol 151:19–28

Porembski S, Fisher E, Biedinger N (1997) Vegetation of inselbergs, quartzitic outcrops and ferricretes in Rwanda and eastern Zaïre (Kivu). Bull Jard Bot Nat Belg 66:81–99

Porembski S, Martinelli R, Ohlemüller R, Barthlott W (1994) Vegetation of rock outcrops in Guinea: granite inselbergs, sandstone table mountains, and ferricretes – remarks on species numbers and endemism. Flora 189:315–326

Porembski S, Martinelli R, Ohlemüller R, Barthlott W (1998) Diversity and ecology of saxicolous vegetation mats on inselbergs in the Brazilian Atlantic rainforest. Divers Distrib 4:107–119

Porto ML, Silva MFF (1989) Tipos de vegetação metalófila em áreas da Serra de Carajás e de Minas Gerais. Acta bot Bras 3:13–21

Rapini A, Mello-Silva R, Kawasaki ML (2002) Richness and endemism in Asclepiadoideae (Apocynaceae) from the Espinhaço Range of Minas Gerais, Brazil – a conservationist view. Biodivers Conserv 11:1733–1746

Reeves RD, Baker AJM, Borhidi A, Berazaín R (1999) Nickel hyperaccumulation in the serpentine flora of Cuba. Ann Bot 83:29–38

Ribeiro KT, Medina BMO (2002) Estrutura, dinâmica e biogeografia das ilhas de vegetação sobre rocha do Planalto do Itatiaia, RJ. Boletim do Parque Nacional do Itatiaia 10:11–82

Sayed OH (2001) Crassulacean acid metabolism 1975–2000, a check list. Photosynthetica 39:339–352

Scarano FR (2002) Structure, function and floristic relationships of plant communities in stressful habitats marginal to the Brazilian Atlantic Rainforest. Ann Bot 90:517–524

Scarano FR, Duarte HM, Ribeiro KT, Rodrigues PJFP, Barcellos EMB, Franco AC, Brulfert J, Deléens E, Lüttge U (2001) Four sites with contrasting environmental stress in southeastern Brazil: relations of species, life form diversity, and geographical distribution to ecophysiological parameters. Bot J Linnean Soc 136:345–364

Silva MFF (1991) Análise florística da vegetação que se cresce sobre canga hematítica em Carajás-PA (Brasil). Bol Mus Para Emílio Goeldi – Ser Bot 7:79–108

Silva MFF (1992) Distribuição de metais pesados na vegetação metalófila de Carajás. Acta bot Bras 6:107–122

Simmons GC (1963) Canga caves in the Quadrilátero Ferrífero, Minas Gerais, Brazil. Nat Speleol Soc Bull 25:66–72

Smith JMB, Cleef AM (1988) Composition and origins of the world's tropicalpine floras. J Biogeogr 15:631–645

Spier CA, Barros SM, Rosière CA (2003) Geology and geochemistry of the Águas Claras and Pico Iron Mines, Quadrilátero Ferrífero, Minas Gerais, Brazil. Miner Depos 38:751–774

Taylor N, Zappi D (2004) Cacti of eastern Brazil. The Royal Botanic Gardens, Kew, pp 499

Teixeira WA, Lemos-Filho JP (1998) Metais pesados em folhas de espécies lenhosas colonizadoras de uma área de mineração de ferro em Itabirito, Minas Gerais. Rev Árvore 22:381–388

Teixeira WA, Lemos-Filho JP (2002) Fatores edáficos e a colonização de espécies lenhosas em uma cava de mineração de ferro em Itabirito, Minas Gerais. Rev Árvore 26:25–33

Toy TJ, Griffith JJ (2001) Changing surface-mine reclamation practices in Minas Gerais, Brazil. Int J Surf Mining Reclam Environ 15:33–51

Toy TJ, Griffith JJ, Ribeiro CAA (2001) Planejamento a longo prazo da revegetação para o fechamento de minas a céu aberto no Brasil Rev. Árvore 25:487–499

Trendall AF, Morris RC (1983) Iron-formation: facts and problems. Elsevier, Amsterdam, 559 pp

Vincent RC (2004) Florística, fitossociologia e relações entre a vegetação e o solo em áreas de campos ferruginosos no Quadrilátero Ferrífero, Minas Gerais. Ph.D. Thesis, Universidade de São Paulo, Brazil

Versieux LM (2005) Bromeliáceas de Minas Gerais: catálogo, distribuição geográfica e conservação. M. Sc. Thesis, Universidade Federal do Rio de Janeiro, Brazil

Whiting SN, Reeves RD, Richards D, Johnson MS, Cooke JA, Malaisse F, Paton A, Smith JAC, Angle JS, Chaney RL, Ginocchio R, Jaffré T, Johns R, McIntyre T, Purvis OW, Salt DE, Zhao FJ, Baker AJM (2004) Research priorities for conservation of metallophyte biodiversity and their potential for restoration and site remediation. Restor Ecol 12:106–116
Acknowledgements
We thank Cléber Figueredo, Alessandra Giani, Gustavo Heringer, Rubens C. Mota, Marcos Sobral, Aristônio Teles, and Pedro L. Viana for identification of material, Myrian Duarte for the drawings, and José Eugênio do Carmo for invaluable field assistance. The comments of two anonymous reviewers are gratefully acknowledged. This research was supported by FAPEMIG (Minas Gerais Research Funding Agency, grant CRA 89/03), and CNPq (National Research Council).
About this article
Cite this article
Jacobi, C.M., do Carmo, F.F., Vincent, R.C. et al. Plant communities on ironstone outcrops: a diverse and endangered Brazilian ecosystem. Biodivers Conserv 16, 2185–2200 (2007). https://doi.org/10.1007/s10531-007-9156-8
Received:

Accepted:

Published:

Issue Date:
Keywords
Biodiversity

Canga

Ferruginous rocky field

Iron Quadrangle

Opencast mining

Quadrilátero Ferrífero