Abstract
Island avifauna suffer high rates of extinction and decline. North Island in the Houtman Abrolhos Archipelago, Western Australia, supports one of three populations of the Abrolhos Painted Button-quail (Turnix varius scintillans), a subspecies determined to be the 5th most likely taxon to become extinct in Australia. T. v. scintillans were last recorded on North Island in 2006. Vegetation declines on North Island due to introduced tammar wallabies (Notamacropus eugenii derbianus) and predation by introduced house mice (Mus musculus) are implicated as major threats. Between 2018 and 2021, 12,820 camera trap-nights on North Island failed to detect any signs of T. v. scintillans, suggesting local extinction. We deployed rodent chew cards at each camera site and analysed rainfall and vegetation cover data to identify potential causes of decline. Vegetation cover change was related to tammar wallaby density and was highly correlated with rainfall (r2 = 0.75). At the time of the last button-quail sighting in 2006, tammar wallaby numbers were at their peak, and annual rainfall was near its lowest level. Introduced tammar wallabies and house mice in tandem with reduced rainfall have likely resulted in degradation of habitat critical for T. v. scintillans, which is now confined to just two islands. Preventing further introductions of mice, rats and feral cats is a high priority for limiting further declines of this subspecies.
Access options
Buy single article
Instant access to the full article PDF.
USD 39.95
Price excludes VAT (USA)
Tax calculation will be finalised during checkout.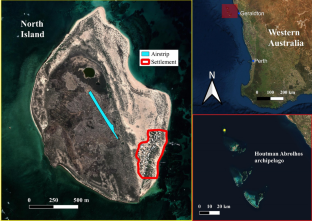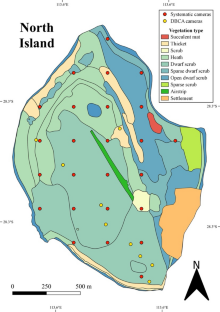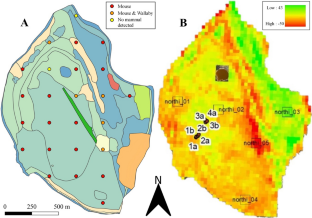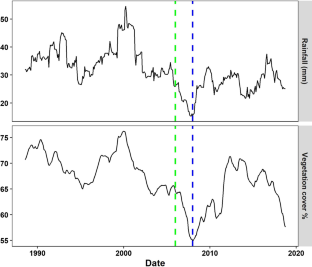 Data availability
The datasets generated during and/or analysed during the current study are available from the corresponding author on reasonable request.
References
Angel A, Wanless RM, Cooper J (2009) Review of impacts of the introduced house mouse on islands in the Southern Ocean: are mice equivalent to rats? Biol Invasions 11:1743–1754. https://doi.org/10.1007/s10530-008-9401-4

Arthur A, Pech R, Dickman C (2005) Effects of predation and habitat structure on the population dynamics of house mice in large outdoor enclosures. Oikos 108:562–572. https://doi.org/10.1111/j.0030-1299.2005.13327.x

Atkinson IAE (1985) The spread of commensal species of Rattus to oceanic islands and their effects on island avifaunas. In: Moors PJ (ed) Conservation of island birds: case studies for the management of threatened island species. International Council for Bird Preservation, Cambridge, pp 35–81

Auld T (1993) The impact of grazing on regeneration of the shrub Acacia carnei in arid Australia. Biol Conserv 65:165–176. https://doi.org/10.1016/0006-3207(93)90446-8

Baker-Gabb D, Benshemesh J, Maher P (1990) A revision of the distribution, status and management of the plains-wanderer Pedionomus torquatus. Emu 90:161–168. https://doi.org/10.1071/mu9900161

Banks P, Dickman C (2007) Alien predation and the effects of multiple levels of prey naiveté. Trends Ecol Evol 22:229–230. https://doi.org/10.1016/j.tree.2007.02.006

Barnes M, Desmond A, Carter R, Newell J, Davis R, Clarke RH, Burbidge AH, Garnett ST (2021) Houtman Abrolhos painted button-quail Turnix varius scintillans. In: Garnett S, Baker GB (eds) The action plan for Australian birds 2020. CSIRO Publishing, Melbourne, pp 311–313

Bellard C, Cassey P, Blackburn T (2016) Alien species as a driver of recent extinctions. Biol Lett 12:20150623. https://doi.org/10.1098/rsbl.2015.0623

Blackburn TM, Cassey P, Duncan RP, Evans KL, Gaston KJ (2004) Avian extinction and mammalian introductions on oceanic islands. Science 305:1955–1958. https://doi.org/10.1126/science.1101617

Blumstein D, Daniel J (2005) The loss of anti-predator behaviour following isolation on islands. Proc Roy Soc B-Biol Sci 272:1663–1668. https://doi.org/10.1098/rspb.2005.3147

Blyth J, Burbidge A, Fitzhardinge J (2014) Another search for painted button-quail on North Island, Houtman Abrolhos. West Aust Bird Notes 149:25

Boyer A (2008) Extinction patterns in the avifauna of the Hawaiian islands. Divers Distrib 14:509–517. https://doi.org/10.1111/j.1472-4642.2007.00459.x

Brook B, Sodhi N, Bradshaw C (2008) Synergies among extinction drivers under global change. Trends Ecol Evol 23:453–460. https://doi.org/10.1016/j.tree.2008.03.011

Bureau of Meteorology (2022) Climate statistics for Australian locations. Summary statistics for North Island. http://www.bom.gov.au/climate/averages/tables/cw_008290.shtml (Accessed 06.05.22)

Caravaggi A, Cuthbert R, Ryan P, Cooper J, Bond A (2018) The impacts of introduced House Mice on the breeding success of nesting seabirds on Gough Island. Ibis 161:648–661. https://doi.org/10.1111/ibi.12664

Caut S, Casanovas J, Virgos E, Lozano J, Witmer G, Courchamp F (2007) Rats dying for mice: modelling the competitor release effect. Austr Ecol 32:858–868. https://doi.org/10.1111/j.1442-9993.2007.01770.x

Chant A (2005) Vegetation monitoring on North Island, Houtman Abrolhos, as an indication of grazing impact from Tammar Wallabies. Unpublished report, Department of Conservation and Land Management, Geraldton

Chen S, Fan Z, Roby D, Lu Y, Chen C, Huang Q, Cheng L, Zhu J (2015) Human harvest, climate change and their synergistic effects drove the Chinese Crested Tern to the brink of extinction. Global Ecol Conserv 4:137–145. https://doi.org/10.1016/j.gecco.2015.06.006

Clausen K, Clausen P (2014) Forecasting future drowning of coastal waterbird habitats reveals a major conservation concern. Biol Conserv 171:177–185. https://doi.org/10.1016/j.biocon.2014.01.033

Collins L, Zhu Z, Wyrwoll K (1997) Geology of the Houtman Abrolhos Islands. In: Vasher H, Quinn T (eds) Geology and hydrogeology of carbonate islands. Developments in sedimentology. Elsevier, Melbourne, pp 811–833

Cory F, Wilson A, Priddel D, Carlile N, Klomp N (2011) Eradication of the House Mouse (Mus musculus) from Montague Island, New South Wales, Australia. Ecol Man Restor 12:102–109. https://doi.org/10.1111/j.1442-8903.2011.00583.x

Courchamp F, Chapuis J, Pascal M (2003) Mammal invaders on islands: impact, control and control impact. Biol Rev 78:347–383. https://doi.org/10.1017/s1464793102006061

Cuthbert R, Hilton G (2004) Introduced house mice Mus musculus: A significant predator of threatened and endemic birds on Gough Island, South Atlantic Ocean? Biol Conserv 117:483–489. https://doi.org/10.1016/j.biocon.2003.08.007

Cuthbert R, Wanless R, Angel A, Burle M, Hilton G, Louw H, Visser P, Wilson JW, Ryan PG (2016) Drivers of predatory behavior and extreme size in house mice Mus musculus on Gough Island. J Mammal 97:533–544. https://doi.org/10.1093/jmammal/gyv199

Davis R, Carter R, Burbidge AH (2020) Report on the first trial of remote camera monitoring for the Abrolhos Painted Button-Quail (Turnix varius scintillans). Unpublished report to the Western Australian Department of Biodiversity, Conservation and Attractions, Midwest Region, Geraldton, Western Australia

DBCA (2018) Abrolhos painted button-quail (Turnix varius scintillans) interim recovery Plan. 63. Department of biodiversity, conservation and attractions, Perth

Dilley B, Schoombie S, Stevens K, Davies D, Perold V, Osborne A, Schoombie J, Brink CW, Carpenter-Kling T, Ryan PG (2017) Mouse predation affects breeding success of burrow-nesting petrels at sub-Antarctic Marion Island. Antarct Sci 30:93–104. https://doi.org/10.1017/s0954102017000487

Doherty TS, Dickman CR, Nimmo DG, Ritchie EG (2015) Multiple threats, or multiplying the threats? Interactions between invasive predators and other ecological disturbances. Biol Conserv 190:60–68. https://doi.org/10.1016/j.biocon.2015.05.013

Doherty TS, Glen AS, Nimmo DG, Ritchie EG, Dickman CR (2016) Invasive predators and global biodiversity loss. Proc Natl Acad Sci USA 113:11261–11265. https://doi.org/10.1073/pnas.1602480113

Duncan R, Blackburn T (2004) Extinction and endemism in the New Zealand avifauna. Global Ecol Biogeogr 13:509–517. https://doi.org/10.1111/j.1466-822x.2004.00132.x

ESRI (2022) ArcGIS v.10.8. Available at: https://www.esri.com/en-us/arcgis/about-arcgis/overview

Fisher DO, Hoyle SD, Blomberg SP (2000) Population dynamics and survival of an endangered wallaby: a comparison of four methods. Ecol Appl 10:901–910

Fondell T, Ball I (2004) Density and success of bird nests relative to grazing on western Montana grasslands. Biol Conserv 117:203–213. https://doi.org/10.1016/s0006-3207(03)00293-3

Foster C, Barton P, Lindenmayer D (2014) Effects of large native herbivores on other animals. J Appl Ecol 51:929–938. https://doi.org/10.1111/1365-2664.12268

Foster CN, Barton PS, Sato CF, Wood JT, Macgregor CI, Lindenmayer DB (2016) Herbivory and fire interact to affect forest understory habitat, but not its use by small vertebrates. Anim Conserv 19:15–25. https://doi.org/10.1111/acv.12210

Fulton G (2017) Native marsupials as egg predators of artificial ground-nests in Australian woodland. Aust J Zool 65:196–199. https://doi.org/10.1071/zo17038

Geyle H, Woinarski J, Baker G, Dickman C, Dutson G, Fisher D, Ford H, Holdsworth M, Jones M, Kutt A, Legge S, Leiper I, Loyn R, Murphy B, Menkhorst P, Reside A, Ritchie E, Roberts F, Tingley R, Garnett S (2018) Quantifying extinction risk and forecasting the number of impending Australian bird and mammal extinctions. Pac Cons Biol 24:157–167. https://doi.org/10.1071/pc18006

Gordon C, Moore B, Letnic M (2017) Temporal and spatial trends in the abundances of an apex predator, introduced mesopredator and ground-nesting bird are consistent with the mesopredator release hypothesis. Biodiver Conserv 26:1445–1462. https://doi.org/10.1007/s10531-017-1309-9

Gutiérrez-Expósito C, García-Gorria R, Qninba A, Clavero M, Revilla E (2020) Breeding ecology of the Andalusian Buttonquail Turnix sylvaticus sylvaticus. Ostrich 91:75–82. https://doi.org/10.2989/00306525.2020.1712665

Harper G, Cabrera L (2010) Response of mice (Mus musculus) to the removal of black rats (Rattus rattus) in arid forest on Santa Cruz Island, Galápagos. Biol Invasions 12:1449–1452. https://doi.org/10.1007/s10530-009-9560-y

Harvey JM, Alford JJ, Longman VM, Keighery G (2001) A flora and vegetation survey of the islands of the Houtman Abrolhos, Western Australia. Calmscience 3:521–623

Hoesch W (1960) Zum brutverhalten des laufhühnchens Turnix sylvatica lepurana. J Ornithol 101:265–275. https://doi.org/10.1007/bf01671039

Howald G, Donlan C, Galvan J, Russell J, Parkes J, Samaniego A, Wang Y, Veitch D, Genovesi P, Pascal M, Saunders A, Tershy B (2007) Invasive rodent eradication on islands. Conserv Biol 21:1258–1268

Howland B, Stojanovic D, Gordon I, Fletcher D, Snape M, Stirnemann I, Lindenmayer D (2016) Habitat preference of the striped legless lizard: implications of grazing by native herbivores and livestock for conservation of grassland biota. Austral Ecol 41:455–464. https://doi.org/10.1111/aec.12337

IPCC (2022) Climate change 2022: impacts, adaptation and vulnerability. In: Lawrence J, Mackey B, Chiew F, Costello M, Hennessy K, Lansbury N, Nidumolu U, Pecl G, Rickards L, Tapper N, Woodward A, Wreford A (eds) Contribution of working group II to the sixth assessment report of the intergovernmental panel on climate change. Cambridge University Press, Cambridge, pp 1581–1688

Ivan J, Newkirk E (2016) Cpw Photo Warehouse: a custom database to facilitate archiving, identifying, summarizing and managing photo data collected from camera traps. Methods Ecol Evol 7:499–504. https://doi.org/10.1111/2041-210x.12503

Lawrence J, Mackey B, et al. (2021). Chapter 11: Australasia. In 'Climate change 2022. Impacts, adaptations and vulnerability'. (Ed IPCC.) pp 11–1–11–151. (Intergovernmental Panel on Climate Change). Available at: https://www.ipcc.ch/report/ar6/wg2/downloads/report/IPCC_AR6_WGII_FinalDraft_Chapter11.pdf

Loehle C, Eschenbach W (2011) Historical bird and terrestrial mammal extinction rates and causes. Divers Distrib 18:84–91. https://doi.org/10.1111/j.1472-4642.2011.00856.x

Lohr C, Van Dongen R, Huntley B, Gibson L, Morris K (2014) Remotely monitoring change in vegetation cover on the Montebello Islands, Western Australia, in response to introduced Rodent Eradication. PLoS ONE 9:e114095. https://doi.org/10.1371/journal.pone.0114095

Mills C, Waudby H, Finlayson G, Parker D, Cameron M, Letnic M (2020) Grazing by over-abundant native herbivores jeopardizes conservation goals in semi-arid reserves. Global Ecol Conserv 24:e01384. https://doi.org/10.1016/j.gecco.2020.e01384

Morris K, Sercombe N, Chant A (2003) A report on the management of Tammar Wallabies on North Island, Houtman Abrolhos. In: Report for department of conservation and land management, Geraldton, Western Australia

Nathan HW, Clout MN, MacKay JW, Murphy EC, Russell JC (2015) Experimental island invasion of house mice. Popul Ecol 57(2):363–371. https://doi.org/10.1007/s10144-015-0477-2

Neave H, Tanton M (1989) The effects of grazing by kangaroos and rabbits on the vegetation and the habitat of other fauna in the Tidbinbilla nature reserve, Australian capital territory. Wildlife Res 16:337–351. https://doi.org/10.1071/wr9890337

Newell J, Gray M, Desmond A (2017) Surveying for the Abrolhos Painted Button-quail. West Aust Bird Notes 164:27–28

Norbury G, Van Den Munckhof M, Neitzel S, Hutcheon A, Reardon J, Ludwig K (2014) Impacts of invasive house mice on post-release survival of translocated lizards. New Zeal J Ecol 38:322–327

Parker K, Ewen J, Seddon P, Armstrong D (2013) Post-release monitoring of bird translocations: why is it important and how do we do it? Notornis 60:85–92

Pearce A (1997) The Leeuwin Current and the Houtman Abrolhos Islands, Western Australia. In: Wells F (ed) The marine flora and fauna of the Houtman Abrolhos Islands, Western Australia, vol 1. Western Australian Museum, Perth, pp 11–46

Pearson D, Shine R, How R (2002) Sex-specific niche partitioning and sexual size dimorphism in Australian pythons (Morelia spilota imbricata). Biol J Linn Soc 77:113–125. https://doi.org/10.1046/j.1095-8312.1999.00075.x

Pedersen S, Andreassen H, Keith D, Skarpe C, Dickman C, Gordon I, Crowther M, McArthur C (2014) Relationships between native small mammals and native and introduced large herbivores. Austral Ecol 39:236–243. https://doi.org/10.1111/aec.12072

Pimm S, Raven P, Peterson A, Şekercioğlu Ç, Ehrlich P (2006) Human impacts on the rates of recent, present, and future bird extinctions. Proc Natl Acad Sci USA 103:10941–10946. https://doi.org/10.1073/pnas.0604181103

Radley P, Davis R, Dekker R, Molloy S, Blake D, Heinsohn R (2018) Vulnerability of megapodes (Megapodiidae, Aves) to climate change and related threats. Environ Conserv 45:396–406. https://doi.org/10.1017/s0376892918000152

Radley P, Davis R, Doherty T (2020) Impacts of invasive rats and tourism on a threatened island bird: the Palau Micronesian Scrubfowl. Bird Conserv Int 31:206–218. https://doi.org/10.1017/s0959270920000246

Robinson A (1989) Island management in South Australia. In: Burbidge AA (ed) Australian and New Zealand Islands: Nature conservation values and management. Department of conservation and land management, Perth, pp 163–181

Ruffell J, Innes J, Bishop C, Landers T, Khin J, Didham R (2015) Using pest monitoring data to inform the location and intensity of invasive-species control in New Zealand. Biol Conserv 191:640–649. https://doi.org/10.1016/j.biocon.2015.08.022

Schneider N, Griesser M (2008) Influence and value of different water regimes on avian species richness in arid inland Australia. Biodivers Conserv 18:457–471. https://doi.org/10.1007/s10531-008-9501-6

Scott A, Morgan J (2012) Recovery of soil and vegetation in semi-arid Australian old fields. J Arid Environ 76:61–71. https://doi.org/10.1016/j.jaridenv.2011.08.014

Şekercioğlu Ç, Primack R, Wormworth J (2012) The effects of climate change on tropical birds. Biol Conserv 148:1–18. https://doi.org/10.1016/j.biocon.2011.10.019

Simberloff D (2009) Rats are not the only introduced rodents producing ecosystem impacts on islands. Biol Invasions 11:1735–1742. https://doi.org/10.1007/s10530-008-9400-5

Smit R, Bokdam J, Den-Ouden J, Olff H, Schot-Opschoor H, Schrijvers M (2001) Effects of introduction and exclusion of large herbivores on small rodent communities. Plant Ecol 155:119–127. https://doi.org/10.1023/A:1013239805915

Spatz D, Zilliacus K, Holmes N, Butchart S, Genovesi P, Ceballos G, Tershy B, Croll D (2017) Globally threatened vertebrates on islands with invasive species. Sci Adv 3:e1603080. https://doi.org/10.1126/sciadv.1603080

Starck J (1991) Biogeography and life history of Turnix suscitator Gmelin 1789. Small adult body size as a consequence of selection for rapid growth. J Zool Syst Evol Res 29:213–237. https://doi.org/10.1111/j.1439-0469.1991.tb01633.x

Storr G (1960) The physiography, vegetation and vertebrate fauna of North Island, Houtman Abrolhos. J Roy Soc West Aust 43:59–62

Storr G, Johnstone R (1984) Subspecific status of the painted button-quail of the Houtman Abrolhos Western Australia. Rec West Aust Mus 11:315

Taylor S, Kumar L (2016) Global climate change impacts on Pacific islands terrestrial biodiversity: a review. Trop Conserv Sci 9:203–223. https://doi.org/10.1177/194008291600900111

Tershy B, Shen K, Newton K, Holmes N, Croll D (2015) The importance of islands for the protection of biological and linguistic diversity. Bioscience 65:592–597. https://doi.org/10.1093/biosci/biv031

Thomas C, Cameron A, Green R, Bakkenes M, Beaumont L, Collingham Y et al (2004) Extinction risk from climate change. Nature 427:145–148. https://doi.org/10.1038/nature02121

Towns D, Atkinson I, Daugherty C (2006) Have the harmful effects of introduced rats on islands been exaggerated? Biol Invasions 8:863–891. https://doi.org/10.1007/s10530-005-0421-z

Wanless R, Angel A, Cuthbert R, Hilton G, Ryan P (2007) Can predation by invasive mice drive seabird extinctions? Biol Lett 3:241–244. https://doi.org/10.1098/rsbl.2007.0120

Wetzel F, Beissmann H, Penn D, Jetz W (2013) Vulnerability of terrestrial island vertebrates to projected sea-level rise. Glob Change Biol 19:2058–2070. https://doi.org/10.1111/gcb.12185

Whittingham M, Evans K (2004) The effects of habitat structure on predation risk of birds in agricultural landscapes. Ibis 146:210–220. https://doi.org/10.1111/j.1474-919x.2004.00370.x

Wiles G, Bart J, Beck R, Aguon C (2003) Impacts of the Brown Tree Snake: patterns of decline and species persistence in Guam's avifauna. Conserv Biol 17:1350–1360. https://doi.org/10.1046/j.1523-1739.2003.01526.x

Witmer G, Boyd F, Hillis-Starr Z (2007) The successful eradication of introduced roof rats (Rattus rattus) from Buck Island using diphacinone, followed by an irruption of house mice (Mus musculus). Wildl Res 34:108–115. https://doi.org/10.1071/wr06006

Wu X, Danaher T (2001) Radiometric calibration methods and software for Landsat MSS and TM imagery. In: CSIRO mathematical and information sciences and Queensland department of natural resources

Young L, VanderWerf E, Lohr M, Miller C, Titmus A, Peters D, Wilson L (2013) Multi-species predator eradication within a predator-proof fence at Ka'ena point, Hawai'i. Biol Invasions 15:2627–2638. https://doi.org/10.1007/s10530-013-0479-y
Acknowledgements
We are grateful to the logistical and financial support of the Department of Biodiversity, Conservation and Attractions, Midwest especially A. Desmond, I. Hatch, S. Moore and C. Aston, and to the DBCA Woodvale centre for the lending of equipment.
Funding
This work was supported by postgraduate funding to R. Carter from Edith Cowan University. Logisitcal and field support was provided by the Midwest Region office of the Department of Biodiversity, Conservation and Attractions.
Ethics declarations
Conflict of interest
The authors have no relevant financial or non-financial interests to disclose.
Ethical approval
All work with animals was approved under ECU Animal Ethics Approval 23679.
Additional information
Publisher's Note
Springer Nature remains neutral with regard to jurisdictional claims in published maps and institutional affiliations.
Rights and permissions
Springer Nature or its licensor (e.g. a society or other partner) holds exclusive rights to this article under a publishing agreement with the author(s) or other rightsholder(s); author self-archiving of the accepted manuscript version of this article is solely governed by the terms of such publishing agreement and applicable law.
About this article
Cite this article
Carter, R.S., Lohr, C.A., Burbidge, A.H. et al. Eaten out of house and home: local extinction of Abrolhos painted button-quail Turnix varius scintillans due to invasive mice, herbivores and rainfall decline. Biol Invasions 25, 1119–1132 (2023). https://doi.org/10.1007/s10530-022-02966-5
Received:

Accepted:

Published:

Issue Date:

DOI: https://doi.org/10.1007/s10530-022-02966-5
Keywords