Abstract
Black carp (Mylopharyngodon piceus), a large molluscivorous cyprinid native to eastern Asia, has become established in the Mississippi River basin in North America. The vulnerability of most North American snails and bivalves to black carp predation remains unknown, especially as it relates to juvenile black carp transitioning to mollusk prey. We conducted feeding experiments to assess the relative vulnerability of different mollusks to predation by age-0 and age-1 black carp. Age-0 black carp were tested with the North American native unionid Hamiota perovalis, a native pleurocerid snail Elimia livescens, and a native physid snail in the genus Physella. Age-1 black carp were tested with Elimia livescens, the North American native unionids Lampsilis cardium and Lampsilis cariosa, a native sphaeriid clam in the genus Musculium, and the non-native cyrenid clam Corbicula fluminea. Juvenile black carp readily attacked and consumed mollusks, but differences in vulnerability were evident among prey taxa exposed to age-0 and age-1 black carp. Age-0 black carp were able to consume Physella approaching the extent of their mouth gape. Age-1 black carp displayed greater feeding capabilities than age-0 black carp and easily consumed Elimia, Lampsilis, and Musculium. The only prey taxon that age-1 black carp struggled to consume was Corbicula, which had the thickest and widest shells relative to predator gape of all prey tested. Our results suggest that a wide range of small or juvenile mollusks are susceptible to predation by juvenile black carp but highlight that prey-specific characteristics, such as shell strength and shell size, may drive differential predation pressure on mollusk populations as the invaded range of black carp expands.
Access options
Buy single article
Instant access to the full article PDF.
USD 39.95
Price includes VAT (USA)
Tax calculation will be finalised during checkout.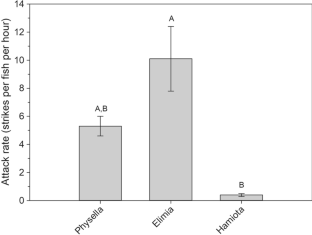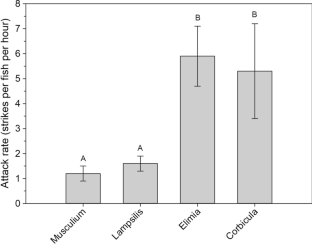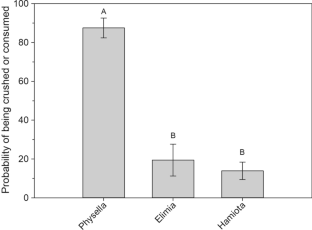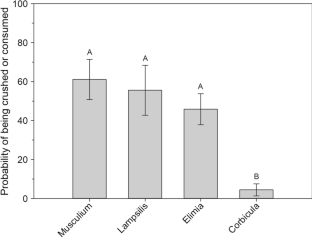 Availability of data and material
Data made available upon request.
References
Atkinson CL, Halvorson HM, Kuehn KA et al (2021) Filter-feeders have differential bottom-up impacts on green and brown food webs. Oecologia 195:187–198

Ben-Ami F, Heller J (2001) Biological control of aquatic pest snails by the black carp Mylopharyngodon piceus. Biol Control 22:131–138

Brönmark C, Weisner SE (1996) Decoupling of cascading trophic interactions in a freshwater, benthic food chain. Oecologia 108:534–541

Chattopadhyay D, Baumiller TK (2010) Effect of durophagy on drilling predation: a case study of Cenozoic molluscs from North America. Hist Biol 22:367–379

Chick JH, Maher RJ, Burr BM et al (2003) First black carp captured in US. Science 300:1876–1878

Cummings KS, Graf DL (2010) Mollusca: bivalvia. In: Thorp JH, Covich AP (eds) Ecology and classification of North American freshwater invertebrates. Elsevier, Amsterdam, pp 309–384

Elner RW, Raffaelli D (1980) Interactions between two marine snails, Littorina rudis Maton and Littorina nigrolineata Gray, a predator, Carcinus maenas (L.), and a parasite, Microphallus similis Jägerskiold. J Exp Mar Biol Ecol 43:151–160

Gangloff MM, Lenertz KK, Feminella JW (2008) Parasitic mite and trematode abundance are associated with reduced reproductive output and physiological condition of freshwater mussels. Hydrobiologia 610:25

Gidmark NJ, Konow N, LoPresti E et al (2013) Bite force is limited by the force–length relationship of skeletal muscle in black carp Mylopharyngodon Piceus. Biol Lett 9:20121181

Gidmark NJ, Taylor C, LoPresti E et al (2015) Functional morphology of durophagy in black carp, Mylopharyngodon piceus. J Morphol 276:1422–1432

Gouveia AR, Pearce-Kelly P, Quicke DL et al (2011) Effects of different calcium concentrations supplemented on the diet of Partula gibba on their morphometric growth parameters, weight and reproduction success. Malacologia 54:139–146

Haag WR (2012) North American freshwater mussels: natural history, ecology, and conservation. Cambridge University Press

Haag WR, Williams JD (2014) Biodiversity on the brink: an assessment of conservation strategies for North American freshwater mussels. Hydrobiologia 735:45–60

He C, Zhou W, Wang H et al (2013) Mechanics of pharyngeal teeth of black carp (Mylopharyngodon piceus) crushing mollusk shells. Adv Eng Mat 15:684–690

Hua ZBLWL, Huanliang L (1988) The histological study on the germination and development of the pharyngeal tooth and callous pad of the black carp (Mylopharygodon Piceus). J Dalian Fish Univ

Hung NM, Duc NV, Stauffer JR et al (2013) Use of black carp (Mylopharyngodon piceus) in biological control of intermediate host snails of fish-borne zoonotic trematodes in nursery ponds in the Red River Delta. Vietnam Parasite Vector 6:142

Johnson PD, Bogan AE, Brown KM et al (2013) Conservation status of freshwater gastropods of Canada and the United States. Fisheries 38:247–282

Johnson PT, Olden JD, Solomon CT et al (2009) Interactions among invaders: community and ecosystem effects of multiple invasive species in an experimental aquatic system. Oecologia 159:161–170

Kroboth P, Cox C, Chapman DC et al (2019) Black carp in North America: a description of range, habitats, time of year, and methods of reported captures. N Am J Fish Manage 39:1046–1055

Ledford JJ, Kelly AM (2006) A comparison of black carp, redear sunfish, and blue catfish as biological controls of snail populations. N Am J Aquacult 68:339–347

Lindsay SM (2010) Frequency of injury and the ecology of regeneration in marine benthic invertebrates. Integr Comp Biol 50:479–493

Littell RC, Stroup WW, Freund R (2002) SAS for linear models. Wiley, Hoboken

Liu H, Li H, Zhai B et al (1990) Post-larval development of the masticating apparatus of black carp Mylopharyngodon piceus (Richardson). Act Hydrob Sinica 14:310–320

Lopes-Lima M, Burlakova LE, Karatayev AY et al (2018) Conservation of freshwater bivalves at the global scale: diversity, threats and research needs. Hydrobiologia 810:1–14

Lysne SJ, Perez KE, Brown KM et al (2008) A review of freshwater gastropod conservation: challenges and opportunities. J N Am Benthol Soc 27:463–470

Mack RN, Simberloff D, Lonsdale WM et al (2000) Biotic invasions: causes, epidemiology, global consequences, and control. Ecol Appl 10:689–710

Mainka SA, Howard GW (2010) Climate change and invasive species: double jeopardy. Integr Zool 5:102–111

Meyer A (1989) Cost of morphological specialization: feeding performance of the two morphs in the trophically polymorphic cichlid fish, Cichlasoma citrinellum. Oecologia 80:431–436

Meyer JJ, Byers JE (2005) As good as dead? Sublethal predation facilitates lethal predation on an intertidal clam. Ecol Lett 8:160–166

Moore TP, Collier KJ, Duggan IC (2019) Interactions between Unionida and non-native species: a global meta-analysis. Aquat Conserv 29:1438–1451

Nico LG, Jelks HL (2011) The black carp in North America: an update. Invasive Asian carps in North America. Bethesda, Maryland: American Fisheries Society, pp 89–104

Nico LG, Williams JD, Jelks HL (2005) Black carp: biological synopsis and risk assessment of an introduced fish. American Fisheries Society

Poulton BC, Kroboth P, George A et al (2019) First examination of diet items consumed by wild-caught black carp (Mylopharyngodon piceus) in the US. Am Midl Nat 182:89–108

Riley LA, Dybdahl MF, Hall RO Jr (2008) Invasive species impact: asymmetric interactions between invasive and endemic freshwater snails. J N Am Benthol Soc 27:509–520

Romare P, Bergman E, Hansson L-A (1999) The impact of larval and juvenile fish on zooplankton and algal dynamics. Limnol Oceanogr 44:1655–1666

Shelton W, Soliman A, Rothbard S (1995) Experimental observations on feeding biology of black carp (Mylopharyngodon piceus). Isr J Aquacult-Bamid 47:59–67

Simberloff D, Martin J-L, Genovesi P et al (2013) Impacts of biological invasions: what's what and the way forward. Trends Ecol Evol 28:58–66

Strayer DL (2012) Eight questions about invasions and ecosystem functioning. Ecol Lett 15:1199–1210

Strayer DL, Eviner VT, Jeschke JM et al (2006) Understanding the long-term effects of species invasions. Trends Ecol Evol 21:645–651

Tiemann JS, McMurray SE, Sietman B, Kitchel L, Gritters S, Lewis, R (2015) Freshwater mussels of the upper Mississippi River. 3rd edition. Upper Mississippi Conservation Committee, pp 68

Vermeij GJ (1982) Unsuccessful predation and evolution. Am Nat 120:701–720

Vermeij GJ (1983a) Shell-breaking predation through time. Biotic interactions in recent and fossil benthic communities. Springer, pp 649–669

Vermeij GJ (1983b) Traces and trends of predation, with special reference to bivalved animals. Palaeontology 26:455–465

Wainwright PC (1987) Biomechanical limits to ecological performance: Mollusc-crushing by the Caribbean hogfish, Lachnolaimus maximus (Labridae). J Zool 213:283–297

Wainwright PC (1988) Morphology and ecology: functional basis of feeding constraints in Caribbean labrid fishes. Ecology 69:635–645

Williams JD, Warren ML Jr, Cummings KS et al (1993) Conservation status of freshwater mussels of the United States and Canada. Fisheries 18:6–22
Acknowledgements
We thank hatchery staff at the Virginia Fisheries & Aquatic Wildlife Center, Genoa National Fish Hatchery, and the M.C. Barnhart Lab at Missouri State for providing mussels used in this study. We thank Kyle Broadway and Randy Kramer at the Kaskaskia Biological Station and Mike Nannini and Evan Dlugos at the Sam Parr Biological Station for help with collecting mollusk prey. We also thank Carly Fenstermacher and Hayden Roberts for help measuring fish and mollusks in the laboratory. Additionally, we thank three anonymous reviewers for constructive comments that helped improve our manuscript. All animals used in this study were reared according to animal care and use guidelines established by the University of Illinois (Institutional Animal Care and Use Protocol 20068). This study was supported by the Philip W. Smith memorial fund administered through the School of Integrative Biology at the University of Illinois.
Funding
This study was supported by the Philip W. Smith memorial fund administered through the School of Integrative Biology at the University of Illinois.
Ethics declarations
Conflicts of interest
The authors declare that they have no conflict of interest.
Additional information
Publisher's Note
Springer Nature remains neutral with regard to jurisdictional claims in published maps and institutional affiliations.
Supplementary Information
Below is the link to the electronic supplementary material.
About this article
Cite this article
Porreca, A.P., Butler, S.E., Tiemann, J.S. et al. Differential vulnerability of native and non-native mollusks to predation by juvenile black carp. Biol Invasions (2021). https://doi.org/10.1007/s10530-021-02658-6
Received:

Accepted:

Published:
Keywords
Corbicula

Introduced species

Molluscivore

Mylopharyngodon

Rivers

Unionidae