Abstract
The increasing frequency of wildfires in Southern California's Mediterranean-type habitats has been facilitating the displacement of native plants by invasive annuals. Black mustard (Brassica nigra) is an abundant, allelopathically harmful, invasive forb, which readily colonizes soil niches following most disturbances. Wildfires, however, are unlike other forms of disturbance because they can fundamentally alter plant–soil interactions through both physical and chemical changes in the soil. Here, a comparative field study of burned and unburned sites suggests that the Woolsey Fire—the largest wildfire ever recorded in California's Santa Monica Mountains—inhibited dispersal of B. nigra and changed how it interacts with other plant species in the second year of post-fire recovery. More surprisingly, native plants were more likely to replace B. nigra than non-native plants in burned sites. These results indicate the possibility of post-fire seeding with specific "fire follower" native plant species may allow native flora to occupy soil niche space until longer-lived, competitive native shrubs establish.
Access options
Buy single article
Instant access to the full article PDF.
USD 39.95
Price includes VAT (USA)
Tax calculation will be finalised during checkout.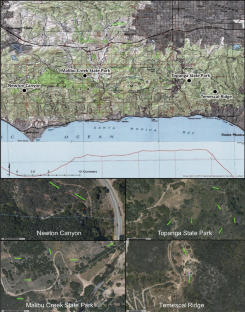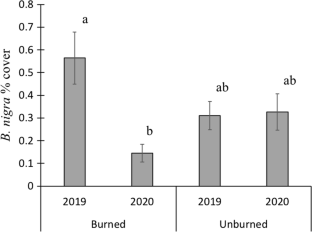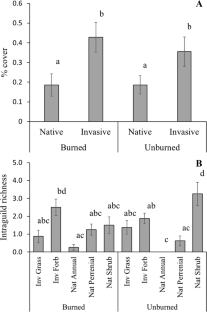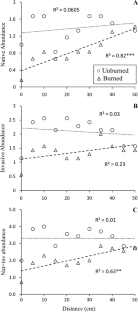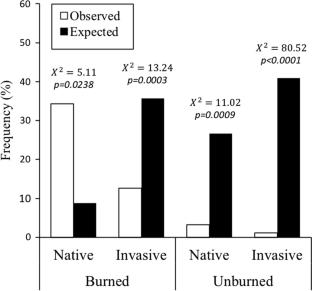 References
Arianoutsou M, Vilà M (2012) Fire and invasive plant species in the Mediterranean Basin. Isr J Ecol 58:195–203

Bell D, Muller C (1973) Dominance of California annual grasslands by Brassica nigra. Am Midl Nat 90:277–299

Bell B, Lulow M, Balazs K, Huxman K, McCollum J, Huxman T, Kimball S (2018) Restoring a Mediterranean-climate shrub community with perennial species reduces future invasion. Restor Ecol 27:2980307

Bonet A (2004) Secondary succession of semi-arid Mediterranean old-fields in south-eastern Spain: insights for conservation and restoration of degraded lands. J Arid Environ 56:213–233

Brooks M, D'Antonio C, Richardson D, Grace J, Keeley J, DiTomaso J, Hobbs R, Pellant M, Pyke D (2004) Effects of invasive alien plants on fire regimes. Bioscience 54:677–688

Certini G (2005) Effects of fires on properties of forest soils: a review. Oecologia 143:1–10

Chapin F, Vitousek P, Van Cleve K (1986) The nature of nutrient limitation in plant communities. Am Nat 127:48–58

Clements FE (1916) Plant succession. An analysis of the development of vegetation. Carnegie Institution of Washington Publications, p 242

D'Antonio C, Vitousek P (1992) Biological invasions by exotic grasses, the grass/fire cycle, and global change. Annu Rev Ecol Syst 23:63–87

DeSimone S, Zedler P (1999) Shrub seedling recruitment in unburned Californian coastal sage scrub and adjacent grassland. Ecology 80:2018–2032

Freudenberger D, Fish B, Keeley J (1987) Distribution and stability of grasslands in the Los Angeles basin. Bull South Calif Acad Sci 86:13–26

Funk J, Zachary V (2010) Physiological responses to short-term water and light stress in native and invasive plant species in Southern California. Biol Invasions 12:1685–1694

Gleason H (1926) The individualistic concept of the plant association. B Torrey Bot Club 53:7–26

Gibson C, Brown V (1985) Plant succession: theory and applications. Prog Phys Geogr Earth Environ 9:473–493

Hauggaard-Lielsen H, Ambus P, Jensen E (2001) Temporal and spatial distribution of roots and competition for nitrogen in pea-barley intercrops—a field study employing 32P technique. Plant Soil 236:63–74

He H, Mladenoff D (1999) Spatially explicit and stochastic simulation of forest-landscape fire disturbance and succession. Ecology 80:81–99

Inderjit, Callaway RM (2003) Experimental designs for the study of allelopathy. Plant Soil 256:1–11

Jacobson A, Davis S, Babritius S (2004) Fire frequency impacts non-sprouting chaparral shrubs in the Santa Monica Mountains of Southern California. Ecology, conservation, and management of Mediterranean climate ecoystems. Millpress, Rotterdam

Keeley J (2001) Fire and invasive species in Mediterranean-climate ecosystems of California. In: Proceedings of the invasive species workshop: the role of fire in the control and spread of invasive species. Fire conference 2000: the first national congress on fire ecology, prevention, and management, pp 81–94. Miscellaneous Publication No. 11, Tall Timbers Research Station, Tallahassee, FL

Keely J, Fotheringham C, Baer-Keely M (2005) Determinants of postfire recovery and succession in Mediterranean-climate shrublands of California. Ecol Appl 15:1515–1534

Kulmatiski A, Beard K (2006) Activated carbon as a restoration tool: potential for control of invasive plants in abandoned agricultural fields. Restor Ecol 14:251–257

Lankau E, Lankau R (2014) Plant species capacity to drive soil fungal communities contributes to differential impacts of plant–soil legacies. Ecology 95:3221–3228

Montalvo A (2004) Lotus scoparius (Nutt.) Ottley. In: Francis JK (ed) Wildland LOSC2 update, 16 shrubs of the United States and its Territories: Thamnic descriptions, vol 1. General technical report IITF-GTR-26. U.S. Department of Agriculture, Forest Service, International Institute of Tropical Forestry and Rocky Mountain Research Station, Fort Collins, pp 445–448

Moral R, Wood D (1993) Early primary succession on a barren volcanic plain at Mount St. Helens. Am J Bot 80:981–991

Oduor A, Kleunen M, Stift M (2020) Allelopathic effects of native and invasive Brassica nigra do not support the novel-weapons hypothesis. Am J Bot 107:1106–1113

Ozier-Lafontaine H, Lafolie F, Bruckler L, Tournebize R, Mollier A (1998) Modelling competition for water in intercrops: theory and comparison with field experiments. Plant Soil 204:183–201

Rundel P, Arroyo M, Cowling R, Keeley J, Lamont B, Pausas J, Vargas P (2018) Fire and plant diversification in Mediterranean-climate regions. Front Plant Sci 9, Article 851

Talluto M, Suding K (2008) Historical change in coastal sage scrub in Southern California, USA in relation to fire and air pollution. Landsc Ecol 23:803–815

Tawaha A, Turk M (2003) Allelopathic effect of black mustard (Brassica nigra) on wild barley (Hordeum spontaneum). J Agron Crop Sci 189:298–303

Turk M, Tawha A (2003) Allelopathic effect of black mustard (Brassica nigra) on germination and growth of wild oat (Avena fatua L.). Crop Prot 22:673–677

Wardle D, Zackrisson O, Nilsson M (1998) The charcoal effect in Boreal forests: mechanisms and ecological consequences. Oecologia 115:419–426

Wardle D, Nilsson MC, Gallet C, Zackrisson O (2007) An ecosystem-level perspective of allelopathy. Biol Rev 73:305–319

Westman W (1981) Diversity relations and succession in California coastal sage scrub. Ecology 62:170–184
Ethics declarations
Conflict of interest
The authors declare that they have no conflict of interest.
Ethics approval
Not applicable.
Consent to participate
All authors consent to participate in the publication process.
Consent for publication
All authors consent to publication in this journal.
Human participants or animals rights
This article does not contain any studies with human participants or animals performed by the authors.
Additional information
Publisher's Note
Springer Nature remains neutral with regard to jurisdictional claims in published maps and institutional affiliations.
Supplementary Information
Below is the link to the electronic supplementary material.
About this article
Cite this article
Schlau, B.M. Wildfire disturbance affects species interactions of a harmful invasive annual in second year of post-fire vegetative recovery. Biol Invasions (2021). https://doi.org/10.1007/s10530-021-02647-9
Received:

Accepted:

Published:
Keywords
Invasive plants

Allelopathy

Wildfire

Active carbon

Succession

Disturbance