Abstract
Raptor roosts, as accumulations of expelled pellets and nest material, serve as archives of past and present small mammal communities and could therefore be used to track invasive species population dynamics over time. We tested the utility of this resource and added new information towards reconstructing the phylogeographic history of a globally invasive species in the Caribbean, the black rat (Rattus rattus) using skeletal remains from a raptor roost deposit located within a limestone cave in the Dominican Republic (Tres Bocas). As a tropical environment, Caribbean bones are typically poorly preserved. Thus, we applied next generation sequencing techniques commonly used in ancient DNA (aDNA) studies to reconstruct a nearly complete R. rattus mitochondrial genome from such a deposit. Phylogenetic analyses indicated a putative source R. rattus haplotype clade A-I for the Tres Bocas sample, which originates from southern India. Our results serve as a proof-of-concept that aDNA techniques could be used to unlock past histories of small mammal populations from raptor roost deposits in tropical island settings, where invasive mammals are among the greatest conservation concerns.
Access options
Buy single article
Instant access to the full article PDF.
USD 39.95
Price includes VAT (USA)
Tax calculation will be finalised during checkout.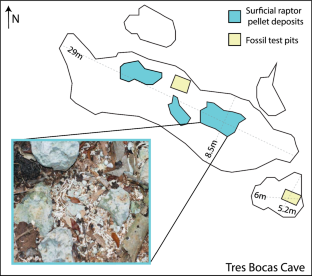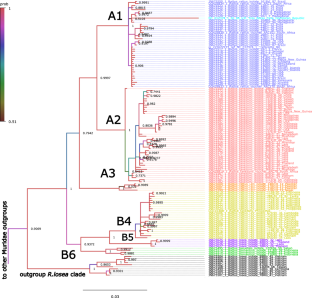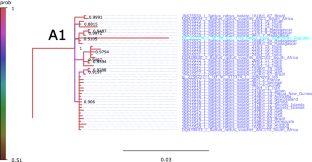 References
Abdelkrim J, Pascal M, Samadi S (2005) Island colonization and founder effects: The invasion of the Guadeloupe islands by ship rats (Rattus rattus). Mol Ecol 14:2923–2931. https://doi.org/10.1111/j.1365-294X.2005.02604.x

Allentoft ME, Sikora M, Sjögren K-G et al (2015) Population genomics of Bronze Age Eurasia. Nature 522:167–172. https://doi.org/10.1038/nature14507

Aplin KP, Stephen C, Suzuki H et al (2011) Multiple Geographic Origins of Commensalism and Complex Dispersal History of Black Rats. PLoS ONE. https://doi.org/10.1371/journal.pone.0026357

Bernt M, Donath A, Jühling F et al (2013) MITOS: Improved de novo metazoan mitochondrial genome annotation. Mol Phylogenet Evol 69:313–319. https://doi.org/10.1016/j.ympev.2012.08.023

Brace S, Thomas JA, Dalén L et al (2016) Evolutionary History of the Nesophontidae, the Last Unplaced Recent Mammal Family. Mol Biol Evol 33:3095–3103. https://doi.org/10.1093/molbev/msw186

Bushnell B (2015) BBMap short-read aligner, and other bioinformatics tools. https://sourceforge.net/projects/bbmap/

Cooke SB, Dávalos LM, Mychajliw AM, Turvey ST, Upham NS (2017) Anthropogenic extinction dominates holocene declines of West Indian Mammals. Annu Rev Ecol Evol Syst 48:10–1146

Darriba D, Weiß M, Stamatakis A (2016) Prediction of missing sequences and branch lengths in phylogenomic data. Bioinformatics 32:1331–1337. https://doi.org/10.1093/bioinformatics/btv768

Debrot AO, de Freitas JA, Brouwer A, van Marwijk KM (2000) The Curaçao Barn Owl: status and diet, 1987–1989. Caribb J Sci 37:185–193

Edgar RC (2004) MUSCLE: multiple sequence alignment with high accuracy and high throughput. Nucleic Acids Res 32:1792–1797

Gansauge M-T, Meyer M (2013) Single-stranded DNA library preparation for the sequencing of ancient or damaged DNA. Nat Protoc 8:737–748. https://doi.org/10.1038/nprot.2013.038

Gasc C, Peyretaillade E, Peyret P (2016) Sequence capture by hybridization to explore modern and ancient genomic diversity in model and nonmodel organisms. Nucleic Acids Res. https://doi.org/10.1093/nar/gkw309

Guimaraes S, Pruvost M, Daligault J et al (2017) A cost-effective high-throughput metabarcoding approach powerful enough to genotype ~44 000 year-old rodent remains from Northern Africa. Mol Ecol Resour 17:405–417. https://doi.org/10.1111/1755-0998.12565

Hahn C, Bachmann L, Chevreux B (2013) Reconstructing mitochondrial genomes directly from genomic next-generation sequencing reads - A baiting and iterative mapping approach. Nucleic Acids Res. https://doi.org/10.1093/nar/gkt371

Harvey VL, Egerton VM, Chamberlain AT et al (2019) Interpreting the historical terrestrial vertebrate biodiversity of Cayman Brac (Greater Antilles, Caribbean) through collagen sequencing. The Holocene 29:531–542. https://doi.org/10.1177/0959683618824793

Heisler LM, Somers CM, Poulin RG (2016) Owl pellets: A more effective alternative to conventional trapping for broad-scale studies of small mammal communities. Methods Ecol Evol 7:96–103. https://doi.org/10.1111/2041-210X.12454

Hernández Muñoz A, Mancina CA (2011) La dieta de la lechuza (Tyto alba) (Aves: Strigiformes) en hábitats naturales y antropogénicos de la región central de Cuba Diet of Barn Owl (Tyto alba) (Aves: Strigiformes) in natural and anthropogenic habitat in central Cuba. Rev Mex Biodivers 82:217–226

Jónsson H, Ginolhac A, Schubert M et al (2013) MapDamage2.0: Fast approximate Bayesian estimates of ancient DNA damage parameters. Bioinformatics 29:1682–1684. https://doi.org/10.1093/bioinformatics/btt193

Kehlmaier C, Barlow A, Hastings AK et al (2017) Tropical ancient DNA reveals relationships of the extinct bahamian giant tortoise Chelonoidis alburyorum. Proc R Soc B Biol Sci. https://doi.org/10.1098/rspb.2016.2235

Keith AR, Wiley JW, Latta SC, and Ottenwalder J (2003) The birds of Hispaniola, Haiti, and the Dominican Republic: an annotated checklist. BOU Checkl 21

Li H, Durbin R (2009) Fast and accurate short read alignment with Burrows-Wheeler transform. Bioinformatics 25:1754–1760. https://doi.org/10.1093/bioinformatics/btp324

Li H, Handsaker B, Wysoker A et al (2009) The Sequence Alignment/Map format and SAMtools. Bioinformatics 25:2078–2079. https://doi.org/10.1093/bioinformatics/btp352

Lunter G, Goodson M (2011) Stampy: a statistical algorithm for sensitive and fast mapping of Illumina sequence reads. Genome Res 21:936–939. https://doi.org/10.1101/gr.111120.110

Martin M (2011) Cutadapt removes adapter sequences from high-throughput sequencing reads. EMBnetJournal 17:10–12. https://doi.org/10.14806/ej.17.1.200

Miller MA, Pfeiffer W, Schwartz T (2010) Creating the CIPRES science gateway for inference of large phylogenetic trees. In Proceedings of the gateway computing environments workshop (GCE), 14 Nov. 2010, New Orleans, LA, pp 1–8

Morgan M, Pagès H, Obenchain V, Hayden N (2018) Rsamtools: binary alignment (BAM), FASTA, variant call (BCF), and tabix file import. https://bioconductor.org/packages/Rsamtools

Morgan GS, MacPhee RDE, Woods R, Turvey S (2019) Late Quaternary fossil mammals from the Cayman Islands, West Indies. Bull Am Museum Nat Hist 428:

Poulakakis N, Lymberakis P, Paragamian K, Mylonas M (2005) Isolation and amplification of shrew DNA from barn owl pellets. Biol J Linn Soc 85:331–340. https://doi.org/10.1111/j.1095-8312.2005.00500.x

Quinlan AR, Hall IM (2010) BEDTools: a flexible suite of utilities for comparing genomic features. Bioinformatics 26:841–842. https://doi.org/10.1093/bioinformatics/btq033

Rambuat A (2018) FigTree v1.4.4. https://github.com/rambaut/figtree/releases

Rocha RG, Justino J, Leite YLR, Costa LP (2015) DNA from owl pellet bones uncovers hidden biodiversity. Syst Biodivers 13:403–412. https://doi.org/10.1080/14772000.2015.1044048

Ronquist F, Teslenko M, Van Der Mark P et al (2012) MrBayes 3.2: Efficient Bayesian Phylogenetic Inference and Model Choice Across a Large Model Space. Syst Biol 61:539–542. https://doi.org/10.1093/sysbio/sys029

Savidge JA, Hopken MW, Witmer GW et al (2012) Genetic evaluation of an attempted Rattus rattus eradication on Congo Cay, U.S. Virgin Islands, identifies importance of eradication units. Biol Invasions 14:2343–2354. https://doi.org/10.1007/s10530-012-0233-x

Stamatakis A (2014) RAxML version 8: A tool for phylogenetic analysis and post-analysis of large phylogenies. Bioinformatics 30:1312–1313

Stuiver M, Reimer PJ, Reimer RW (2018) CALIB 7.1

Terry RC (2010) The dead do not lie: using skeletal remains for rapid assessment of historical small mammal community baselines. Proc R Soc Biol Sci 277:1193–1201

Tollenaere C, Brouat C, Duplantier JM et al (2010) Phylogeography of the introduced species Rattus rattus in the western Indian Ocean, with special emphasis on the colonization history of Madagascar. J Biogeogr 37:398–410. https://doi.org/10.1111/j.1365-2699.2009.02228.x

Woods R, Turvey ST, Brace S et al (2018) Ancient DNA of the extinct Jamaican monkey Xenothrix reveals extreme insular change within a morphologically conservative radiation. Proc Natl Acad Sci 115:12769–12774. https://doi.org/10.1073/PNAS.1808603115
Acknowledgements
We thank members of Grupo Jaragua, Gerson Feliz, Caridad Nova, Siobhan Cooke, and Kevin Chovanec for field assistance in the Dominican Republic. Tom Guilderson at Lawrence Livermore National Lab guided radiocarbon date processing. Staff at the Museo Nacional de Historia Natural "Prof. Eugenio de Jesús Marcano" provided invaluable logistical support and guidance. We thank Jesper Stenderup for technical assistance.
Funding
Laboratory funding was provided by NSF-DEB 1600728 awarded to AMM and the University of Puerto Rico Mayagüez Seed Grant to AVD. MEA was supported by the Villum Foundation (Young Investigator Grant 10120) and the Independent Research Fund Denmark (Sapere Aude Grant 7027-00147B). Bioinformatics infrastructure support funding for AVD was via NSF-XSEDE Grant TG-BIO150070. Publication costs were funded in by USDA-NIFA-HSI-006731 Grant Number 1016816 to AVD.
Additional information
Publisher's Note
Springer Nature remains neutral with regard to jurisdictional claims in published maps and institutional affiliations.
Supplementary Information
Below is the link to the electronic supplementary material.
About this article
Cite this article
Massini Espino, M., Mychajliw, A.M., Almonte, J.N. et al. Raptor roosts as invasion archives: insights from the first black rat mitochondrial genome sequenced from the Caribbean. Biol Invasions (2021). https://doi.org/10.1007/s10530-021-02636-y
Received:

Accepted:

Published:
Keywords
Raptor roosts

Rattus rattus

Island

Cave

Caribbean

Ancient DNA