Abstract
The factors that determine patterns of non-native species richness and abundance are context dependent in both time and space. Global change has significantly boosted plant invasions in mountains, therefore, understanding which factors determine the invasion and at what scale they operate are fundamental for decision-making in the conservation of mountain ecosystems. Although much evidence has been gathered on the patterns of non-native species in mountain ecosystems, little is known about what specific abiotic, biotic, or anthropogenic factors are driven such patterns. Here, we assessed the importance of anthropogenic, biotic, and abiotic factors at two spatial scales as drivers of plant invasions along three roads in south-central Chile. We sampled non-native plant richness and abundance, and each of these explanatory factors, in-situ in 60 transects in disturbed areas and adjacent undisturbed vegetation. Low elevation areas were the most invaded, with patterns of richness and abundance driven mainly by anthropogenic factors, explaining between 20 and 50% of the variance for the three roads. Only for the abundance of non-native species along the road in the Malalcahuello National Reserve, biotic factors were more important (45% of the variance). At the regional scale, the abundance of non-native species was again explained best by anthropogenic factors (24% of the variance), yet non-native richness was driven most strongly by abiotic factors such as soil nitrogen content and pH (15% of the variance). Our results confirm the conclusions from experimental studies that anthropogenic factors override abiotic factors and are important drivers of non-native species at local and regional scales and that non-native plant invasion in mountains is currently not strongly limited by climate.
Access options
Buy single article
Instant access to the full article PDF.
US$ 39.95
Tax calculation will be finalised during checkout.
Subscribe to journal
Immediate online access to all issues from 2019. Subscription will auto renew annually.
US$ 79
Tax calculation will be finalised during checkout.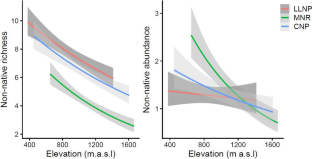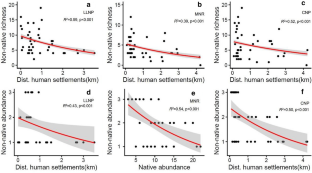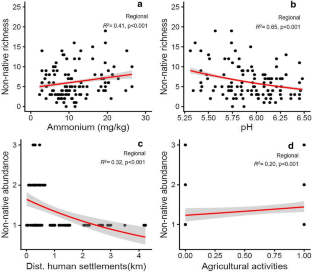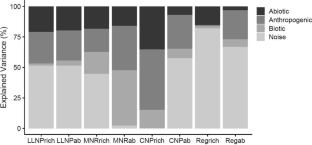 References
Alexander JM, Naylor B, Poll M, Edwards PJ, Dietz H (2009) Plant invasions along mountain roads: the altitudinal amplitude of alien Asteraceae forbs in their native and introduced ranges. Ecography 32(2):334–344. https://doi.org/10.1111/j.1600-0587.2008.05605.x

Alexander JM, Lembrechts JJ, Cavieres LA, Daehler C, Haider S, Kueffer C, Rew LJ (2016) Plant invasions into mountains and alpine ecosystems: current status and future challenges. Alp Bot 126(2):89–103. https://doi.org/10.1007/s00035-016-0172-8

Alexander JM, Kueffer C, Daehler CC, Edwards PJ, Pauchard A, Seipel T, Miren Consortium (2011) Assembly of nonnative floras along elevational gradients explained by directional ecological filtering. Proc National Acad Sci 108(2): 656-661. https://doi.org/10.1073/pnas.1013136108

Badano EI, Bustamante RO, Villarroel E, Marquet PA, Cavieres LA (2015) Facilitation by nurse plants regulates community invasibility in harsh environments. J Veg Sci 26(4):756–767. https://doi.org/10.1111/jvs.12274

Barros A, Pickering CM (2014) Non-native plant invasion in relation to tourism use of Aconcagua Park, Argentina, the highest protected area in the Southern Hemisphere. Mt Res Dev 34(1):13–26. https://doi.org/10.1659/MRD-JOURNAL-D-13-00054.1

Barros A, Gonnet J, Pickering C (2013) Impacts of informal trails on vegetation and soils in the highest protected area in the Southern Hemisphere. J Environ Manage 127:50–60. https://doi.org/10.1016/j.jenvman.2013.04.030

Barros A, Aschero V, Mazzolari A, Cavieres LA, Pickering CM (2020) Going off trails: how dispersed visitor use affects alpine vegetation. J Environ Manage 267:110546. https://doi.org/10.1016/j.jenvman.2020.110546

Barton K (2016) R package MuMIn: model selection and model averaging based on information criteria (AICc and alike). Vienna, Austria. Available at https://cran.r-project.org/web/packages/MuMIn/index.html. Accessed July 2020.

Bjørvik LM, Dale S, Hermansen GH, Munishi PK, Moe SR (2015) Bird flight initiation distances in relation to distance from human settlements in a Tanzanian floodplain habitat. J Ornithol 156(1):239–246. https://doi.org/10.1007/s10336-014-1121-1

Buri A, Cianfrani C, Pinto-Figueroa E, Yashiro E, Spangenberg JE, Adatte T, Pradervand JN (2017) Soil factors improve predictions of plant species distribution in a mountain environment. Prog Phys Geogr 41(6):703–722

Cabra-Rivas I, Saldana A, Castro- Díez P, Gallien L (2015) A multi-scale approach to identify invasion drivers and invaders' future dynamics. Biol Invasions 18:411–426. https://doi.org/10.1007/s10530-015-1015-z

Catford JA, Jansson R, Nilsson C (2009) Reducing redundancy in invasion ecology by integrating hypotheses into a single theoretical framework. Divers Distrib 15(1):22–40. https://doi.org/10.1111/j.1472-4642.2008.00521.x

Cavieres LA, Quiroz CL, Molina-Montenegro MA, Muñoz AA, Pauchard A (2005) Nurse effect of the native cushion plant Azorella monantha on the invasive non-native Taraxacum officinale in the high-andes of central Chile. Perspect Plant Ecol Evol Syst 7(3):217–226. https://doi.org/10.1016/j.ppees.2005.09.002

Cavieres LA, Badano EI, Sierra-Almeida A, Molina-Montenegro MA (2007) Microclimatic modifications of cushion plants and their consequences for seedling survival of native and non-native herbaceous species in the high Andes of central Chile. Arct Antarct Alp Res 39(2):229–236. https://doi.org/10.1657/1523-0430(2007)39[229:MMOCPA]2.0.CO;2

Clavel J, Lembrechts J, Alexander J, Haider S, Lenoir J, Milbau A, Verbruggen E (2021) The role of arbuscular mycorrhizal fungi in nonnative plant invasion along mountain roads. New Phytol 230(3):1156–1168. https://doi.org/10.1111/nph.16954

Crespo-Pérez V, Rebaudo F, Silvain JF, Dangles O (2011) Modeling invasive species spread in complex landscapes: the case of potato moth in ecuador. Landscape Ecol 26(10):1447–1461. https://doi.org/10.1007/s10980-011-9649-4

Cuesta F, Muriel P, Llambí LD, Halloy S, Aguirre N, Beck S, Gámez LE (2017) Latitudinal and altitudinal patterns of plant community diversity on mountain summits across the tropical Andes. Ecography 40(12):1381–1394. https://doi.org/10.1111/ecog.02567

Dainese M, Aikio S, Hulme PE, Bertolli A, Prosser F, Marini L (2017) Human disturbance and upward expansion of plants in a warming climate. Nat Clim Chang 7(8):577–580. https://doi.org/10.1038/nclimate3337

De Albuquerque FS, Castro-Díez P, Rueda M, Hawkins BA, Rodriguez MA (2011) Relationships of climate, residence time, and biogeographical origin with the range sizes and species richness patterns of exotic plants in Great Britain. Plant Ecol 212(11):1901. https://doi.org/10.1007/s11258-011-9962-7

Dray S, Pélissier R, Couteron P, Fortin MJ, Legendre P, Peres-Neto PR, Dufour AB (2012) Community ecology in the age of multivariate multiscale spatial analysis. Ecol Monogr 82(3):257–275. https://doi.org/10.1890/11-1183.1

Echeverría C, Coomes D, Salas J, Rey-Benayas JM, Lara A, Newton A (2006) Rapid deforestation and fragmentation of Chilean temperate forests. Biol Conserv 130(4):481–494. https://doi.org/10.1016/j.biocon.2006.01.017

Eilts JA, Mittelbach GG, Reynolds HL, Gross KL (2011) Resource heterogeneity, soil fertility, and species diversity: effects of clonal species on plant communities. Am Nat 177(5):574–588. https://doi.org/10.1086/659633

Fernández-Murillo MP, Rico A, Kindlmann P (2015) Exotic plants along roads near La Paz Bolivia. Weed Res 55(6):565–573. https://doi.org/10.1111/wre.12174

Fuentes-Castillo T, Scherson RA, Marquet PA, Fajardo J, Corcoran D, Román MJ, Pliscoff P (2019) Modelling the current and future biodiversity distribution in the Chilean Mediterranean hotspot. The role of protected areas network in a warmer future. Divers Distrib 25(12):1897–1909. https://doi.org/10.1111/ddi.12988

Fuentes-Lillo E, Pauchard A (2019) Invasiones en montañas ¿ Cuánto hemos avanzado en los últimos 10 años y cuáles son los desafíos para los ecosistemas de los Andes? Gayana Bot 76(2):141–155. https://doi.org/10.4067/S0717-66432019000200141

Gantchoff MG, Wilton CM, Belant JL (2018) Factors influencing exotic species richness in Argentina's national parks. PeerJ 6:e5514. https://doi.org/10.7717/peerj.5514

Giorgis MA, Tecco PA, Cingolani AM, Renison D, Marcora P, Paiaro V (2011) Factors associated with woody alien species distribution in a newly invaded mountain system of central Argentina. Biol Invasions 13(6):1423–1434. https://doi.org/10.1007/s10530-010-9900-y

Giorgis MA, Cingolani AM, Tecco PA, Cabido M, Poca M, Von Wehrden H (2016) Testing alien plant distribution and habitat invasibility in mountain ecosystems: growth form matters. Biol Invasions 18(7):2017–2028. https://doi.org/10.1007/s10530-016-1148-8

Giraldo-Canas D (2010) Distribution and invasion of C3 and C4 grasses (Poaceae) along an altitudinal gradient in the Andes of Colombia. Caldasia 32(1):65–86

Gobat JM, Aragno M, Matthey W (2004) The living soil: fundamentals of soil science and soil biology. Science Publishers, New York

Gonzalez ME, Veblen TT, Sibold JS (2010) Influence of fire severity on stand development of Araucaria araucana–Nothofagus pumilio stands in the Andean cordillera of south-central Chile. Austral Ecol 35(6):597–615. https://doi.org/10.1111/j.1442-9993.2009.02064.x

Guo Q, Fei S, Shen Z, Iannone BV, Knott J, Chown SL (2018) A global analysis of elevational distribution of non-native versus native plants. J Biogeogr 45(4):793–803. https://doi.org/10.1111/jbi.13145

Haider S, Alexander J, Dietz H, Trepl L, Edwards PJ, Kueffer C (2010) The role of bioclimatic origin, residence time and habitat context in shaping non-native plant distributions along an altitudinal gradient. Biol Invasions 12(12):4003–4018. https://doi.org/10.1007/s00442-019-04498-7

Haider S, Alexander JM, Kueffer C (2011) Elevational distribution limits of non-native species: combining observational and experimental evidence. Plant Ecol Divers 4(4):363–371. https://doi.org/10.1080/17550874.2011.637973

Haider S, Kueffer C, Bruelheide H, Seipel T, Alexander JM, Rew LJ et al (2018) Mountain roads and non-native species modify elevational patterns of plant diversity. Glob Ecol Biogeogr 27(6):667–678. https://doi.org/10.1007/s10530-010-9815-7

Henn JJ, Yelenik S, Damschen EI (2019) Environmental gradients influence differences in leaf functional traits between native and non-native plants. Oecologia 191(2):397–409. https://doi.org/10.1007/s00442-019-04498-7

Hossner L (2008) Field pH. In: Chesworth W (ed) Encyclopedia of Soil Science. Springer, Dordrecht

Johnston FM, Johnston SW (2004) Impacts of road disturbance on soil properties and on exotic plant occurrence in subalpine areas of the Australian Alps. Arct Antarct Alp Res 36(2):201–207. https://doi.org/10.1657/1523-0430(2004)036[0201:IORDOS]2.0.CO;2

Kueffer C, Daehler C, Dietz H, McDougall K, Parks C, Pauchard A et al (2014) The mountain invasion research network (MIREN). Linking local and global scales for addressing an ecological consequence of global change. Gaia-Ecol Perspect Sci Soc 23(3):263–265

Kühn P, Ratier-Backes A, Römermann C, Bruelheide H, Haider S (2021) Contrasting patterns of intraspecific trait variability in native and non-native plant species along an elevational gradient on Tenerife Canary Islands. Annals Botany 127(4):565–576. https://doi.org/10.1093/aob/mcaa067

Kumar S, Stohlgren TJ, Chong GW (2006) Spatial heterogeneity influences native and nonnative plant species richness. Ecology 87(12):3186–3199. https://doi.org/10.1890/0012-9658(2006)87[3186:SHINAN]2.0.CO;2

Lara A, Little C, Urrutia R, McPhee J, Álvarez-Garretón C, Oyarzún C, Arismendi I (2009) Assessment of ecosystem services as an opportunity for the conservation and management of native forests in Chile. For Ecol Manage 258(4):415–424. https://doi.org/10.1016/j.foreco.2009.01.004

Lembrechts JJ, Milbau A, Nijs I (2014) Alien roadside species more easily invade alpine than lowland plant communities in a subarctic mountain ecosystem. PLoS One. https://doi.org/10.1371/journal.pone.0089664

Lembrechts JJ, Pauchard A, Lenoir J, Nuñez MA, Geron C, Ven A et al (2016) Disturbance is the key to plant invasions in cold environments. Proc Natl Acad Sci 113(49):14061–14066. https://doi.org/10.1073/pnas.1608980113

Lembrechts JJ, Alexander JM, Cavieres LA, Haider S, Lenoir J, Kueffer C et al (2017) Mountain roads shift native and non-native plant species' ranges. Ecography 40(3):353–364. https://doi.org/10.1111/ecog.02200

Lembrechts JJ, Lenoir J, Nuñez MA, Pauchard A, Geron C, Bussé G et al (2018) Microclimate variability in alpine ecosystems as stepping stones for non-native plant establishment above their current elevational limit. Ecography 41(6):900–909. https://doi.org/10.1111/ecog.03263

Liedtke R, Barros A, Essl F, Lembrechts JJ, Wedegärtner RE, Pauchard A, Dullinger S (2020) Hiking trails as conduits for the spread of non-native species in mountain areas. Biol Invasions 22(3):1121–1134. https://doi.org/10.1007/s10530-019-02165-9

Lockwood JL, Cassey P, Blackburn T (2005) The role of propagule pressure in explaining species invasions. Trends Ecol Evol 20(5):223–228. https://doi.org/10.1016/j.tree.2005.02.004

López-Angulo J, Pescador DS, Sánchez AM, Mihoč MA, Cavieres LA, Escudero A (2018) Determinants of high mountain plant diversity in the Chilean Andes: from regional to local spatial scales. PLoS ONE 13(7):e0200216. https://doi.org/10.1371/journal.pone.0200216.s002

Luebert F, Pliscoff P (2017) Sinopsis bioclimática y vegetacional de Chile: Segunda Edición. Santiago, Chile: Editorial Universitaria

Marini L, Bertolli A, Bona E, Federici G, Martini F, Prosser F, Bommarco R (2013) Beta-diversity patterns elucidate mechanisms of alien plant invasion in mountains. Glob Ecol Biogeogr 22(4):450–460. https://doi.org/10.1111/geb.12006

Martin PH, Canham CD, Marks PL (2009) Why forests appear resistant to exotic plant invasions: intentional introductions, stand dynamics, and the role of shade tolerance. Front Ecol Environ 7(3):142–149. https://doi.org/10.1890/070096

McDougall KL, Alexander JM, Haider S, Pauchard A, Walsh NG et al (2011) Alien flora of mountains: global comparisons for the development of local preventive measures against plant invasions. Divers Distrib 17(1):103–111. https://doi.org/10.1111/j.1472-4642.2010.00713.x

McDougall KL, Lembrechts J, Rew LJ, Haider S, Cavieres LA, Kueffer C et al (2018) Running off the road: roadside non-native plants invading mountain vegetation. Biol Invasions 20(12):3461–3473. https://doi.org/10.1007/s10530-018-1787-z

McGlone CM, Sieg CH, Kolb TE (2011) Invasion resistance and persistence: established plants win, even with disturbance and high propagule pressure. Biol Invasions 13(2):291–304. https://doi.org/10.1007/s10530-010-9806-8

Miranda A, Altamirano A, Cayuela L, Pincheira F, Lara A (2015) Different times, same story: native forest loss and landscape homogenization in three physiographical areas of south-central of Chile. Appl Geogr 60:20–28. https://doi.org/10.1016/j.apgeog.2015.02.016

Müllerová J, Vítková M, Vítek O (2011) The impacts of road and walking trails upon adjacent vegetation: effects of road building materials on species composition in a nutrient poor environment. Sci Total Environ 409(19):3839–3849. https://doi.org/10.1016/j.scitotenv.2011.06.056

Oke OA, Thompson KA (2015) Distribution models for mountain plant species: the value of elevation. Ecol Model 301:72–77. https://doi.org/10.1016/j.ecolmodel.2015.01.019

Otto R, Arteaga MA, Delgado JD, Arévalo JR, Blandino C, Fernández-Palacios JM (2014) Road edge effect and elevation patterns of native and alien plants on an oceanic island (Tenerife, Canary Islands). Folia Geobot 49(1):65–82. https://doi.org/10.1007/s12224-013-9159-z

Paiaro V, Mangeaud A, Pucheta E (2007) Alien seedling recruitment as a response to altitude and soil disturbance in the mountain grasslands of central Argentina. Plant Ecol 193(2):279–291. https://doi.org/10.1007/s11258-007-9265-1

Paiaro V, Cabido M, Pucheta E (2011) Altitudinal distribution of native and alien plant species in roadside communities from central Argentina. Austral Ecol 36(2):176–184. https://doi.org/10.1111/j.1442-9993.2010.02134.x

Pauchard A, Alaback PB (2004) Influence of elevation, land use, and landscape context on patterns of alien plant invasions along roadsides in protected areas of South-Central Chile. Conserv Biol 18(1):238–248. https://doi.org/10.1111/j.1523-1739.2004.00300.x

Pauchard A, Shea K (2006) Integrating the study of non-native plant invasions across spatial scales. Biol Invasions 8(3):399–413. https://doi.org/10.1007/s10530-005-6419-8

Pauchard A, Kueffer C, Dietz H, Daehler CC, Alexander J, Edwards P et al (2009) Ain't no mountain high enough: plant invasions reaching new elevations. Front Ecol Environ 7(9):479–486. https://doi.org/10.1890/080072

Pauchard A, Fuentes N, Jiménez A, Bustamante R, Marticorena A (2013) Alien plants homogenise protected areas: evidence from the landscape and regional scales in south central Chile. In: Pyšek P, Richardson DM, Genovesi P, Foxcroft LC (eds) Plant invasions in protected areas. Springer, Dordrecht, pp 191–208

Pauchard A, Milbau A, Albihn A, Alexander J, Burgess T, Daehler C et al (2016) Non-native and native organisms moving into high elevation and high latitude ecosystems in an era of climate change: new challenges for ecology and conservation. Biol Invasions 18(2):345–353. https://doi.org/10.1007/s10530-015-1025-x

Pearson DE, Ortega YK, Villarreal D, Lekberg Y, Cock MC, Eren Ö, Hierro JL (2018) The fluctuating resource hypothesis explains invasibility, but not exotic advantage following disturbance. Ecology 99(6):1296–1305. https://doi.org/10.1002/ecy.2235

Petitpierre B, McDougall K, Seipel T, Broennimann O, Guisan A et al (2016) Will climate change increase the risk of plant invasions into mountains? Ecol Appl 26(2):530–544. https://doi.org/10.1890/14-1871

Phillips-Mao L, Larson DL, Jordan NR (2014) Effects of native herbs and light on garlic mustard (Alliaria petiolata) invasion. Invasive Plant Sci Manage 7(2):257–268. https://doi.org/10.1614/IPSM-D-13-00003.1

Pollnac F, Seipel T, Repath C et al (2012) Plant invasion at landscape and local scales along roadways in the mountainous region of the greater yellowstone ecosystem. Biol Invasions 14(8):1753–1763. https://doi.org/10.1007/s10530-012-0188-y

Roques A (2010) Alien forest insects in a warmer world and a globalised economy: impacts of changes in trade, tourism and climate on forest biosecurity. NZ J For Sci 40(Suppl):S77–S94

Sandoya V, Pauchard A, Cavieres LA (2017) Natives and non-natives plants show different responses to elevation and disturbance on the tropical high Andes of Ecuador. Ecol Evol 7(19):7909–7919. https://doi.org/10.1002/ece3.3270

Santilli L, Castro SA, Figueroa JA et al (2018) Exotic species predominates in the urban woody flora of central Chile. Gayana Botanica 75(2):568–588. https://doi.org/10.4067/S0717-66432018000200568

Seipel T, Kueffer C, Rew LJ, Daehler CC, Pauchard A et al (2012) Processes at multiple scales affect richness and similarity of non-native plant species in mountains around the world. Glob Ecol Biogeogr 21(2):236–246. https://doi.org/10.1111/j.1466-8238.2011.00664.x

Shrestha UB, Sharma KP, Devkota A, Siwakoti M, Shrestha BB (2018) Potential impact of climate change on the distribution of six invasive alien plants in Nepal. Ecol Ind 95:99–107. https://doi.org/10.1016/j.ecolind.2018.07.009

Slodowicz D, Descombes P, Kikodze D, Broennimann O et al (2018) Areas of high conservation value at risk by plant invaders in Georgia under climate change. Ecol Evol 8(9):4431–4442. https://doi.org/10.1002/ece3.4005

Souza L, Bunn WA, Simberloff D, Lawton RM, Sanders NJ (2011) Biotic and abiotic influences on native and exotic richness relationship across spatial scales: favourable environments for native species are highly invasible. Funct Ecol 25(5):1106–1112. https://doi.org/10.1111/j.1365-2435.2011.01857.x

Taylor S, Kumar L, Reid N, Kriticos DJ (2012) Climate change and the potential distribution of an invasive shrub Lantana camara L. PloS one. https://doi.org/10.1371/journal.pone.0035565

Team RC (2019) R: A language and environment for statistical computing. Vienna, Austria. Available from: http://www.RProject.org/

Tecco PA, Pais-Bosch AI, Funes G et al (2016) Mountain invasions on the way: are there climatic constraints for the expansion of alien woody species along an elevation gradient in Argentina? J Plant Ecol 9(4):380–392. https://doi.org/10.1093/jpe/rtv064

Terzano D, Kotzé I, Marais C, Cianciullo S et al (2018) Environmental and anthropogenic determinants of the spread of alien plant species: insights from South Africa's quaternary catchments. Plant Ecol 219(3):277–297. https://doi.org/10.1007/s11258-018-0795-5

Thom D, Sommerfeld A, Sebald J, Hagge J, Müller J, Seidl R (2020) Effects of disturbance patterns and deadwood on the microclimate in European beech forests. Agric For Meteorol 291:108066. https://doi.org/10.1016/j.agrformet.2020.108066

Tomasetto F, Duncan RP, Hulme PE (2013) Environmental gradients shift the direction of the relationship between native and alien plant species richness. Divers Distrib 19(1):49–59. https://doi.org/10.1111/j.1472-4642.2012.00939.x

Urbina JC, Benavides JC (2015) Simulated small scale disturbances increase decomposition rates and facilitates invasive species encroachment in a high elevation tropical Andean peatland. Biotropica 47(2):143–151. https://doi.org/10.1111/btp.12191

Van der wal R, Truscott AM, Pearce I, Cole L, Harris M, Wanless S (2008) Multiple anthropogenic changes cause biodiversity loss through plant invasion. Glob Change Biol, 14 (6): 1428-1436. https://doi.org/10.1111/j.1365-2486.2008.01576.x

Venables WN, Ripley BD (2002) Random and mixed effects. In: Ripley BD (ed) Modern applied statistics with S, Springer, New York, pp 271–300

Vonlanthen CM, Kammer PM, Eugster W et al (2006) Alpine vascular plant species richness: the importance of daily maximum temperature and pH. Plant Ecol 184(1):13–25. https://doi.org/10.1007/s11258-005-9048-5

Wisz MS, Pottier J, Kissling WD, Pellissier L et al (2013) The role of biotic interactions in shaping distributions and realised assemblages of species: implications for species distribution modelling. Biol Rev 88(1):15–30. https://doi.org/10.1111/j.1469-185X.2012.00235.x

Zellweger F, De Frenne P, Lenoir J, Vangansbeke P, Verheyen K, Bernhardt-Römermann M, Coomes D (2020) Forest microclimate dynamics drive plant responses to warming. Science 368(6492):772–775. https://doi.org/10.1126/science.aba6880
Funding
EFL, LC, AJ and AP funded by Fondecyt 1,180,205 and CONICYT PIA AFB170008. EFL was funded by ANID doctoral scholarship 375,957. JJL acknowledges funding by the Research Foundation Flanders (grants OZ7828 and OZ7916) and the University of Antwerp (grant FFB190028). To Alicia Marticorena and the Herbarium CONC who contributed to the taxonomic identification.
Ethics declarations
Conflicts of interest
Author declared that they have no conflict of interest.
Additional information
Publisher's Note
Springer Nature remains neutral with regard to jurisdictional claims in published maps and institutional affiliations.
Supplementary Information
Below is the link to the electronic supplementary material.
About this article
Cite this article
Fuentes-Lillo, E., Lembrechts, J.J., Cavieres, L.A. et al. Anthropogenic factors overrule local abiotic variables in determining non-native plant invasions in mountains. Biol Invasions (2021). https://doi.org/10.1007/s10530-021-02602-8
Received:

Accepted:

Published:
Keywords
Andes mountains

Invasive species

Non-native species

Human settlement

Protected areas