Abstract
Exotic species can threaten biodiversity by disrupting ecological interactions among native species. Highly-attractive exotic species can exert a 'magnet effect' by attracting native pollinators, which may have either competitive or facilitative effects on co-flowering native plants. However, those effects may be context-dependent. We used a mistletoe-hummingbird pollination system in the Valdivian rainforest (southern Chile) to test whether the exotic tree Eucalyptus globulus (a highly attractive species to pollinators) acts as a magnet species, affecting the co-flowering native mistletoe. We compared hummingbird abundance, visitation rates, and activity patterns between native forest and abandoned E. globulus plantations. We found that hummingbirds were more abundant and visited more flowers at the plantation irrespective of E. globulus flowering. We observed a significant change of pollinator activity at the native habitat during E. globulus flowering, as hummingbirds visited mistletoe flowers more frequently early in the morning at the plantations and in the afternoon at the native forests. Our results showed that E. globulus acts as an exotic magnet species and can alter pollinator abundance and behavior. Our findings demonstrate the importance of considering local- and landscape-scale processes to understand the effects of magnet species on native plants and suggest that magnet species may influence even highly-attractive plants.
Access options
Buy single article
Instant access to the full article PDF.
US$ 39.95
Tax calculation will be finalised during checkout.
Subscribe to journal
Immediate online access to all issues from 2019. Subscription will auto renew annually.
US$ 79
Tax calculation will be finalised during checkout.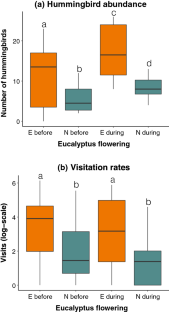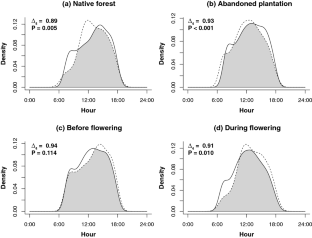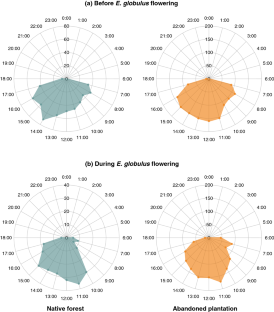 Availability of data and material
References
Aizen MA (2003) Influences of animal pollination and seed dispersal on winter flowering in a temperate mistletoe. Ecology 84:2613–2627. https://doi.org/10.1890/02-0521

Aizen MA (2005) Breeding system of Tristerix corymbosus (Loranthaceae), a winter-flowering mistletoe from the southern Andes. Aust J Bot 53:357–361. https://doi.org/10.1071/BT04088

Aizen MA, Ezcurra C (1998) High incidence of plant-animal mutualisms in the woody flora of the temperate forest of southern South America: biogeographical origin and present ecological significance. Ecol Austral 8:217–236

Aizen MA, Morales CL, Morales JM (2008) Invasive mutualists erode native pollination webs. PLoS Biol 6:396–403. https://doi.org/10.1371/journal.pbio.0060031

Aizen MA, Vásquez DP, Smith-Ramírez C (2002) Historial natural y conservación de los mutualismos planta-animal del bosque templado de Sudamérica austral. Rev Chil Hist Nat 75:79–97

Albrecht M, Ramis MR, Traveset A (2016) Pollinator-mediated impacts of alien invasive plants on the pollination of native plants: the role of spatial scale and distinct behaviour among pollinator guilds. Biol Invasions 18:1801–1812. https://doi.org/10.1007/s10530-016-1121-6

Antunes AS (2003) Partilha de néctar de Eucalyptus spp., territorialidade e hierarquia de dominância em beija-flores (Aves: Trochilidae) no sudeste do Brasil. Ararajuba 11:39–44

Bates D, Maechler M, Bolker B (2013) lme4: Linear mixed-effects models using S4 classes. R package version 0.999375-39. http://CRAN.R-project.org/package=lme4

Bjornstad ON (2013) ncf: spatial nonparametric covariance functions. R package version 1.1–5. http://CRAN.R-project.org/package=ncf

Bruckman D, Campbell DR (2014) Floral neighborhood influences pollinator assemblages and effective pollination in a native plant. Oecologia 176:465–476. https://doi.org/10.1007/s00442-014-3023-6

Calviño-Cancela M, Neumann M (2015) Pollen loads of eucalypt and other pollen types in birds in NW Spain. Data Brief 5:348–350. https://doi.org/10.1016/j.dib.2015.09.012

Carvalheiro LG, Barbosa ERM, Memmott J (2008) Pollinator networks, alien species and the conservation of rare plants: Trinia glauca as a case study. J Appl Ecol 45:1419–1427. https://doi.org/10.1111/j.1365-2664.2008.01518.x

Carvalheiro LG, Biesmeijer JC, Benadi G, Frund J, Stang M, Bartomeus I, Kaiser-Bunbury CN, Baude M, Gomes SIF, Merckx V, Baldock KCR, Bennett ATD, Boada R, Bommarco R, Cartar R, Chacoff N, Danhardt J, Dicks LV, Dormann CF, Ekroos J, Henson KSE, Holzschuh A, Junker RR, Lopezaraiza-Mikel M, Memmott J, Montero-Castaño A, Nelson IL, Petanidou T, Power EF, Rundlof M, Smith HG, Stout JC, Temitope K, Tscharntke T, Tscheulin T, Vilà M, Kunin WE (2014) The potential for indirect effects between co-flowering plants via shared pollinators depends on resource abundance, accessibility and relatedness. Ecol Lett 17:1389–1399. https://doi.org/10.1111/ele.12342

Chalcoff VR, Aizen MA, Galetto L (2006) Nectar concentration and composition of 26 species from the temperate forest of South America. Ann Bot-Lond 97:413–421. https://doi.org/10.1093/aob/mcj043

Charlebois JA, Sargent RD (2017) No consistent pollinator-mediated impacts of alien plants on natives. Ecol Lett 20:1479–1490. https://doi.org/10.1111/ele.12831

Chittka L, Schürkens S (2001) Successful invasion of a floral market - An exotic Asian plant has moved in on Europe's river-banks by bribing pollinators. Nature 411:653–653. https://doi.org/10.1038/35079676

Dray S, Dufour AB (2007) The ade4 package: Implementing the duality diagram for ecologists. J Stat Softw 22:1–20

Echeverría C, Coomes D, Salas J, Rey-Benayas JM, Lara A, Newton A (2006) Rapid deforestation and fragmentation of Chilean temperate forest. Biol Conserv 130:481–494. https://doi.org/10.1016/j.biocon.2006.01.017

Fontúrbel FE, Bruford MW, Salazar DA, Cortés-Miranda J, Vega-Retter C (2019) The hidden costs of living in a transformed habitat: ecological and evolutionary consequences in a tripartite mutualistic system with a keystone mistletoe. Sci Total Environ 651:2740–2748. https://doi.org/10.1016/j.scitotenv.20148.10.125

Fontúrbel FE, Jordano P, Medel R (2015) Scale-dependent responses of pollination and seed dispersal mutualisms in a habitat transformation scenario. J Ecol 103:1334–1343. https://doi.org/10.1111/1365-2745.12443

Fontúrbel FE, Salazar DA, Medel R (2017a) Increased resource availability prevents the disruption of key ecological interactions in disturbed habitats. Ecosphere 8:e01768. https://doi.org/10.1002/ecs2.1768

Fontúrbel FE, Salazar DA, Medel R (2017b) Why mistletoes are more aggregated in disturbed forests? The role of differential host mortality. Forest Ecol Manag 394:13–19. https://doi.org/10.1016/j.foreco.2017.03.028

González-Gómez PL, Bozinovic F, Vásquez RA (2011) Elements of episodic-like memory in free-living hummingbirds, energetic consequences. Anim Behav 81:1257–1262. https://doi.org/10.1016/j.anbehav.2011.03.014

González-Gómez PL, Razeto-Barry P, Araya-Salas M, Estades CF (2015) Does environmental heterogeneity promote cognitive abilities? Integr Comp Biol 55:432–443. https://doi.org/10.1093/icb/icv062

González-Gómez PL, Vásquez RA (2006) A field study of spatial memory in Green-Backed Firecrown hummingbirds (Sephanoides sephaniodes). Ethology 112:790–795

Hegland SJ, Grytnes JA, Totland O (2009) The relative importance of positive and negative interactions for pollinator attraction in a plant community. Ecol Res 24:929–936. https://doi.org/10.1007/s11284-008-0572-3

Hingston AB (2002) Pollination ecology of Eucalyptus globulus subsp. globulus and Eucalyptus nitens (Myrtaceae). PhD dissertation, University of Tasmania, Tasmania

Jakobsson A, Padron B, Traveset A (2009) Competition for pollinators between invasive and native plants: effects of spatial scale of investigation. Ecoscience 16:138–141. https://doi.org/10.2980/16-1-3193

Jiménez JE (2000) Effects of sample size, plot size, and counting time on estimates of avian diversity and abundance in a Chilean rainforest. J Field Ornithol 71:66–87

Johnson SD, Peter CI, Nilsson LA, Agren J (2003) Pollination success in a deceptive orchid is enhanced by co-occurring rewarding magnet plants. Ecology 84:2919–2927. https://doi.org/10.1890/02-0471

Justino DG, Maruyama PK, Oliveira PE (2012) Floral resource availability and hummingbird territorial behaviour on a Neotropical savanna shrub. J Ornithol 153:189–197. https://doi.org/10.1007/s10336-011-0726-x

Kassambara A, Mundt F (2020) factoextra: Extract and visualize the results of multivariate data analyses. R package version 1.0.7. https://CRAN.R-project.org/package=factoextra,

Kleiber C, Zeileis A (2008) Applied Econometrics with R. Springer, New York

Krauss SL, Phillips RD, Karron JD, Johnson SD, Roberts DG, Hopper SD (2017) Novel consequences of bird pollination for plant mating. Trends Plant Sci 22:395–410. https://doi.org/10.1016/j.tplants.2017.03.005

Lanna LL, de Azevedo CS, Claudino RM, Oliveira R, Antonini Y (2017) Feeding behavior by hummingbirds (Aves: Trochilidae) in artificial food patches in an Atlantic Forest remnant in southeastern Brazil. Zoologia-Curitiba 34:e13228. https://doi.org/10.3897/zoologia.34.e13228

Laverty TM (1992) Plant interactions for pollinator visits: a test of the magnet species effect. Oecologia 89:502–508. https://doi.org/10.1007/Bf00317156

Lemon J (2006) Plotrix: a package in the red light district of R. R-News 5:8–12

Lewis SL, Maslin MA (2015) Defining the Anthropocene. Nature 519:171–180. https://doi.org/10.1038/nature14258

Löewe V, Alvear C, Salinas F (1996) Fenología de E. globulus, E. nitens y E. camaldulensis en la zona central de Chile: estudio preliminar [Phenology of E. globulus, E. nitens and E. camaldulensis in central Chile: a preliminary assessment]. Ciencia e Investigación Forestal 10:73–98

Lopezaraiza-Mikel ME, Hayes RB, Whalley MR, Memmott J (2007) The impact of an alien plant on a native plant-pollinator network: an experimental approach. Ecol Lett 10:539–550. https://doi.org/10.1111/j.1461-0248.2007.01055.x

Matesanz S, Gimeno TE, de la Cruz M, Escudero A, Valladares F (2011) Competition may explain the fine-scale spatial patterns and genetic structure of two co-occurring plant congeners. J Ecol 99:838–848

Memmott J, Waser NM (2002) Integration of alien plants into a native flower-pollinator visitation web. P R Soc B-Biol Sci 269:2395–2399. https://doi.org/10.1098/rspb.2002.2174

Molina-Montenegro MA, Badano EI, Cavieres LA (2008) Positive interactions among plant species for pollinator service: assessing the "magnet species" concept with invasive species. Oikos 117:1833–1839. https://doi.org/10.1111/j.0030-1299.2008.16896.x

Montero-Castaño A, Vilà M (2012) Impact of landscape alteration and invasions on pollinators: a meta-analysis. J Ecol 100:884–893. https://doi.org/10.1111/j.1365-2745.2012.01968.x

Morales CL, Traveset A (2009) A meta-analysis of impacts of alien vs. native plants on pollinator visitation and reproductive success of co-flowering native plants. Ecol Lett 12:716–728. https://doi.org/10.1111/j.1461-0248.2009.01319.x

Nielsen C, Heimes C, Kollmann J (2008) Little evidence for negative effects of an invasive alien plant on pollinator services. Biol Invasions 10:1353–1363. https://doi.org/10.1007/s10530-007-9210-1

Oksanen J, Blanchet FG, Kindt R, Legendre P, Minchin PR, O'Hara RB, Simpson GL, Solymos P, Stevens MHH, Wagner H (2013) vegan: Community Ecology Package. R package version 2.0–10. http://CRAN.R-project.org/package=vegan,

R Development Core Team (2019) R: A language and environment for statistical computing, reference index version 3.6.1. Foundation for Statistical Computing, Vienna, Austria

Ridout MS, Linkie M (2009) Estimating overlap of daily activity patterns from camera trap data. J Agr Biol Environ St 14:322–337. https://doi.org/10.1198/Jabes.2009.08038

Rodriguez-Flores CI, Arriaga MCA (2016) The dynamics of hummingbird dominance and foraging strategies during the winter season in a highland community in Western Mexico. J Zool 299:262–274. https://doi.org/10.1111/jzo.12360

Rowcliffe M (2019) Activity: animal activity statistics. R package version 1.2. https://CRAN.R-project.org/package=activity

Sala OE, Chapin FS, Armesto JJ, Berlow E, Bloomfield J, Dirzo R, Huber-Sanwald E, Huenneke LF, Jackson RB, Kinzig A, Leemans R, Lodge DM, Mooney HA, Oesterheld M, Poff NL, Sykes MT, Walker BH, Walker M, Wall DH (2000) Biodiversity—Global biodiversity scenarios for the year 2100. Science 287:1770–1774. https://doi.org/10.1126/science.287.5459.1770

Simberloff D, Martin JL, Genovesi P, Maris V, Wardle DA, Aronson J, Courchamp F, Galil B, Garcia-Berthou E, Pascal M, Pysek P, Sousa R, Tabacchi E, Vilà M (2013) Impacts of biological invasions: what's what and the way forward. Trends Ecol Evol 28:58–66. https://doi.org/10.1016/j.tree.2012.07.013

Smith-Ramírez C (1993) Los picaflores y su recurso floral en el bosque templado de la isla de Chiloé, Chile [Hummingbirds and their floral resources in temperate forests of Chiloé island, Chile]. Rev Chil Hist Nat 66:65–73

Thomson JD (1978) Effects of stand composition on insect visitation in two-species mixtures of Hieracium. Am Midl Nat 100:431–440. https://doi.org/10.2307/2424843

Thomson JD (1981) Spatial and temporal components of resource assessment by flower-feeding insects. J Anim Ecol 50:49–59. https://doi.org/10.2307/4030

Thomson JD (1982) Patterns of visitation by animal pollinators. Oikos 39:241–250. https://doi.org/10.2307/3544491

Traveset A, Richardson DM (2014) Mutualistic interactions and biological invasions. Annu Rev Ecol Evol S 45:89–113. https://doi.org/10.1146/annurev-ecolsys-120213-091857

Vilà M, Espinar JL, Hejda M, Hulme PE, Jarosik V, Maron JL, Pergl J, Schaffner U, Sun Y, Pysek P (2011) Ecological impacts of invasive alien plants: a meta-analysis of their effects on species, communities and ecosystems. Ecol Lett 14:702–708. https://doi.org/10.1111/j.1461-0248.2011.01628.x

Vizentin-Bugoni J, Sonne J, Hodum P, Hagen E, Cordeiro J (2017) Spatial segregation of the endemic versus non-endemic hummingbird on Robinson Crusoe Island, Chile: the effect of competitor abundance but not resources or habitat. J Ornithol 158:793–798. https://doi.org/10.1007/s10336-017-1431-1

Vizentin-Bugoni J, Tarwater CE, Foster JT, Drake DR, Gleditsch JM, Hruska AM, Kelley JP, Sperry JH (2019) Structure, spatial dynamics, and stability of novel seed dispersal mutualistic networks in Hawai'i. Science 364:78–82. https://doi.org/10.1126/science.aau8751

Wickham H (2016) ggplot2: elegant graphics for data analysis. Springer, New York

Wood S, Scheipl F (2014) gamm4: Generalized additive mixed models using mgcv and lme4. R package version 0.2-3. http://CRAN.R-project.org/package=gamm4
Acknowledgements
We are grateful to The Nature Conservancy and the Valdivian Coastal Reserve staff for authorizing the fieldwork and giving us access to facilities to conduct this study. C. Valenzuela assisted in the fieldwork. R.A. Dias provided valuable suggestions to the methodology. Comments of C. Botto, D. Véliz, R. Vásquez, and three anonymous reviewers improved an early version of this manuscript. This study was conducted with the funding of Fondo Nacional de Desarrollo Científico y Tecnológico (FONDECYT, Chile), project 11160152 (to FEF). JVB thanks CERL-ERDC and CAPES for financial support.
Funding
This research was funded by Fondo Nacional de Desarrollo Científico y Tecnológico (FONDECYT, Chile), grant 11160152 to FEF. CERL-ERDC and CAPES (Finance code 001) financially supported JVB.
Ethics declarations
Conflict of interest
All authors declare no conflict of interest.
Additional information
Publisher's Note
Springer Nature remains neutral with regard to jurisdictional claims in published maps and institutional affiliations.
Supplementary Information
Below is the link to the electronic supplementary material.
About this article
Cite this article
Cuadra-Valdés, J., Vizentin-Bugoni, J. & Fontúrbel, F.E. An exotic magnet plant alters pollinator abundance and behavior: a field test with a native mistletoe. Biol Invasions (2021). https://doi.org/10.1007/s10530-021-02519-2
Received:

Accepted:

Published:
Keywords
Activity kernel

Eucalyptus globulus

Temperate rainforest

Tristerix corymbosus
Sephanoides sephaniodes