Abstract
Predation is an important factor influencing the strength and success of a year class in many prey fishes. Many adaptations, including chemical cues, benefit shoaling groups by informing members of a possible impending predatory threat. Bighead (Hypophthalmichthys nobilis) and silver carps (Hypophthalmichthys molitrix) are widely dispersed invasive fishes that spend much of their first year at a size vulnerable to predation. The objective of this study was to evaluate the fright response of juvenile bighead and silver carps when exposed to alarm cues from conspecific and heterospecific fishes. Groups of carps were exposed to 5 mL of alarm cue from either bighead carp, silver carp, golden shiner (Notemigonus crysoleucas), or fathead minnow (Pimephales promelas). Behavior was recorded before and after the application of the treatment. Our results indicate that both species were unable to recognize chemical alarm cues from North American cypriniforms, yet both were able to recognize conspecific alarm cues. However, the two species of bigheaded carps respond to conspecific chemicals differently. Silver carp increase distance among individuals, whereas bighead carp reduce distance between individuals. Both show a reduction in activity after chemical application. Though both species recognize conspecific alarm cues, bighead carp exhibit similar fright patterns when exposed to alarm chemicals of silver carp, yet no behavioral responses were detected in silver carp when exposed to alarm chemicals of bighead carp. An understanding of fright response in bighead and silver carps aids understanding of predator interactions and ecological roles of these fishes, and can be utilized in population management applications.
Access options
Buy single article
Instant access to the full article PDF.
USD 39.95
Price excludes VAT (USA)
Tax calculation will be finalised during checkout.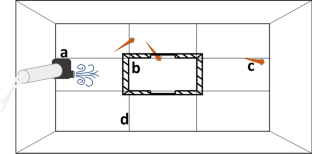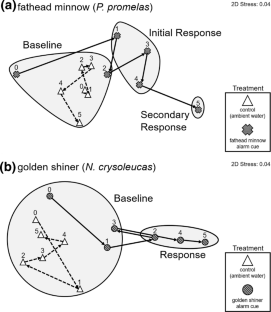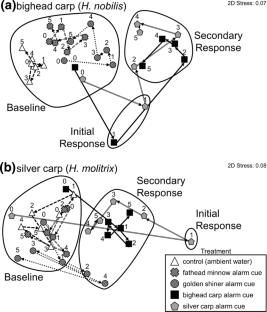 Availability of data and materials
Data will be made available by reasonable request.
References
Anderson MJ (2001) A new method for non-parametric multivariate analysis of variance. Austral Ecol 26:32–46

Anderson M, Gorley R, Clarke KP (2008) For PRIMER: guide to software and statistical methods. PRIMER-E, Plymouth

Anderson C, Haun R, Lamer JT, et al. (2015) Juvenile asian carp as forage for native predators in the lagrange reach, Illinois River. In: 145th annual meeting of the American fisheries society. AFS

Anton A, Geraldi NR, Ricciardi A et al (2020) Global determinants of prey naiveté to exotic predators. Proc R Soc B 287:20192978

Baerwaldt K, Benson A, Irons K (2014) Asian carp distribution in North America. Asian Carp Regional Coordinating Committee

Beauchamp G (2007) Vigilance in a selfish herd. Anim Behav 73:445–451

Boys CA, Williams RJ (2012) Succession of fish and crustacean assemblages following reinstatement of tidal flow in a temperate coastal wetland. Ecol Eng 49:221–232

Brönmark C, Pettersson LB (1994) Chemical cues from piscivores induce a change in morphology in crucian carp. Oikos, 396–402

Brown BE, Inman I, Jearld A Jr (1970) Schooling and shelter seeking tendencies in fingerling channel catfish. Trans Am Fish Soc 99:540–545

Brown GE (2003) Learning about danger: chemical alarm cues and local risk assessment in prey fishes. Fish Fish 4:227–234

Brown GE, Rive AC, Ferrari MCO et al (2006) The dynamic nature of antipredator behavior: prey fish integrate threat-sensitive antipredator responses within background levels of predation risk. Behav Ecol Sociobiol 61:9–16

Bryer PJ, Mirza RS, Chivers DP (2001) Chemosensory assessment of predation risk by slimy sculpins (Cottus cognatus): responses to alarm, disturbance, and predator cues. J Chem Ecol 27:533–546

Cabecinha E, Cortes R, Cabral JA et al (2009) Multi-scale approach using phytoplankton as a first step towards the definition of the ecological status of reservoirs. Ecol Indicators 9:240–255

Carthey AJR, Banks PB (2016) Naiveté is not forever: responses of a vulnerable native rodent to its long term alien predators. Oikos 125:918–926

Chivers D, Mirza R, Johnston J (2002) Learned recognition of heterospecific alarm cues enhances survival during encounters with predators. Behaviour 139:929–938

Chivers DP, Brown GE, Smith RJF (1995) Acquired recognition of chemical stimuli from pike, Esox lucius, by brook sticklebacks, Culaea inconstans (Osteichthyes, Gasterosteidae). Ethology 99:234–242

Chivers DP, Mirza RS (2001) Predator diet cues and the assessment of predation risk by aquatic vertebrates: a review and prospectus. Chemical Signals in Vertebrates 9. Springer, pp. 277–284

Chivers DP, Smith RJF (1994) Fathead minnows, Pimephales promelas, acquire predator recognition when alarm substance is associated with the sight of unfamiliar fish. Anim Behav 48:597–605

Chivers DP, Wisenden BD, Hindman CJ et al (2007) Epidermal 'alarm substance'cells of fishes maintained by non-alarm functions: possible defence against pathogens, parasites and UVB radiation. Proc R Soc B Biol Sci 274:2611–2619

Clarke KR (1993) Non-parametric multivariate analyses of changes in community structure. Aust J Ecol 18:117–143

Clarke K, Warwick R (1994) Change in Marine assemblages: An approach to statistical analysis and interpretation. Plymouth Marine Laboratory, Plymouth

Clarke KR, Gorley RN (2015) Getting started with PRIMER v7. PRIMER-E: Plymouth, Plymouth Marine Laboratory, 20

Crane DP, Farrell JM, Einhouse DW et al (2015) Trends in body condition of native piscivores following invasion of L akes E rie and O ntario by the round goby. Freshw Biol 60:111–124

Cresswell W (2008) Non-lethal effects of predation in birds. Ibis 150:3–17

Cunha C, Mesquita N, Dowling TE et al (2002) Phylogenetic relationships of Eurasian and American cyprinids using cytochrome b sequences. J Fish Biol 61:929–944

Deacon AE, Magurran AE (2016) How behaviour contributes to the success of an invasive poeciliid fish: the Trinidadian guppy (Poecilia reticulata) as a model species. Biological invasions and animal behavior, pp 266–290

Dixson DL, Pratchett MS, Munday PL (2012) Reef fishes innately distinguish predators based on olfactory cues associated with recent prey items rather than individual species. Anim Behav 84:45–51

Eshel I, Sansone E, Shaked A (2011) On the evolution of group-escape strategies of selfish prey. Theor Popul Biol 80:150–157

Ferrari MCO, Gonzalo A, Messier F et al (2007) Generalization of learned predator recognition: an experimental test and framework for future studies. Proc R Soc B Biol Sci 274:1853–1859

Ferrari MCO, Trowell JJ, Brown GE et al (2005) The role of learning in the development of threat-sensitive predator avoidance by fathead minnows. Anim Behav 70:777–784

Frisch KV (1941) Die Bedeutung des Geruchsinnes im Leben der Fische Natürwissenschaften 29:321–33

Fuselier L, Rugg M, Korpi N et al (2009) Lab and field estimates of active time of chemical alarm cues of a cyprinid fish and an amphipod crustacean. Behaviour 146:1423–1442

George AE, Chapman DC (2013) Aspects of embryonic and larval development in bighead carp Hypophthalmichthys nobilis and silver carp Hypophthalmichthys molitrix. PLoS ONE 8:e73829

Ghosal R, Xiong PX, Sorensen PW (2016) Invasive bighead and silver carps form different sized shoals that readily intermix. PLoS ONE 11:e0157174

Godard R, Wannamaker C, Bowers B (1998) Responses of golden shiner minnows to chemical cues from snake predators. Behaviour 135:1213–1228

Gomes LAP, Salgado PMP, Barata EN et al (2013) Alarm scent-marking during predatory attempts in the Cabrera vole (Microtus cabrerae Thomas, 1906). Ecol Res 28:335–343

Green BW, Smitherman RO (1984) Relative growth, survival and harvestability of bighead carp, silver carp, and their reciprocal hybrids. Aquaculture 37:87–95

Hamilton WD (1971) Geometry for the selfish herd. J Theor Biol 31:295–311

Hara TJ (1994) The diversity of chemical stimulation in fish olfaction and gustation. Rev Fish Biol Fisheries 4:1–35

Holm S (1979) A simple sequentially rejective multiple test procedure. Scand J Stat, 65–70

Holway DA, Suarez AV (1999) Animal behavior: an essential component of invasion biology. Trends Ecol Evol 14:328–330

Hume JB, Meckley TD, Johnson NS et al (2015) Application of a putative alarm cue hastens the arrival of invasive sea lamprey (Petromyzon marinus) at a trapping location. Can J Fish Aquat Sci 72:1799–1806

Jang MH, Joo GJ, Lucas MC (2006) Diet of introduced largemouth bass in Korean rivers and potential interactions with native fishes. Ecol Freshw Fish 15:315–320

Kats LB, Dill LM (1998) The scent of death: chemosensory assessment of predation risk by prey animals. Ecoscience 5:361–394

Kolar CS, Chapman DC, Courtenay Jr WR, et al. (2005) Asian carps of the genus Hypophthalmichthys (Pisces, Cyprinidae)―a biological synopsis and environmental risk assessment.

Krause J (1993) The effect of'Schreckstoff'on the shoaling behaviour of the minnow: a test of Hamilton's selfish herd theory. Anim Behav 45:1019–1024

Kruskal JB (1964) Nonmetric multidimensional scaling: a numerical method. Psychometrika 29:115–129

Larson JK, McCormick MI (2005) The role of chemical alarm signals in facilitating learned recognition of novel chemical cues in a coral reef fish. Anim Behav 69:51–57

Lehtiniemi M (2005) Swim or hide: predator cues cause species specific reactions in young fish larvae. J Fish Biol 66:1285–1299

Lima SL, Dill LM (1990) Behavioral decisions made under the risk of predation: a review and prospectus. Can J Zool 68:619–640

Little EE, Calfee RD, Puglis H et al (2014) Field Evaluation of Sex Pheromone Attractants to Control Asian Carp and Development of Protocols for Field Verification of Response. Quebec, Canada

Magurran AE (1990) The adaptive significance of schooling as an anti-predator defence in fish. Annales Zoologici Fennici. JSTOR, pp. 51–66

Mandrak NE, Cudmore-Vokey BC (2004) Risk assessment for Asian carps in Canada. Fisheries & Oceans Canada, Science, Canadian Science Advisory Secretariat

Maniak PJ, Lossing RD, Sorensen PW (2000) Injured Eurasian ruffe, Gymnocephalus cernuus, release an alarm pheromone that could be used to control their dispersal. J Great Lakes Res 26:183–195

Mathis A, Chivers DP, Smith RJF (1996) Cultural transmission of predator recognition in fishes: intraspecific and interspecific learning. Anim Behav 51:185–201

McGhee KE, Pintor LM, Suhr EL et al (2012) Maternal exposure to predation risk decreases offspring antipredator behaviour and survival in threespined stickleback. Funct Ecol 26:932–940

Mirza RS, Chivers DP (2003) Predator diet cues and the assessment of predation risk by juvenile brook charr: do diet cues enhance survival? Can J Zool 81:126–132

Mirza RS, Scott JJ, Chivers DP (2001) Differential responses of male and female red swordtails to chemical alarm cues. J Fish Biol 59:716–728

Parker KA, Anderson MJ, Jenkins PF et al (2012) The effects of translocation-induced isolation and fragmentation on the cultural evolution of bird song. Ecol Lett 15:778–785

Pavlov DS, Kasumyan AO (2000) Patterns and mechanisms of schooling behavior in fish: a review. J Ichthyol 40:S163

Pettersson LB, Andersson K, Nilsson K (2001) The diel activity of crucian carp, Carassius carassius, in relation to chemical cues from predators. Environ Biol Fishes 61:341–345

Pitcher TJ (1986a) Functions of shoaling behaviour in teleosts. The behaviour of teleost fishes. Springer, pp. 294–337

Reebs SG, Leblond C (2006) Individual leadership and boldness in shoals of golden shiners (Notemigonus crysoleucas). Behaviour 143:1263–1280

Rice JA, Crowder LB, Marschall EA (1997) Predation on juvenile fishes: dynamic interactions between size-structured predators and prey. Early life history and recruitment in fish populations. Springer, pp. 333–356

Sanft E, Wahl DH (2014) Vulnerability of juvenile Asian carp to predation By largemouth bass.

Schaerf TM, Dillingham PW, Ward AJW (2017) The effects of external cues on individual and collective behavior of shoaling fish. Sci Adv 3:e1603201

Shirkhorshidi AS, Aghabozorgi S, Wah TY (2015) A comparison study on similarity and dissimilarity measures in clustering continuous data. PLoS ONE 10:e0144059

Šmejkal M, Ricard D, Sajdlová Z et al (2018) Can species-specific prey responses to chemical cues explain prey susceptibility to predation? Ecol Evol 8:4544–4551

Smith RJF (1997) Does one result trump all others? A response to Magurran, Irving and Henderson. Proc R Soc Lond Ser B Biol Sci 264:445–450

Sorensen PW, Johnson NS (2016) Theory and application of semiochemicals in nuisance fish control. J Chem Ecol 42:698–715

Sorensen PW, Rue MCP, Leese JM et al (2019) A blend of f prostaglandins functions as an attractive sex pheromone in silver carp. Fishes 4:27

Sorensen PW, Stacey NE (1999) Evolution and specialization of fish hormonal pheromones. Advances in chemical signals in vertebrates. Springer, pp. 15–47

Stacey NE, Cardwell JR, Liley NR, et al. (1994) Hormones as sex pheromones in fish. Perspect Comp Endocrinol, 438–448

Tan M, Armbruster JW (2018) Phylogenetic classification of extant genera of fishes of the order Cypriniformes (Teleostei: Ostariophysi). Zootaxa 4476:6–39

Tsehaye I, Catalano M, Sass G et al (2013) Prospects for fishery-induced collapse of invasive Asian carp in the Illinois River. Fisheries 38:445–454

Wagner CM, Stroud EM, Meckley TD (2011) A deathly odor suggests a new sustainable tool for controlling a costly invasive species. Can J Fish Aquat Sci 68:1157–1160

Wainwright PC, Lauder GV (1986) Feeding biology of sunfishes: patterns of variation in the feeding mechanism. Zool J Linn Soc 88:217–228

Williamson CJ, Garvey JE (2005) Growth, fecundity, and diets of newly established silver carp in the middle Mississippi River. Trans Am Fish Soc 134:1423–1430

Williamson M, Fitter A (1996) The varying success of invaders. Ecology 77:1661–1666
Acknowledgements
We thank Curt Byrd and Duane Chapman of the USGS Columbia Environmental Research Center and Steve Kahrs of Osage Catfisheries, Inc. for providing bigheaded carps used in this study. We also thank Naveen Parthiban and two anonymous reviewers for their efforts to provide constructive comments on this manuscript.
Funding
The study was supported in part by the funding from the Great Lakes Research Initiative, administered through the Illinois Department of Natural Resources (CAFWS‐93).
Ethics declarations
Conflicts of interest
The authors have no conflicts of interest.
Ethics approval
All study procedures adhered to the University of Illinois at Urbana-Champaign Institutional Animal Care and Use guidelines for ethical treatment of animals under the protocol #17068.
Consent to participate
Not applicable.
Consent for publication
Not applicable.
Additional information
Publisher's Note
Springer Nature remains neutral with regard to jurisdictional claims in published maps and institutional affiliations.
Supplementary Information
Below is the link to the electronic supplementary material.
About this article
Cite this article
Wilson, J.C., White, D.P., Detmer, T.M. et al. Behavioral response of juvenile silver and bighead carp to conspecific and heterospecific alarm cues. Biol Invasions 23, 2233–2248 (2021). https://doi.org/10.1007/s10530-021-02502-x
Received:

Accepted:

Published:

Issue Date:

DOI: https://doi.org/10.1007/s10530-021-02502-x
Keywords