Abstract
The ability to rapidly adjust thermal tolerance in response to variable temperatures may facilitate the success of invasive species in non-native ranges. The Asian house gecko Hemidactylus frenatus is native to the tropics of South and Southeast Asia. This small lizard has spread across the globe and has also successfully invaded colder regions of Australia. In this study, we investigated whether this species displays plasticity in thermal tolerance in its introduced range. We measured cold tolerance (CTmin) and heat tolerance (CTmax) of H. frenatus from two native tropical populations in Thailand, and two introduced subtropical populations in southeastern Australia. We also explored seasonal variation in the thermal tolerance of the introduced populations. We found that heat tolerance (CTmax) of geckos did not differ among four populations in Thailand and Australia (range = 43.4–43.7 °C). By contrast, geckos from southeastern Australia had lower cold tolerance (CTmin) (mean = 10.43 °C) than geckos from Thailand (mean = 11.57 °C). We also documented seasonal shifts in cold tolerance of H. frenatus from southeastern Australia. Geckos captured in winter had cold tolerances 1–2 °C lower than those captured in summer. Unexpectedly, this shift in cold tolerance was accompanied by a 1–2 °C upward shift in heat tolerance. Our results support a growing body of evidence showing that tropical invaders can adjust cold tolerance downwards via plasticity or acclimation. Such changes may allow tropical invaders to expand their geographic range into colder regions of non-native ranges.
Access options
Buy single article
Instant access to the full article PDF.
US$ 39.95
Tax calculation will be finalised during checkout.
Subscribe to journal
Immediate online access to all issues from 2019. Subscription will auto renew annually.
US$ 79
Tax calculation will be finalised during checkout.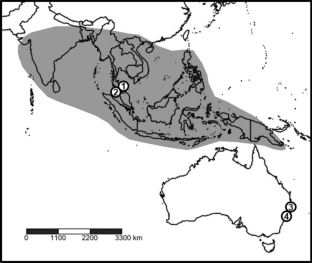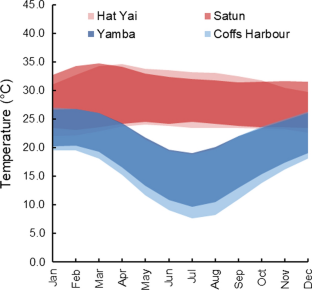 References
Addo-Bediako A, Chown S, Gaston K (2000) Thermal tolerance, climatic variability and latitude. Proc R Soc B Biol Sci 267:739–745. https://doi.org/10.1098/rspb.2000.1065

Allendorf FW, Lundquist LL (2003) Introduction: population biology, evolution, and control of invasive species. Conserv Biol 17:24–30. https://doi.org/10.1046/j.1523-1739.2003.02365.x

Bansal R, Karanth K (2010) Molecular phylogeny of Hemidactylus geckos (Squamata: Gekkonidae) of the Indian subcontinent reveals a unique Indian radiation and an Indian origin of Asian house geckos. Mol Phylogenetics Evol 57:459–465. https://doi.org/10.1016/j.ympev.2010.06.008

Bogert CM (1949) Thermoregulation in reptiles, a factor in evolution. Evolution 3:195–211. https://doi.org/10.1111/j.1558-5646.1949.tb00021.x

Bureau of Meteorology (2019) Climate statistics for Australian locations. http://www.bom.gov.au/climate/data/

Carranza S, Arnold EN (2006) Systematics, biogeography, and evolution of Hemidactylus geckos (Reptilia: Gekkonidae) elucidated using mitochondrial DNA sequences. Mol Phylogenet Evol 38:531–545. https://doi.org/10.1016/j.ympev.2005.07.012

Case TJ, Bolger DT, Petren K (1994) Invasion and competitive displacement among house geckos in tropical Pacific. Ecology 75:464–477. https://doi.org/10.2307/1939550

Clusella-Trullas S, Chown S (2014) Lizard thermal trait variation at multiple scales: a review. J Comp Physiol B 184:5–21. https://doi.org/10.1007/s00360-013-0776-x

Day RW, Quinn GP (1989) Comparisons of treatments after an analysis of variance in ecology. Ecol Monogr 59:433–463. https://doi.org/10.2307/1943075

García S, Limón JC, Heredia NL (2001) Cross protection by heat and cold shock to lethal temperatures in Clostridium perfringens. Braz J Microbiol 32:110–112. https://doi.org/10.1590/S1517-83822001000200007

Ghalambor CK, Huey RB, Martin PR, Tewksbury JJ, Wang G (2006) Are mountain passes higher in the tropics? Janzen's hypothesis revisited. Integr Comp Biol 46:5–17. https://doi.org/10.1093/icb/icj003

Ghalambor CK, McKay JK, Carroll SP, Reznick DN (2007) Adaptive versus non-adaptive phenotypic plasticity and the potential for contemporary adaptation in new environments. Funct Ecol 21:394–407. https://doi.org/10.1111/j.1365-2435.2007.01283.x

Gill BJ, Bejakovtch D, Whitaker AH (2001) Records of foreign reptiles and amphibians accidentally imported to New Zealand. N Zeal J Zool 28:351–359. https://doi.org/10.1080/03014223.2001.9518274

Hoskin CJ (2011) The invasion and potential impact of the Asian house gecko (Hemidactylus frenatus) in Australia. Aust Ecol 36:240–251. https://doi.org/10.1111/j.1442-9993.2010.02143.x

Huey R, Hertz P, Sinervo B (2003) Behavioral drive versus behavioral inertia in evolution: a null model approach. Am Nat 161:357–366. https://doi.org/10.1086/346135

Hutchison VH, Maness JD (1979) The role of behavior in temperature acclimation and tolerance in ectotherms. Am Zool 19:367–384. https://doi.org/10.1093/icb/19.1.367

Janzen DH (1967) Why mountain passes are higher in the tropics. Am Nat 101:233–249. https://doi.org/10.1086/282487

Jardine S, Sanchirico J (2018) Estimating the cost of invasive species control. J Environ Econ Manag. https://doi.org/10.1016/j.jeem.2017.07.004

Jeschke J, Strayer D (2008) Usefulness of bioclimatic models for studying climate change and invasive species. Ann N Y Acad Sci 1134:1–24. https://doi.org/10.1196/annals.1439.002

Jiménez-Valverde A, Peterson A, Soberón J, Overton JM, Aragón P, Lobo J (2011) Use of niche models in invasive species risk assessments. Biol Invas 13:2785–2797. https://doi.org/10.1007/s10530-011-9963-4

Kearney M, Phillips BL, Tracy CR, Christian KA, Betts G, Porter WP (2008) Modelling species distributions without using species distributions: the cane toad in Australia under current and future climates. Ecography 31:423–434. https://doi.org/10.1111/j.0906-7590.2008.05457.x

Kelley AL (2014) The role thermal physiology plays in species invasion. Conserv Physiol 2:1. https://doi.org/10.1093/conphys/cou045

Kingsolver JG (2009) The well-temperatured biologist: (American Society of Naturalists Presidential Address). Am Nat 174:755–768. https://doi.org/10.1086/648310

Kolbe JJ, VanMiddlesworth PS, Losin N, Dappen N, Losos JB (2012) Climatic niche shift predicts thermal trait response in one but not both introductions of the Puerto Rican lizard Anolis cristatellus to Miami, Florida, USA. Ecol Evol 2:1503–1516. https://doi.org/10.1002/ece3.263

Kolbe JJ, Ehrenberger JC, Moniz HA, Angilletta MJ Jr (2014) Physiological variation among invasive populations of the brown anole (Anolis sagrei). Physiol Biochem Zool 87:92–104. https://doi.org/10.1086/672157

Leal M, Gunderson AR (2012) Rapid change in the thermal tolerance of a tropical lizard. Am Nat 180:815–822. https://doi.org/10.1086/668077

Leung B, Lodge David M, Finnoff D, Shogren Jason F, Lewis Mark A, Lamberti G (2002) An ounce of prevention or a pound of cure: bioeconomic risk analysis of invasive species. Proc R Soc Lond Ser B Biol Sci 269:2407–2413. https://doi.org/10.1098/rspb.2002.2179

Lever C (2006) Naturalized reptiles and amphibians of the world. Oxford University Press, New York

Llewelyn J, Macdonald SL, Hatcher A, Moritz C, Phillips BL, Franklin J (2016) Intraspecific variation in climate-relevant traits in a tropical rainforest lizard. Divers Distrib 22:1000–1012. https://doi.org/10.1111/ddi.12466

Lockwood JL, Hoopes MF, Marchetti MP (2013) Invasion ecology, 2nd edn. Wiley, Chicester

McCann S, Greenlees MJ, Newell D, Shine R (2014) Rapid acclimation to cold allows the cane toad to invade montane areas within its Australian range. Funct Ecol 28:1166–1174. https://doi.org/10.1111/1365-2435.12255

McNeely JA, Mooney HA, Neville LE, Schei PJ, Waage JK (2001) A global strategy on invasive Alien Species. IUCN Gland, Switzerland, and Cambridge, UK

Ota H, Whitaker AH (2010) Hemidactylus frenatus. The IUCN red list of threatened species 2010: e.T176130A7184890. Accessed 12 April 2017. https://doi.org/10.2305/IUCN.UK.2010-4.RLTS.T176130A7184890.en

Peterson A (2003) Predicting the geography of species' invasions via ecological niche modeling. Q Rev Biol 78:419–433. https://doi.org/10.1086/378926

Phillips BL, Muñoz MM, Hatcher A, Macdonald SL, Llewelyn J, Lucy V, Moritz C (2016) Heat hardening in a tropical lizard: geographic variation explained by the predictability and variance in environmental temperatures. Funct Ecol 30:1161–1168. https://doi.org/10.1111/1365-2435.12609

Pimentel D, Zuniga R, Morrison D (2005) Update on the environmental and economic costs associated with alien-invasive species in the United States. Ecol Econ 52:273–288. https://doi.org/10.1016/j.ecolecon.2004.10.002

Quinn GP, Keough MJ (2002) Experimental design and data analysis for biologists. Cambridge University Press, Cambridge

Rödder D, Solé M, Böhme W (2008) Predict the potential distributions of two alien invasive Housegeckoes (Gekkonidae: Hemidactylus frenatus, Hemidactyus mabouia). N West J Zool 4:236–246

Sakai AK et al (2001) The population biology of invasive species. Annu Rev Ecol Syst 32:305–332. https://doi.org/10.1146/annurev.ecolsys.32.081501.114037

Sejerkilde M, Sørensen JG, Loeschcke V (2003) Effects of cold- and heat hardening on thermal resistance in Drosophila melanogaster. J Insect Physiol 49:719–726. https://doi.org/10.1016/s0022-1910(03)00095-7

Thai Meteorological Department (2019) Climatological data for the period 1981–2010

Urban MC, Richardson JL, Freidenfelds NA (2014) Plasticity and genetic adaptation mediate amphibian and reptile responses to climate change. Evolut Appl 7:88–103. https://doi.org/10.1111/eva.12114

Vimercati G, Davies SJ, Measey J (2018) Rapid adaptive response to a Mediterranean environment reduces phenotypic mismatch in a recent amphibian invader. J Exp Biol 221:174797. https://doi.org/10.1242/jeb.174797
Acknowledgements
We thank Dr. Sansareeya Wangulangkul for permission to use equipment in the herpetological laboratory at the Department of Biology, Prince of Songkla University, and Lalita Srion, Hattaya Jaroensap, Phruetthiphong Phetchuay, and Wanitchaya Tirakunpisut for assistance with gecko collection and husbandry in Thailand. We thank Gemma Armstrong and Theja Abayarathna for helping us to manage the gecko room at the University of Technology Sydney, and Alyssa Trotter for guidance and advice about obtaining biosecurity clearance. The University of Technology Sydney funded this project.
Funding
This project is funded by the University of Technology Sydney as part of the post-graduate research program.
Ethics declarations
Conflict of interest
The authors declare that they have no conflict of interest.
Ethical approval
In Australia, all procedures were performed following an ethical standard under the approval of the University of Technology Sydney Animal Care and Ethics Committee (UTS ACEC ETH17-1588). Lapwong was granted permission to deal with the introduced Hemidactylus frenatus under NSW Biosecurity Act 2015 (Reference number V18/3468). In Thailand, Dejtaradol was granted permission to conduct research involving animals (U1-02470-2559) by the Institute for Animals for Scientific Purpose Development (IAD).
Additional information
Publisher's Note
Springer Nature remains neutral with regard to jurisdictional claims in published maps and institutional affiliations.
Supplementary Information
Below is the link to the electronic supplementary material.
About this article
Cite this article
Lapwong, Y., Dejtaradol, A. & Webb, J.K. Shifts in thermal tolerance of the invasive Asian house gecko (Hemidactylus frenatus) across native and introduced ranges. Biol Invasions 23, 989–996 (2021). https://doi.org/10.1007/s10530-020-02441-z
Received:

Accepted:

Published:

Issue Date:
Keywords
Invasive species

Ectotherm

Thermal biology

Critical thermal

Adaptation

Acclimation