Abstract
Brown rats (Rattus norvegicus) have commensally spread from northern China and Mongolia to become among the most invasive species on the planet. Understanding the proximate source(s) of invasion can inform biosecurity plans and eradication strategies for preventing or mitigating impacts to native biodiversity. The Haida Gwaii archipelago, located off the coast of British Columbia, Canada, is a significant nesting site for 1.5 million seabirds across 12 species, half of which are now threatened by brown rats. Local knowledge points to a European origin in the late 1800's to early 1900's, though the true source(s) and firm date(s) of invasion remain unknown. To fill these knowledge gaps, we analyzed genotypic data (16,598 SNPs) for 280 brown rats sampled throughout Haida Gwaii relative to a published global database of potential source populations. Principle component analysis and population assignment tests supported multiple potential invasion sources from Europe and North America. Likewise, demographic modelling best supported two invasions into the islands. The first invasion likely occurred in the early 1900's into the south-central archipelago from Western Europe followed by a more recent invasion in the early 2000's from Vancouver, British Columbia, into northern Haida Gwaii. The northern invasion of Haida Gwaii could also be indicative of contemporary gene flow between Haida Gwaii and the mainland, representing a significant biosecurity risk. Our results will inform management strategies for invasive rats in Haida Gwaii and serve as a guide for studies in other isolated systems worldwide.
Access options
Buy single article
Instant access to the full article PDF.
US$ 39.95
Tax calculation will be finalised during checkout.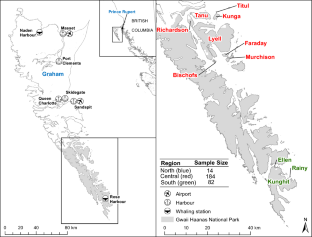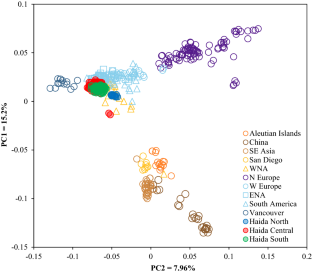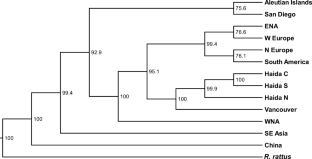 References
Alexander DH, Novembre J, Lange K (2009) Fast model-based estimation of ancestry in unrelated individuals. Genome Res 19:1655–1664

Arim M, Abades SR, Neill PE, Lima M, Marquet PA (2006) Spread dynamics of invasive species. Proc Natl Acad Sci 103:374–378

Armitage PL (1994) Unwelcome companions: ancient rats reviewed. Antiquity 68:231–240

Atkinson IA (1985) The spread of commensal species of Rattus to oceanic islands and their effects on island avifaunas. In: Conservation of island birds: case studies for the management of threatened island species: proceedings of a symposium held at the XVIII ICBP World Conference in Cambridge, England, in August 1982 under the chairmanship of Sir Peter Scott, ICBP technical publication. International Council for Bird Preservation, Cambridge, pp 35–81

Bertram DF, Nagorsen DW (1995) Introduced rats, Rattus spp., on the Queen Charlotte Islands: implications for seabird conservation. Can Field Nat 109:6–10

Blondel L, Baillie L, Quinton J, Alemu JB, Paterson I, Hendry AP et al (2019) Evidence for contemporary and historical gene flow between guppy populations in different watersheds, with a test for associations with adaptive traits. Ecol Evol 9:4504–4517

Brouat C, Tollenaere C, Estoup A, Loiseau A, Sommer S, Soanandrasana R et al (2014) Invasion genetics of a human commensal rodent: the black rat Rattus rattus in Madagascar. Mol Ecol 23:4153–4167

Cabrera AA, Palsbøll PJ (2017) Inferring past demographic changes from contemporary genetic data: a simulation-based evaluation of the ABC methods implemented in diyabc. Mol Ecol Resour 17:e94–e110

Catchen J, Hohenlohe PA, Bassham S, Amores A, Cresko WA (2013) Stacks: an analysis tool set for population genomics. Mol Ecol 22:3124–3140

Chifman J, Kubatko L (2014) Quartet inference from SNP data under the coalescent model. Bioinformatics 30:3317–3324

Clout MN (2002) Biodiversity loss caused by invasive alien vertebrates. Z Für Jagdwiss 48:51–58

Cornuet J-M, Pudlo P, Veyssier J, Dehne-Garcia A, Gautier M, Leblois R et al (2014) DIYABC v2.0: a software to make approximate Bayesian computation inferences about population history using single nucleotide polymorphism, DNA sequence and microsatellite data. Bioinformatics 30:1187–1189

COSEWIC (2015) COSEWIC annual report. The Committee on the Status of Endangered Wildlife in Canada, Ottawa

Danecek P, Auton A, Abecasis G, Albers CA, Banks E, DePristo MA et al (2011) The variant call format and VCFtools. Bioinformatics 27:2156–2158

Excoffier L, Dupanloup I, Huerta-Sánchez E, Sousa VC, Foll M (2013) Robust demographic inference from genomic and SNP data (JM Akey, Ed.). PLoS Genet 9:e1003905

Ford JKB (2014) Marine mammals of British Columbia. Royal British Columbia Museum, Victoria

Frankham R (2005) Resolving the genetic paradox in invasive species. Heredity 94:385–385

Fukami T, Wardle DA, Bellingham PJ, Mulder CPH, Towns DR, Yeates GW et al (2006) Above- and below-ground impacts of introduced predators in seabird-dominated island ecosystems. Ecol Lett 9:1299–1307

Galbraith L, Whittaker C, Guujaaw N, Ames C, Firelight Research Inc. (2017) Survery of local vessel traffic in Haida Gwaii. The Firelight Group, Vancouver

Galinsky KJ, Bhatia G, Loh P-R, Georgiev S, Mukherjee S, Patterson NJ et al (2016) Fast principal-component analysis reveals convergent evolution of ADH1B in Europe and East Asia. Am J Hum Genet 98:456–472

Gaston AJ, Golumbia TE, Martin J-L, Sharpe ST (2008). Lessons from the islands: introduced species and what they tell us about how ecosystems work. In: Proc Res Group Introd Species 2002 Symp Queen Charlotte City Queen Charlotte Isl Br Columbia Can Wildl Serv Spec Publ Environ Can Ott

Geng Q, Sun L, Zhang P, Wang Z, Qiu Y, Liu H et al (2017) Understanding population structure and historical demography of Litsea auriculata (Lauraceae), an endangered species in east China. Sci Rep 7:1–16

Golumbia TE (1999) Introduced species management in Haida Gwaii (Queen Charlotte Islands). In: Proc Conf Biol Manag Species Habitats Risk Kamloops BC, vol 1, pp 327–332

Guillemaud T, Beaumont MA, Ciosi M, Cornuet J-M, Estoup A (2010) Inferring introduction routes of invasive species using approximate Bayesian computation on microsatellite data. Heredity 104:88–99

Harfenist A (2003) Seabird colonies background report for the Haida Gwaii/Queen Charlotte Islands land use plan. Ministry of Sustainable Resource Management

Harper GA, Bunbury N (2015) Invasive rats on tropical islands: their population biology and impacts on native species. Glob Ecol Conserv 3:607–627

Howald G, Donlan CJ, Galván JP, Russell JC, Parkes J, Samaniego A et al (2007) Invasive rodent eradication on islands. Conserv Biol 21:1258–1268

Hulme PE (2009) Trade, transport and trouble: managing invasive species pathways in an era of globalization. J Appl Ecol 46:10–18

Jones HP, Tershy BR, Zavaleta ES, Croll DA, Keitt BS, Finkelstein ME et al (2008) Severity of the effects of invasive rats on seabirds: a global review: effects of Rats on Seabirds. Conserv Biol 22:16–26

Jones HP, Holmes ND, Butchart SH, Tershy BR, Kappes PJ, Corkery I et al (2016) Invasive mammal eradication on islands results in substantial conservation gains. Proc Natl Acad Sci USA 113:4033–4038

Keller SR, Gilbert KJ, Fields PD, Taylor DR (2012) Bayesian inference of a complex invasion history revealed by nuclear and chloroplast genetic diversity in the colonizing plant, Silene latifolia. Mol Ecol 21:4721–4734

Kolbe JJ, Glor RE, Rodríguez Schettino L, Lara AC, Larson A, Losos JB (2004) Genetic variation increases during biological invasion by a Cuban lizard. Nature 431:177–181

Kubatko LS, Gibbs HL, Bloomquist EW (2011) Inferring species-level phylogenies and taxonomic distinctiveness using multilocus data in Sistrurus rattlesnakes. Syst Biol 60:393–409

Langmead B, Salzberg SL (2012) Fast gapped-read alignment with Bowtie 2. Nat Methods 9:357–359

Li H (2011) A statistical framework for SNP calling, mutation discovery, association mapping and population genetical parameter estimation from sequencing data. Bioinformatics 27:2987–2993

Li H, Handsaker B, Wysoker A, Fennell T, Ruan J, Homer N et al (2009) The Sequence Alignment/Map format and SAMtools. Bioinformatics 25:2078–2079

Lillard C (1995) Just east of sundown: the Queen Charlotte Islands. Horsdal & Schubart, Victoria, B.C.

Lombaert E, Guillemaud T, Thomas CE, Handley LJL, Li J, Wang S et al (2011) Inferring the origin of populations introduced from a genetically structured native range by approximate Bayesian computation: case study of the invasive ladybird Harmonia axyridis. Mol Ecol 20:4654–4670

Meirmans PG (2020) GenoDive version 3.0: Easy-to-use software for the analysis of genetic data of diploids and polyploids. Mol Ecol Resour 20:1126–1131

Meirmans PG, Tienderen PHV (2004) Genotype and genodive: two programs for the analysis of genetic diversity of asexual organisms. Mol Ecol Notes 4:792–794

Mulder CPH, Grant-Hoffman MN, Towns DR, Bellingham PJ, Wardle DA, Durrett MS et al (2009) Direct and indirect effects of rats: does rat eradication restore ecosystem functioning of New Zealand seabird islands? Biol Invasions 11:1671–1688

Osgood WH (1901) Natural history of the Queen Charlotte islands, British Columbia. Government Printing Office, Washington

Patterson N, Price AL, Reich D (2006) Population structure and eigenanalysis. PLOS Genet 2:e190

Peterson BK, Weber JN, Kay EH, Fisher HS, Hoekstra HE (2012) Double digest RADseq: An inexpensive method for de novo SNP discovery and genotyping in model and non-model species (L Orlando, Ed.). PLoS ONE 7:e37135

Piry S, Alapetite A, Cornuet J-M, Paetkau D, Baudouin L, Estoup A (2004) GENECLASS2: a software for genetic assignment and first-generation migrant detection. J Hered 95:536–539

Prentis PJ, Wilson JRU, Dormontt EE, Richardson DM, Lowe AJ (2008) Adaptive evolution in invasive species. Trends Plant Sci 13:288–294

Price AL, Patterson NJ, Plenge RM, Weinblatt ME, Shadick NA, Reich D (2006) Principal components analysis corrects for stratification in genome-wide association studies. Nat Genet 38:904

Pritchard JK, Stephens M, Donnelly P (2000) Inference of population structure using multilocus genotype data. Genetics 155:945–959

Puckett EE, Munshi-South J (2019) Brown rat demography reveals pre-commensal structure in eastern Asia before expansion into Southeast Asia. Genome Res 29:762–770

Puckett EE, Park J, Combs M, Blum MJ, Bryant JE, Caccone A et al (2016) Global population divergence and admixture of the brown rat (Rattus norvegicus). Proc R Soc B Biol Sci 283:20161762

Puckett EE, Micci-Smith O, Munshi-South J (2018) Genomic analyses identify multiple Asian origins and deeply diverged mitochondrial clades in inbred brown rats (Rattus norvegicus). Evol Appl 11:718–726

Purcell S, Neale B, Todd-Brown K, Thomas L, Ferreira MAR, Bender D et al (2007) PLINK: a tool set for whole-genome association and population-based linkage analyses. Am J Hum Genet 81:559–575

Rannala B, Mountain JL (1997) Detecting immigration by using multilocus genotypes. Proc Natl Acad Sci 94:9197–9201

Sakai AK, Allendorf FW, Holt JS, Lodge DM, Molofsky J, With KA et al (2001) The population biology of invasive species. Annu Rev Ecol Syst 32:305–332

Sjodin BMF, Irvine RL, Ford AT, Howald GR, Russello MA (2020) Rattus population genomics across the Haida Gwaii archipelago provides a framework for guiding invasive species management. Evol Appl 13:889–904

Smith AT, Xie Y, Hoffmann RS, Lunde D, MacKinnon J, Wilson DE et al (2010) A guide to the mammals of China. Princeton University Press, Princeton

Swofford DL (2003) PAUP*. Phylogenetic analysis using parsimony (*and other methods). Sinauer Associates, Sunderland

Teng H, Zhang Y, Shi C, Mao F, Cai W, Lu L et al (2017) Population genomics reveals speciation and introgression between brown Norway rats and their sibling species. Mol Biol Evol 34:2214–2228

Towns DR, Wardle DA, Mulder CPH, Yeates GW, Fitzgerald BM, Parrish GR et al (2009) Predation of seabirds by invasive rats: multiple indirect consequences for invertebrate communities. Oikos 118:420–430

Trigger BG, Washburn WE, Adams REW (eds) (1996) The Cambridge history of the native peoples of the Americas. Cambridge University Press, Cambridge

Verneau O, Catzeflis F, Furano AV (1998) Determining and dating recent rodent speciation events by using L1 (LINE-1) retrotransposons. Proc Natl Acad Sci 95:11284–11289

Waters JM, Fraser CI, Hewitt GM (2013) Founder takes all: density-dependent processes structure biodiversity. Trends Ecol Evol 28:78–85

Wright S (1931) Evolution in Mendelian populations. Genetics 16:97–159
Acknowledgements
We thank Gwaii Haanas, Parks Canada employees Goox Beaton, Chris Ashurst, Charlotte Houston, Richard Kennedy and many others for their original collection of the majority of field samples. Computational resources were made available by Compute Canada through the Resources for Research Groups program to MR. This work was funded by Parks Canada Agreement # GC-853 and the Natural Sciences and Engineering Research Council of Canada (NSERC), Discovery Grant # RGPIN- 2019-04621 to MR.
Additional information
Publisher's Note
Springer Nature remains neutral with regard to jurisdictional claims in published maps and institutional affiliations.
Electronic supplementary material
Below is the link to the electronic supplementary material.
Topology for competing demographic scenarios (n = 24) modelling the origin of invasive brown rats in Haida Gwaii. All modelling was performed in DIYABC v2.1.0. Each branch point represents an invasion event. Abbreviations are as follows: (WER) Western Europe; (WNA) Western North America; (VAN) Vancouver; (HN) Haida Gwaii, northern cluster; (HC) Haida Gwaii, central cluster; and (HS) Haida Gwaii, southern cluster. Location of timing parameters (t) are shown to the left of each model. The model with the highest posterior probability is indicated with an asterisk (*) (TIFF 3273 kb)
Comparison of admixture coefficients for brown rats (n = 302) sampled across a global distribution. Coefficients were calculated at k = 10 using Admixture v1.3.0 and averaged across 20 iterations. Analysis was repeated using the full SNP dataset (31k; n = 31,266 loci), and subset datasets (17k = 16,598 loci; 5k = 5000 loci). Abbreviation definitions are as follows: (ALN) Aleutian Islands; (CHI) China; (SEA) Southeast Asia; (NER) Northern Europe; (WER) Western Europe; (WNA) Western North America; (ENA) Eastern North America; (SAM) South America; (SND) San Diego; and (VAN) Vancouver (TIFF 466 kb)
About this article
Cite this article
Sjodin, B.M.F., Puckett, E.E., Irvine, R.L. et al. Global origins of invasive brown rats (Rattus norvegicus) in the Haida Gwaii archipelago. Biol Invasions 23, 611–623 (2021). https://doi.org/10.1007/s10530-020-02390-7
Received:

Accepted:

Published:

Issue Date:
Keywords
Invasive species

Island ecosystem

Phylogeography

Population genomics

Conservation