Abstract
The blue-tailed skink (Cryptoblepharus egeriae) is endemic to Christmas Island but underwent rapid population declines in the 1990s and 2000s and was listed as Extinct in the Wild in 2017. As invasive giant centipedes (Scolependra subspinipes) were implicated as a cause of a failed reintroduction of captive bred skinks into a fenced enclosure, we undertook a mesocosm experiment to investigate if skink survival and body condition was negatively affected by the presence and density of S. subspinipes. In addition, we used DNA barcoding to determine if wild centipedes consume other reptile species on Christmas Island. In the mesocosm experiments, survival of skinks was reduced by 30% and 44% at low and high centipede densities respectively over 12 weeks, and skink body condition also declined significantly over this period. DNA barcoding confirmed that skinks that were lost during the mesocosm experiment had been consumed by centipedes. Further, we detected DNA of two invasive reptiles (the common wolf snake Lycodon capucinus and the Asian House gecko Hemidactylus frenatus) in the stomachs of wild-caught centipedes, suggesting that centipedes are a generalist predator of reptiles in this island ecosystem. Based on these results, we recommend that attempts to reintroduce C. egeriae to Christmas Island should include the control of centipedes to increase the likelihood of success.
Access options
Buy single article
Instant access to the full article PDF.
US$ 39.95
Tax calculation will be finalised during checkout.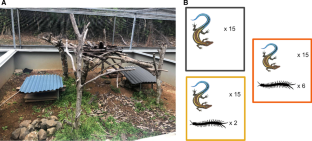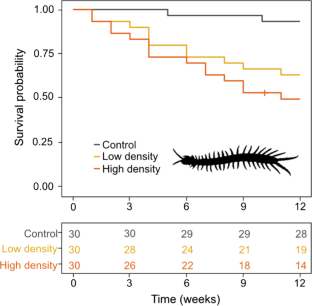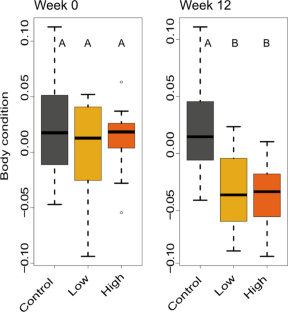 References
Abbott KL (2006) Spatial dynamics of supercolonies of the invasive yellow crazy ant, Anoplolepis gracilipes, on Christmas Island, Indian Ocean. Divers Distrib 12:101–110. https://doi.org/10.1111/j.1366-9516.2006.00193.x

Amo L, López P, Martı J (2006) Nature-based tourism as a form of predation risk affects body condition and health state of Podarcis muralis lizards. Biol Conserv 131:402–440

Andrew P et al (2018) Somewhat saved: a captive breeding programme for two endemic Christmas Island lizard species, now extinct in the wild. Oryx 52:171–174. https://doi.org/10.1017/S0030605316001071

Anson JR, Dickman CR, Boonstra R, Jessop TS, Somers M (2013) Stress triangle: do introduced predators exert indirect costs on native predators and prey? PLoS One 8:e60916

Anthony C, Hickerson C, Venesky M (2007) Responses of juvenile terrestrial salamanders to introduced (Lithobius forficatus) and native centipedes (Scolopocryptops sexspinosus). J Zool 271:54–62. https://doi.org/10.1111/j.1469-7998.2006.00202.x

Arsovski D et al (2014) Two fangs good, a hundred legs better: juvenile viper devoured by an adult centipede it had ingested. Ecol Montenegrina 1:6–8

Bates D, Mächler M, Bolker B, Walker S (2014) Fitting linear mixed-effects models using lme4. arXiv preprint arXiv:1406.5823

Batson S, Greenall G, Hudson P (2016) Review of the reporting of survival analyses within randomised controlled trials and the implications for meta-analysis. PLoS ONE 11(5):e0154870. https://doi.org/10.1371/journal.pone.0154870

Bewick V, Cheek L, Ball J (2004) Statistics review 12: survival analysis. Crit Care 8:389

Bradshaw CJ, Davis LS, Lalas C, Harcourt RG (2000) Geographic and temporal variation in the condition of pups of the New Zealand fur seal (Arctocephalus forsteri): evidence for density dependence and differences in the marine environment. J Zool 252:41–51. https://doi.org/10.1111/j.1469-7998.2000.tb00818.x

Carpenter CC, Gillingham JC (1984) Giant centipede (Scolopendra alternans) attacks marine toad (Bufo marinus). Caribb J Sci 20:71–72

Carthey AJ, Banks PB (2014) Naïveté in novel ecological interactions: lessons from theory and experimental evidence. Biol Rev 89:932–949. https://doi.org/10.1111/brv.12087

Clulow S, Gould J, James H, Stockwell M, Clulow J, Mahony M (2018) Elevated salinity blocks pathogen transmission and improves host survival from the global amphibian chytrid pandemic: Implications for translocations. J Appl Ecol 55:830–840

Courchamp F, Chapuis J-L, Pascal M (2003) Mammal invaders on islands: impact, control and control impact. Biol Rev 78:347–383. https://doi.org/10.1017/S1464793102006061

Doherty TS, Dickman CR, Nimmo DG, Ritchie EG (2015) Multiple threats, or multiplying the threats? Interactions between invasive predators and other ecological disturbances. Biol Conserv 190:60–68. https://doi.org/10.1016/j.biocon.2015.05.013

Doherty TS, Glen AS, Nimmo DG, Ritchie EG, Dickman CR (2016) Invasive predators and global biodiversity loss. Proc Natl Acad Sci USA 113:11261–11265. https://doi.org/10.1073/pnas.1602480113

Drummond AJ, Ashton B, Buxton S, Cheung M, Cooper A, Duran C, Field M, Heled J, Kearse M, Markowitz S, Moir R, Stones-Havas S, Sturrock S, Thierer T, Wilson A (2011) Geneious v5.4, https://www.geneious.com/

Emery, J, Mitchell N, Cogger H, Agius J, Andrew P, Detto T, Driscoll D, Flakus S, Green P, Harlow P, McFadden M, Pink C, Retallick K, Rose K, Sleeth M, Tiernan B, Valentine LE, Woinarski, JZ (2020) The lost lizards of Christmas Island: a retrospective assessment of factors driving the collapse of a native reptile community. Conserv Sci Pract (In revision)

Fordham DA, Brook BW (2010) Why tropical island endemics are acutely susceptible to global change. Biodivers Conserv 19:329–342. https://doi.org/10.1007/s10531-008-9529-7

Forti L, Fischer H, Encarnação L (2007) Treefrog Dendropsophus elegans (Wied-Neuwied, 1824) (Anura: Hylidae) as a meal to Otostigmus tibialis Brölemann, 1902 (Chilopoda: Scolopendridae) in the Tropical Rainforest in southeastern Brazil. Braz J Biol 67:583–584. https://doi.org/10.1590/S1519-69842007000300028

Gérard A, Jourdan H, Cugnière C, Millon A, Vidal E (2014) Is naïveté forever? Alien predator and aggressor recognition by two endemic island reptiles. Sci Nat 101:921–927. https://doi.org/10.1007/s00114-014-1233-8

Green AJ (2001) Mass/length residuals: measures of body condition or generators of spurious results? Ecology 82:1473–1483. https://doi.org/10.1890/00129658(2001)082[1473:MLRMOB]2.0.CO;2

Green PT, O'Dowd DJ, Abbott KL, Jeffery M, Retallick K, Mac Nally R (2011) Invasional meltdown: invader–invader mutualism facilitates a secondary invasion. Ecology 92:1758–1768. https://doi.org/10.1890/11-0050.1

Hansen DM, Müller CB (2009) Invasive ants disrupt gecko pollination and seed dispersal of the endangered plant Roussea simplex in Mauritius. Biotropica 41:202–208. https://doi.org/10.1111/j.1744-7429.2008.00473.x

Hoare J, Pledger S, Keall S, Nelson N, Mitchell N, Daugherty C (2006) Conservation implications of a long-term decline in body condition of the Brothers Island tuatara (Sphenodon guntheri). Anim Conserv 9:456–462. https://doi.org/10.1111/j.1469-1795.2006.00061.x

Hosseini R, Schmidt O, Keller MA (2008) Factors affecting detectability of prey DNA in the gut contents of invertebrate predators: a polymerase chain reaction-based method. Entomol Exp Appl 126:194–202. https://doi.org/10.1111/j.1570-7458.2007.00657.x

Hothorn T, Bretz F, Westfall P (2008) Simultaneous inference in general parametric models. Biom J J Math Methods Biosci 50:346–363. https://doi.org/10.1002/bimj.200810425

Jackson K, Fritts T (2004) Dentitional specialisations for durophagy in the Common Wolf snake, Lycodon aulicus capucinus. Amphibia-Reptilia 25:247–254

James D, Green P, Humphreys W, Woinarski J (2019) Endemic species of Christmas Island, Indian Ocean. Rec West Aust Mus 55:114

Jeschke JM, Strayer DL (2005) Invasion success of vertebrates in Europe and North America. Proc Natl Acad Sci USA 102:7198–7202. https://doi.org/10.1073/pnas.0501271102

Kenis M et al (2009) Ecological effects of invasive alien insects. Biol Invasions 11:21–45. https://doi.org/10.1007/s10530-008-9318-y

LaPointe DA, Atkinson CT, Samuel MD (2012) Ecology and conservation biology of avian malaria. Ann N Y Acad Sci 1249:211–226. https://doi.org/10.1111/j.1749-6632.2011.06431.x

Lima SL, Bednekoff PA (1999) Temporal variation in danger drives antipredator behavior: the predation risk allocation hypothesis. Am Nat 153:649–659. https://doi.org/10.1086/303202

Lima SL, Dill LM (1990) Behavioural decisions made under the risk of predation: a review and prospectus. Can J zool 68:619–640. https://doi.org/10.1139/z90-092

Lindenmayer DB, Clark TW, Lacy RC, Thomas VC (1993) Population viability analysis as a tool in wildlife conservation policy: with reference to Australia. Environ Manag 17:745–758. https://doi.org/10.1007/BF02393895

Lindley TT, Molinari J, Shelley RM, Steger BN (2017) A fourth account of centipede (Chilopoda) predation on bats. Insecta mundi 0573:1–4

Maljkovic A, Jones C, Cottingham J, Lewis J, Wenman E, Daszak P (2010) Field observations on three scolopendrid centipedes from Mauritius and Rodrigues (Indian Ocean)(Chilopoda: Scolopendromorpha). Int J Myriap 3:123–137. https://doi.org/10.1163/187525410X12578602960425

Medina FM et al (2011) A global review of the impacts of invasive cats on island endangered vertebrates. Glob Chang Biol 17:3503–3510. https://doi.org/10.1111/j.1365-2486.2011.02464.x

Molinari J, Gutiérrez EE, Ascenção A, Nassar JM, Arends A, Márquez RJ (2005) Predation by giant centipedes, Scolopendra gigantea, on three species of bats in a Venezuelan cave. Caribb J Sci 41:340–346

Nordberg EJ, Edwards L, Schwarzkopf L (2018) Terrestrial invertebrates: an underestimated predator guild for small vertebrate groups. Food Webs 15:e00080. https://doi.org/10.1016/j.fooweb.2018.e00080

Nyffeler M, Knörnschild M (2013) Bat predation by spiders. PLoS ONE 8(3):e58120. https://doi.org/10.1371/journal.pone.0058120

O'Dowd DJ, Green PT, Lake PS (2003) Invasional 'meltdown' on an oceanic island. Ecol Lett 6:812–817. https://doi.org/10.1046/j.1461-0248.2003.00512.x

Pike DA, Croak BM, Webb JK, Shine R (2010) Context-dependent avoidance of predatory centipedes by nocturnal geckos (Oedura lesueurii). Behaviour 147:397–412

R Core Team (2013) R: A language and environment for statistical computing

Reaser JK et al (2007) Ecological and socioeconomic impacts of invasive alien species in island ecosystems. Environ Conserv 34:98–111. https://doi.org/10.1017/S0376892907003815

Rodríguez-Prieto I, Martín J, Fernández-Juricic E (2010) Habituation to low-risk predators improves body condition in lizards. Behav Ecol Sociobiol 64:1937–1945. https://doi.org/10.1007/s00265-010-1004-2

Rumpff HJ (1992) Distribution, population, structure and ecological behaviour of the introduced South-east Asian Wolf Snake, Lycodon Aulicus Capucinus on Christmas Island, Indian Ocean. H. Rumpff

Salo P, Korpimäki E, Banks PB, Nordström M, Dickman CR (2007) Alien predators are more dangerous than native predators to prey populations. Proc R Soc Lond [Biol] 274:1237–1243. https://doi.org/10.1098/rspb.2006.0444

Sax DF, Gaines SD (2008) Species invasions and extinction: the future of native biodiversity on islands. Proc Natl Acad Sci USA 105:11490–11497. https://doi.org/10.1073/pnas.0802290105

Sheppard S, Bell J, Sunderland K, Fenlon J, Skervin D, Symondson W (2005) Detection of secondary predation by PCR analyses of the gut contents of invertebrate generalist predators. Mol Ecol 14:4461–4468. https://doi.org/10.1111/j.1365-294X.2005.02742.x

Sheppard S, Harwood J (2005) Advances in molecular ecology: tracking trophic links through predator–prey food-webs. Funct Ecol 19:751–762. https://doi.org/10.1111/j.1365-2435.2005.01041.x

Sih A et al (2010) Predator–prey naïveté, antipredator behavior, and the ecology of predator invasions. Oikos 119:610–621. https://doi.org/10.1111/j.1600-0706.2009.18039.x

Simberloff D et al (2013) Impacts of biological invasions: what's what and the way forward. Trends Ecol Evol 28:58–66. https://doi.org/10.1016/j.tree.2012.07.013

Smart U, Patel P, Pattanayak P (2010) 14 Scolopendra hardwickei (Newport, 1844) feeding on Oligodon taeniolatus (Jerdon, 1853) in the scrub jungles of Pondicherry, southern India. J Bombay Nat Hist Soc 107:68

Smith L (1988) Lycodon aulicus capucinus a colubrid snake introduced to Christmas Island, Indian Ocean. Rec West Aust Mus 14:251–252

Smith MJ et al (2012) An oceanic island reptile community under threat: the decline of reptiles on Christmas Island, Indian Ocean. Herpetol Conserv Bio 7:206–218

Therneau T (2015) A Package for Survival Analysis in S. version 2.38

Tingley R, Macdonald SL, Mitchell NJ, Woinarski JCZ, Meiri S, Bowles P et al (2019) Geographic and taxonomic patterns of extinction risk in Australian squamates. Biol Conserv 238:10820

Vitousek PM, D'antonio CM, Loope LL, Rejmanek M, Westbrooks R (1997) Introduced species: a significant component of human-caused global change. N Z J Ecol 21:1–16

Waldock JM, Lewis JG (2014) Recent collections of centipedes from Christmas Island (Myriapoda: Chilopoda). Raffles Bull Zool 30:71–80

White PCL, Ford AES, Clout MN, Engeman RM, Roy S, Saunders G (2008) Alien invasive vertebrates in ecosystems: pattern, process and the social dimension. Wildl Res 35:171–179. https://doi.org/10.1071/WR08058

Woinarski J (2018) A bat's end: the Christmas Island pipistrelle and extinction in Australia. CSIRO PUBLISHING

Wyatt KB, Campos PF, Gilbert MTP, Kolokotronis S-O, Hynes WH, DeSalle R et al (2008) Historical mammal extinction on Christmas Island (Indian Ocean) correlates with introduced infectious disease. PLoS ONE 3:e3602. https://doi.org/10.1371/journal.pone.0003602
Acknowledgements
We thank the staff from Parks Australia; particularly Kent Retallick, Brendan Tiernan and Samantha Flakus who provided the skinks and the exclosures with which to undertake our experiment. We also thank Karrie Rose for assistance with animal ethics approval, Hamish Burnett, Harry Moore and Felicity Evans for fieldwork support, Joel Moffatt and Kristen Schubert for assistance with analysis of centipede gut-contents, Harold Cogger for his input into project design, and Alana De laive for providing the blue-tailed skink artwork.
Funding
This study recieved support from the Australian Government's National Environmental Science Program through the Threatened Species Recovery Hub and the Holsworth Wildlife Research Endowment. Comments from the two reviewers also greatly improved this manuscript.
Ethics declarations
Conflict of interest
The authors declare they have no conflict of interest.
Ethical approval
The research was approved by the Taronga Conservation Society Australia: AEC protocol 4b/12/17 and by Parks Australia (permit number CINP_2017_07).
Additional information
Publisher's Note
Springer Nature remains neutral with regard to jurisdictional claims in published maps and institutional affiliations.
Electronic supplementary material
Below is the link to the electronic supplementary material.
About this article
Cite this article
Emery, JP., Valentine, L.E., Hitchen, Y. et al. Survival of an Extinct in the Wild skink from Christmas Island is reduced by an invasive centipede: implications for future reintroductions. Biol Invasions 23, 581–592 (2021). https://doi.org/10.1007/s10530-020-02386-3
Received:

Accepted:

Published:

Issue Date:
Keywords
Christmas Island

Blue-tailed skink

Scolependra subspinipes

Survival

Invasive species

Mesocosm