Abstract
The prey naiveté hypothesis (PNH) posits that prey will often fail to recognize and respond to introduced predators with whom they do not share a co-evolutionary history. We tested this hypothesis by examining anti-predator behaviour in the native characid fish Astyanax ruberrimus in response to its main native (Hoplias microlepis) and introduced (Cichla monoculus) fish predators in Panama. We observed the behaviour of wild-caught A. ruberrimus from an invaded and uninvaded site following exposure to chemical stimuli from: (1) injured conspecifics, (2) the native predator, and (3) the introduced predator. We found, first, that A. ruberrimus consistently responded to cues from injured conspecifics, suggesting that this species possesses an alarm signaling mechanism similar to that observed across Ostariophysan fishes. Second, A. ruberrimus responded to cues from their native predator, but only in one population, suggesting responses may be threat-sensitive. Third, A. ruberrimus lacking prior exposure to C. monoculus did not respond to cues from this predator, consistent with the PNH. In contrast, A. ruberrimus that have co-occurred with C. monoculus for several decades did respond to cues from this predator, suggesting that prior exposure to C. monoculus has led (either via local adaptation or learning) to acquired predator recognition. Overall, our findings are consistent with the PNH, although we cannot conclusively rule out alternate explanations for the observed differences between populations. Our work represents a first step towards understanding the role that behavioural naiveté may have played in the initial stages of this important tropical freshwater introduction.
Access options
Buy single article
Instant access to the full article PDF.
US$ 39.95
Tax calculation will be finalised during checkout.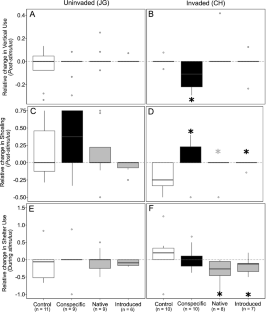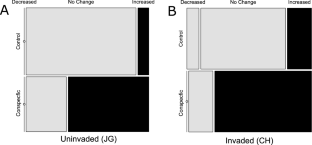 References
Angermeier PL, Karr JR (1983) Fish communities along environmental gradients in a system of tropical streams. Environ Biol Fishes 9:117–135. https://doi.org/10.1007/BF00690857

Anton A, Cure K, Layman CA et al (2016) Prey naiveté to invasive lionfish Pterois volitans on Caribbean coral reefs. Mar Ecol Prog Ser 544:257–269. https://doi.org/10.3354/meps11553

Anton A, Geraldi NR, Ricciardi A, Dick JTA (2020) Global determinants of prey naiveté to exotic predators. Proc Biol Sci 287:20192978. https://doi.org/10.1098/rspb.2019.2978

Banks PB, Dickman CR (2007) Alien predation and the effects of multiple levels of prey naivete. Trends Ecol Evol 22:229–230. https://doi.org/10.1016/j.tree.2007.02.003

Blackburn TM, Cassey P, Duncan RP et al (2004) Avian extinction and mammalian introductions on oceanic islands. Science (80-) 305:1955–1958. https://doi.org/10.1126/science.1101617

Breder CM (1927) The fishes of the Rio Chucunaque Drainage, Eastern Panama. In: Bulletin of the American Museum of Natural History. pp 91–176

Brown GE (2003) Learning about danger: chemical alarm cues and local risk assessment in prey fishes. Fish Fish 4:227–234. https://doi.org/10.1046/j.1467-2979.2003.00132.x

Brown E, Smith JF (1996) Foraging trade-offs in fathead minnows (Pimephales promelas, Osteichthyes, Cyprinidae): acquired predator recognition in the absence of an alarm response. Ethology 77:776–785

Brown GE, Chivers DP, Jan F, Smith R (1997) Differential learning rates of chemical versus visual cues of a northern pike by fathead minnows in a natural habitat. Environ Biol Fishes 49:89–96. https://doi.org/10.1023/A:1007302614292

Brown GE, Ferrari MCO, Malka PH et al (2013) Retention of acquired predator recognition among shy versus bold juvenile rainbow trout. Behav Ecol Sociobiol 67:43–51. https://doi.org/10.1007/s00265-012-1422-4

Carthey AJR, Banks PB (2014) Naïveté in novel ecological interactions: lessons from theory and experimental evidence. Biol Rev 89:932–949. https://doi.org/10.1111/brv.12087

Chapman LJ, Chapman CA, Kaufman L et al (2008) Biodiversity conservation in African inland waters: lessons of the Lake Victoria region. Verh Int Verein Limnol 30:16–34

Chivers DP, Smith JF (1994) Fathead minnows, Pimephales promelas, acquire predator recognition when alarm substance is associated with the sight of unfamiliar fish. Anim Behav 48:597–605

Chivers DP, Smith RJF (1998) Chemical alarm signalling in aquatic predator-prey systems: a review and prospectus. Ecoscience 5:338–352. https://doi.org/10.1080/11956860.1998.11682471

Cox JG, Lima SL (2006) Naiveté and an aquatic-terrestrial dichotomy in the effects of introduced predators. Trends Ecol Evol 21:674–680. https://doi.org/10.1016/j.tree.2006.07.011

Diamond JM, Case TJJ (1986) Overview: introductions, extinctions, exterminations, and invasions. Community Ecology. Harper and Row Publishers, New York, pp 65–79

Dudgeon D, Arthington AH, Gessner MO et al (2006) Freshwater biodiversity: importance, threats, status and conservation challenges. Biol Rev 81:163–182. https://doi.org/10.1017/S1464793105006950

Dunlop-Hayden KL, Rehage JS (2011) Antipredator behaviour and cue recognition by multiple Everglades prey to a novel cichlid predator. Behaviour 148:795–823. https://doi.org/10.1163/000579511X577256

Ferrari MCO, Wisenden BD, Chivers DP (2010) Chemical ecology of predator-prey interactions in aquatic ecosystems: a review and prospectus. Can J Zool 88:698–724. https://doi.org/10.1139/Z10-029

Fricke D (1987) Reaction to alarm substance in cave populations of Astyanax fasciatus (Characidae, Pisces). Ethology 76:305–308. https://doi.org/10.1111/j.1439-0310.1987.tb00691.x

Hall SR, Mills EL (2000) Exotic species in large lakes of the world. Aquat Ecosyst Health Manag 3:105–135

Helfman GS (1989) Threat-sensitive predator avoidance in damselfish-trumpetfish interactions. Behav Ecol Sociobiol 24:47–58

Hildebrand SF (1938) A new catalogue of the freshwater fishes of Panama

Huizinga M, Ghalambor CK, Reznick DN (2009) The genetic and environmental basis of adaptive differences in shoaling behaviour among populations of Trinidadian guppies, Poecilia reticulata. J Evol Biol 22:1860–1866. https://doi.org/10.1111/j.1420-9101.2009.01799.x

Kats LB, Dill LM (1998) The scent of death: chemosensory assessment of predation risk by prey animals. Ecoscience 5:361–394. https://doi.org/10.1080/11956860.1998.11682468

Kaufman L, Ochumba P (1993) Evolutionary and conservation biology of cichlid fishes as revealed by faunal remnants in Northern Lake Victoria. Conserv Biol 7:719–730

Kiesecker JM, Blaustein AR (1997) Population differences in responses of red-legged frogs (Rana aurora) to introduced bullfrogs. Ecology 78:1752–1760. https://doi.org/10.2307/2266098

Kovalenko KE, Dibble ED, Agostinho AA, Pelicice FM (2010) Recognition of non-native peacock bass, Cichla kelberi by native prey: testing the naiveté hypothesis. Biol Invasions 12:3071–3080. https://doi.org/10.1007/s10530-010-9698-7

Kramer DL, Bryant MJ (1995) Intestine length in the fishes of a tropical stream: 2. Relationships to diet—the long and short of a convoluted issue. Environ Biol Fishes 42:129–141. https://doi.org/10.1007/BF00001991

Kristensen EA, Closs GP (2004) Anti-predator response of naïve and experienced common bully to chemical alarm cues. J Fish Biol 64:643–652. https://doi.org/10.1111/j.1095-8649.2004.00328.x

Kullander SO, Ferreira E (2006) A review of the South American cichlid genus Cichla, with descriptions of nine new species (Teleostei: Cichlidae). Icthyol Explor Freshw 17:289–398

Latini AO, Petrere M (2004) Reduction of a native fish fauna by alien species: an example from Brazilian freshwater tropical lakes. Fish Manag Ecol 11:71–79. https://doi.org/10.1046/j.1365-2400.2003.00372.x

Lawrence BJ, Smith RJF (1989) Behavioural response of solitary fathead minnows, Pimephales promelas, to alarm substance. J Chem Ecol 15:209–219. https://doi.org/10.1007/BF02027783

Lévêque C, Oberdorff T, Paugy D et al (2008) Global diversity of fish (Pisces) in freshwater. Hydrobiologia 595:545–567. https://doi.org/10.1007/978-1-4020-8259-7

Lima SL, Dill LM (1990) Behavioural decisions made under the risk of predation: a review and prospectus. Can J Zool 68:619–640. https://doi.org/10.1139/z90-092

Lowe-McConnell RH (1993) Fish faunas of the African great lakes: origins, diversity, and vulnerability. Conserv Biol 7:634–643. https://doi.org/10.1046/j.1523-1739.1993.07030634.x

Lozada M, Ortubay S, Cussac V (2000) Fright reaction in Gymnocharacinus bergi (Pisces, Characidae), a relic fish from Patagonia. Environ Biol Fishes 58:227–232. https://doi.org/10.1023/A:1007630728551

Magurran AE (1989) Acquired recognition of predator odour in the European Minnow (Phoxinus phoxinus). Ethology 223:216–223

Magurran AE (1990a) The adaptive significance of schooling as an anti-predator defence in fish. Ann Zool Fenn 27:51–66

Magurran AE (1990b) The inheritance and development of minnow anti-predator behaviour. Anim Behav 39:834–842

Magurran AE, Seghers BH, Carvalho GR, Shaw PW (1992) Behavioural consequences of an artificial introduction of guppies (Poecilia reticulata) in N. Trinidad: evidence for the evolution of anti-predator behaviour in the wild. Proc R Soc London B 248:117–122. https://doi.org/10.1098/rspb.1992.0050

Marcus JP, Brown GE (2003) Response of pumpkinseed sunfish to conspecific chemical alarm cues: an interaction between ontogeny and stimulus concentration. Can J Zool 81:1671–1677. https://doi.org/10.1139/Z03-165

Mathis A, Smith RJF (1993) Fathead minnows, Pimephales promelas, learn to recognize northern pike, Esox lucius, as predators on the basis of chemical stimuli from minnows in the pike's diet. Anim Behav 46:645–656

Mathis A, Chivers DP, Smith JF (1993) Population differences in responses of fathead minnows (Pimephales promelas) to visual and chemical stimuli from predators. Ethology 93:31–40

Meek SE, Hildebrand SF (1916) The fishes of the freshwaters of Panama. Chicago

Menezes RF, Attayde JL, Lacerot G et al (2012) Lower biodiversity of native fish but only marginally altered plankton biomass in tropical lakes hosting introduced piscivorous Cichla cf. ocellaris. Biol Invasions 14:1353–1363. https://doi.org/10.1007/s10530-011-0159-8

Mirza RS, Chivers DP (2000) Predator-recognition training enhances survival of brook trout: evidence from laboratory and fieldenclosure studies. Can J Zool 78:2198–2207. https://doi.org/10.1139/cjz-78-12-2198

Norton SF, Brainerd EL (1993) Convergence in the feeding mechanics of ecomorphologically similar species in the Centrarchidae and Cichlidae. J Exp Biol 176:11–29

Ogutu-Ohwayo R (1990) The decline of the native fishes of lakes Victoria and Kyoga (East Africa) and the impact of introduced species, especially the Nile perch, Lates niloticus, and the Nile tilapia, Oreochromis niloticus. Environ Biol Fishes 27:81–96

Pelicice FM, Agostinho AA (2009) Fish fauna destruction after the introduction of a non-native predator (Cichla kelberi) in a Neotropical reservoir. Biol Invasions 11:1789–1801. https://doi.org/10.1007/s10530-008-9358-3

Pfeiffer W (1977) The distribution of fright reaction and alarm substance cells in fishes. Copeia 4:653–665

Pinto-Coelho R, Bezerra-Neto JF, Miranda F et al (2008) The inverted trophic cascade in tropical plankton communities: impacts of exotic fish in the Middle Rio Doce lake district, Minas Gerais, Brazil. Braz J Biol 68:1025–1037

R Core Team (2019) R: a language and environment for statistical computing

Ricciardi A, Atkinson SK (2004) Distinctiveness magnifies the impact of biological invaders in aquatic ecosystems. Ecol Lett 7:781–784. https://doi.org/10.1111/j.1461-0248.2004.00642.x

Seghers B (1974) Schooling behaviour in the guppy (Poecilia reticulata): an evolutionary response to predation. Evolution (N Y) 28:486–489

Sharpe DMT, De León LF, González R, Torchin ME (2017) Tropical fish community does not recover 45 years after predator introduction. Ecology 98:412–424. https://doi.org/10.1002/ecy.1648

Shave CR, Townsend CR, Crowl TA (1994) Anti-predator behaviours of a freshwater crayfish (Paranephrops zealandicus) to a native and an introduced predator. N Z J Ecol 18:1–10

Sih A, Bolnick DI, Luttbeg B et al (2010) Predator–prey naïveté, antipredator behaviour, and the ecology of predator invasions. Oikos 119:610–621. https://doi.org/10.1111/j.1600-0706.2009.18039.x

Smith RJF (1992) Alarm signals in fishes. Rev Fish Biol Fish 2:33–63. https://doi.org/10.1007/BF00042916

Smith ME, Belk MC (2001) Risk assessment in western mosquitofish (Gambusia affinis): do multiple cues have additive effects? Behav Ecol Sociobiol 51:101–107. https://doi.org/10.1007/s002650100415

Smith SA, Bell G, Bermingham E (2004) Cross-Cordillera exchange mediated by the Panama Canal increased the species richness of local freshwater fish assemblages. Proc R Soc B Biol Sci 271:1889–1896. https://doi.org/10.1098/rspb.2004.2796

Smith GR, Boyd A, Dayer CB, Winter KE (2008) Behavioural responses of American toad and bullfrog tadpoles to the presence of cues from the invasive fish, Gambusia affinis. Biol Invasions 10:743–748. https://doi.org/10.1007/s10530-007-9166-1

Vitule JRS, Freire CA, Simberloff D (2009) Introduction of non-native freshwater fish can certainly be bad. Fish Fish 1:98–108. https://doi.org/10.1111/j.1467-2979.2008.00312.x

Wisenden BD, Chivers DP (2006) The role of public chemical information in antipredator behaviour. Commun Fishes 1:259–278

Witte F, Goldschmidt T, Wanink JH et al (1992) The destruction of an endemic species flock: quantitative data on the decline of the haplochromine cichlids of Lake Victoria. Environ Biol Fishes 34:1–28

Zaret TM, Paine RT (1973) Species introduction in a tropical lake. Science (80-) 182:449–455

Zaret TM, Rand SA (1971) Competition in tropical stream fishes: support for the competitive exclusion principle. Ecology 52:336–342
Acknowledgements
We gratefully acknowledge M. Valverde, V. Bravo, C. Bonilla, J. Prevost, C. Schloeder, L.F De Léon, and the staff of STRI's Naos Laboratories for valuable field and laboratory assistance and logistical support. We thank Associate Editor Angela Chuang and the three anonymous reviewers whose constructive comments greatly improved an earlier version of this manuscript. We thank Panama's Autoridad del Canal (ACP) and MiAmbiente for permission to collect fish as part of this study (Permit # SE/AP-40-15). Funding was provided by NSERC (NSERC CREATE in Biodiversity Ecosystem Services and Sustainability, BESS), Coordenação de Aperfeiçoamento de Pessoal de Nível Superior—Brazil (Science Without Borders Scholarship to JJPRL, Grant # 13317/13-0), the Smithsonian Tropical Research Institute, and the Sistema Nacional de Investigadores de Panama (to DMTS).
Additional information
Publisher's Note
Springer Nature remains neutral with regard to jurisdictional claims in published maps and institutional affiliations.
Electronic supplementary material
Below is the link to the electronic supplementary material.
About this article
Cite this article
Sharpe, D.M.T., de Lira, J.J.P.R., Brown, G.E. et al. Testing the prey naiveté hypothesis: Can native prey (Astyanax ruberrimus) recognize an introduced top predator, Cichla monoculus?. Biol Invasions 23, 205–219 (2021). https://doi.org/10.1007/s10530-020-02369-4
Received:

Accepted:

Published:

Issue Date:
Keywords
Biological invasions

Prey naiveté

Chemical cues

Predator–prey interactions

Anti-predator behaviour

Peacock bass