Abstract
While invasive plants can form dense infestations capable of suppressing native plants in some habitats, in others, they may be much less dominant. Lesser celandine (Ranunculus ficaria) is an invasive spring ephemeral in the northeastern United States and the Pacific Northwest. One possibility for the differences in performance of R. ficaria in invaded areas is the presence of fungal–root associations. We hypothesized that plant performance (biomass and reproductive output) would be driven by community composition of root-associated fungi. Eight invaded sites with a history of variable plant performance were chosen in Cleveland, Ohio. At each site, eight samples (n = 64) were collected along a transect. Terminal restriction fragment length polymorphism and cloning were used in conjunction to determine differences in the root-associated mycobiota colonizing R. ficaria. Microscopy was used to confirm the presence of structures indicative of root-associated fungi. R. ficaria roots were potential hosts to a diverse group of fungi. R. ficaria colonized by root-associated fungal communities consisting of dark septate endophytes and fungi typically associated with ericoid mycorrhizae had a significantly higher average biomass and bulbil counts than plants colonized by parasitic root mycobiota. However, fungal colonization was not shown to be associated with differences in the number of R. ficaria tubers present. This indicates that fungal community composition and colonization may influence the biomass and bulbil production of R. ficaria, which can be linked to the success of this invasive.
This is a preview of subscription content, log in to check access.
Access options
Buy single article
Instant access to the full article PDF.
US$ 39.95
Tax calculation will be finalised during checkout.
Subscribe to journal
Immediate online access to all issues from 2019. Subscription will auto renew annually.
US$ 99
Tax calculation will be finalised during checkout.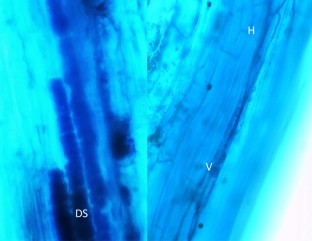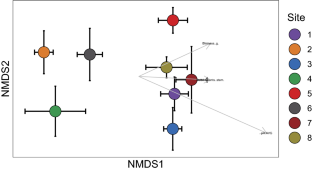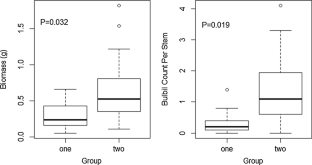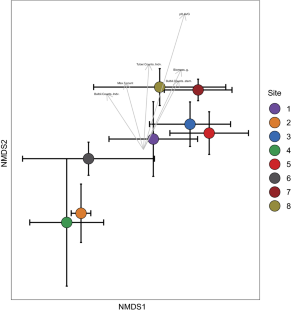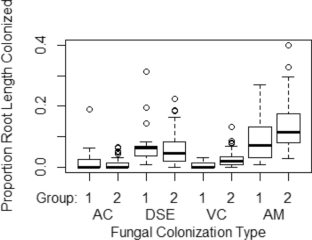 References
Axtell AE, DiTommaso A, Post AR (2010) Lesser celandine (Ranunculus ficaria): a threat to woodland habitats in the Northern United States and Southern Canada. Invasive Plant Sci Manag 3:190–196. https://doi.org/10.1614/IPSM-D-09-00044.1

Berthelot C, Blaudez D, Beguiristain T et al (2018) Co-inoculation of Lolium perenne with Funneliformis mosseae and the dark septate endophyte Cadophora sp. in a trace element-polluted soil. Mycorrhiza 28:301–314

Bunn RA, Ramsey PW, Lekberg Y (2015) Do native and invasive plants differ in their interactions with arbuscular mycorrhizal fungi? A meta-analysis. J Ecol 103:1547–1556. https://doi.org/10.1111/1365-2745.12456

Burke DJ (2008) Effects of Alliaria petiolata (garlic mustard; Brassicaceae) on mycorrhizal colonization and community structure in three herbaceous plants in a mixed deciduous forest. Am J Bot 95:1416–1425. https://doi.org/10.3732/ajb.0800184

Burke DJ (2015) Effects of annual and interannual environmental variability on soil fungi associated with an old-growth, temperate hardwood forest. FEMS Microbiol Ecol 91:1–13. https://doi.org/10.1093/femsec/fiv053

Burke DJ, Chan CR (2010) Effects of the invasive plant garlic mustard (Alliaria petiolata) on bacterial communities in a northern hardwood forest soil. Can J Microbiol 56:81–86. https://doi.org/10.1139/W09-100

Burke DJ, Hamerlynck E, Hahn D (2002) Interactions among plant species and microorganisms in salt marsh sediments. Appl Environ Microbiol 68:1157–1164

Cipollini D, Cipollini K (2016) A review of garlic mustard (Alliaria petiolata, Brassicaceae) as an allelopathic plant. J Torrey Bot Soc 143:339–348. https://doi.org/10.3159/TORREY-D-15-00059

Cipollini KA, Schradin KD (2011) Guilty in the court of public opinion: testing presumptive impacts and allelopathic potential of Ranunculus ficaria. Am Midl Nat 166:63–74. https://doi.org/10.1674/0003-0031-166.1.63

Clausen J, Keck DD, Hiesey WM (1940) Experimental studies on the nature of species: environmental responses of climatic races of Achillea. The Lord Baltimore Press, Baltimore

de Souza TAF, de Andrade LA, Freitas H, da Silva SA (2018) Biological invasion influences the outcome of plant–soil feedback in the invasive plant species from the Brazilian semi-arid. Microb Ecol 76:102–112. https://doi.org/10.1007/s00248-017-0999-6

DeMars BG (1996) Vesicular–arbuscular mycorrhizal status of spring ephemerals in two Ohio forests. Ohio J Sci 96:97–99

Ehrenfeld JG (2010) Ecosystem consequences of biological invasions. Annu Rev Ecol Evol Syst 41:59–80

Green S, Gaunt RE, Bourdôt GW, Field RJ (1998) Influence of phenology, defoliation, and Sclerotinia sclerotiorum on regrowth potential of Ranunculus acris. N Z J Agric Res 41:125–133. https://doi.org/10.1080/00288233.1998.9513295

Hale AN, Kalisz S (2012) Perspectives on allelopathic disruption of plant mutualisms: a framework for individual- and population-level fitness consequences. Plant Ecol 213:1991–2006. https://doi.org/10.1007/s11258-012-0128-z

Helgason T, Daniell TJ, Husband R et al (1998) Ploughing up the wood-wide web? Nature 394:431

Hewins CR, Carrino-Kyker SR, Burke DJ (2015) Seasonal variation in mycorrhizal fungi colonizing roots of Allium tricoccum (wild leek) in a mature mixed hardwood forest. Mycorrhiza 25:469–483. https://doi.org/10.1007/s00572-015-0628-5

Jumpponen A (2001) Dark septate endophytes—are they mycorrhizal? Mycorrhiza 11:207–211. https://doi.org/10.1007/s005720100112

Jumpponen A, Trappe JM (1998) Dark septate endophytes: a review of facultative biotrophic root-colonizing fungi. New Phytol 140:295–310. https://doi.org/10.1046/j.1469-8137.1998.00265.x

Kermack J (2017) Observational study of site characteristics effect on the reproductive output of lesser celandine. Cleveland State University, Cleveland

Kermack JP, Rauschert ESJ (2019) Soil characteristics drive Ficaria verna abundance and reproductive output. Invasive Plant Sci Manag 12:214–222. https://doi.org/10.1017/inp.2019.27

Knapp S, Dinsmore L, Fissore C et al (2012) Phylogenetic and functional characteristics of household yard floras and their changes along an urbanization gradient. Ecology 93:83–98. https://doi.org/10.1890/11-0392.1

Koske RE, Gemma JN (1989) A modified procedure for staining roots to detect VA mycorrhizas. Mycol Res 92:486–488. https://doi.org/10.1016/S0953-7562(89)80195-9

Kulmatiski A, Beard KH, Stevens JR, Cobbold SM (2008) Plant–soil feedbacks: a meta-analytical review. Ecol Lett 11:980–992. https://doi.org/10.1111/j.1461-0248.2008.01209.x

Lekberg Y, Gibbons SM, Rosendahl S, Ramsey PW (2013) Severe plant invasions can increase mycorrhizal fungal abundance and diversity. ISME J 7:1424–1433. https://doi.org/10.1038/ismej.2013.41

Mack JJ (2008) Workplan for lesser celandine (Ranunculus ficaria) control in Rocky River and Mill Stream Run Reservations. Fairview Park, Ohio

Marler M, Zabinski C, Wojtowicz T, Callaway R (1999) Mycorrhizae and fine root dynamics of Centaurea maculosa and native beachgrasses in Montana. Northwest Sci 73:217–224

Martin KJ, Rygiewicz PT (2005) Fungal-specific PCR primers developed for analysis of the ITS region of environmental DNA extracts. BioMed Cent Microbiol. https://doi.org/10.1186/1471-2180-5-28

Masters JA, Emery SM (2015) Leaf litter depth has only a small influence on Ranunculus ficaria (Ranunculaceae) biomass and reproduction. BioOne 173:30–37. https://doi.org/10.1674/0003-0031-173.1.30

Mayerhofer MS, Kernaghan G, Harper KA (2013) The effects of fungal root endophytes on plant growth: a meta-analysis. Mycorrhiza 23:119–128. https://doi.org/10.1007/s00572-012-0456-9

McCune B, Grace JB (2002) Analysis of Ecological Communities. MiM Software Design, Glendale Beach, Oregon

McGonigle TP, Miller MH, Evans DG et al (1990) A new method which gives an objective measure of colonization of roots by vesicular—arbuscular mycorrhizal fungi. New Phytol 115:495–501. https://doi.org/10.1111/j.1469-8137.1990.tb00476.x

Menzel A, Hempel S, Klotz S et al (2017) Mycorrhizal status helps explain invasion success of alien plant species. Ecology 98:92–102. https://doi.org/10.1002/ecy.1621

Ndlovu J, Richardson DM, Wilson JRU, Le Roux JJ (2013) Co-invasion of South African ecosystems by an Australian legume and its rhizobial symbionts. J Biogeogr 40:1240–1251. https://doi.org/10.1111/jbi.12091

Nguyen N, Song Z, Bates S et al (2016) FUNGuild: an open annotation tool for parsing fungal community datasets by ecological guild. Fungal Ecol 20:241–248

Oksanen J, Guillaume Blanchet F, Friendly M, Kindt R, Legendre P, McGlinn D, Minchin PR, O'Hara B, Simpson GL, Solymos P, Stevens MHM, Szoecs E, Wagner H (2019) Vegan: community ecology package. R package version 2.5-6. https://CRAN.R-project.org/package=vegan

Oksanen J, Blankchet FG, Kindt R (2013) Vegan: Community Ecology Package

Peterson S, Cope C, Donaldson J, Burke D (2015) TRFLPR

Pringle A, Bever J, Gardes M et al (2009) Mycorrhizal symbioses and plant invasions. Annu Rev Ecol Evol Syst 40:699–715

Reinhart KO, Lekberg Y, Klironomos J, Maherali H (2017) Does responsiveness to arbuscular mycorrhizal fungi depend on plant invasive status? Ecol Evol 7:6482–6492. https://doi.org/10.1002/ece3.3226

Rew LJ, Lehnhoff EA, Maxwell BD (2007) Non-indigenous species management using a population prioritization framework. Can J Plant Sci 87:1029–1036. https://doi.org/10.4141/cjps07121

Schadt CW, Mullen RB, Schmidt SK (2001) Isolation and phylogenetic identification of a dark-septate fungus associated with the alpine plant Ranunculus adoneus. New Phytol 150:747–755. https://doi.org/10.1046/j.1469-8137.2001.00132.x

Simberloff D, Martin JL, Genovesi P et al (2013) Impacts of biological invasions: what's what and the way forward. Trends Ecol Evol 28:58–66. https://doi.org/10.1016/j.tree.2012.07.013

Simon L, Lalonde M, Bruns TD (1992) Specific amplification of 18S fungal ribosomal genes from vesicular–arbuscular endomycorrhizal fungi colonizing roots. Appl Environ Microbiol 58:291–295

The R Core Team (2017) R: a language and environment for Statistical Computing

Usuki F, Narisawa K (2005) Formation of structures resembling ericoid mycorrhizas by the root endophytic fungus Heteroconium chaetospira within roots of Rhododendron obtusum var. kaempferi. Mycorrhiza 15:61–64. https://doi.org/10.1007/s00572-004-0333-2

Venables WN, Ripley BD (2002) Modern applied statistics with S. Springer, New York

Vogelsang KM, Bever JD (2009) Mycorrhizal densities decline in association with normative plants and contribute to plant invasion. Ecology 90:399–407. https://doi.org/10.1890/07-2144.1

Vohník M, Albrechtová J (2011) The co-occurrence and morphological continuum between ericoid cycorrhiza and dark septate endophytes in roots of six European Rhododendron species. Folia Geobot 46:373–386. https://doi.org/10.1007/s12224-011-9098-5

Zar J (1998) Biostatistical analysis. Prentice Hall, Upper Saddle River

Zhang Q, Yang R, Tang J et al (2010) Positive feedback between mycorrhizal fungi and plants influences plant invasion success and resistance to invasion. PLoS ONE. https://doi.org/10.1371/journal.pone.0012380
Acknowledgements
We wish to acknowledge support from the Cleveland State University Office of Research Undergraduate Summer Research Award program. Justin Kermack provided assistance with field collection and shared plant performance data.
Additional information
Publisher's Note
Springer Nature remains neutral with regard to jurisdictional claims in published maps and institutional affiliations.
Electronic supplementary material
Below is the link to the electronic supplementary material.
About this article
Cite this article
Paolucci, A., Rauschert, E.S.J., Carrino-Kyker, S. et al. Root fungal communities associated with better performance of an invasive spring ephemeral. Biol Invasions (2020). https://doi.org/10.1007/s10530-020-02364-9
Received:

Accepted:

Published:
Keywords
Plant–fungal associations

Invasion success

Spring ephemeral species

Invasive plant performance