Abstract
North American invasions of Elaeagnus angustifolia L. (Russian olive) are still expanding, and hydrochory could be increasing invasion impacts along rivers. Spatial association between riverine flood-inundation patterns and E. angustifolia distributions suggests a link between seed movement potential and invasion patterns in time and space. Using output from hydraulic inundation models, we mapped inundation zones associated with successive flood return intervals within 10.81 km2 of the estimated 500-year floodplain of the Yellowstone River, Montana, USA. We then evaluated spatial relationships among inundation zones and E. angustifolia distribution. Elaeagnus angustifolia was highly spatially associated with frequent flood return intervals: 80% of E. angustifolia exists within a subset of the floodplain predicted to flood every 10 years or less, with the highest occupancy in the 1.5- to 5-year return zones. Within frequently inundated areas, floodplain occupancy of E. angustifolia was distributed in patterns consistent with likely areas of sediment deposition. Thus, existing predictions of invasion timelines are likely to improve with explicit consideration of dispersal opportunities associated with hydrochory during flooding. In particular, if hydrochory is a significant secondary dispersal mechanism, then seed immigration at flood intervals of 5 years or less could lead to substantially shorter invasion lags than currently predicted.
Access options
Buy single article
Instant access to the full article PDF.
USD 39.95
Price excludes VAT (USA)
Tax calculation will be finalised during checkout.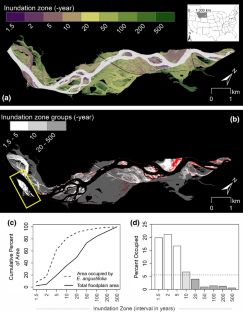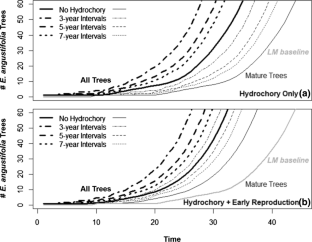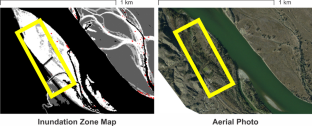 References
Bivand RS, Pebesma E, Gomez-Rubio V (2013) Applied spatial data analysis with R, 2nd edn. Springer, New York

Busso CA, Bentivegna DJ, Fernández OA (2013) A review on invasive plants in rangelands of Argentina. Interciencia 38(2):95–103

Brock JH (2003) Elaeagnus angustifolia (Russian olive) seed banks from invaded riparian habitats in northeastern Arizona. In: Child LE et al (eds) Plant invasions: ecological threats and management solutions. Backhuys Publishers, Leiden, pp 267–276

Chase KJ (2013) Streamflow statistics for unregulated and regulated conditions for selected locations on the Yellowstone, Tongue, and Powder rivers, Montana, 1928–2002

Combs J, Potter T (2011) Russian olive (Elaeagnus angustifolia L.) distribution mapping for the upper yellowstone river and tributaries using feature analysis software, an extension for ArcMap

Enescu CM (2018) Russian olive (Elaeagnus angustifolia L.): a multipurpose species with an important role in land reclamation. Curr Trends Nat Sci 7(13):54–60

Heinrich KK (2015) Multiple stressors and multiple invaders in linked stream-riparian ecosystems: combined research and pedagogy contributions. Dissertation. Idaho State University, Pocatello

Hijmans RJ (2019) Raster: geographic data analysis and modelling. R package version 2.9-5. https://CRAN.R-project.org/package=raster

Katz G (2016) Russian olive biology, invasion, and ecological impacts in western North America. Technical report AD1013227, US Army Engineer Research and Development Center, Vicksburg, VA USA. https://apps.dtic.mil/dtic/tr/fulltext/u2/1013227.pdf

Katz GL, Shafroth PB (2003) Biology, ecology and management of Elaeagnus angustifolia L. (Russian olive) in western North America. Wetlands 23(4):763–777

Lesica P, Miles S (2001) Natural history and invasion of Russian olive along eastern Montana rivers. West N Am Nat 61(1):1–10

McShane RR, Auerbach DA, Friedman JM, Auble GT, Shafroth PB, Merigliano MF, Scott ML, Poff NL (2015) Distribution of invasive and native riparian woody plants across the western USA in relation to climate, river flow, floodplain geometry and patterns of introduction. Ecography 38(12):1254–1265

Merritt DM, Wohl EE (2002) Processes governing hydrochory along rivers: hydraulics, hydrology, and dispersal phenology. Ecol Appl 12(4):1071–1087

Nagler PL, Glenn EP, Jarnevich CS, Shafroth PB (2011) Distribution and abundance of saltcedar and Russian olive in the western United States. Crit Rev Plant Sci 30(6):508–523

Nilsson C, Brown RL, Jansson R, Merritt DM (2010) The role of hydrochory in structuring riparian and wetland vegetation. Biol Rev 85:837–858

Pearce CM, Smith DG (2001) Plains cottonwood's last stand: can it survive invasion of Russian olive onto the Milk River, Montana floodplain? Environ Manag 28(5):623–637

Pebesma EJ, Bivand RS (2005) Classes and methods for spatial data in R. R News 5(2):9–13

R Core Team (2019) R: a language and environment for statistical computing. R Foundation for Statistical Computing, Vienna. https://www.R-project.org/

Reynolds LV, Cooper DJ (2010) Environmental tolerance of an invasive riparian tree and its potential for continued spread in the Southwestern US. J Veg Sci 21:733–743

Scott ML, Reynolds LV, Shafroth PB, Spence JR (2018) The role of a non-native tree in riparian vegetation expansion and channel narrowing along a dryland river. Ecohydrology 11(7):e1988

Shafroth PB, Brown CA, Merritt DM (eds) (2010) Saltcedar and Russian olive control demonstration act science assessment. Scientific investigations report 2009-5247. Reston, VA: US Geological Survey, p 143

US Army Corps of Engineers (USACE) Omaha District (2016) Yellowstone river corridor study hydraulic analysis modeling and mapping report: a report prepared for the yellowstone river conservation district council and technical advisory council. https://ftp.geoinfo.msl.mt.gov/Data/Spatial/NonMSDI/Collections/Yellowstone_River_Clearinghouse/HydraulicModels/FinalHydraulicsReport.zip

White RG, Bramblett RG (1993). The Yellowstone River: its fish and fisheries. In: Hesse LW et al (eds) Proceedings of the symposium on restoration planning for the rivers of the Mississippi River ecosystem. US Department of the Interior, National Biological Survey, Washington, DC, pp 396–414

Yellowstone River Corridor Geographic Information Clearinghouse (2018) Montana state library. https://geoinfo.msl.mt.gov/data/yellowstone_river/GISData. Accessed 13 Dec 2018

Yokomizo H, Takada T, Fukaya K, Lambrinos JG (2017) The influence of time since introduction on the population growth of introduced species and the consequences for management. Pop Ecol 59:89–97
Acknowledgements
We dedicate this work to our dear colleague, Erin Espeland, who was devoted to this project through the final days of her life. She was a brilliant scientist and fierce friend. Reinhold was funded by the United States Department of Agriculture Agricultural Research Service and Department of Interior Bureau of Land Management and in part by the National Science Foundation EPSCoR Cooperative Agreement OIA-1757351. Poole's contributions were supported by the USDA National Institute of Food and Agriculture (Hatch Project, 1015745).
Additional information
Publisher's Note
Springer Nature remains neutral with regard to jurisdictional claims in published maps and institutional affiliations.
Electronic supplementary material
Below is the link to the electronic supplementary material.
About this article
Cite this article
West, N.M., Reinhold, A.M., Poole, G.C. et al. Flood dynamics dictate distributions of Elaeagnus angustifolia L. (Russian olive) on a riverine floodplain. Biol Invasions 22, 3493–3499 (2020). https://doi.org/10.1007/s10530-020-02352-z
Received:

Accepted:

Published:

Issue Date:

DOI: https://doi.org/10.1007/s10530-020-02352-z
Keywords
Hydrochory

Dispersal

Plant invasion

Flood frequency

River valley