Abstract
Western environmental thought and practice historically separated humans and nature. This dichotomy led to an ecological bias in environmental research and management, but increasingly issues like biological invasions are being re-conceived as socio-ecological problems. Here, we studied how terrestrial and freshwater vertebrate species assemblages in Tierra del Fuego (TDF) have been co-constructed between humans and nature. The social imaginary concept was used to integrate shared discourses (e.g., species preferences, nature ideals, broader social values) and practices (e.g., species introductions, environmental management) via institutions (e.g., informal norms, laws, governmental entities, organizations). To analyze how socio-historical processes interact with biological invasions, we used TDF as a case study linked to broader geographic scales in Patagonia, Argentina, Chile and beyond. We found three predominant social imaginaries characterizing human–nature relationships that led to 20 species being introduced and subsequent efforts to remove or control seven of these: Colonization (ca. 1850–1930), Development (ca. 1930–1980) and Conservation (ca. 1980–present). Each imaginary materialized via formal and informal institutions operating from local to international scales. Specifically, we uncovered 10 discourse categories that related to human interventions of TDF's species assemblage, ranging from racism and nationalism (Colonization and Development, respectively) to wilderness and uniqueness (Conservation). These ideas affected actions to introduce (eight and 10 species during Colonization and Development, respectively) or remove species (one and seven in Development and Conservation, respectively). An integrated socio-ecological understanding of biological invasions identified not only social preferences and values, but also underlying social processes that can help resolve the complex and underappreciated interactions between society and biological invasions.
Access options
Buy single article
Instant access to the full article PDF.
US$ 39.95
Tax calculation will be finalised during checkout.
Subscribe to journal
Immediate online access to all issues from 2019. Subscription will auto renew annually.
US$ 79
Tax calculation will be finalised during checkout.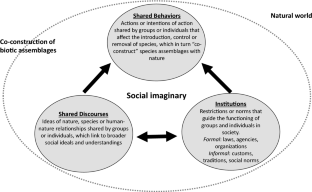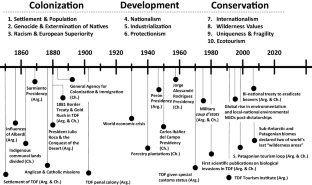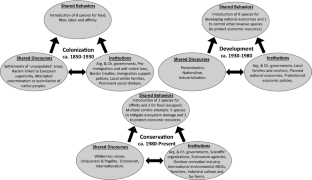 References
Anderson CB, Valenzuela AE (2014) Do what I say not what I do. Are we linking research and decision-making about invasive species in Patagonia? Ecol Austral 24:193–202

Anderson CB, Soto N, Cabello JL, Wallem PK, Martínez Pastur G, Lencinas V, Antúnez D, Davis E (2011) Building alliances between research and management to better control and mitigate the impacts of an invasive ecosystem engineer: the pioneering example of the North American beaver in the Fuegian Archipelago of Chile and Argentina. Chapter 29, pp 347–359. In: Francis R (ed) A Handbook of Global Freshwater Invasive Species. Earthscan Publishing, London, 460 pp

Anderson CB, Roulier C, Pizarro JC (2017) Perspectivas de actores clave respecto del acuerdo binacional entre Argentina y Chile sobre la erradicación del castor norteamericano y la restauración de los ecosistemas afectados. Bosque 38:555–562

Anonymous (1946) Sucesos Argentinos. Viaje al Sur. N° 432. Government Newsreel. Buenos Aires

APN (2015) Experiencia de control de la invasión de Oncorhynchus tshawytscha en los ríos Ovando y Lapataia dentro del Parque Nacional Tierra del Fuego. Technical Report, Ushuaia

Ballari SA, Anderson CB, Valenzuela AE (2015) Understanding trends in biological invasions by introduced mammals in southern South America: a review of research and management. Mamm Rev 46:229–240

Blanco CA, Bárquez R (1980) La situación del castor (Castor canadensis) en la parte argentina de la Isla de Tierra del Fuego. Dirección Nacional de Fauna Silvestre, Buenos Aires, pp 1–22

Blanco DN, Mendes JM (2006) Aproximaciones al análisis de los conflictos ambientales en la Patagonia: reflexiones de historia reciente 1980–2005. Ambiente Sociedad 9:47–69

Bohoslavsky E (2009) El Complot Patagónico: Nación, Conspiracionismo y Violencia en el Sur de Argentina y Chile (Siglos XIX y XX). Prometeo, Buenos Aires

Bridges EL (1949) Uttermost part of the earth. EP Dutton and Co., New York

Car V, Ader N, Anderson CB, Valenzuela AE (2018) Representaciones mediáticas de los mamíferos invasores: una comparación entre las tendencias para la Argentina y la provincia de Tierra del Fuego. XXXI Jornadas Argentinas de Mastozoología, La Rioja

Carruthers D (2001) Environmental politics in Chile: legacies of dictatorship and democracy. Third World Q 22:343–358

Castoriadis C (1993) La Institución Imaginaria de la Sociedad. Tusquets, Buenos Aires

Crutzen PJ (2002) Geology of mankind. Nature 415:23

Díaz S, Demissew S, Carabias J, Joly C, Lonsdale M et al (2015) The IPBES conceptual framework—connecting nature and people. Curr Opin Environ Sustain 14:1–16

Díaz S, Pascual U, Stenseke M, Martín-López B, Watson RT et al (2018) Assessing nature's contributions to people: recognizing culture, and diverse sources of knowledge, can improve assessments. Science 359:270–272

Dicenta M (2020) The Beavercene: eradication and Settler-Colonialism in Tierra del Fuego. http://www.environmentandsociety.org/node/8973. Accessed 6 June 2020

Ellis EC, Ramankutty N (2008) Putting people in the map: anthropogenic biomes of the world. Front Ecol Environ 6:439–447

Estévez RA, Anderson CB, Pizarro JC, Burgman BA (2015) Clarifying values, risk perceptions, and attitudes to resolve or avoid social conflicts in invasive species management. Conserv Biol 29:19–30

Fernández A (2017) La ley argentina de inmigración de 1876 y su contexto histórico. Almanack 17:51–85

Forristal LJ, Lehto XY, Lee G (2014) The contribution of native species to sense of place. Curr Issues Tour 17:414–433

Garretón MA (2007) The socio-political matrix and economic development in Chile. Discussion Paper Series Number 15 A. Research Programme Consortium on Improving Institutions and Pro-Poor Growth, Manchester

Giucci G (2014) Tierra del Fuego: La Creación del Fin del Mundo. Fondo de Cultura Económica, Buenos Aires

Gott R (2007) Latin America as a white settler society. Bull Latin Am Res 26:269–289

Harambour A (2017) Soberanía y corrupción: la construcción del estado y la propiedad en Patagonia austral. Historia 50:555–596

Jaksic FM, Castro SA (2014) Invasiones Biológicas en Chile: Causas Globales e Impactos Locales. Pontificia Universidad Católica de Chile, Santiago

Jeschke J, Gómez Aparicio L, Haider S, Heger T, Lortie C et al (2012) Support for major hypotheses in invasion biology is uneven and declining. NeoBiota 14:1–20

Kapitza K, Zimmermann H, Martín-López B, Wehrden HV (2019) Research on the social perception of invasive species: a systematic literature review. NeoBiota 43:47–68

Klepeis P, Laris P (2006) Contesting sustainable development in Tierra del Fuego. Geoforum 37:505–518

Klepeis P, Laris P (2008) Hobby ranching and Chile's land-reform legacy. Geogr Rev 98:372–394

Kueffer C (2013) Integrating natural and social sciences for understanding and managing plant invasions. In: Larrue S (ed) Biodiversity and societies in the Pacific islands. Presses Universitaires de Provence and ANU Press, De Gruyter, pp 71–96

Levis C, Flores BM, Moreira PA, Luize BG, Alves RP et al (2018) How people domesticated Amazonian forests. Front Ecol Evol 5:1–21

Liu J, Dietz T, Carpenter SR, Folke C, Alberti M et al (2007) Coupled human and natural systems. Ambio 36:639–649

Mace G (2014) Whose conservation? Science 345:1558–1560

Magee P (2003) They'll think I'm an Indian won't they? Colonial capitalism and primitivist fantasy in Tierra del Fuego, 1832–1996. Left Hist Interdiscip J Hist Inq Debate 9:43–61

Mateo G, Carreras Doalla XA (2013) La economía social en la Argentina peronista (1946–1955): una mirada desde el discurso oficial. Estudios Interdisciplinarios de América Latina y el Caribe 24:79–104

Mendoza M, Fletcher R, Holmes G, Ogden LA, Schaeffer C (2017) The Patagonian imaginary: natural resources and global capitalism at the far end of the world. J Latin Am Geogr 16:93–116

Menvielle MF, Funes M, Malmierca L, Ramadori D, Saavedra B et al (2010) American beaver eradication in the southern tip of South America: main challenges of an ambitious project. Aliens Invasive Species Bull 29:9–16

Mittermeier RA, Mittermeier CG, Brooks TM, Pilgrim JD, Konstant WR et al (2003) Wilderness and conservation. PNAS 100:10309–10313

Moss C (2008) Patagonia: a cultural history. Oxford University Press, Oxford

Moya JC (1998) Cousins and strangers: Spanish immigrants in Buenos Aires, 1850–1930. University of California Press, Berkeley

Mrotek A, Anderson CB, Valenzuela AE, Manak L, Weber A et al (2019) An evaluation of local, national and international perceptions of benefits and threats to nature in Tierra del Fuego National Park (Patagonia, Argentina). Environ Conserv 46:326–333

Muñoz Gomá O (2017) La industrialización chilena del siglo XX como proyecto de transformación. Contribuciones Científicas y Tecnológicas 42:31–40

North DC (1991) Institutions. J Econ Perspect 5:97–112

Nugent W (1992) Crossings: the Great transatlantic migrations, 1870–1974. Indiana University Press, Indianapolis

Ogden LA, Holmes G (2016) Involucramientos globales del bosque, incluso en el fin del mundo. In: Prieto M, Bustos B, Barton J (eds) Ecología Política en Chile: Naturaleza, Conocimiento, Poder y Propiedad. Universidad de Chile, Santiago

Pascual U, Balvanera P, Díaz S, Pataki G, Roth E et al (2017) Valuing nature's contributions to people: the IPBES approach. Curr Opin Environ Sustain 26:7–16

Pauchard A, Quiroz CL, García R, Anderson CB, Kalin MT (2011) Invasiones biológicas en América Latina y el Caribe: tendencias en investigación para la conservación. In: Simonetti JA, Dirzo R (eds) Conservación Biológica: Perspectivas desde América Latina. Editorial Universitaria, Santiago, pp 79–94

Pickett S, Ostfeld R (1995) Shifting paradigm in ecology. In: Knight R, Bates SF (eds) A new century for natural resources management. Island Press, Washington, pp 261–278

Quiroz C, Pauchard A, Cavieres L, Anderson CB (2009) Análisis cuantitativo de la investigación en invasiones biológicas en Chile: tendencias y desafíos. Rev Chil Hist Nat 92:497–505

Ratliff W, Calviño LF (2007) 20th Century Argentina. Hoover Institution Archives. https://www.hoover.org/sites/default/files/library/docs/hoover_argentina_guide_eng.pdf. Accessed 10 May 2019

Robbins P (2010) Comparing invasive networks: cultural and political biographies of invasive species. Geogr Rev 94:139–156

Rozzi R, Armesto JJ, Gutiérrez R, Massardo F, Likens GK et al (2012) Integrating ecology and environmental ethics: earth stewardship in the southern end of the Americas. Bioscience 62:226–236

Schweitzer A (2013) Desarrollando el desierto: procesos de frontera en la Provincia de Santa Cruz. Rev de Cienc Soc 24:51–69

Schyfter P, Calvert J (2015) Intentions, expectations and institutions: engineering the future of synthetic biology in the USA and the UK. Sci Cult 24:359–383

Siefeld W, Venegas C (1980) Poblamiento e impacto ambiental de Castor canadensis en Isla Navarino, Chile. Anales del Instituto de la Patagonia 11:247–257

Snyder J, Stonehouse B (2007) Prospects for polar tourism. CABI, Oxfordshire

Solberg CE (1969) A discriminatory frontier land policy: Chile, 1870–1914. The Americas 26:115–133

Solberg CE (1970) Immigration and nationalism: Argentina and Chile, 1890–1914. University of Texas Press, Austin

Strauss A, Corbin JM (1990) Basics of qualitative research: grounded theory procedures and techniques. Sage Publications, Thousand Oaks

Taylor C (2004) Modern social imaginaries. Duke University Press, Durham

Trigger DS (2008) Indigeneity, ferality, and what 'belongs' in the Australian bush: aboriginal responses to 'introduced' animals and plants in a settler-descendant society. J R Anthropol Inst 14:628–646

Valenzuela AEJ, Anderson CB, Fasola L, Cabello JL (2014) Linking invasive exotic species and their ecosystem impacts in Tierra del Fuego to test theory and determine action. Acta Oecologica 54:110–118

van Aert P (2013) Tierra del Fuego. In: Baldacchino G (ed) The political economy of divided islands: unified geographies, multiple polities. Palgrave MacMillan, London, pp 195–211

van Wiglen BW, Richardson DM (2012) Three centuries of managing introduced conifers in South Africa: benefits, impacts, changing perceptions and conflict resolution. J Environ Manag 106:56–68

Vaz AS, Kueffer C, Kull CA, Richardson DM, Schindler S et al (2017) The progress of interdisciplinarity in invasion science. Ambio 46:428–442

Vitousek PM, Mooney HA, Lubchenco J, Melillo JM (1997) Human domination of Earth's ecosystems. Science 277:494–499

Zagarola JA, Anderson CB, Veteto JR (2014) Perceiving Patagonia: an assessment of social values and perspectives regarding watershed ecosystem services and management in southern South America. Environ Manag 53:769–782
Acknowledgements
This study was part of Patagonian Research Experiences for Students in Sustainability (PRESS), partially funded by U.S. National Science Foundation Grant OISE 1261229. Additional support came from the Universidad Nacional de Tierra del Fuego via PIDUNTDF-A 2/16. We thank J.L. Cabello and A.E.J. Valenzuela for reviewing Table 1. This paper is part of the interdisciplinary and inter-institutional work promoted by the Grupo SocioEco (CADIC-CONICET and UNTDF).
Additional information
Publisher's Note
Springer Nature remains neutral with regard to jurisdictional claims in published maps and institutional affiliations.
Electronic supplementary material
Below is the link to the electronic supplementary material.
About this article
Cite this article
Archibald, J.L., Anderson, C.B., Dicenta, M. et al. The relevance of social imaginaries to understand and manage biological invasions in southern Patagonia. Biol Invasions 22, 3307–3323 (2020). https://doi.org/10.1007/s10530-020-02325-2
Received:

Accepted:

Published:

Issue Date:
Keywords
Conservation social sciences

Coupled human–nature systems

Discourses

Invasive species

Non-native species

Tierra del Fuego