Abstract
This study highlights the value of museum collections in invasion biology. It focuses on introduced tilapias, Oreochromis niloticus and Coptodon rendalli in the Congo Basin and their monogenean (Platyhelminthes) gill parasite fauna. O. niloticus was introduced throughout the Congo Basin while C. rendalli was introduced into the Lower Congo, but is native to the Middle and Upper Congo. In order to study the impact of these stocking events on the native parasite community we investigate the co-introduction and host switching of their parasites. Post-introduction material is compared with pre-introduction samples from museum collections of 5 native tilapias in the Congo Basin. Nine of the known parasites of O. niloticus were co-introduced, while one, Cichlidogyrus rognoni, is missing and possibly not established. In contrast, no parasite species were found co-introduced with C. rendalli into the Lower Congo. The parasite fauna of Tilapia sparrmanii shared no species with O. niloticus. Oreochromis mweruensis shared five species with O. niloticus, but these were also found on the pre-introduction samples, and are considered native to both hosts. We report three putative host switches: Cichlidogyrus sclerosus and Cichlidogyrus tilapiae to Coptodon tholloni in the Lower Congo Basin and Gyrodactylus nyanzae to C. rendalli in the Upper Congo.
Access options
Buy single article
Instant access to the full article PDF.
USD 39.95
Price excludes VAT (USA)
Tax calculation will be finalised during checkout.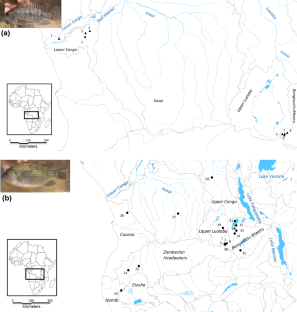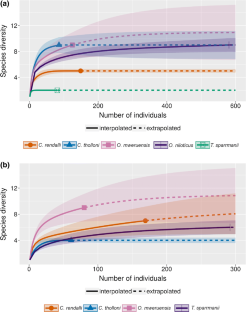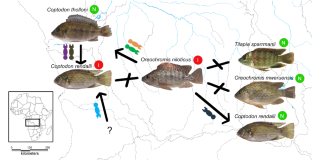 References
Agosta SJ, Klemens JA (2008) Ecological fitting by phenotypically flexible genotypes: implications for species associations, community assembly and evolution. Ecol Lett 11:1123–1134

Alcaraz G, Lόpez-Portela X, Robles-Mendoza C (2015) Response of a native endangered axolotl, Ambystoma mexicanum (Amphibia), to exotic fish predator. Hydrobiologia 753(1):73–80

Alter SE, Brown B, Stiassny MLJ (2015) Molecular phylogenetics reveals convergent evolution in lower Congo River spiny eels. BMC Evol Biol 15:1–12

Araujo SBL, Braga MP, Brooks DR, Agosta SJ, Hoberg EP, von Hartenthal FW, Boeger WB (2015) Understanding host-switching by ecological fitting. PLoS ONE 10:e0139225

Bates J (1997) The sealing compound: Glyceel. J Nematol 29(4):565–566

Béné C, Heck S (2012) Fish and food security in Africa. NAGA 28(3–4):8–13

Brunner FS, Anaya-Rojas JM, Matthews B, Eizaguirre C (2017) Experimental evidence that parasites drive eco-evolutionary feedbacks. PNAS 114(14):3678–3683. https://doi.org/10.1073/pnas.1619147114

Bush AO, Lafferty KD, Lotz JM, Shostak AW (1997) Parasitology meets ecology on its own terms: Margolis et al revisited. J Parasitol 83(4):575–583

Canonico GC, Arthington A, McCrary JK, Thieme ML (2005) The effects of introduced tilapias on native biodiversity. Aquat Conserv 15:463–483

Chao A, Ma KH, Hsieh TC (2016) iNEXT (iNterpolation and EXTrapolation) Online: software for interpolation and extrapolation of species diversity. http://chao.stat.nthu.edu.tw/wordpress/software_download/. Accessed 20 June 2019

Cone DK, Arthur JR, Bondad-Reantaso MG (1995) Description of two new species of Gyrodactylus von Nordmann, 1832 (Monogenea) from cultured Nile Tilapia, Tilapia nilotica (Cichlidae), in the Philippines. J Helminthol Soc Wash 62:6–9

Cribb TH, Chisholm LA, Bray AR (2002) Diversity in the Monogenea and Digenea: does lifestyle matter? Int J Parasitol 32:321–328

Deines AM, Bbole I, Katongo C, Feder JL, Lodge DM (2014) Hybridization of native Oreochromis species (Cichlidae) and the introduced Nile tilapia (O. niloticus) in the Kafue River, Zambia. Afr J Aquat Sci 39(1):23–34

Deines AM, Wittmann ME, Deines JM, Lodge DM (2016) Tradeoffs among ecosystem services associated with global tilapia introductions. Rev Fish Sci Aquac 24(2):178–191

Douëllou L (1993) Monogeneans of the genus Cichlidogyrus Paperna, 1960 (Dactylogyridae: Ancyrocephalinae) from cichlid fishes of Lake Kariba (Zimbabwe). with descriptions of five new species. Syst Parasitol 50:159–186

Dunz A, Schliewen U (2013) Molecular phylogeny and revised classification of the haplotilapiine cichlid fishes formerly referred to as ''Tilapia''. Mol Phylogenet Evol 68:64–80

Dupré B, Gaillardet J, Rousseau D, Allègre CJ (1996) Major and trace elements of river-borne material: the Congo Basin. Geochim Cosmochim Acta 60:1301–1321

FAO (2017) Regional review on status and trends in aquaculture development in sub-Saharan Africa-2015. FAO fisheries and aquaculture circular no. 1135/2. FAO, Rome

FAO Yearbook 2000 (2002) FAO yearbook 2000. Fishery statistics. Aquac Prod 90(2):178

Firmat C, Alibert P, Michèle Losseau, Baroiller JF, Schliewen UK (2013) Successive invasion-mediated interspecific hybridizations and population structure in the endangered cichlid Oreochromis mossambicus. PLoS ONE 8(5):e63880. https://doi.org/10.1371/journal.pone.0063880

Froese R, Pauly D (2019) Fishbase. www.fishbase.org. Accessed 10 May 2019

García-Vásquez A, Razo-Mendivil U, Rubio-Godoy M (2017) Triple trouble? Invasive poeciliid fishes carry the introduced tilapia pathogen Gyrodactylus cichlidarum in the Mexican highlands. Vet Parasitol 235:37–40

Geraerts M, Muterezi Bukinga F, Vanhove MPM, Pariselle A, Chocha Manda A, Vreven E, Huyse T, Artois T (2020) Six new species of Cichlidogyrus Paperna, 1960 (Platyhelminthes: Monogenea) from the gills of cichlids (Teleostei: Cichliformes) from the Lomami River Basin (DRC: Middle Congo). Parasite Vector 13(2020):187. https://doi.org/10.1186/s13071-020-3927-4

Goedknegt MA, Feis ME, Wegner KM, Luttikhuizen PC, Buschbaum C, Camphuysen KCJ, Van der Meer J, Thieltges DW (2016) Parasites and marine invasions: ecological and evolutionary perspectives. J Sea Res 113:11–27

Gomulkiewicz R, Thompson JN, Holt RD, Nuismer BL, Hochberg ME (2000) Hot spots, cold spots, and the geographic mosaic theory of coevolution. Am Nat 156(2):156–174

Goudswaard PC, Witte F, Katunzi EFB (2002) The tilapiine fish stock of Lake Victoria before and after the Nile perch upsurge. J Fish Biol 60:838–856

Gόmez-Diaz E, Navarro J, González-Solis J (2008) Ectoparasite community structure on three closely related seabird hosts: a multiscale approach combining ecological and genetic data. Ecography 31:477–489

Harrison IJ, Brummett R, Stiassny MLJ (2016) Congo River Basin. In: Finlayson CM et al (eds) The wetland book. Springer Netherlands, Dordrecht. https://doi.org/10.1007/978-94-007-6173-5

Janzen DH (1985) On ecological fitting. Oikos 45(3):308–310

Jiménez-García MI, Vidal-Martínez VM, Lόpez-Jiménez S (2001) Monogeneans in Introduced and Native Cichlids in México: evidence for transfer. J Parasitol 87(4):907–909

Jorissen MWP, Pariselle A, Huyse T, Vreven E, Snoeks J, Volckaert FAM, Chocha Manda A, Kapepula Kasembele G, Artois T, Vanhove MPM (2018a) Diversity and host specificity of monogenean gill parasites (Platyhelminthes) of cichlid fishes in the Bangweulu-Mweru ecoregion. J Helminthol 92(4):417–437

Jorissen MWP, Pariselle A, Huyse T, Vreven EJ, Snoeks J, Decru E, Kusters T, Wamuini Lunkayilakia S, Muterezi Bukinga F, Artois T, Vanhove MPM (2018b) Six new dactylogyrid species (Platyhelminthes, Monogenea) from the gills of cichlids (Teleostei, Cichliformes) from the Lower Congo Basin. Parasite 25(2018):64. https://doi.org/10.1051/parasite/2018059

Justine J-L (2009) A redescription of Pseudorhabdosynochus epinepheli (Yamaguti, 1938), the type-species of Pseudorhabdosynochus Yamaguti, 1958 (Monogenea: Diplectanidae), and the description of P. satyui n. sp. from Epinephelus akaara off Japan. Syst Parasitol 72:27–55

Kearn G (2004) Monogenea the ultimate fish parasites. Biologist 58(2):28–32

Krasnov BR, Shenbrot GI, Mouillot D, Khokhlova IS, Poulin R (2005) Spatial variation in species diversity and composition of flea assemblages in small mammalian hosts: geographic distance or faunal similarity? J Biogeogr 32:633–644

Lim SY, Ooi AL, Wong WL (2016) Gill monogeneans of Nile tilapia (Oreochromis niloticus) and red hybrid tilapia (Oreochromis spp.) from the wild and fish farms in Perak, Malaysia: infection dynamics and spatial distribution. Springerplus 5:1609. https://doi.org/10.1186/s40064-016-3266-2

Lowe-McConnell RH (1982) Tilapias in fish communities. In: Pullin RSV, Lowe-McConnell RH (eds) The biology and culture of Tilapias, 2–5 september, 1980, Bellagio, Italy. ICLARM, Manila, pp 3–14

Lymbery AJ, Morine M, Kanani HG, Beatty SJ, Morgan DL (2014) Co-invaders: the effects of alien parasites on native hosts. Int J Parasitol Parasit Wild 3:171–177

Markert JA, Schelly RC, Stiassny MLJ (2010) Genetic isolation and morphological divergence mediated by high-energy rapids in two cichlid genera from the lower Congo rapids. BMC Evol Biol 10:1–9

Mendoza-Franco EF, Vidal-Martínez VM, Cruz-Quintana Y, Prats León FL (2006) Monogeneans on native and introduced fresh water fishes from Cuba with the description of a new species of Salsuginus Beverley-Burton, 1984 from Limia vittata (Poeciliidae). Syst Parasitol 64:181–190

Njiru M, Okeyo-Owuor JB, Muchiri M, Cowx IG (2004) Shifts in the food of Nile tilapia, Oreochromis niloticus (L.) in Lake Victoria, Kenya. Afr J Ecol 42(3):163–170. https://doi.org/10.1111/j.1365-2028.2004.00503.x

Ogutu-Ohwayo R (1990) The decline of the native fishes of lakes Victoria and Kyoga (East Africa) and the impact of introduced species, especially the Nile perch, Lates niloticus and the Nile tilapia, Oreochromis niloticus. Environ Biol Fish 27:81–96

Ojurongbe O, Adegbosin O, Taiwo S, Alli O, Olowe O (2013) Assessment of clinical diagnosis, microscopy, rapid diagnostic tests and polymerase chain reaction in the diagnosis of Plasmodium falciparum in Nigeria. Malar Res Treat 2013:1–5

Paredes-Trujillo A, Velázquez-Abunader I, Torres-Irineo E, Romero D, Vidal-Martínez VM (2016) Geographical distribution of protozoan and metazoan parasites of farmed Nile tilapia (Perciformes: Cichlidae) in Yucatán, Mexicό. Parasite Vector 9(2016):66. https://doi.org/10.1186/s13071-016-1332-9

Pariselle A, Euzet L (1995) Gill parasites of the genus Cichlidogyrus Paperna, 1960 (Monogenea, Ancyrocephalidae) from Tilapia guineensis (Bleeker, 1862), with descriptions of six new species. Syst Parasitol 30:187–198

Pariselle A, Euzet L (2009) Systematic revision of dactylogyridean parasites (Monogenea) from cichlid fishes in Africa, the Levant and Madagascar. Zoosystema 31(4):849–898

Pariselle A, Bilong Bilong CF, Euzet L (2003) Four new species of Cichlidogyrus Paperna, 1960 (Monogenea, Ancyrocephalidae), all gill parasites from African mouthbreeder tilapias of the genera Sarotherodon and Oreochromis (Pisces, Cichlidae), with a redescription of C. thurstonae Ergens, 1981. Syst Parasitol 56:201–210

Poulin R, Hay E, Jorge F (2019) Taxonomic and geographic bias in the genetic study of helminth parasites. Int J Parasitol 49(6):429–435. https://doi.org/10.1016/j.ijpara.2018.12.005

Prenter J, Macneil C, Dick JT, Dunn AM (2004) Roles of parasites in animal invasions. Trends Ecol Evol 19(7):385–390

Přikrylová I, Matujĕsová I, Musilová N, Gelnar M (2009) Gyrodactylus species (Monogenea: Gyrodactylidae) on the cichlid fishes of Senegal, with the description of Gyrodactylus ergensi n. sp. from Mango tilapia, Sarotherodon galilaeus L. (Teleostei: Cichilidae). Parasitol Res 106:1–6

Pyšek P, Richardson DM, Pergl J, Jarošik V, Sixtová Z, Weber E (2008) Geographical and taxonomic biases in invasion ecology. Trends Ecol Evol 23(5):237–244. https://doi.org/10.1016/j.tree.2008.02.002

Roche DG, Leung B, Franco EFM, Torchin ME (2010) Higher parasite richness, abundance and impact in native versus introduced cichlid fishes. Int J Parasitol 40:1525–1530

Schwanck E (1994) Behaviour and colour differences between O. macrochir and O. mweruensis (Teleostei: Cichlidae). Ichthyol Explor Freshw 5:267–280

Schwanck EJ (1995) The Introduction of Oreochromis niloticus is spreading on the Kafue floodplains, Zambia. Hydrobiologia 135:143–147

Seifertová M, Vyskočilová M, Morand S, Šimková A (2008) Metazoan parasites of freshwater cyprinid fish (Leuciscus cephalus): testing biogeographical hypotheses of species diversity. Parasitology 135:1417–1435

Shipton T, Tweddle D, Watts M (2008) Species risk assessment: introduction of the Nile Tilapia (Oreochromis niloticus) in the Eastern Cape. Eastern Cape Development Corporation report, p 30

Shumway C, Musibono D, Ifuta S, Sullivan J, Schelly R, Punga J, Palata J-C, Peuma V (2003) Biodiversity survey: systematics, ecology and conservation along the Congo River. Technical report, CREDP

Šimková A, Řehulková E, Rasoloariniaina JR, Jorissen MWP, Scholz T, Faltýnková A, Mašová Š, Vanhove MPM (2019) Transmission of parasites from introduced tilapias: a new threat to endemic Malagasy ichthyofauna. Biol Invasions 21(3):803–819

Starling F, Lazzaro X, Cavalcanti C, Moreira R (2002) Contribution of omnivorous tilapia to eutrophication of a shallow tropical reservoir: evidence from a fish kill. Freshw Biol 47:2443–2452

Stiassny MLJ, Lamboj A, De Weirdt D, Teugels GG (2008) Cichlidae. In: Stiassny MLJ, Teugels GG, Hopkins CD (eds) The fresh and brackish water fishes of Lower Guinea, West-Central Africa Volume 2. Coll. faune et flore tropicales 42. Institut de recherche de développement, Paris, Muséum national d'histoire naturelle, Paris and Musée royal de l'Afrique Central, Tervuren, pp 269–403

Thieme ML, Abell R, Stiassny MLJ, Skelton P, Lehner B, Teugels BB, Dinerstein E, Kamdem-Toham A, Burgess N, Olson D (2005) Freshwater ecoregions of Africa and Madagascar: a conservation assessment. Island Press, Washington

Thys Van Den Audenaerde DFE (1964) Revision systematique des especes congolaises du genre Tilapia (Pisces, Cichlidae). Ann Mus Afr Cent Sci Zool 124:1–155

Thys Van Den Audenaerde DFE (1966) Les tilapia (Pisces, Cichlidae) du Sud-Cameroun et du Gabon. Étude systématique. Ann Mus Afr Cent Sci Zool 153:1–98

Trewavas E (1983) Tilapiine fishes of the genera Sarotherodon, Oreochromis and Danakilia. British Natural History Museum, London

Valtonen ET, Holmes JC, Koskivaara M (1997) Eutrophication, pollution and fragmentation: effects on parasite communities in roach (Rutilus rutilus) and perch (Perca fluviatilis) in four lakes in the Central Finland. Can J Aquat Sci 54:572–585

Van Steenberge M, Pariselle A, Huyse T, Volckaert FAM, Snoeks J, Vanhove MPM (2015) Morphology, molecules, and monogenean parasites: an example of an integrative approach to cichlid biodiversity. PLoS ONE 10(6):e0129987. https://doi.org/10.1371/journal.pone.0124474

Vinarski MV, Korallo NP, Krasnov BR, Shenbrot GI, Poulin R (2007) Decay of similarity of gamasid mite assemblages parasitic on Palearctic small mammals: geographic distance, host species composition or environment? J Biogeogr 34:1691–1700

Welcomme RL (1988) International introductions of inland aquatic species. FAO Fish Tech Pap 294:1–318

Whittington ID, Cribb BW, Hamwoord TE, Halliday JA (2000) Host-specificity of monogenean (platyhelminth) parasites: a role for anterior adhesive areas? Int J Parasitol 30:305–320

Wise RM, Wilgen BW van, Hill MP, Schulthess F, Tweddle D, Chabi-Olay A, HG Zimmermann (2007) The economic impact and appropriate management of selected invasive alien species on the African Continent. Global Invasive Species Program, GISP report

Zahradníčková P, Barson M, Luus-Powell WJ, Přikrylová I (2016) Species of Gyrodactylus Von Nordmann, 1832 (Platyhelminthes: Monogenea) from cichlids from Zambezi and Limpopo River Basins in Zimbabwe and South Africa: evidence for unexplored species richness. Syst Parasitol 93:679–700

Zengeya TA, Robertson MP, Booth AJ, Chimimba CT (2012) Ecological niche modeling of the invasive potential of Nile tilapia, Oreochromis niloticus in African river systems: concerns and implications for the conservation of indigenous congenerics. Biol Invasions 15(2013):1507–1521. https://doi.org/10.1007/s10530-012-0386-7

Zengeya TA, Booth AJ, Chimimba CT (2015) Broad niche overlap between invasive nile tilapia, Oreochromis niloticus and indigenous congenerics in southern Africa: should we be concerned? Entropy 2015(17):4959–4973
Acknowledgements
We thank V Connors (University of South Carolina) for providing a language check and FAM Volckaert (KU Leuven) for proofreading the article. Furthermore, E Abwe, BK Manda, C Mukweze Mulelenu, M Kasongo Ilunga Kayaba and C Kalombo Kabalika (Université de Lubumbashi), W Fannes and G Cael (Royal Museum for Central Africa), M Collet and P N'Lemvo (Institut Congolais pour la Conservation de la Nature), D Kufulu-ne-Kongo (école Muilu Kiawanga), L Matondo Mbela (Université Kongo), P Nguizani Bimbundi, B Boki Fukiakanda, P Ntiama Nsiku (Institut Supérieur Pédagogique de Mbanza-Ngungu), P Nzialu Mahinga (Institut National pour l'Etude et la Recherche Agronomiques—Mvuazi/Institut Supérieur d'études agronomiques—Mvuazi) and M Katumbi Chapwe are thanked for administrative, field and lab support, making this study possible. This research was supported by the Belgian Federal Science Policy Office (BRAIN-be Pioneer Project (BR/132/PI/TILAPIA), the University Development Cooperation of the Flemish Interuniversity Council (VLIR-UOS) South Initiative ZRDC2014MP084, the OCA type II project S1_RDC_TILAPIA and the Mbisa Congo project (2013–2018), the latter two being framework agreement projects of the RMCA with the Belgian Development Cooperation. MWPJ is supported by a BOF Reserve Fellowship from Hasselt University. MPMV received travel Grant K220314N from the Research Foundation—Flanders (FWO-Vlaanderen) and support from the Belgian Directorate-General for Development Cooperation and Humanitarian Aid (CEBioS programme at the Royal Belgian Institute of Natural Sciences). The research leading to results presented in this publication was carried out with infrastructure funded by EMBRC Belgium—FWO project GOH3817N. Fieldwork was carried out under mission statements 863/2014 (Faculté des Sciences Agronomiques, Université de Lubumbashi), C/075/2015/I.S.P./MBNGU/AUT.AC and AC/076/2015/I.S.P./MBNGU/AUT.AC.
Additional information
Publisher's Note
Springer Nature remains neutral with regard to jurisdictional claims in published maps and institutional affiliations.
Electronic supplementary material
Below is the link to the electronic supplementary material.
About this article
Cite this article
Jorissen, M.W.P., Huyse, T., Pariselle, A. et al. Historical museum collections help detect parasite species jumps after tilapia introductions in the Congo Basin. Biol Invasions 22, 2825–2844 (2020). https://doi.org/10.1007/s10530-020-02288-4
Received:

Accepted:

Published:

Issue Date:

DOI: https://doi.org/10.1007/s10530-020-02288-4
Keywords
Oreochromis niloticus

Host switching

Museum collections

Fish stocking

Parasite co-introduction