Abstract
Plant-pollinator mutualisms may be disrupted by alien ants. Such threats are likely to vary spatio-temporally and with other biological invasions, but these aspects are rarely studied. We examined a threatened island endemic scrambler (Roussea simplex, Rousseaceae) about a decade after its pollination by an endemic reptile was found to be disrupted by an invasive alien ant and we investigated whether progressive invasion by plants has an influence on alien ant distribution. We quantified ant-infestations of the scrambler's flowers and the vertical distribution of alien ants in the habitats through baiting experiment over 2 years and characterised the height of plants within habitat patches that face contrasting levels of alien plant invasion. Two alien and one native ant species were found visiting the flowers, namely Technomyrmex albipes, Anoplolepis gracilipes and Plagiolepis madecassa respectively. Few flowers (6.1%) had alien ants and ant-infested flowers occurred mostly nearer the ground. Mean alien ant abundance varied annually for A. gracilipes but not for T. albipes which however is much rarer than a decade previously. Alien ant-occupied baits showed higher probability of occurring predominantly nearer the ground. Roussea plants were much shorter where alien plant invasion is high, compared to where habitats are well-preserved. The severity of alien ant-infestation that leads to mutualism-disruption varies spatially and at different time scales. As alien plant invasion progresses, the resulting higher native plants' mortality causes Roussea to lose its supporting host plants and collapse closer to the ground where it faces greater infestation of the alien ants that are documented to disrupt its pollination. Incorporating spatio-temporal variation of threats and unravelling possible interactions between sympatric invasive alien species should be important considerations for conservation managers.
Access options
Buy single article
Instant access to the full article PDF.
USD 39.95
Price excludes VAT (USA)
Tax calculation will be finalised during checkout.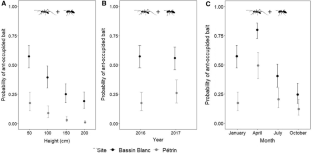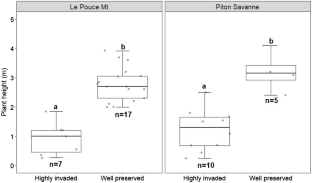 References
Abbott KL (2005) Supercolonies of the invasive yellow crazy ant, Anoplolepis gracilipes, on an oceanic island: forager activity patterns, density and biomass. Insectes Soc 52:266–273. https://doi.org/10.1007/s00040-005-0800-6

Baider C, Florens FBV (2011) Control of invasive alien weeds averts imminent plant extinction. Biol Invasions 13:2641–2646. https://doi.org/10.1007/s10530-011-9980-3

Barônio GJ, Del-Claro K (2018) Increase in ant density promotes dual effects on bee behaviour and plant reproductive performance. Arthropod-Plant Interact 12:201–213. https://doi.org/10.1007/s11829-017-9573-x

Bellard C, Cassey P, Blackburn TM (2016) Alien species as a driver of recent extinctions. Biol Lett 12:20150623. https://doi.org/10.1098/rsbl.2015.0623

BirdLife International (2016) Hypsipetes olivaceus. In: IUCN red list of threatened species 2016. e.T22713239A94366667. https://doi.org/10.2305/IUCN.UK.2016-3.RLTS.T22713239A94366667.en. Accessed 25 Jan 2020

Bissessur P, Baider C, Florens FBV (2017) Rapid population decline of an endemic oceanic island plant despite resilience to extensive habitat destruction and occurrence within protected areas. Plant Ecol Divers 10:293–302. https://doi.org/10.1080/17550874.2017.1402382

Bissessur P, Bunsy Y, Baider C, Florens FBV (2019) Non-intrusive systematic study reveals mutualistic interactions between threatened island endemic species and points to more impactful conservation. J Nat Conserv 49:108–117. https://doi.org/10.1016/j.jnc.2019.04.002

Blight O, Orgeas J, Le Menn A et al (2018) Interaction between a threatened endemic plant (Anchusa crispa) and the invasive Argentine ant (Linepithema humile). Arthropod-Plant Interact 12:725–731. https://doi.org/10.1007/s11829-018-9619-8

Castro S, Ferrero V, Loureiro J et al (2010) Dispersal mechanisms of the narrow endemic Polygala vayredae: dispersal syndromes and spatio-temporal variations in ant dispersal assemblages. Plant Ecol 207:359–372. https://doi.org/10.1007/s11258-009-9679-z

Caujapé-Castells J, Tye A, Crawford DJ et al (2010) Conservation of oceanic island floras: present and future global challenges. Perspect Plant Ecol Evol Syst 12:107–129. https://doi.org/10.1016/j.ppees.2009.10.001

Cembrowski AR, Tan MG, Thomson JD, Frederickson ME (2014) Ants and ant scent reduce bumblebee pollination of artificial flowers. Am Nat 183:133–139. https://doi.org/10.1086/674101

Cheke AS (1987) The ecology of the smaller land-birds of Mauritius. In: Diamond AW (ed) Studies of Mascarene island birds. Cambridge University Press, Cambridge, pp 151–207

Davis NE, O'Dowd DJ, Mac Nally R, Green PT (2009) Invasive ants disrupt frugivory by endemic island birds. Biol Lett 6:85–88. https://doi.org/10.1038/s41559-017-0186

Dawson W, Moser D, van Kleunen M et al (2017) Global hotspots and correlates of alien species richness across taxonomic groups. Nat Ecol Evol 1:0186. https://doi.org/10.1038/s41559-017-0186

Dostál P, Müllerová J, Pyšek P et al (2013) The impact of an invasive plant changes over time. Ecol Lett 16:1277–1284. https://doi.org/10.1111/ele.12166

Drescher J, Feldhaar H, Blüthgen N (2011) Interspecific aggression and resource monopolization of the invasive ant Anoplolepis gracilipes in Malaysian Borneo. Biotropica 43:93–99. https://doi.org/10.1111/j.1744-7429.2010.00662.x

Falcão JC, Dáttilo W, Rico-Gray V (2016) Sampling effort differences can lead to biased conclusions on the architecture of ant–plant interaction networks. Ecol Complex 25:44–52. https://doi.org/10.1016/j.ecocom.2016.01.001

Fisher B (2005) A new species of Discothyrea Roger from Mauritius and a new species of Proceratium Roger from Madagascar (Hymenoptera: Formicidae). Proc Calif Acad Sci 56:657–667

Florens FBV (2008) Ecologie des forêts tropicales de l'Ile Maurice et impact des espèces introduites envahissantes. PhD thesis, Université de la Réunion

Florens FBV (2013) Conservation in Mauritius and Rodrigues: challenges and achievements from two ecologically devastated oceanic islands. In: Sodhi NS, Gibson L, Raven PH (eds) Conservation biology: voices from the tropics. Wiley, West Sussex, pp 40–50

Florens FBV, Baider C, Martin GM et al (2016) Invasive alien plants progress to dominate protected and best-preserved wet forests of an oceanic island. J Nat Conserv 34:93–100. https://doi.org/10.1016/j.jnc.2016.09.006

Florens FBV, Baider C, Seegoolam NB et al (2017) Long-term declines of native trees in an oceanic island's tropical forests invaded by alien plants. Appl Veg Sci 20:94–105. https://doi.org/10.1111/avsc.12273

Forel A (1895) Nouvelles fourmis de l'Imerina oriental (Moramanga etc.). Ann Société Entomol Belg 39:243–251

Foster JT, Robinson SK (2007) Introduced birds and the fate of Hawaiian rainforests. Conserv Biol 21:1248–1257. https://doi.org/10.1111/j.1523-1739.2007.00781.x

Gómez C, Pons P, Bas JM (2003) Effects of the Argentine ant Linepithema humile on seed dispersal and seedling emergence of Rhamnus alaternus. Ecography 26:532–538. https://doi.org/10.1034/j.1600-0587.2003.03484.x

Gurevitch J, Padilla DK (2004) Are invasive species a major cause of extinctions? Trends Ecol Evol 19:470–474. https://doi.org/10.1016/j.tree.2004.07.005

Hammond DS, Gond V, Baider C et al (2015) Threats to environmentally sensitive areas from peri-urban expansion in Mauritius. Environ Conserv 42:256–267. https://doi.org/10.1017/S0376892914000411

Hanna C, Naughton I, Boser C et al (2015) Floral visitation by the Argentine ant reduces bee visitation and plant seed set. Ecology 96:222–230. https://doi.org/10.1890/14-0542.1

Hansen DM, Müller CB (2009a) Invasive ants disrupt gecko pollination and seed dispersal of the endangered plant Roussea simplex in Mauritius. Biotropica 41:202–208. https://doi.org/10.1111/j.1744-7429.2008.00473.x

Hansen DM, Müller CB (2009b) Reproductive ecology of the endangered enigmatic Mauritian endemic Roussea simplex (Rousseaceae). Int J Plant Sci 170:42–52. https://doi.org/10.1086/593050

Heller NE, Gordon DM (2006) Seasonal spatial dynamics and causes of nest movement in colonies of the invasive Argentine ant (Linepithema humile). Ecol Entomol 31:499–510. https://doi.org/10.1111/j.1365-2311.2006.00806.x

Heller NE, Sanders NJ, Gordon DM (2006) Linking temporal and spatial scales in the study of an Argentine ant invasion. Biol Invasions 8:501–507. https://doi.org/10.1007/s10530-005-6411-3

Heller NE, Sanders NJ, Shors JW, Gordon DM (2008) Rainfall facilitates the spread, and time alters the impact, of the invasive Argentine ant. Oecologia 155:385–395. https://doi.org/10.1007/s00442-007-0911-z

Helms KR, Hayden CP, Vinson SB (2011) Plant-based food resources, trophic interactions among alien species, and the abundance of an invasive ant. Biol Invasions 13:67–79. https://doi.org/10.1007/s10530-010-9790-z

Hume JP (2013) A synopsis of the pre-human avifauna of the Mascarene Islands. In: Proceedings of the 8th international meeting of the society of avian paleontology and evolution. Naturhistorisches Museum, Wien, pp 195–237

Jaca J, Rodríguez N, Nogales M, Traveset A (2019) Impact of alien rats and honeybees on the reproductive success of an ornithophilous endemic plant in Canarian thermosclerophyllous woodland relicts. Biol Invasions 21:3203–3219. https://doi.org/10.1007/s10530-019-02040-7

Jones CG (2008) Practical conservation on Mauritius and Rodrigues: steps towards the restoration of devastated ecosystems. In: Cheke AS, Hume JP (eds) Lost land of the Dodo. Christopher Helm, London, pp 226–259

Koontz JA, Lundberg J, Soltis DE (2007) Rousseaceae. In: Kubitzki AK (ed) The families and genera of vascular plants: Eudicots. Springer, Berlin, pp 611–613

Kueffer C, Kinney K (2017) What is the importance of islands to environmental conservation? Environ Conserv 44:311–322. https://doi.org/10.1017/S0376892917000479

Lach L (2005) Interference and exploitation competition of three nectar-thieving invasive ant species. Insectes Soc 52:257–262. https://doi.org/10.1007/s00040-005-0807-z

Lach L, Hoffmann BD (2011) Are invasive ants better plant-defense mutualists? A comparison of foliage patrolling and herbivory in sites with invasive yellow crazy ants and native weaver ants. Oikos 120:9–16. https://doi.org/10.1111/j.1600-0706.2010.18803.x

Lach L, Tillberg CV, Suarez AV (2010) Contrasting effects of an invasive ant on a native and an invasive plant. Biol Invasions 12:3123–3133. https://doi.org/10.1007/s10530-010-9703-1

Lach L, Volp TM, Greenwood TA, Rose A (2016) High invasive ant activity drives predation of a native butterfly larva. Biotropica 48:146–149. https://doi.org/10.1111/btp.12284

Lester PJ, Gruber MA (2016) Booms, busts and population collapses in invasive ants. Biol Invasions 18:3091–3101. https://doi.org/10.1007/s10530-016-1214-2

LeVan KE, Hung K-LJ, McCann KR et al (2014) Floral visitation by the Argentine ant reduces pollinator visitation and seed set in the coast barrel cactus, Ferocactus viridescens. Oecologia 174:163–171. https://doi.org/10.1007/s00442-013-2739-z

Lowe S, Browne M, Boudjelas S, De Poorter M (2000) 100 of the world's worst invasive alien species: a selection from the global invasive species database. Invasive Species Specialist Group Auckland, New Zealand

Lundberg J (2001a) The asteralean affinity of the Mauritian Roussea (Rousseaceae). Bot J Linn Soc 137:267–276. https://doi.org/10.1111/j.1095-8339.2001.tb01122.x

Lundberg J (2001b) Phylogenetic studies in the Euasterids II: with particular reference to Asterales and Escalloniaceae. PhD thesis, Acta Universitatis Upsaliensis

Manzaneda AJ, Rey PJ, Boulay R (2007) Geographic and temporal variation in the ant–seed dispersal assemblage of the perennial herb Helleborus foetidus L. (Ranunculaceae). Biol J Linn Soc 92:135–150. https://doi.org/10.1111/j.1095-8312.2007.00831.x

Menke SB, Ward PS, Holway DA (2018) Long-term record of Argentine ant invasions reveals enduring ecological impacts. Ecology 99:1194–1202. https://doi.org/10.1002/ecy.2200

Monty MLF, Florens FBV, Baider C (2013) Invasive alien plants elicit reduced production of flowers and fruits in various native forest species on the tropical island of Mauritius (Mascarenes, Indian Ocean). Trop Conserv Sci 6:35–49. https://doi.org/10.1177/194008291300600107

Natusch DJ, Mayer M, Lyons JA, Shine R (2017) Interspecific interactions between feral pigs and native birds reveal both positive and negative effects. Austral Ecol 42:479–485. https://doi.org/10.1111/aec.12465

Ness JH, Morales MA, Kenison E et al (2013) Reciprocally beneficial interactions between introduced plants and ants are induced by the presence of a third introduced species. Oikos 122:695–704. https://doi.org/10.1111/j.1600-0706.2012.20212.x

Page W, D'Argent GA (1997) A vegetation survey of Mauritius to identify priority rainforest areas for conservation management. Mauritian Wildlife Foundation, Port Louis

Pinter-Wollman N, Brown MJ (2015) Variation in nest relocation of harvester ants is affected by population density and food abundance. Behav Ecol 26:1569–1576. https://doi.org/10.1093/beheco/arv108

Potts SG, Biesmeijer JC, Kremen C et al (2010) Global pollinator declines: trends, impacts and drivers. Trends Ecol Evol 25:345–353. https://doi.org/10.1016/j.tree.2010.01.007

R Core Team (2013) R: a language and environment for statistical computing. R Foundation for Statistical Computing, Vienna. http://www.R-project.org/

Rogers HS, Buhle ER, HilleRisLambers J et al (2017) Effects of an invasive predator cascade to plants via mutualism disruption. Nat Commun 8:14557. https://doi.org/10.1038/ncomms14557

Rowles AD, O'Dowd DJ (2009) New mutualism for old: indirect disruption and direct facilitation of seed dispersal following Argentine ant invasion. Oecologia 158:709–716. https://doi.org/10.1007/s00442-008-1171-2

Sarnat, E (2008) PIAkey: identification guide to ants of the Pacific islands, Edition 2.0, Lucid v. 3.4. USDA/APHIS/PPQ Center for Plant Health Science and Technology, University of California, Davis. http://www.lucidcentral.org/keys/v3/PIAkey/index.html. Accessed 31 Dec 2018

Schoeman CS, Samways MJ (2013) Temporal shifts in interactions between alien trees and the alien Argentine ant on native ants. J Insect Conserv 17:911–919. https://doi.org/10.1007/s10841-013-9572-x

Scott AJ (1997) 85. Bréxiacées. In: Bosser J, Cadet TH, Guého J, Marais W (eds) Flore des Mascareignes La Réunion, Maurice, Rodrigues. MSIRI/ORSTOM/KEW, Government Printer, Mauritius

Sekercioglu CH (2011) Functional extinctions of bird pollinators cause plant declines. Science 331:1019–1020. https://doi.org/10.1126/science.1202389

Sharaf MR, Al Dhafer HM, Aldawood AS (2018) Review of the ant genus Technomyrmex Mayr, 1872 in the Arabian Peninsula (Hymenoptera, Formicidae). ZooKeys 780:35–59. https://doi.org/10.3897/zookeys.780.26272

Simberloff DS (1974) Equilibrium theory of island biogeography and ecology. Annu Rev Ecol Syst 5:161–182. https://doi.org/10.1146/annurev.es.05.110174.001113

Sinu PA, Sibisha VC, Reshmi MN et al (2017) Invasive ant (Anoplolepis gracilipes) disrupts pollination in pumpkin. Biol Invasions 19:2599–2607. https://doi.org/10.1007/s10530-017-1470-9

Stanley MC, Nathan HW, Phillips LK et al (2013) Invasive interactions: can Argentine ants indirectly increase the reproductive output of a weed? Arthropod-Plant Interact 7:59–67. https://doi.org/10.1007/s11829-012-9215-2

Strayer DL, Eviner VT, Jeschke JM, Pace ML (2006) Understanding the long-term effects of species invasions. Trends Ecol Evol 21:645–651. https://doi.org/10.1016/j.tree.2006.07.007

Traveset A, Richardson DM (2006) Biological invasions as disruptors of plant reproductive mutualisms. Trends Ecol Evol 21:208–216. https://doi.org/10.1016/j.tree.2006.01.006

Traveset A, Richardson DM (2014) Mutualistic interactions and biological invasions. Annu Rev Ecol Evol Syst 45:89–113. https://doi.org/10.1146/annurev-ecolsys-120213-091857

Traveset A, Riera N (2005) Disruption of a plant-lizard seed dispersal system and its ecological effects on a threatened endemic plant in the Balearic Islands. Conserv Biol 19:421–431. https://doi.org/10.1111/j.1523-1739.2005.00019.x

Vanbergen AJ, Espíndola A, Aizen MA (2018) Risks to pollinators and pollination from invasive alien species. Nat Ecol Evol 2:16–25. https://doi.org/10.1038/s41559-017-0412-3

Vaughan RE, Wiehe PO (1937) Studies on the vegetation of Mauritius: I. A preliminary survey of the plant communities. J Ecol 25:289–343. https://doi.org/10.2307/2256197

Villamil N, Boege K, Stone GN (2018) Ant-pollinator conflict results in pollinator deterrence but no nectar trade-offs. Front Plant Sci 9:1093. https://doi.org/10.3389/fpls.2018.01093

Walter KS, Gillett HJ (1998) 1997 red list of threatened plants. The World Conservation Union, Gland

Williams JR (1950) The introduction of Physonota alutacea Boheman (Col., Cassid.) into Mauritius. Bull Entomol Res 40:479–480. https://doi.org/10.1017/S0007485300024391

Wood JR, Alcover JA, Blackburn TM et al (2017) Island extinctions: processes, patterns, and potential for ecosystem restoration. Environ Conserv 44:348–358. https://doi.org/10.1017/S037689291700039X
Acknowledgements
The National Parks and Conservation Services and the Forestry Services of the Ministry of Agro-Industry and Food Security granted permission to carry out surveys in the Black River Gorges National Park and Nature Reserve under their aegis. We acknowledge help from Marie Anaїs Allysson Karghoo, Bidianand Mangar (Rajoo), Ravi Luckhun, Satyaprakash and Parbhowtee Bissessur in the field. We also thank Gabriella Krivek for her assistance during field work and with some data analyses and Raphaël D. Reinegger for his advice with some data analyses as well. We thank the three anonymous reviewers for their input that improved the manuscript and Naveen Parthiban for his editorial work.
Funding
This work was supported by the Mauritius Research Council under the Postgraduate Award [MRC/PGA No. 8].
Ethics declarations
Conflict of interest
No potential conflict of interest was reported by the authors.
Additional information
Publisher's Note
Springer Nature remains neutral with regard to jurisdictional claims in published maps and institutional affiliations.
Electronic supplementary material
Below is the link to the electronic supplementary material.
About this article
Cite this article
Bissessur, P., Baider, C. & Florens, F.B.V. Infestation by pollination-disrupting alien ants varies temporally and spatially and is worsened by alien plant invasion. Biol Invasions 22, 2573–2585 (2020). https://doi.org/10.1007/s10530-020-02272-y
Received:

Accepted:

Published:

Issue Date:

DOI: https://doi.org/10.1007/s10530-020-02272-y
Keywords
Conservation

Invasive ants

Invasive plants

Mauritius

Mutualism disruption

Oceanic island