Abstract
Non-native, invasive plants are projected to shift their ranges with climate change, creating hotspots of risk where a multitude of novel species may soon establish and spread. The Northeast U.S. is one such hotspot. However, because monitoring for novel species is costly, these range-shifting invasive plants need to be prioritized. Preventing negative impacts is a key goal of management, thus, comparing the potential impacts of range-shifting invasive species could inform this prioritization. Here, we adapted the environmental impacts classification for alien taxa protocol to evaluate potential impacts of 100 invasive plants that could establish either currently or by 2050 in the states of New York, Massachusetts, Connecticut, or Rhode Island. We searched Web of Science for each species and identified papers reporting ecological, economic, human health, or agricultural impacts. We scored ecological impacts from 1 ('minimal concern') to 4 ('major') and socio-ecological impacts as present or absent. We evaluated 865 impact studies and categorized 20 species as high-impact, 36 as medium-impact, and 26 as low-impact. We further refined high-impact invasive species based on whether major impacts affect ecosystems found in Northeast U.S. and identified five high-priority species: Anthriscus caucalis, Arundo donax, Avena barbata, Ludwigia grandiflora, and Rubus ulmifolius. Additional research is needed for 18 data-deficient species, which had no studies reporting impacts. Identifying and prioritizing range-shifting invasive plants provides a unique opportunity for early detection and rapid response that targets future problem species before they can establish and spread. This research illustrates the feasibility of using impacts assessments on range-shifting invasive species in order to inform proactive policy and management.
Access options
Buy single article
Instant access to the full article PDF.
US$ 39.95
Tax calculation will be finalised during checkout.
Subscribe to journal
Immediate online access to all issues from 2019. Subscription will auto renew annually.
US$ 79
Tax calculation will be finalised during checkout.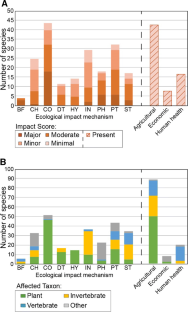 References
Allen JM, Bradley BA (2016) Out of the weeds? Reduced plant invasion risk with climate change in the continental United States. Biol Cons 203:306–312. https://doi.org/10.1016/j.biocon.2016.09.015

Allen JM, Bradley BA (2017) Terrestrial invasive plant watch list: New York state. New York Invasive Species Research Institute, New York

Arcilla N, Choi C-Y, Ozaki K, Lepczyk CA (2015) Invasive species and Pacific island bird conservation: a selective review of recent research featuring case studies of Swinhoe's storm petrel and the Okinawa and Guam rail. J Ornithol 156:199–207. https://doi.org/10.1007/s10336-015-1256-8

Bacher S, Blackburn TM, Essl F et al (2018) Socio-economic impact classification of alien taxa (SEICAT). Methods Ecol Evol 9:159–168. https://doi.org/10.1111/2041-210X.12844

Barney JN, Schenk T, Haak DC et al (2019) Building partnerships and bridging science and policy to address the biological invasions crisis. Invasive Plant Sci Manag 12:74–78. https://doi.org/10.1017/inp.2018.33

Beaury EM, Fusco EJ, Jackson MR et al (2019) Incorporating climate change into invasive species management: insights from managers. Biol Invasions. https://doi.org/10.1007/s10530-019-02087-6

Bellard C, Thuiller W, Leroy B et al (2013) Will climate change promote future invasions? Glob Change Biol 19:3740–3748. https://doi.org/10.1111/gcb.12344

Blackburn TM, Essl F, Evans T et al (2014) A unified classification of alien species based on the magnitude of their environmental impacts. PLoS Biol 12:e1001850. https://doi.org/10.1371/journal.pbio.1001850

Booy O, Mill AC, Roy HE et al (2017) Risk management to prioritise the eradication of new and emerging invasive non-native species. Biol Invasions 19:2401–2417. https://doi.org/10.1007/s10530-017-1451-z

Bradley BA, Wilcove DS, Oppenheimer M (2010) Climate change increases risk of plant invasion in the Eastern United States. Biol Invasions 12:1855–1872. https://doi.org/10.1007/s10530-009-9597-y

Bradley BA, Blumenthal DM, Early R et al (2012) Global change, global trade, and the next wave of plant invasions. Front Ecol Environ 10:20–28. https://doi.org/10.1890/110145

Bradley BA, Laginhas BB, Whitlock R et al (2019) Disentangling the abundance–impact relationship for invasive species. PNAS 116:9919–9924. https://doi.org/10.1073/pnas.1818081116

Canavan S, Kumschick S, Roux JJL et al (2019) Does origin determine environmental impacts? Not for bamboos. PLANTS PEOPLE PLANET 1:119–128. https://doi.org/10.1002/ppp3.5

Conser C, Seebacher L, Fujino DW et al (2015) The development of a plant risk evaluation (PRE) tool for assessing the invasive potential of ornamental plants. PLoS ONE 10:e0121053. https://doi.org/10.1371/journal.pone.0121053

Corno L, Pilu R, Adani F (2014) Arundo donax L.: a non-food crop for bioenergy and bio-compound production. Biotechnol Adv 32:1535–1549. https://doi.org/10.1016/j.biotechadv.2014.10.006

Dandelot S, Matheron R, Le Petit J et al (2005) Variations temporelles des paramètres physicochimiques et microbiologiques de trois écosystèmes aquatiques (Sud-Est de la France) envahis par des Ludwigia. CR Biol 328:991–999. https://doi.org/10.1016/j.crvi.2005.09.007

Ehrenfeld JG, Scott N (2001) Invasive Species and the Soil: Effects on Organisms and Ecosystem Processes1. Ecol Appl 11:1259–1260. https://doi.org/10.1890/1051-0761(2001)011%5b1259:ISATSE%5d2.0.CO;2

Ernest Johnson M (2018) 2018 AFWA climate adaptation surveys: a review of activities at state fish & wildlife agencies. Climate Adaptation Committee of the Association of Fish and Wildlife Agencies

Essl F, Dullinger S, Genovesi P et al (2019) A conceptual framework for range-expanding species that track human-induced environmental change. Bioscience 69:908–919. https://doi.org/10.1093/biosci/biz101

Evans T, Kumschick S, Blackburn TM (2016) Application of the environmental impact classification for alien taxa (EICAT) to a global assessment of alien bird impacts. Divers Distrib 22:919–931. https://doi.org/10.1111/ddi.12464

Executive Order 13112 (1999) Invasive species, Federal Register.gov., Federal Register: Feb 8, 1999 (Volume 64, Number 25), https://www.invasivespeciesinfo.gov/executive-order-13112

Finnoff D, Strong A, Tschirhart J (2008) A bioeconomic model of cattle stocking on rangeland threatened by invasive plants and nitrogen deposition. Am J Agric Econ 90:1074–1090. https://doi.org/10.1111/j.1467-8276.2008.01166.x

Gallagher RV, Englert Duursma D, O'Donnell J et al (2013) The grass may not always be greener: projected reductions in climatic suitability for exotic grasses under future climates in Australia. Biol Invasions 15:961–975. https://doi.org/10.1007/s10530-012-0342-6

Hagen BC, Kumschick S (2018) The relevance of using various scoring schemes revealed by an impact assessment of feral mammals. NeoBiota 38:

Hawkins CL, Bacher S, Essl F et al (2015) Framework and guidelines for implementing the proposed IUCN environmental impact classification for alien taxa (EICAT). Divers Distrib 21:1360–1363. https://doi.org/10.1111/ddi.12379

Jeschke JM, Pysek P (2018) Tens rule. In: Jeschke JM, Heger T (eds) Invasion biology: hypotheses and evidence. CABI, Wallingford, pp 124–132

Kesner D, Kumschick S (2018) Gastropods alien to South Africa cause severe environmental harm in their global alien ranges across habitats. Ecol Evol 8:8273–8285. https://doi.org/10.1002/ece3.4385

Koop AL, Fowler L, Newton LP, Caton BP (2012) Development and validation of a weed screening tool for the United States. Biol Invasions 14:273–294. https://doi.org/10.1007/s10530-011-0061-4

Kumschick S, Vimercati G, de Villiers FA et al (2017) Impact assessment with different scoring tools: how well do alien amphibian assessments match? NeoBiota 33:53–66. https://doi.org/10.3897/neobiota.33.10376

Lehan NE, Murphy JR, Thorburn LP, Bradley BA (2013) Accidental introductions are an important source of invasive plants in the continental United States. Am J Bot 100:1287–1293. https://doi.org/10.3732/ajb.1300061

Mack RN (2008) Evaluating the credits and debits of a proposed biofuel species: giant reed (Arundo donax). Weed Sci 56:883–888. https://doi.org/10.1614/WS-08-078.1

Mack RN, Erneberg M (2002) The United States naturalized flora: largely the product of deliberate introductions. Ann Mo Bot Gard 89:176–189. https://doi.org/10.2307/3298562

Mack RN, Simberloff D, Mark Lonsdale W et al (2000) Biotic invasions: causes, epidemiology, global consequences, and control. Ecol Appl 10:689–710. https://doi.org/10.1890/1051-0761(2000)010%5b0689:BICEGC%5d2.0.CO;2

Massachusetts Invasive Plant Advisory Group (2005) Final report: the evaluation of non-native plant species for invasiveness in Massachusetts. https://www.mass.gov/files/documents/2016/08/tm/invasive-plant-list.pdf

Moody ME, Mack RN (1988) Controlling the spread of plant invasions: the importance of nascent foci. J Appl Ecol 25:1009. https://doi.org/10.2307/2403762

Mueller JM, Hellmann JJ (2008) An assessment of invasion risk from assisted migration. Conserv Biol 22:562–567. https://doi.org/10.1111/j.1523-1739.2008.00952.x

New York Invasive Species Council (2010) Final Report: A Regulatory System for Non-Native Species. 131 pages. http://www.dec.ny.gov/docs/lands_forests_pdf/invasive062910.pdf

O'Donnell J, Gallagher RV, Wilson PD et al (2012) Invasion hotspots for non-native plants in Australia under current and future climates. Glob Change Biol 18:617–629. https://doi.org/10.1111/j.1365-2486.2011.02537.x

Padayachee AL, Proches S, Wilson JRU (2019) Prioritising potential incursions for contingency planning: pathways, species, and sites in Durban (eThekwini), South Africa as an example. NeoBiota 47:1–21

Panetta FD (2012) Evaluating the performance of weed containment programmes. Divers Distrib 18:1024–1032. https://doi.org/10.1111/j.1472-4642.2012.00932.x

Parker IM, Simberloff D, Lonsdale WM et al (1999) Impact: toward a framework for understanding the ecological effects of invaders. Biol Invasions 1:3–19. https://doi.org/10.1023/A:1010034312781

Pheloung PC, Williams PA, Halloy SR (1999) A weed risk assessment model for use as a biosecurity tool evaluating plant introductions. J Environ Manag 57:239–251. https://doi.org/10.1006/jema.1999.0297

Pimentel D, Zuniga R, Morrison D (2005) Update on the environmental and economic costs associated with alien-invasive species in the United States. Ecol Econ 52:273–288. https://doi.org/10.1016/j.ecolecon.2004.10.002

Racelis AE, Davey RB, Goolsby JA et al (2012) Facilitative ecological interactions between invasive species: Arundo donax stands as favorable habitat for cattle ticks (Acari: Ixodidae) along the U.S.-Mexico border. J Med Entomol 49:410–417. https://doi.org/10.1603/ME11104

Reichard SH, White P (2001) Horticulture as a pathway of invasive plant introductions in the united States: most invasive plants have been introduced for horticultural use by nurseries, botanical gardens, and individuals. BioScience 51:103–113. https://doi.org/10.1641/0006-3568(2001)051%5b0103:HAAPOI%5d2.0.CO;2

Rejmánek M, Pitcairn MJ (2002) When is eradication of exotic pest plants a realistic goal? In: Veitch CR, Clout MN (eds) Turning the tide: the eradication of invasive species: proceedings of the international conference on eradication of Island invasives. IUCN, p 5

Rejmánek M, Richardson DM, Higgins SI, et al (2005) Ecology of invasive plants: state of the Art. In: Invasive alien species: a new synthesis. p 104

Richardson DM, Pyšek P, Rejmánek M et al (2000) Naturalization and invasion of alien plants: concepts and definitions. Divers Distrib 6:93–107. https://doi.org/10.1046/j.1472-4642.2000.00083.x

Seebens H, Essl F, Dawson W et al (2015) Global trade will accelerate plant invasions in emerging economies under climate change. Glob Change Biol 21:4128–4140. https://doi.org/10.1111/gcb.13021

Seebens H, Blackburn TM, Dyer EE et al (2017) No saturation in the accumulation of alien species worldwide. Nat Commun 8:1–9. https://doi.org/10.1038/ncomms14435

Vilà M, Espinar JL, Hejda M et al (2011) Ecological impacts of invasive alien plants: a meta-analysis of their effects on species, communities and ecosystems. Ecol Lett 14:702–708. https://doi.org/10.1111/j.1461-0248.2011.01628.x

Wallingford PD, Morelli TL, Allen JM, Beaury EM, Blumenthal DM, Bradley BA, Dukes JS, Early R, Fusco EJ, Goldberg DE, Ibáñez I, Laginhas BB, Vilà M, Sorte CJB (2020) Adjusting the lens of invasion biology to anticipate impacts of climate-driven range shifts. Nat Clim Chang (in press)

Westbrooks RG (2004) New approaches for early detection and rapid response to invasive plants in the United States1. wete 18:1468–1471. https://doi.org/10.1614/0890-037X(2004)018%5b1468:NAFEDA%5d2.0.CO;2

Zimdahl RL (2007) Weed-crop competition: a review. Wiley, New York
Acknowledgements
This publication was supported by the Northeastern IPM Center through Grant #2014-70006-22484 from the National Institute of Food and Agriculture, Crop Protection and Pest Management, Regional Coordination Program, by the National Institute of Food and Agriculture, U.S. Department of Agriculture, the Massachusetts Agricultural Experiment Station and the Department of Environmental Conservation under Project No. MAS00033, by the National Science Foundation/ICER-1852326 Belmont Forum Collaborative Research: Understanding and managing the impacts of invasive alien species on biodiversity and ecosystem services (InvasiBES), and by Grant No. G12AC00001 from the U.S. Geological Survey and a Department of Interior Northeast Climate Adaptation Science Center graduate fellowship awarded to B. Laginhas.
Additional information
Publisher's Note
Springer Nature remains neutral with regard to jurisdictional claims in published maps and institutional affiliations.
Electronic supplementary material
Below is the link to the electronic supplementary material.
About this article
Cite this article
Rockwell-Postel, M., Laginhas, B.B. & Bradley, B.A. Supporting proactive management in the context of climate change: prioritizing range-shifting invasive plants based on impact. Biol Invasions 22, 2371–2383 (2020). https://doi.org/10.1007/s10530-020-02261-1
Received:

Accepted:

Published:

Issue Date:
Keywords
Climate change

EICAT

Impact

Invasion risk

Range-shift