Abstract
The invasive forest insect pest, emerald ash borer (EAB), is causing rapid, widespread ash tree mortality across eastern North America. Riparian (streamside) forests in agricultural landscapes often represent residual patches of high quality forest habitat that, owing to their strong land/water ecological linkages, can be critical for maintaining stream water quality and aquatic and terrestrial biodiversity. When riparian forests contain high numbers of ash trees, EAB can pose a risk of disrupting some of those land/water linkages thereby reducing riparian and aquatic habitat quality. We tracked ash tree mortality, streamside forest canopy cover, leaf litter deposition rates, and nutrient flux to soils in 18 riparian forest plots with an average of 24% ash by stem density over a 5 year period from early to late stages of an EAB invasion (2010–2015). Ash tree mortality increased from an average of 10–98% over 5 years in most plots, but when blue ash were dominant, final ash mortality was about 34%. Despite the nearly complete mortality of ash trees in almost all plots by 2015, the average canopy openness measured at 1.5 m above ground only increased to about 9%, which was significantly higher than the 2010 average of 6% open. Final canopy openness was significantly but weakly (r2 = 0.24) associated with the proportion of ash in riparian plots, indicating highly patchy openness resulting from ash mortality. Ash leaf litter deposition to streamside traps declined by 84% and elm declined by 20%, whereas leaf deposition from the other four most common contributors to riparian leaf litter increased by up to 37% over the same period. The large reductions in ash litter deposition were sufficient to reduce macro-nutrient flux to the streamside forest floor and therefore likely to streams. Amounts of N, C, P, K, and Ca delivered to the streamside soils via leaf litter fall were all consistently, some of them significantly, lower by 2014 than in the baseline year of 2010. Although total leaf litter mass returned to near pre-infestation levels by 2014, the altered composition of leaf litter caused a persistent reduction in nutrient flux to riparian soils. We also measured stem density of regenerating ash saplings (< 5 cm diameter, > 0.5 m height) at the end of the study period and found them to be abundant with an average of 2084 stems/ha. Our results provide an empirical demonstration of EAB-induced disruptions to ecological linkages and processes in riparian forests, at least over the short term.
Access options
Buy single article
Instant access to the full article PDF.
US$ 39.95
Tax calculation will be finalised during checkout.
Subscribe to journal
Immediate online access to all issues from 2019. Subscription will auto renew annually.
US$ 79
Tax calculation will be finalised during checkout.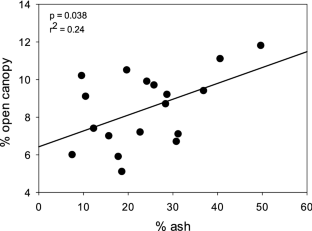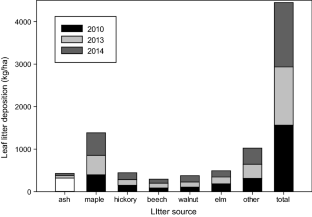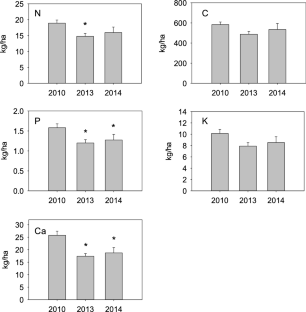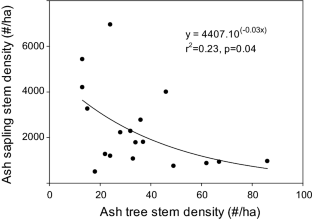 References
Aubin I, Cardou F, Ryall K, Kreutzweiser D, Scarr T (2015) Ash regeneration capacity after emerald ash borer (EAB) outbreaks: some early results. For Chron 91(3):1–8

Boutin C, Jobin B, Belanger L (2003) Importance of riparian habitats to flora conservation in farming landscapes of southern Quebec, Canada. Agric Ecosyst Environ 94:73–87

Cappaert D, McCullough D, Poland T, Siegert N (2005) Emerald ash borer in North America: a research and regulatory challenge. Am Entomol 51:152–165

Clow D, Rhoades C, Briggs J, Caldwell M, Lewis W (2011) Responses of soil and water chemistry to mountain pine beetle induced tree mortality in Grand County, Colorado, USA. Appl Geochem 26:S174–S178

Crocker S, McCullough D, Siegert N (2009) Predicting the ability to produce emerald ash borer: a comparison of riparian and upland ash forests in southern lower Michigan. In: McRoberts R, Reams G, Van Deusen P, McWilliams W (eds) Proceedings of the eighth annual forest inventory and analysis symposium, October 16–19, 2009, Monterey, California. Gen. Tech. Rep. WO-79. USDA Forest Service, Washington, DC, pp 99–103

Ellison A, Bank M, Clinton B, Colburn E, Elliott K, Ford C, Foster D, Kloeppel B, Knoepp J, Lovett G, Mohan J, Orwig D, Rodenhouse N, Sobczak W, Stinson K, Stone J, Swan C, Thompson J, Holle B, Webster J (2005) Loss of foundation species: Consequences for the structure and dynamics of forested ecosystems. Front Ecol Environ 3:479–486

Evans A, Finkral A (2010) A new look at spread rates of exotic diseases in North American forests. For Sci 56:453–459

Ford C, Vose J (2007) Tsuga canadensis (L.) Carr. mortality will impact hydrologic processes in southern Appalachian forest ecosystems. Ecol App 17:1156–1167

Gandhi K, Herms D (2010) Direct and indirect effects of alien insect herbivores on ecological processes and interactions in forests of eastern North America. Biol Invasions 12:389–405

Gregory S, Swanson F, McKee W, Cummins K (1991) An ecosystem perspective of riparian zones. Bioscience 41:540–551

Groffman P, Bain D, Band L, Belt K, Brush G, Grove J, Pouyat R, Yesilonis I, Zipperer W (2003) Down by the riverside: urban riparian ecology. Front Ecol Environ 1:315–321

Hausman C, Jaeger J, Rocha O (2010) Impact of the emerald ash borer (EAB) eradication and tree mortality: potential for a secondary spread of invasive plant species. Biol Invasions 12:2013–2023

Herms D, McCullough D (2014) Emerald ash borer invasion of North America: history, biology, ecology, impacts, and management. Annu Rev Entomol 59:13–30

Hill L, Hemery G, Hector A, Brown N (2018) Maintaining ecosystem properties after loss of ash in Great Britain. J App Ecol 56:282–293

Jobin B, Belanger L, Boutin C, Maisonneuve C (2014) Conservation value of agricultural riparian strips in the Boyer River watershed, Quebec (Canada). Agric Ecosyst Environ 103:413–423

Kashian D, Witter J (2011) Assessing the potential for ash canopy tree replacement via current regeneration following emerald ash borer-caused mortality on southeastern Michigan landscapes. For Ecol Manag 261:480–488

Klooster W, Herms D, Knight K, Herms C, McCullough D, Smith A, Gandhi K, Cardina J (2014) Ash (Fraxinus spp.) mortality, regeneration, and seed bank dynamics in mixed hardwood forests following invasion by emerald ash borer (Agrilus planipennis). Biol Invasions 16:859–873

Klooster W, Gandhi K, Long L, Perry K, Rice K, Herms D (2018) Ecological impacts of emerald ash borer in forests at the epicenter of the invasion in North America. Forests 9:250. https://doi.org/10.3390/f9050250

Knight K, Brown J, Long R (2012) Factors affecting the survival of ash (Fraxinus spp.) trees infested by emerald ash borer (Agrilus planipennis). Biol Invasions 15:371–383

Kreutzweiser D, Thompson D, Grimalt S, Chartrand D, Good K, Scarr T (2011) Environmental safety to decomposer invertebrates of azadirachtin (neem) as a systemic insecticide in trees to control emerald ash borer. Ecotox Environ Saf 74:1734–1741

Kreutzweiser D, Nisbet D, Sibley P, Scarr T (2019) Loss of ash trees in riparian forests from emerald ash borer infestations has implications for aquatic invertebrate leaf-litter consumers. Can J For Res 49:134–144

Looney C, D'Amato A, Palik B, Slesak R, Slater M (2017) The response of Fraxinus nigra forest ground-layer vegetation to emulated emerald ash borer mortality and management strategies in northern Minnesota, USA. For Ecol Manag 389:352–363

Lowrance R, Todd R, Fail J, Hendrickson O, Leonard R, Asmussen L (1984) Riparian forests as nutrient filters in agricultural watersheds. Bioscience 34:374–377

Maisonneuve C, Rioux S (2001) Importance of riparian habitats for small mammal and herpetofaunal communities in agricultural landscapes of southern Quebec. Agric Ecosyst Environ 83:165–175

McCullough D, Mercader R (2012) Evaluation of potential strategies to slow ash mortality (SLAM) caused by emerald ash borer (Agrilus planipennis): SLAM in an urban forest. Int J Pest Manag 58:9–23

Mercader R, McCullough D, Storer A, Bedford J, Heyd R, Poland T, Katovich S (2015) Evaluation of the potential use of a systemic insecticide and girdled trees in area wide management of the emerald ash borer. For Ecol Manag 350:70–80

Naiman R, Descamps H (1997) The ecology of interfaces: riparian zones. Annu Rev Ecol Systemat 28:621–658

Naiman R, Descamps H, McClain M (2005) Riparia: Ecology, conservation, and management of streamside communities. Elsevier Academic Press, New York

Nisbet D, Kreutzweiser D, Sibley P, Scarr T (2015) Ecological risks posed by emerald ash borer to riparian forest habitats: a review and problem formulation with management implications. For Ecol Manag 358:165–173

Orwig D, Cobb R, D'Amato R, Kizlinski M, Foster D (2008) Multi-year ecosystem response to hemlock woolly adelgid infestation in southern New England forests. Can J For Res 38:834–843

Peterken G, Mountford E (1998) Long-term Change in an Unmanaged Population of Wych Elm Subjected to Dutch Elm Disease. J Ecol 86:205–218

Poland T, McCullough D (2006) Emerald ash borer: invasion of the urban forest and the threat to North America's ash resource. J Forestry 104:118–124

Richardson J, Danehy R (2007) A synthesis of the ecology of headwater streams and their riparian zones in temperate forests. For Sci 53:131–147

Royo A, Carson W (2006) On the formation of dense understory layers in forests worldwide: consequences and implications for forest dynamics, biodiversity, and succession. Can J For Res 36:1345–1362

Runkle J (1982) Patterns of disturbance in some old-growth mesic forests of eastern North America. Ecology 63:1533–1546

Runkle J (1984) Development of woody vegetation in treefall gaps in a beech-sugar maple forest. Holarc Ecol 7:157–164

Ryall K, Fidgen J, Turgeon J (2011) Detectability of the emerald ash borer (Coleoptera: Buprestidae) in asymptomatic urban trees by using branch samples. Environ Entomol 40:679–688

Schultz R, Isenhart T, Simpkins W, Colletti J (2004) Riparian forest buffers in agroecosystems—lessons learned from the Bear Creek Watershed, central Iowa, USA. Agrofor Syst 61:35–50

Shure D, Phillips D (1987) Litter fall patterns within different-sized disturbance patches in a southern Appalachian Mountain forest. Am Midl Nat 118:348–357

Sibley P, Gordon A (2010) Managing riparian forests: a decision support system. Sustainable forest management network, Edmonton, Alberta. https://sfmn.ualberta.ca/sfmn/wp-content/uploads/sites/83/2018/09/Managing-Riparian-Forests.-A-Decision-Support-System..pdf?ver=2016-02-24-141155-483. Accessed Feb 2020

Streit M, Scarr T, Farintosh L (2012) Preparing for emerald ash borer: a landowner's guide to managing ash forests [online]. Ontario Ministry of Natural Resources and Forestry, https://www.forestsontario.ca/wp-content/uploads/2016/10/Eastern-Ontario-Model-Forest-EAB-resource-web.pdf. Accessed Feb 2020

Stutter M, Chardon W, Kronvang B (2012) Riparian buffer strips as a multifunctional management tool in agricultural landscapes: Introduction. J Environ Qual 41:297–303

Tanis S, McCullough D (2012) Differential persistence of blue ash and white ash following emerald ash borer invasion. Can J For Res 42:1542–1550

Vose JM, Wear DN, Mayfield AE, Nelson CD (2013) Hemlock woolly adelgid in the southern Appalachians: control strategies, ecological impacts, and potential management responses. For Ecol Manag 291:209–219

Vought L, Pinay G, Fuglsang A, Ruffinoni C (1995) Structure and function of buffer strips from a water quality perspective in agricultural landscapes. Landsc Urban Plan 31:323–331

Wallace J, Eggert S, Meyer J, Webster J (1997) Multiple trophic levels of a forest stream linked to terrestrial litter inputs. Science 277:102–104

Webster J, Benfield E, Ehrman T, Schaeffer M, Tank J, Hutchens J, D'Angelo D (1999) What happens to allochthonous material that falls into streams? A synthesis of new and published information from Coweeta. Freshw Biol 41:687–705

Young T, Peffer E (2010) "Recalcitrant understory layers" revisited: arrested succession and the long life-spans of clonal mid-successional species. Can J For Res 40:1184–1188
Acknowledgements
Jesse Harnden, Kristin Daoust, Dylan Bowes, Greg Hanta, Dain Dutkiewicz, Laura Hawdon, Linda Vogel, and Kristi Broad provided technical assistance with the field studies and laboratory sample processing. Joanna Curry and Dr. Paul Hazlett provided the nutrient analyses for leaf litter samples. The project was partially supported by an Invasive Species Centre Partnership Fund to DK.
Additional information
Publisher's Note
Springer Nature remains neutral with regard to jurisdictional claims in published maps and institutional affiliations.
About this article
Cite this article
Kreutzweiser, D., Dutkiewicz, D., Capell, S. et al. Changes in streamside riparian forest canopy and leaf litter nutrient flux to soils during an emerald ash borer infestation in an agricultural landscape. Biol Invasions 22, 1865–1878 (2020). https://doi.org/10.1007/s10530-020-02223-7
Received:

Accepted:

Published:

Issue Date:
Keywords
Emerald ash borer

Ecological impacts

Riparian

Litterfall

Nutrient flux