Abstract
There are thousands of case studies documenting invasive species' impacts and these have led to the development of over 30 hypotheses that describe how invasions occur and their impacts manifest. The proliferation of invasion hypotheses over the decades has spurred several efforts to identify conceptual overlap and increase clarity of impact mechanism in the field. What is still lacking, however, is a comprehensive accounting of the evidence base on invasive species impacts, especially in regard to the biological scales, temporal scales, and taxonomic groups that receive research. Identifying the 'known unknowns' of empirical invasion impact research serves a critical function in the effort to evaluate support for existing hypotheses and generate novel hypotheses. We built a taxonomically and geographically comprehensive database of over 1500 research articles that report measures of invasive species' ecological impacts published over the past 18 years (1999–2016). We found that, field-wide, published measures of invasive species' impacts are highly skewed toward those measured at the population or community-level with scarce information on impacts at other biological scales (e.g., physiology, behavior). We also show that existing impact evidence stems most often from one-off studies of single invasive species. Yet, even for species that receive consistent attention, impacts have rarely been documented across more than one biological scale, beyond very short time periods, or in several ecosystems. In order to predict and anticipate how impacts manifest in a variety of temporal and biological contexts, the evidence base informing existing invasion hypotheses must become more integrative both within and across publications.
Access options
Buy single article
Instant access to the full article PDF.
US$ 39.95
Tax calculation will be finalised during checkout.
Subscribe to journal
Immediate online access to all issues from 2019. Subscription will auto renew annually.
US$ 79
Tax calculation will be finalised during checkout.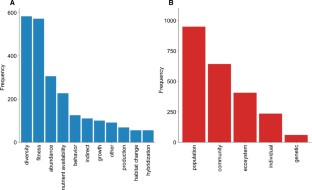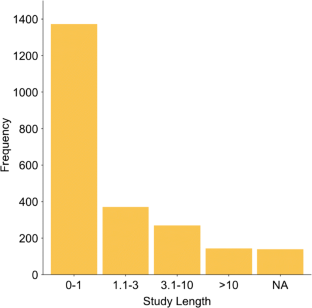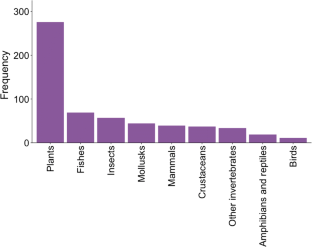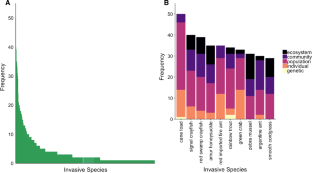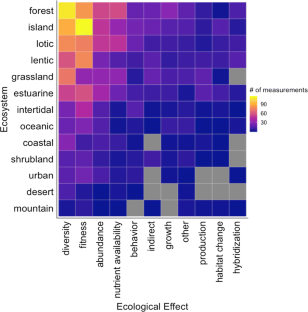 Data accessibility
Data supporting our results is available as supplementary material will be archived in the Dryad repository.
References
Aagaard K, Lockwood JL (2016) Severe and rapid population declines in exotic birds. Biol Invasions 18:1667–1678. https://doi.org/10.1007/s10530-016-1109-2

Ballew NG, Bacheler NM, Kellison GT, Schueller AM (2016) Invasive lionfish reduce native fish abundance on a regional scale. Sci Rep. https://doi.org/10.1038/srep32169

Bancroft BA, Baker NJ, Blaustein AR (2007) Effects of UVB radiation on marine and freshwater organisms: a synthesis through meta-analysis. Ecol Lett 10:332–345. https://doi.org/10.1111/j.1461-0248.2007.01022.x

Blossey B, Nötzold R (1995) Evolution of increased competitive ability in invasive nonindigenous plants: a hypothesis. J Ecol 83:887. https://doi.org/10.2307/2261425

Buhle ER, Ruesink JL (2009) Impacts of invasive oyster drills on olympia oyster (Ostrea lurida Carpenter 1864) recovery in Willapa Bay, Washington, United States. J Shellfish Res 28:87–96. https://doi.org/10.2983/035.028.0115

Cameron EK, Vilà M, Cabeza M (2016) Global meta-analysis of the impacts of terrestrial invertebrate invaders on species, communities and ecosystems. Glob Ecol Biogeogr 25:596–606. https://doi.org/10.1111/geb.12436

Cassey P, García-Díaz P, Lockwood JL, Blackburn TM (2018) Invasion biology: searching for predictions and prevention, and avoiding lost causes. In: Jeschke JM, Heger T (eds) Invasion biology: hypotheses and evidence. CABI, Wallingford, pp 3–13

Catford JA, Jansson R, Nilsson C (2009) Reducing redundancy in invasion ecology by integrating hypotheses into a single theoretical framework. Divers Distrib 15:22–40. https://doi.org/10.1111/j.1472-4642.2008.00521.x

Chown SL, Huiskes AHL, Gremmen NJM et al (2012) Continent-wide risk assessment for the establishment of nonindigenous species in Antarctica. Proc Natl Acad Sci 109:4938–4943. https://doi.org/10.1073/pnas.1119787109

Crooks JA (2002) Characterizing ecosystem-level consequences of biological invasions: the role of ecosystem engineers. Oikos 97:153–166. https://doi.org/10.1034/j.1600-0706.2002.970201.x

Cucherousset J, Olden JD (2011) Ecological impacts of nonnative freshwater fishes. Fisheries 36:215–230. https://doi.org/10.1080/03632415.2011.574578

D'Antonio C, Flory SL (2017) Long-term dynamics and impacts of plant invasions. J Ecol 105:1459–1461. https://doi.org/10.1111/1365-2745.12879

Davidson AD, Campbell ML, Hewitt CL, Schaffelke B (2015) Assessing the impacts of nonindigenous marine macroalgae: an update of current knowledge. Bot Mar 58:55–79

Dean WRJ, Anderson MD, Milton SJ, Anderson TA (2002) Avian assemblages in native Acacia and alien Prosopis drainage line woodland in the Kalahari, South Africa. J Arid Environ 51:1–19. https://doi.org/10.1006/jare.2001.0910

Doherty TS, Glen AS, Nimmo DG et al (2016) Invasive predators and global biodiversity loss. Proc Natl Acad Sci 113:11261–11265. https://doi.org/10.1073/pnas.1602480113

Ehrenfeld JG (2010) Ecosystem consequences of biological invasions. Annu Rev Ecol Evol Syst 4:59–80

Elton CS (1958) The ecology of invasions by animals and plants. Methuen, London

Enders M, Hütt M-T, Jeschke JM (2018) Drawing a map of invasion biology based on a network of hypotheses. Ecosphere. https://doi.org/10.1002/ecs2.2146

Fischer M, Bossdorf O, Gockel S et al (2010) Implementing large-scale and long-term functional biodiversity research: the biodiversity exploratories. Basic Appl Ecol 11:473–485. https://doi.org/10.1016/j.baae.2010.07.009

Fuller PL (2003) Freshwater aquatic vertebrate introductions in the United States: Patterns and pathways. In: Ruiz GM, Carlton JT (eds) Invasive species: vectors and management strategies. Island Press, Washington, D. C., p 17

Gilbert B, Levine JM (2013) Plant invasions and extinction debts. Proc Natl Acad Sci 110:1744–1749. https://doi.org/10.1073/pnas.1212375110

Gomes SIF, Merckx VSFT, Hynson NA (2018) Biological invasions increase the richness of arbuscular mycorrhizal fungi from a Hawaiian subtropical ecosystem. Biol Invasions 20:2421–2437. https://doi.org/10.1007/s10530-018-1710-7

Green S, Higgins J (2011) Cochrane handbook for systematic reviews of interventions. Version 5:1

Haase P, Tonkin JD, Stoll S et al (2018) The next generation of site-based long-term ecological monitoring: linking essential biodiversity variables and ecosystem integrity. Sci Total Environ 613–614:1376–1384. https://doi.org/10.1016/j.scitotenv.2017.08.111

Hirsch PE, N'Guyen A, Adrian-Kalchhauser I, Burkhardt-Holm P (2016) What do we really know about the impacts of one of the 100 worst invaders in Europe? A reality check. Ambio 45:267–279. https://doi.org/10.1007/s13280-015-0718-9

Hobbie JE (2003) Scientific accomplishments of the long term ecological research program: An introduction. Bioscience 53:17–20. https://doi.org/10.1641/0006-3568

Hulme PE, Pyšek P, Jarošík V et al (2013) Bias and error in understanding plant invasion impacts. Trends Ecol Evol 28:212–218. https://doi.org/10.1016/j.tree.2012.10.010

Iacarella JC, Mankiewicz PS, Ricciardi A (2015) Negative competitive effects of invasive plants change with time since invasion. Ecosphere. https://doi.org/10.1890/ES15-00147.1

Ioannidis JP, Trikalinos TA (2005) Early extreme contradictory estimates may appear in published research: the Proteus phenomenon in molecular genetics research and randomized trials. J Clin Epidemiol 58:543–549. https://doi.org/10.1016/j.jclinepi.2004.10.019

Jänes H, Kotta J, Herkül K (2015) High fecundity and predation pressure of the invasive Gammarus tigrinus cause decline of indigenous gammarids. Estuar Coast Shelf Sci 165:185–189. https://doi.org/10.1016/j.ecss.2015.05.014

Jauni M, Ramula S (2015) Meta-analysis on the effects of exotic plants on the fitness of native plants. Perspect Plant Ecol Evol Syst 17:412–420. https://doi.org/10.1016/j.ppees.2015.06.002

Jeschke JM, Heger T (2018) Synthesis. In: Jeschke JM, Heger T (eds) Invasion biology: hypotheses and evidence. CABI, Wallingford, pp 157–166

Jeschke J, Gómez Aparicio L, Haider S et al (2012) Support for major hypotheses in invasion biology is uneven and declining. NeoBiota 14:1–20. https://doi.org/10.3897/neobiota.14.3435

Jeschke JM, Bacher S, Blackburn TM et al (2014) Defining the impact of non-native species. Conserv Biol 28:1188–1194. https://doi.org/10.1111/cobi.12299

Koricheva J, Gurevitch J, Mengersen K (2013) Handbook of meta-analysis in ecology and evolution. Princeton University Press, Princeton

Lavoie C (2017) The impact of invasive knotweed species (Reynoutria spp.) on the environment: review and research perspectives. Biol Invasions 19:2319–2337. https://doi.org/10.1007/s10530-017-1444-y

Lennox R, Choi K, Harrison PM et al (2015) Improving science-based invasive species management with physiological knowledge, concepts, and tools. Biol Invasions 17:2213–2227. https://doi.org/10.1007/s10530-015-0884-5

Lockwood JL, Hoopes MF, Marchetti MP (2013) Invasion ecology. Wiley, New York

Lowry E, Rollinson EJ, Laybourn AJ et al (2012) Biological invasions: a field synopsis, systematic review, and database of the literature. Ecol Evol 3:182–196. https://doi.org/10.1002/ece3.431

Luft J, Ingham H (1955) The Johari window, a graphic model of interpersonal awareness. In: Proceedings of the Western Training Laboratory in Group Development, 246

Mallet J (2018) Invasive insect hybridizes with local pests. Proc Natl Acad Sci 115:4819–4821. https://doi.org/10.1073/pnas.1804081115

Manchester SJ, Bullock JM (2000) The impacts of non-native species on UK biodiversity and the effectiveness of control. J Appl Ecol 37:845–864. https://doi.org/10.1046/j.1365-2664.2000.00538.x

Martin-Albarracin VL, Amico GC, Simberloff D, Nuñez MA (2015) Impact of non-native birds on native ecosystems: a global analysis. PLoS ONE. https://doi.org/10.1371/journal.pone.0143070

Meyerson LA, Simberloff D, Boardman L, Lockwood JL (2019) Toward "rules" for studying biological invasions. Bull Ecol Soc Am 100(4):e01607

Moher D, Liberati A, Tetzlaff J et al (2009) Preferred reporting items for systematic reviews and meta-analyses: the PRISMA statement. PLoS Med 6:e1000097

Mollot G, Pantel JH, Romanuk TN (2017) The effects of invasive species on the decline in species richness. Adv Ecol Res 56:61–83. https://doi.org/10.1016/bs.aecr.2016.10.002

Nguyen KQ, Cuneo P, Cunningham SA et al (2016) Ecological effects of increasing time since invasion by the exotic African olive (Olea europaea ssp. cuspidata) on leaf-litter invertebrate assemblages. Biol Invasions 18:1689–1699. https://doi.org/10.1007/s10530-016-1111-8

Nunes AL, Fill JM, Davies SJ et al (2019) A global meta-analysis of the ecological impacts of alien species on native amphibians. Proc R Soc B Biol Sci 286:20182528. https://doi.org/10.1098/rspb.2018.2528

Parker IM, Simberloff D, Lonsdale WM et al (1999) Impact: toward a framework for understanding the ecological effects of invaders. Biol Invasions 1:3–19

Pauchard A, Milbau A, Albihn A et al (2016) Non-native and native organisms moving into high elevation and high latitude ecosystems in an era of climate change: new challenges for ecology and conservation. Biol Invasions 18:345–353

Pimentel D, Lach L, Zuniga R, Morrison D (2000) Environmental and economic costs of nonindigenous species in the United States. Bioscience 50:53–65. https://doi.org/10.1641/0006-3568

Pyšek P, Richardson DM, Pergl J et al (2008) Geographical and taxonomic biases in invasion ecology. Trends Ecol Evol 23:237–244. https://doi.org/10.1016/j.tree.2008.02.002

Reaser JK, Meyerson LA, Cronk Q et al (2007) Ecological and socioeconomic impacts of invasive alien species in island ecosystems. Environ Conserv 34:98–111. https://doi.org/10.1017/S0376892907003815

Ricciardi A, Hoopes MF, Marchetti MP, Lockwood JL (2013) Progress toward understanding the ecological impacts of nonnative species. Ecol Monogr 83:263–282. https://doi.org/10.1890/13-0183.1

Schirmel J, Bundschuh M, Entling MH et al (2016) Impacts of invasive plants on resident animals across ecosystems, taxa, and feeding types: a global assessment. Glob Change Biol 22:594–603. https://doi.org/10.1111/gcb.13093

Seebens H, Blackburn TM, Dyer EE et al (2017) No saturation in the accumulation of alien species worldwide. Nat Commun 8:14438. https://doi.org/10.1038/ncomms14435

Simberloff D (2011) Charles Elton: neither founder nor siren, but prophet. Fifty years of invasion ecology. Wiley, London, pp 11–24

Simberloff D, Holle BV (1999) Positive interactions of nonindigenous species: invasional meltdown? Biol Invasions 1:21–23

Strayer DL (2010) Alien species in fresh waters: ecological effects, interactions with other stressors, and prospects for the future. Freshw Biol 55:152–174. https://doi.org/10.1111/j.1365-2427.2009.02380.x

Strayer DL (2012) Eight questions about invasions and ecosystem functioning. Ecol Lett 15:1199–1210. https://doi.org/10.1111/j.1461-0248.2012.01817.x

Strayer DL, Eviner VT, Jeschke JM, Pace ML (2006) Understanding the long-term effects of species invasions. Trends Ecol Evol 21:645–651. https://doi.org/10.1016/j.tree.2006.07.007

Strayer DL, D'Antonio CM, Essl F et al (2017) Boom-bust dynamics in biological invasions: towards an improved application of the concept. Ecol Lett 2:1337–1350

Thomaz SM, Agostinho AA, Gomes LC et al (2012) Using space-for-time substitution and time sequence approaches in invasion ecology: invasion framework. Freshw Biol 57:2401–2410. https://doi.org/10.1111/fwb.12005

Turbelin AJ, Malamud BD, Francis RA (2017) Mapping the global state of invasive alien species: patterns of invasion and policy responses. Glob Ecol Biogeogr 26:78–92. https://doi.org/10.1111/geb.12517

van Wilgen NJ, Gillespie MS, Richardson DM, Measey J (2018) A taxonomically and geographically constrained information base limits non-native reptile and amphibian risk assessment: a systematic review. PeerJ 6:e5850. https://doi.org/10.7717/peerj.5850

Vilà M, Espinar JL, Hejda M et al (2011) Ecological impacts of invasive alien plants: A meta-analysis of their effects on species, communities and ecosystems. Ecol Lett 14:702–708. https://doi.org/10.1111/j.1461-0248.2011.01628.x

Yokomizo H, Possingham HP, Thomas MB, Buckley YM (2009) Managing the impact of invasive species: the value of knowing the density-impact curve. Ecol Appl 19:376–386
Acknowledgements
We thank D. Simberloff, M. Meixler, J. Wiedenmann, the Lockwood lab, and J. Sadowski for helpful discussions and/or comments. Also, we thank the editor and two reviewers who provided comments that greatly improved this manuscript.
Funding
R.C.O was funded by a Rutgers University Ecology and Evolution grant.
Additional information
Publisher's Note
Springer Nature remains neutral with regard to jurisdictional claims in published maps and institutional affiliations.
Electronic supplementary material
Below is the link to the electronic supplementary material.
About this article
Cite this article
Crystal-Ornelas, R., Lockwood, J.L. The 'known unknowns' of invasive species impact measurement. Biol Invasions 22, 1513–1525 (2020). https://doi.org/10.1007/s10530-020-02200-0
Received:

Accepted:

Published:

Issue Date:
Keywords
Invasion ecology

Systematic review

Invasive species impacts

Ecological impacts