Abstract
Environmental factors change with an increase in elevation, such as increased UV-B radiation and decreased water availability, and thus may pose as barriers in upwards range expansion of plant species. Although evidence has been provided for an increasing number of exotic species reaching high elevations, the mechanisms behind still remain to be resolved, specifically, as to what extent processes of plasticity and adaptation are involved in overcoming these environmental barriers. In order to test for the role of genetic differentiation, specifically attributable to changes in water availability and UV-B radiation along elevational gradients in exotic plant species, we conducted a greenhouse experiment with eleven exotic herbaceous plant species sampled along an elevational gradient from 1500 to 3000 m a.s.l. in Drakensberg, South Africa. Seeds were collected across sections over the entire elevational gradient of Sani Pass. The experiment was run in a greenhouse with individuals grown from seeds of different elevational origins and subjected to combinations of three levels of UV-B radiation and two levels of soil moisture. Measures of performance and functional traits were repeatedly assessed as response measures in a species-wise manner. The results revealed a significant impairment of plant performance by increased levels of UV-B radiation as well as by reduced water availability. This emphasizes the existence of cross-resistance mechanisms that alleviate the negative impacts if plants are subjected to both combined stressors at the same time. Additionally, there seems to be a strong dependency of leaf trait responses on the developmental stage of the individual. We found evidence for adaptive processes related to increasing UV-B radiation levels in high montane areas, suggesting that factors fostering evolutionary responses, such as longer residence time and high genetic diversity could promote additional ascent of exotic species into high elevation areas.
Access options
Buy single article
Instant access to the full article PDF.
USD 39.95
Price includes VAT (USA)
Tax calculation will be finalised during checkout.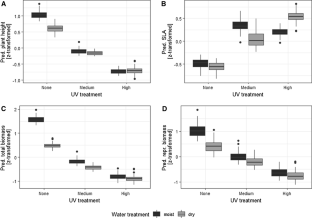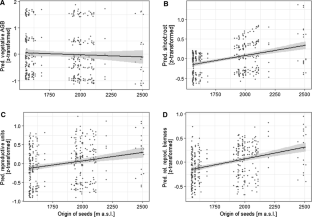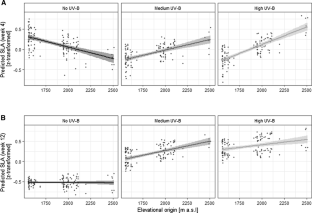 References
Alexander JM, Kueffer C, Daehler CC, Edwards PJ, Pauchard A, Seipel T, Arevalo J, Cavieres L, Dietz H, Jakobs G, McDougall K, Naylor B, Otto R, Parks CG, Rew L, Walsh N (2011) Assembly of nonnative floras along elevational gradients explained by directional ecological filtering. Proc Natl Acad Sci 108:656–661. https://doi.org/10.1073/pnas.1013136108

Alexander JM, Lembrechts JJ, Cavieres LA, Daehler C, Haider S, Kueffer C, Liu G, McDougall K, Milbau A, Pauchard A, Rew LJ, Seipel T (2016) Plant invasions into mountains and alpine ecosystems: current status and future challenges. Alp Bot 126:89–103. https://doi.org/10.1007/s00035-016-0172-8

Anjum S, Xie X, Wang L, Saleem MS, Man C, Lei W (2011) Morphological, physiological and biochemical responses of plants to drought stress. Afr J Agric Res 6:2026–2032. https://doi.org/10.5897/AJAR10.027

Ansari S, Daehler CC (2010) Life history variation in a temperate plant invader, Verbascum thapsus along a tropical elevational gradient in Hawaii. Biol Invasions 12:4033–4047. https://doi.org/10.1007/s10530-010-9810-z

Arroyo MTK, Pacheco DA, Aguilera P (2013) Floral allocation at different altitudes in highly autogamous alpine Chaetanthera euphrasioides (Asteraceae) in the central Chilean Andes. Alp Bot 123:7–12. https://doi.org/10.1007/s00035-012-0109-9

Ball WT, Alsing J, Mortlock DJ, Staehelin J, Haigh JD, Peter T, Tummon F, Stübi R, Stenke A, Anderson J, Bourassa A, Davis SM, Degenstein D, Frith S, Froidevaux L, Roth C, Sofieva V, Wang R, Wild J et al (2018) Evidence for a continuous decline in lower stratospheric ozone offsetting ozone layer recovery. Atmos Chem Phys 18:1379–1394. https://doi.org/10.5194/acp-18-1379-2018

Ballaré CL, Caldwell MM, Flint SD, Robinson SA, Bornman JF (2011) Effects of solar ultraviolet radiation on terrestrial ecosystems. Patterns, mechanisms, and interactions with climate change. Photochem Photobiol Sci 10:173. https://doi.org/10.1039/c0pp90040k

Bandurska H, Niedziela J, Chadzinikolau T (2013) Separate and combined responses to water deficit and UV-B radiation. Plant Sci 213:98–105. https://doi.org/10.1016/j.plantsci.2013.09.003

Barnes PW, Tobler MA, Keefover-Ring K, Flint SD, Barkley AE, Ryel RJ, Lindroth RL (2016) Rapid modulation of ultraviolet shielding in plants is influenced by solar ultraviolet radiation and linked to alterations in flavonoids. Plant, Cell Environ 39:222–230. https://doi.org/10.1111/pce.12609

Barnes PW, Ryel RJ, Flint SD (2017) UC screening in native and non-native plant species in the tropical alpine: implications for climate change-driven migration of species to higher elevations. Front Plant Sci 8:1–11. https://doi.org/10.3389/fpls.2017.01451

Bates D, Mächler M, Bolker B, Walker S (2015) Fitting linear mixed-effects models using lme4. J Stat Softw. https://doi.org/10.18637/jss.v067.i01

Beckmann M, Hock M, Bruelheide H, Erfmeier A (2012) The role of UV-B radiation in the invasion of Hieracium pilosella—a comparison of German and New Zealand plants. Environ Exp Bot 75:173–180. https://doi.org/10.1016/j.envexpbot.2011.09.010

Beckmann M, Václavík T, Manceur AM, Šprtová L, von Wehrden H, Welk E, Cord AF (2014) glUV: a global UV-B radiation data set for macroecological studies. Methods Ecol Evol 5:372–383. https://doi.org/10.1111/2041-210X.12168

Bishop TR, Robertson MP, van Rensburg BJ, Parr CL (2014) Elevation-diversity patterns through space and time: ant communities of the Maloti-Drakensberg Mountains of southern Africa. J Biogeogr 41:2256–2268. https://doi.org/10.1111/jbi.12368

Blackburn TM, Bacher S, Carlton JT, Pys P, Wilson JRU, Duncan RP, Richardson DM (2011) A proposed unified framework for biological invasions. Trends Ecol 26:333–339. https://doi.org/10.1016/j.tree.2011.03.023

Bornman JF, Barnes PW, Robson TM, Robinson SA, Jansen MAK, Ballare CL, Flint SD (2019) Linkages between stratospheric ozone, UV radiation and climate change and their implications for terrestrial ecosystems. Photochem Photobiol Sci 18:681–716. https://doi.org/10.1039/c8pp90061b

Bustamante RO, Duran AP, Peña-Gómez FT, Véliz D (2018) Genetic and phenotypic variation, dispersal limitation and reproductive success in the invasive herb Eschscholzia californica along an elevation gradient in central Chile. Plant Ecol Divers 10:419–429. https://doi.org/10.1080/17550874.2018.1425504

Caldwell MM, Bornman JF, Ballaré CL, Flint SD, Kulandaivelu G (2007) Terrestrial ecosystems, increased solar ultraviolet radiation, and interactions with other climate change factors. Photochem Photobiol Sci 6:252. https://doi.org/10.1039/b700019g

Callaway RM, Ridenour WM (2004) Novel weapons: invasive success and the evolution of increased competitive ability. Front Ecol Environ 2:436–443. https://doi.org/10.1890/1540-9295(2004)002%5b0436:nwisat%5d2.0.co;2

Cen Y-P, Bornman JF (1993) The effect of exposure to enhanced UV-B radiation on the penetration of monochromatic and polychromatic UV-B radiation in leaves of Brassica napus. Physiol Plant 87:249–255. https://doi.org/10.1111/j.1399-3054.1993.tb01727.x

Damián X, Fornoni J, Domínguez CA, Boege K (2018) Ontogenetic changes in the phenotypic integration and modularity of leaf functional traits. Funct Ecol 32:234–246. https://doi.org/10.1111/1365-2435.12971

Dietz H, Edwards PJ (2006) Recognition that causal processes change during plant invasion helps explain conflicts in evidence. Ecology 87:1359–1367

Dodd IC, Ryan AC (2016) Whole-plant physiological responses to water-deficit stress. eLS. https://doi.org/10.1002/9780470015902.a0001298.pub3

Erfmeier A (2013) Constraints and release at different scales—the role of adaptation in biological invasions. Basic Appl Ecol 14:281–288. https://doi.org/10.1016/j.baae.2013.04.004

Erfmeier A, Böhnke M, Bruelheide H (2011) Secondary invasion of Acer negundo: the role of phenotypic responses versus local adaptation. Biol Invasions 13:1599–1614. https://doi.org/10.1007/s10530-010-9917-2

Fabbro T, Körner C (2004) Altitudinal differences in flower traits and reproductive allocation. Flora 199:70–81. https://doi.org/10.1078/0367-2530-00128

Fang Y, Xiong L (2015) General mechanisms of drought response and their application in drought resistance improvement in plants. Cell Mol Life Sci 72:673–689. https://doi.org/10.1007/s00018-014-1767-0

Galic N, Sullivan LL, Grimm V, Forbes VE (2018) When things don't add up: quantifying impacts of multiple stressors from individual metabolism to ecosystem processing. Ecol Lett 21:568–577. https://doi.org/10.1111/ele.12923

Godoy O, Saldana A, Fuentes N, Valladares F, Gianoli E (2011) Forests are not immune to plant invasions: phenotypic plasticity and local adaptation allow Prunella vulgaris to colonize a temperate evergreen rainforest. Biol Invasions 13:1615–1625. https://doi.org/10.1007/s10530-010-9919-0

Haider S, Kueffer C, Edwards PJ, Alexander JM (2012) Genetically based differentiation in growth of multiple non-native plant species along a steep environmental gradient. Oecologia 170:89–99. https://doi.org/10.1007/s00442-012-2291-2

Haider S, Milbau A, Naylor BJ, Kueffer C, Arévalo JR, Seipel T, Bruelheide H, Rew LJ, McDougall KL, Alexander JM, Speziale K, Cavieres LA, Pauchard A (2018) Mountain roads and non-native species modify elevational patterns of plant diversity. Glob Ecol Biogeogr 27:667–678. https://doi.org/10.1111/geb.12727

Halbritter AH, Fior S, Keller I, Billeter R, Edwards P, Holderegger R, Karrenberg S, Pluess AR, Widmer A, Alexander JM (2018) Trait differentiation and adaptation of plants along elevation gradients. J Evol Biol 21:784–800. https://doi.org/10.1111/jeb.13262

Hautier Y, Randin CF, Stöcklin J, Guisan A (2009) Changes in reproductive investment with altitude in an alpine plant. J Plant Ecol 2:125–134. https://doi.org/10.1093/jpe/rtp011

He M, Dijkstra FA (2014) Drought effect on plant nitrogen and phosphorus: a meta-analysis. New Phytol. https://doi.org/10.1111/nph.12952

Hock M, Hofmann RW, Müller C, Erfmeier A (2019) Exotic plant species are locally adapted but not to high UV-B radiation: a reciprocal multi-species experiment. Ecology 100(5):e02665. https://doi.org/10.1002/ecy.2665

Hsiao TC, Acevedo E (1974) Plant responses to water deficits, water-use efficiency, and drought resistance. Agric Meteorol 14:59–84. https://doi.org/10.1016/0002-1571(74)90011-9

Jansen MAK, Gaba V, Greenberg BM (1998) Higher plants and UV-B radiation: balancing damage, repair and acclimation. Trends Plant Sci 3:131–135. https://doi.org/10.1016/S1360-1385(98)01215-1

Jia X, Pan XY, Sosa A, Li B, Chen JK (2010) Differentiation in growth and biomass allocation among three native Alternanthera philoxeroides varieties from Argentina. Plant Species Biol 25:85–92. https://doi.org/10.1111/j.1442-1984.2010.00271.x

Joshi J, Schmid B, Caldeira MC, Dimitrakopoulos PG, Good J, Harris R, Hector A, Huss-Danell K, Jumpponen A, Minns A, Mulder CPH, Pereira JS, Prinz A, Scherer-Lorenzen M, Siamantziouras ASD, Terry AC, Troumbis AY, Lawton JH (2001) Local adaptation enhances performance of common plant species. Ecol Lett 4:536–544. https://doi.org/10.1046/j.1461-0248.2001.00262.x

Kalwij JM, Robertson MP, van Rensburg BJ (2015) Annual monitoring reveals rapid upward movement of exotic plants in a montane ecosystem. Biol Invasions 17:3517–3529. https://doi.org/10.1007/s10530-015-0975-3

Kataria S, Jajoo A, Guruprasad KN (2014) Impact of increasing ultraviolet-B (UV-B) radiation on photosynthetic processes. J Photochem Photobiol B Biol 137:55–66. https://doi.org/10.1016/j.jphotobiol.2014.02.004

Kuznetsova A, Brockhoff PB, Christensen RHB (2017) lmertest package: tests in linear mixed effects models. J Stat Softw 82(13):1–26. https://doi.org/10.18637/jss.v082.i13

Lachmuth S, Durka W, Schurr FM (2010) The making of a rapid plant invader: genetic diversity and differentiation in the native and invaded range of Senecio inaequidens. Mol Ecol 19:3952–3967. https://doi.org/10.1111/j.1365-294X.2010.04797.x

Lachmuth S, Durka W, Schurr FM (2011) Differentiation of reproductive and competitive ability in the invaded range of Senecio inaequidens: the role of genetic Allee effects, adaptive and nonadaptive evolution. New Phytol 192:529–541. https://doi.org/10.1111/j.1469-8137.2011.03808.x

Lande R (2009) Adaptation to an extraordinary environment by evolution of phenotypic plasticity and genetic assimilation. J Evol Biol 22:1435–1446. https://doi.org/10.1111/j.1420-9101.2009.01754.x

Lembrechts JJ, Pauchard A, Nijs I, Alexander JM, Nuñez MA, Naylor BJ, Rew LJ, Cavieres LA, Kueffer C, McDougall K, Lenoir J, Haider S, Milbau A (2016) Mountain roads shift native and non-native plant species' ranges. Ecography (Cop) 40:353–364. https://doi.org/10.1111/ecog.02200

Llorens L, Badenes-Pérez FR, Julkunen-Tiitto R, Zidorn C, Fereres A, Jansen MAK (2015) The role of UV-B radiation in plant sexual reproduction. Perspect Plant Ecol Evol Syst 17:243–254. https://doi.org/10.1016/j.ppees.2015.03.001

Maron JL, Vilà M, Bommarco R, Elmendorf S, Beardsley P (2004) Rapid evolution of an invasive plant. Ecol Monogr 74:261–280. https://doi.org/10.1890/03-4027

Monty A, Mahy G (2009) Clinal differentiation during invasion: Senecio inaequidens (Asteraceae) along altitudinal gradients in Europe. Oecologia 159:305–315. https://doi.org/10.1007/s00442-008-1228-2

Monty A, Lebeau J, Meerts P, Mahy G (2009) An explicit test for the contribution of environmental maternal effects to rapid clinal differentiation in an invasive plant. J Evol Biol 22:917–926. https://doi.org/10.1111/j.1420-9101.2009.01728.x

Münzbergová Z, Hadincová V, Wild J, Kindlmannová J (2013) Variability in the contribution of different life stages to population growth as a key factor in the invasion success of Pinus strobus. PLoS ONE. https://doi.org/10.1371/journal.pone.0056953

Nel W (2008) Observations on daily rainfall events in the KwaZulu-Natal Drakensberg. Water SA 34:271–274

Nel W, Sumner PD (2006) Trends in rainfall total and variability (1970–2000) along the KwaZulu-Natal Drakensberg foothills. S Afr Geogr J 88:130–137. https://doi.org/10.1080/03736245.2006.9713855

Nel W, Sumner P (2008) Rainfall and temperature attributes on the Lesotho–Drakensberg escarpment edge, Southern Africa. Geography 90:97–108

Osakabe Y, Osakabe K, Shinozaki K, Tran L-SP (2014) Response of plants to water stress. Front Plant Sci 5:1–8. https://doi.org/10.3389/fpls.2014.00086

Pescheck F, Bilger W (2018) Compensation of lack of UV screening by cellular tolerance in green macroalgae (Ulvophyceae) from the upper eulittoral. Mar Biol 165:1–12. https://doi.org/10.1007/s00227-018-3393-0

Poll M, Alexander JM (2009) Mountains as model systems for understanding drivers of plant invasion. Mt Res Initiat Newsl 3:26–29

Pooley E (2009) ASSESSMENT REPORT: vegetation Impacts EIA for the proposed upgrade of the Sani Pass Road (Phase 2). Appendix E1. https://projects.gibb.co.za/Projects/Sani-Pass-Phase-2-EIA

Prabu NR, Stalin N, Swamy PS (2014) Ecophysiological attributes of Mikania micrantha, an exotic invasive weed, at two different elevations in the tropical forest regions of the Western Ghats, South India. Weed Biol Manag 14:59–67. https://doi.org/10.1111/wbm.12033

Pysek P, Jarosik V, Pergl J, Wild J (2011) Colonization of high altitudes by alien plants over the last two centuries. Proc Natl Acad Sci 108:439–440. https://doi.org/10.1073/pnas.1017682108

Quiroz CL, Choler P, Baptist F, González-Teuber M, Molina-Montenegro MA, Cavieres LA (2009) Alpine dandelions originated in the native and introduced range differ in their responses to environmental constraints. Ecol Res 24:175–183. https://doi.org/10.1007/s11284-008-0498-9

Robson TM, Klem K, Urban O, Jansen MAK (2015) Re-interpreting plant morphological responses to UV-B radiation. Plant, Cell Environ 38:856–866. https://doi.org/10.1111/pce.12374

Rozema J, van de Staaij J, Björn LO, Caldwell M (1997) UV-B as an environmental factor in plant life: stress and regulation. Trends Ecol Evol 12:22–28. https://doi.org/10.1016/S0169-5347(96)10062-8

Schlaepfer DR, Glättli M, Fischer M, van Kleunen M (2010) A multi-species experiment in their native range indicates pre-adaptation of invasive alien plant species. New Phytol 185:1087–1099. https://doi.org/10.1111/j.1469-8137.2009.03114.x

Schultze M, Bilger W (2019) Acclimation of Arabidopsis thaliana to low temperature protects against damage of photosystem II caused by exposure to UV-B radiation at 9°C. Plant Physiol Biochem 134:73–80. https://doi.org/10.1016/j.plaphy.2018.10.017

Seipel T, Alexander JM, Daehler CC, Rew LJ, Edwards PJ, Dar PA, Mcdougall K, Naylor B, Parks C, Pollnac FW, Reshi ZA, Schroder M, Kueffer C (2015) Performance of the herb Verbascum thapsus along environmental gradients in its native and non-native ranges. J Biogeogr 42:132–143. https://doi.org/10.1111/jbi.12403

Shao HB, Chu LY, Jaleel CA, Zhao CX (2008) Water-deficit stress-induced anatomical changes in higher plants. Comptes Rendus Biol 331:215–225. https://doi.org/10.1016/j.crvi.2008.01.002

Smith JL, Burritt DJ, Bannister P (2000) Shoot dry weight, chlorophyll and UV-B-absorbing compounds as indicators of a plant's sensitivity to UV-B radiation. Ann Bot 86:1057–1063. https://doi.org/10.1006/anbo.2000.1270

Steyn C, Greve M, Robertson MP, Kalwij JM, le Roux PC (2017) Alien plant species that invade high elevations are generalists: support for the directional ecological filtering hypothesis. J Veg Sci 28:337–346. https://doi.org/10.1111/jvs.12477

Suchar VA, Robberecht R (2016) Integration and scaling of UV-B radiation effects on plants: from molecular interactions to whole plant responses. Ecol Evol 6:4866–4884. https://doi.org/10.1002/ece3.2064

Teramura AH (1983) Effects of ultraviolet-B radiation on the growth and yield of crop plants. Physiol Plant 58:415–427. https://doi.org/10.1111/j.1399-3054.1983.tb04203.x

Ulm R, Jenkins GI (2015) Q&A: how do plants sense and respond to UV-B radiation? BMC Biol 13:4–9. https://doi.org/10.1186/s12915-015-0156-y

Van Kleunen M, Weber E, Fischer M (2009) A meta-analysis of trait differences between invasive and non-invasive plant species. Ecol Lett 13:235–245. https://doi.org/10.1111/j.1461-0248.2009.01418.x

Veit M, Bilger W, Mühlbauer T, Brummet W, Winter K (1996) Diurnal changes in flavonoids. J Plant Physiol 148:478–482. https://doi.org/10.1016/S0176-1617(96)80282-3

Wang QW, Nagano S, Ozaki H, Morinaga SI, Hidema J, Hikosaka K (2016) Functional differentiation in UV-B-induced DNA damage and growth inhibition between highland and lowland ecotypes of two Arabidopsis species. Environ Exp Bot 131:110–119. https://doi.org/10.1016/j.envexpbot.2016.07.008

White JW, Montes-R C (2005) Variation in parameters related to leaf thickness in common bean (Phaseolus vulgaris L.). Field Crop Res 91:7–21. https://doi.org/10.1016/j.fcr.2004.05.001

Wickham H, Chang W (2016) Package 'ggplot2'. https://doi.org/10.1093/bioinformatics/btr406

Williams J (2018) The ozone hole: a story of healing and hope. Weatherwise 71:12–17. https://doi.org/10.1080/00431672.2018.1392813

Yang Y, Yao Y, Xu G, Li C (2005) Growth and physiological responses to drought and elevated ultraviolet-B in two contrasting populations of Hippophae rhamnoides. Physiol Plant 124:431–440. https://doi.org/10.1111/j.1399-3054.2005.00517.x

Zefferman E, Stevens JT, Charles GK, Dunbar-irwin M, Emam T, Fick S, Morales LV, Wolf KM, Young DJN, Young TP (2015) Plant communities in harsh sites are less invaded: a summary of observations and proposed explanations. AoB Plants. https://doi.org/10.1093/aobpla/plv056

Zhao X, Liu W, Zhou M (2013) Lack of local adaptation of invasive crofton weed (Ageratina adenophora) in different climatic areas of Yunnan Province, China. J Plant Ecol 6:316–322. https://doi.org/10.1093/jpe/rts036

Ziska LH, Teramura AH, Sullivan JH (1992) Physiological sensitivity of native plants collected along an elevational gradient in Hawaii to increased UV-B radiation. Am J Bot 79:863–871. https://doi.org/10.2307/2444995
Acknowledgements
We thank S. Turner, S. Kritzinger-Klopper (Stellenbosch University), T. Khoza, A. Denton and L.-M. Schwarz for collection of seed material, J. Kalwij for introduction to the study system and on-site scientific support, and W. Bilger for scientific advice regarding UV-B radiation. We thank M. Bahns for technical support as well as I. Meyer and H. Dorendorf for plant care.
Additional information
Publisher's Note
Springer Nature remains neutral with regard to jurisdictional claims in published maps and institutional affiliations.
Electronic supplementary material
Below is the link to the electronic supplementary material.
About this article
Cite this article
Watermann, L.Y., Hock, M., Blake, C. et al. Plant invasion into high elevations implies adaptation to high UV-B environments: a multi-species experiment. Biol Invasions 22, 1203–1218 (2020). https://doi.org/10.1007/s10530-019-02173-9
Received:

Accepted:

Published:

Issue Date:
Keywords
Local adaptation

Cross-resistance

Altitudinal gradient

Exotic plant species

UV-B × drought interaction

South Africa