Abstract
Lianas (woody vines) are a leading concern in urban forest management given their ability to reduce the growth rate and survival of trees. Efforts to control invasive lianas are widespread, yet forests are often reinvaded following management. Changes in soil nutrient availability could help explain why some forests are susceptible to reinvasion. Specifically, invasive lianas could be "drivers" of altered nutrient dynamics that persist in the soil and favor their re-establishment, or they could be "passengers" of conditions created by prior site disturbances. We test these alternative models by analyzing soils across gradients of liana cover and forest disturbance in mature hardwood forests in New York City. Overall, total non-native liana cover was linked to elevated soil pH, reduced labile carbon, and altered net potential nitrification—three conditions indicative of increased soil nutrient availability. However, the effects of lianas varied substantially by species. Non-native lianas had a positive, negative, neutral, or non-linear effect on a single soil variable depending on the species. Aggregation of total non-native liana cover can therefore obscure the direction and magnitude of species-level effects. We also found positive relationships between forest disturbance, non-native liana cover, and soil pH, but we found no relationships between disturbance and net nitrification or labile carbon. These results suggest that non-native lianas are passengers to elevated levels of disturbance and soil pH but drivers of altered carbon and nitrogen dynamics. As such, management efforts aimed at reducing soil nutrient availability and removing invasive lianas may be required to limit reinvasion and promote ecosystem recovery.
Access options
Buy single article
Instant access to the full article PDF.
US$ 39.95
Tax calculation will be finalised during checkout.
Subscribe to journal
Immediate online access to all issues from 2019. Subscription will auto renew annually.
US$ 79
Tax calculation will be finalised during checkout.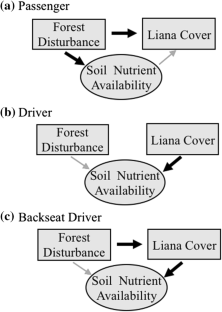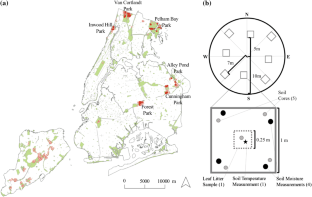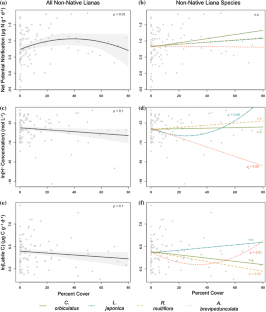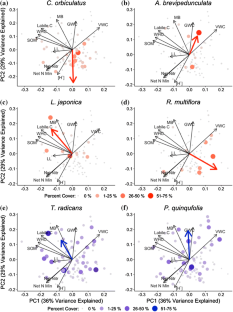 References
Alberti M (2005) The effects of urban patterns on ecosystem function. Int Reg Sci Rev 28:168–192

Allen SE (1989) Chemical analysis of ecological materials. Blackwell Scientific, Oxford

Allen BP, Sharitz RR, Goebel PC (2007) Are lianas increasing in importance in temperate floodplain forests in the southeastern United States? For Ecol Manag 242:17–23

Asner GP, Martin RE (2012) Contrasting leaf chemical traits in tropical lianas and trees: implications for future forest composition. Ecol Lett 15:1001–1007

Bardgett RD, Wardle DA (2010) Aboveground-belowground linkages: biotic interactions, ecosystem processes, and global change. Oxford University Press, Oxford

Bassuk N, Curtis DF, Marranca B, Neal B (2003) Recommended urban trees: site assessment and tree selection for stress tolerance. Urban Horticulture Institute. http://www.hort.cornell.edu/uhi/outreach/recurbtree/pdfs/~recurbtrees.pdf. Accessed 5 Dec 2018

Bates D, Mächler M, Bolker BM, Walker SC (2015) Fitting linear mixed-effects models using lme4. J Stat Softw 67:1–48

Bauer JT (2012) Invasive species: "back-seat drivers" of ecosystem change? Biol Invasions 14:1295–1304

BBG, TNC (2013) Invasiveness assessment scores and ranks for 183 nonnative plant species in NYS. Brooklyn Botanic Garden and The Nature Conservancy New York. http://nyis.info/non-native-plant-assessments. Accessed 5 Dec 2018

Booth MS, Stark JM, Rastetter E (2005) Controls on nitrogen cycling in terrestrial ecosystems: a synthetic analysis of literature data. Ecol Monogr 75:139–157

Borcard D, Gillet F, Legendre P (2011) Numerical ecology with R. Springer, New York

Bradford MA, Davies CA, Frey SD et al (2008) Thermal adaptation of soil microbial respiration to elevated temperature. Ecol Lett 11:1316–1327

Bradford MA, Veen GF, Bonis A et al (2017) A test of the hierarchical model of litter decomposition. Nat Ecol Evol 1:1836–1845

Bradley BA, Wilcove DS, Oppenheimer M (2010) Climate change increases risk of plant invasion in the Eastern United States. Biol Invasions 12:1855–1872

Brady NC, Weil RR (2008) The nature and properties of soils, 14th edn. Pearson, London

Bray SR, Hoyt AM, Yang Z, Arthur MA (2017) Non-native liana, Euonymus fortunei, associated with increased soil nutrients, unique bacterial communities, and faster decomposition rate. Plant Ecol 218:329–343

Brice M-H, Bergeron A, Pellerin S (2014) Liana distribution in response to urbanization in temperate forests. Ecoscience 21:104–113

Burns DA, Murdoch PS (2005) Effects of a clearcut on the net rates of nitrification and N mineralization in a northern hardwood forest, Catskill Mountains, New York, USA. Biogeochemistry 72:123–146

Cadotte MW, Yasui SLE, Livingstone S, MacIvor JS (2017) Are urban systems beneficial, detrimental, or indifferent for biological invasion? Biol Invasions 19:1–15

Carreiro MM, Tripler CE (2005) Forest remnants along urban-rural gradients: examining their potential for global change research. Ecosystems 8:568–582

Castro-Díez P, Godoy O, Alonso A et al (2014) What explains variation in the impacts of exotic plant invasions on the nitrogen cycle? A meta-analysis. Ecol Lett 17:1–12

Colautti RI, Grigorovich IA, MacIsaac HJ (2006) Propagule pressure: a null model for biological invasions. Biol Invasions 8:1023–1037

Corbin J, D'Antonio C (2004) Effects of exotic Epecies on soil nitrogen cycling: implications for restoration. Weed Technol 18:1464–1467

Cornelissen JHC (1996) An experimental comparison of leaf decomposition rates in a wide range of temperate plant species and types. J Ecol 84:573–582

Craig ME, Fraterrigo JM (2017) Plant–microbial competition for nitrogen increases microbial activities and carbon loss in invaded soils. Oecologia 184:583–596

Craul PJ (1985) A description of urban soils and their desired characteristics. J Arboric 11:330–339

Daniels JM, Brinkley W, Paruszkiewicz MD (2016) Urban forest restoration cost modeling: a Seattle natural areas case study. Department of Agriculture, Forest Service, Pacific Northwest Research Station, Portland. https://doi.org/10.2737/PNW-GTR-921

Davis MA, Grime JP, Thompson K (2000) Fluctuating resources in plant communities: a general theory of invasibility. J Ecol 88:528–534

Dawson W, Moser D, van Kleunen M et al (2017) Global hotspots and correlates of alien species richness across taxonomic groups. Nat Ecol Evol 1:0186

Didham RK, Tylianakis JM, Hutchison MA et al (2005) Are invasive species the drivers of ecological change? Trends Ecol Evol 20:470–474

Edinger GJ, Evans DJ, Gebauer S, et al (2014) Ecological communities of New York state, 2nd edn. New York Natural Heritage Program, New York State Department of Environmental Conservation, Albany, NY. https://www.dec.ny.gov/docs/wildlife_pdf/ecocomm2014.pdf. Accessed 5 Dec 2018

Ehrenfeld JG (2003) Effects of exotic plant invasions on soil nutrient cycling processes. Ecosystems 6:503–523

Ehrenfeld JG, Kourtev P, Huang W (2001) Changes in soil functions following invasions of exotic understory plants in deciduous forests. Ecol App 11:1287–1300

Elton CS (1958) The ecology of invasions by animals and plants. Methuan, London

Fierer N, Craine JM, McLauchlan K, Schimel JP (2005) Litter quality and the temperature sensitivity of decomposition. Ecology 86:320–326

Finerty GE, de Bello F, Bílá K et al (2016) Exotic or not, leaf trait dissimilarity modulates the effect of dominant species on mixed litter decomposition. J Ecol 104:1400–1409

Forgione HM, Pregitzer CC, Charlop-Powers S, Gunther B (2016) Advancing urban ecosystem governance in New York City: shifting towards a unified perspective for conservation management. Environ Sci Pol 62:127–132

Funk JL, Vitousek PM (2007) Resource-use efficiency and plant invasion in low-resource systems. Nature 446:1079–1081

George K, Ziska LH, Bunce JA, Quebedeaux B (2007) Elevated atmospheric CO2 concentration and temperature across an urban–rural transect. Atmos Environ 41:7654–7665

Gotelli NJ, Ellison AM (2004) A primer of ecological statistics. Sinauer Associates Inc., Sunderland

Graffelman J, Aluja-Banet T (2003) Optimal representation of supplementary variables in biplots from principal component analysis and correspondence analysis. Biom J 45:491–509

Green Seattle Partnership (2006) 20-Year strategic plan. Green Seattle Partnership, Seattle, WA. https://www.greenseattle.org/wp-content/uploads/2015/04/GSP_20YrPlan5.1.06.pdf. Accessed 5 Dec 2018

Greenberg CH, Smith LM, Levey DJ (2001) Fruit fate, seed germination and growth of an invasive vine—an experimental test of 'sit and wait' strategy. Biol Invasions 3:363–372

Güneralp B, Seto KC (2013) Futures of global urban expansion: uncertainties and implications for biodiversity conservation. Environ Res Lett 8:014025

Hart SC, Nason GE, Myrold DD, Perry DA (1994) Dynamics of gross nitrogen transformations in an old-growth forest: the carbon connection. Ecology 75:880–891

Hobbie SE (1992) Effects of plant species on nutrient cycling. Trends Ecol Evol 7:336–339

Holle BV, Simberloff D (2005) Ecological resistance to biological invasion overwhelmed by propagule pressure. Ecology 86:3212–3218

Huebner CD, Steinman J, Hutchinson TF et al (2014) The distribution of a non-native (Rosa multiflora) and native (Kalmia latifolia) shrub in mature closed-canopy forests across soil fertility gradients. Plant Soil 377:259–276

Ingwell LL, Wright SJ, Becklund KK et al (2010) The impact of lianas on 10 years of tree growth and mortality on Barro Colorado Island, Panama. J Ecol 98:879–887

Jim CY (1998) Physical and chemical properties of a Hong Kong roadside soil in relation to urban tree growth. Urban Ecosyst 2:171–181

Jo I, Fridley JD, Frank DA (2015a) Linking above- and belowground resource use strategies for native and invasive species of temperate deciduous forests. Biol Invasions 17:1545–1554

Jo I, Fridley JD, Frank DA (2015b) More of the same? In situ leaf and root decomposition rates do not vary between 80 native and nonnative deciduous forest species. New Phytol 209:115–122

Johnson DW, Curtis PS (2001) Effects of forest management on soil C and N storage: meta analysis. For Ecol Manag 140:227–238

Johnson LR, Handel SN (2016) Restoration treatments in urban park forests drive long-term changes in vegetation trajectories. Ecol Appl 26:940–956

Johnson LR, Handel SN (2019) Management intensity steers the long-term fate of ecological restoration in urban woodlands. Urban For Urban Green 41:85–92

Jones TR, Kang IH, Wheeler DB et al (2008) Cell Profiler Analyst: data exploration and analysis software for complex image-based screens. BMC Bioinform 9:482

Kaye JP, Hart SC (1997) Competition for nitrogen between plants and soil microorganisms. Trends Ecol Evol 12:139–143

Kaye JP, Groffman PM, Grimm NB et al (2006) A distinct urban biogeochemistry? Trends Ecol Evol 21:192–199

Keiser AD, Knoepp JD, Bradford MA (2016) Disturbance decouples biogeochemical cycles across forests of the southeastern US. Ecosystems 19:50–61

Kourtev PS, Ehrenfeld JG, Häggblom M (2003) Experimental analysis of the effect of exotic and native plant species on the structure and function of soil microbial communities. Soil Biol Biochem 35:895–905

Kowarik I (2011) Novel urban ecosystems, biodiversity, and conservation. Environ Pollut 159:1974–1983

Kramer TD, Warren RJ, Tang Y, Bradford MA (2012) Grass invasions across a regional gradient are associated with declines in belowground carbon pools. Ecosystems 15:1271–1282

Kuebbing SE, Nuñez MA, Simberloff D (2013) Current mismatch between research and conservation efforts: the need to study co-occurring invasive plant species. Biol Conserv 160:121–129

Ladwig LM, Meiners SJ (2009) Impacts of temperate lianas on tree growth in young deciduous forests. For Ecol Manag 259:195–200

Ladwig LM, Meiners SJ (2010) Liana host preference and implications for deciduous forest regeneration. J Torrey Bot Soc 137:103–112

Ladwig LM, Meiners SJ (2014) The role of lianas in temperate tree communities. ecology of lianas. Wiley, Chichester, pp 188–202

Lahr EC, Dunn RR, Frank SD (2018) Getting ahead of the curve: cities as surrogates for global change. Poc R Soc B-Biol Sci 285:20180643

Langenheder S, Prosser JI (2008) Resource availability influences the diversity of a functional group of heterotrophic soil bacteria. Environ Microbiol 10:2245–2256

Laughlin DC (2011) Nitrification is linked to dominant leaf traits rather than functional diversity. J Ecol 99:1091–1099

Laurance WF, Andrade AS, Magrach A et al (2014) Long-term changes in liana abundance and forest dynamics in undisturbed Amazonian forests. Ecology 95:1604–1611

Lee MR, Flory SL, Phillips RP (2012) Positive feedbacks to growth of an invasive grass through alteration of nitrogen cycling. Oecologia 170:457–465

Legendre P, Legendre L (1998) Numerical ecology, 3rd edn. Elsevier, Amsterdam

Leicht-Young SA, Pavlovic NB (2015) Lianas as invasive species in North America. Ecology of lianas. Wiley, Chichester, pp 427–442

Leicht-Young SA, O'Donnell H, Latimer AM, Silander JA (2009) Effects of an invasive plant species, Celastrus orbiculatus, on soil composition and processes. Am Midl Nat 161:219–231

Leishman MR, Haslehurst T, Ares A, Baruch Z (2007) Leaf trait relationships of native and invasive plants: community- and global-scale comparisons. New Phytol 176:635–643

Liao C, Peng R, Luo Y et al (2008) Altered ecosystem carbon and nitrogen cycles by plant invasion: a meta-analysis. New Phytol 177:706–714

Lockwood JL, Hoopes MF, Marchetti MP (2013) Invasion ecology, 2nd edn. Wiley, Chichester

Londre RA, Schnitzer SA (2006) The distribution of lianas and their change in abundance in temperate forests over the past 45 years. Ecology 87:2973–2978

Luck M, Wu J (2002) A gradient analysis of urban landscape pattern: a case study from the Phoenix metropolitan region, Arizona, USA. Landsc Ecol 17:327–339

MacDougall AS, Turkington R (2005) Are invasive species the drivers or passengers of change in degraded ecosystems? Ecology 86:42–55

Martin PH, Canham CD, Marks PL (2009) Why forests appear resistant to exotic plant invasions: intentional introductions, stand dynamics, and the role of shade tolerance. Front Ecol Environ 7:142–149

Matthews ER, Schmit JP, Campbell JP (2016) Climbing vines and forest edges affect tree growth and mortality in temperate forests of the US, Mid-Atlantic states. For Ecol Manag 374:166–173

Moles AT, Flores-Moreno H, Bonser SP et al (2012) Invasions: the trail behind, the path ahead, and a test of a disturbing idea. J Ecol 100:116–127

Nakagawa S, Schielzeth H (2013) A general and simple method for obtaining R2 from generalized linear mixed-effects models. Methods Ecol Evol 4:133–142

Nelson DW, Sommers LE (1996) Total carbon, organic carbon, and organic matter. Methods of soil analysis part 3—chemical methods. SSSA, ASA, Madison, pp 961–1010

New York City Soil Survey Staff (2005) New York City reconnaissance soil survey. United States Department of Agriculture, Natural Resources Conservation Service, Staten Island, NY. http://www.soilandwater.nyc/uploads/7/7/6/5/7765286/reconnaissance_soil_survey_report.pdf. Accessed Dec 5 2018

NOAA (2010) 1981–2010 Climate normals. U.S. Department of Commerce, National Oceanic and Atmospheric Administration, National Centers for Environmental information, Asheville, NC. https://www.ncdc.noaa.gov/cdo-web/datatools/normal. Accessed 5 Dec 2018

NRCS Soil Survey Staff (2017) Web soil survey. Natural Resources Conservation Service, United States Department of Agriculture. https://websoilsurvey.sc.egov.usda.gov/. Accessed 5 Dec 2018

O'Neil-Dunne J, MacFaden SW, Forgione HM, Lu JWT (2014) Urban ecological land-cover mapping for New York City. Spatial Informatics Group, University of Vermont, Natural Areas Conservancy, and New York City Department of Parks & Recreation. http://naturalareasnyc.org/content/3-in-print/2-research/urbanecologicalmap_newyorkcity_report_2014.pdf. Accessed 5 Dec 2018

Oldfield EE, Felson AJ, Wood SA et al (2014) Positive effects of afforestation efforts on the health of urban soils. For Ecol Manag 313:266–273

Oldfield EE, Wood SA, Bradford MA (2018) Direct effects of soil organic matter on productivity mirror those observed with organic amendments. Plant Soil 423:363–373

Ordonez A, Wright IJ, Olff H (2010) Functional differences between native and alien species: a global-scale comparison. Funct Ecol 24:1353–1361

Osman KT (2013) Forest soils: properties and management. Springer, Cham

Oswalt SN, Smith WB, Miles PD, Pugh SA (2014) Forest resources of the United States, 2012. Department of Agriculture, Forest Service, Washington. https://doi.org/10.2737/WO-GTR-91

Pataki DE, Carreiro MM, Cherrier J et al (2011) Coupling biogeochemical cycles in urban environments: ecosystem services, green solutions, and misconceptions. Front Ecol Environ 9:27–36

Paul EA, Morris SJ, Böhm S (2001) The determination of soil C pool sizes and turnover rates: biophysical fractionation and tracers. Assessment methods for soil carbon. CRC Press LLC, Boca Raton, pp 193–205

Pavao-Zuckerman MA (2008) the nature of urban soils and their role in ecological restoration in cities. Restor Ecol 16:642–649

Pavlovic NB, Leicht-Young SA (2011) Are temperate mature forests buffered from invasive Lianas? J Torrey Bot Soc 138:85–92

Perry LG, Blumenthal DM, Monaco TA et al (2010) Immobilizing nitrogen to control plant invasion. Oecologia 163:13–24

Phillips OL, Vásquez Martínez R, Arroyo L et al (2002) Increasing dominance of large lianas in Amazonian forests. Nature 418:770–774

Phillips OL, Vásquez Martínez R, Monteagudo Mendoza A et al (2005) Large lianas as hyperdynamic elements of the tropical forest canopy. Ecology 86:1250–1258

Pouyat RV, Yesilonis ID, Russell-Anelli J, Neerchal NK (2007) Soil chemical and physical properties that differentiate urban land-use and cover types. Soil Sci Soc Am J 71:1010

Powers JS (2014) Reciprocal interactions between lianas and forest soil. Ecology of Lianas. Wiley, Chichester, pp 175–187

Pregitzer CC, Sonti NF, Hallett RA (2016) Variability in urban soils influences the health and growth of native tree seedlings. Ecol Restor 34:106–116

Pregitzer CC, Charlop-Powers S, Bibbo S et al (2018a) A city-scale assessment reveals that native forest types and overstory species dominate New York City. For Ecol Appl 29:1–11

Pregitzer CC, Forgione HM, King KL, et al (2018b) Forest management framework for New York City. Natural Areas Conservancy, New York, NY. http://naturalareasnyc.org/content/forests/fmf-f6-hires-singles-reduced.pdf. Accessed 5 Dec 2018

Pregitzer CC, Charlop-Powers S, McCabe C, et al (2019) Untapped Common Ground: The Care of Forested Natural Areas in American Cities. Natural Areas Conservancy, New York, NY. http://naturalareasnyc.org/content/national/nac_careofurbannature_lores-singles.pdf?1553522646. Accessed 5 Sep 2019

Prescott CE (2002) The influence of the forest canopy on nutrient cycling. Tree Physiol 22:1193–1200

R Core Development Team (2013) R: a language and environment for statistical computing. R Foundation for Statistical Computing, Vienna

Reisinger AJ, Groffman PM, Rosi-Marshall EJ (2016) Nitrogen-cycling process rates across urban ecosystems. FEMS Microbiol Ecol 92: fiw198

Robertson, Wedin DA, Groffman PM, et al (1999) Soil carbon and nitrogen availability: nitrogen mineralization, nitrification, and soil respiration potentials. In: Standard soil methods for long-term ecological research. Oxford University Press, New York

Robinson WS (1950) Ecological correlations and the behavior of individuals. Am Sociol Rev 15:351–357

Sagarin R, Pauchard A (2010) Observational approaches in ecology open new ground in a changing world. Front Ecol Environ 8:379–386

Schnitzer SA, Bongers F (2002) The ecology of lianas and their role in forests. Trends Ecol Evol 17:223–230

Schnitzer SA, Bongers F (2011) Increasing liana abundance and biomass in tropical forests: emerging patterns and putative mechanisms. Ecol Lett 14:397–406

Schnitzer SA, Carson WP (2001) Treefall gaps and the maintenance of species diversity in a tropical forest. Ecology 82:913–919

Schnitzer SA, Dalling JW, Carson WP (2000) The impact of lianas on tree regeneration in tropical forest canopy gaps: evidence for an alternative pathway of gap-phase regeneration. J Ecol 88:655–666

Seto KC, Guneralp B, Hutyra LR (2012) Global forecasts of urban expansion to 2030 and direct impacts on biodiversity and carbon pools. Proc Natl Acad Sci USA 109:16083–16088

Simberloff D, Martin J-L, Genovesi P et al (2013) Impacts of biological invasions: what's what and the way forward. Trends Ecol Evol 28:58–66

Sokol NW, Kuebbing SE, Bradford MA (2017) Impacts of an invasive plant are fundamentally altered by a co-occurring forest disturbance. Ecology 98:2133–2144

Strickland MS, Devore JL, Maerz JC, Bradford MA (2010) Grass invasion of a hardwood forest is associated with declines in belowground carbon pools. Glob Change Biol 16:1338–1350

Suding KN, Gross KL, Houseman GR (2004) Alternative states and positive feedbacks in restoration ecology. Trends Ecol Evol 19:46–53

Suseela V, Alpert P, Nakatsu CH et al (2016) Plant–soil interactions regulate the identity of soil carbon in invaded ecosystems: implication for legacy effects. Funct Ecol 30:1227–1238

Tang Y, Horikoshi M, Li W (2016) ggfortify: unified interface to visualize statistical result of popular R packages. R J 8(2):478–489

Tymen B, Rejou-Mechain M, Dalling JW et al (2016) Evidence for arrested succession in a liana-infested Amazonian forest. J Ecol 104:149–159

USDA, NRCS (2018) The PLANTS Database. National Plant Data Team, Greensboro, NC. https://plants.sc.egov.usda.gov/java/. Accessed 5 Dec 2018

van der Heijden GMF, Powers JS, Schnitzer SA (2015) Lianas reduce carbon accumulation and storage in tropical forests. Proc Natl Acad Sci USA 112:13267–13271

van Kleunen M, Weber E, Fischer M (2010) A meta-analysis of trait differences between invasive and non-invasive plant species. Ecol Lett 13:235–245

Verbeeck H, Kearsley E (2016) The importance of including lianas in global vegetation models. Proc Natl Acad Sci USA 113:E4–E4

Wardle DA, Ghani A (1995) Why is the strength of relationships between pairs of methods for estimating soil microbial biomass often so variable? Soil Biol Biochem 27:821–828

West AW, Sparling GP (1986) Modifications to the substrate-induced respiration method to permit measurement of microbial biomass in soils of differing water contents. J Microbiol Methods 5:177–189

Wickham H (2016) ggplot2: elegant graphics for data analysis. Springer, New York
Acknowledgements
Funding was provided by the Hixon Center for Urban Ecology at the Yale School of Forestry and Environmental Studies and by the Yale Institute for Biospheric Studies. This work was made possible by the employees at the Natural Areas Conservancy who designed and implemented the 2013–2014 ecological assessment. Thanks also to Abigail Lyss, Hannah Schwartz, Ashton Hanna, Danica Doroski, and Eli Gunther for field assistance, the U.S. Forest Service, the New York City Urban Field Station, and the New York City Department of Parks and Recreation for providing logistical support, and Mark Ashton, the Bradford Lab, the Research, Communications, and Analysis lab, Dr. Myla Aronson, and two anonymous reviewers for providing feedback on the paper.
Additional information
Publisher's Note
Springer Nature remains neutral with regard to jurisdictional claims in published maps and institutional affiliations.
Electronic supplementary material
Below is the link to the electronic supplementary material.
About this article
Cite this article
Ward, E.B., Pregitzer, C.C., Kuebbing, S.E. et al. Invasive lianas are drivers of and passengers to altered soil nutrient availability in urban forests. Biol Invasions 22, 935–955 (2020). https://doi.org/10.1007/s10530-019-02134-2
Received:

Accepted:

Published:

Issue Date:
Keywords
Aboveground-belowground interactions

Disturbance

Forest ecology

Nitrogen

Plant-soil feedbacks

Restoration