Abstract
Invasive alien species are likely to interact with climate change, thus necessitating management that proactively addresses both global changes. However, invasive species managers' concerns about the effects of climate change, the degree to which they incorporate climate change into their management, and what stops them from doing so remain unknown. Therefore, we surveyed natural resource managers addressing invasive species across the U.S. about their priorities, concerns, and management strategies in a changing climate. Of the 211 managers we surveyed, most were very concerned about the influence of climate change on invasive species management, but their organizations were significantly less so. Managers reported that lack of funding and personnel limited their ability to effectively manage invasive species, while lack of information limited their consideration of climate change in decision-making. Additionally, managers prioritized research that identifies range-shifting invasive species and native communities resilient to invasions and climate change. Managers also reported that this information would be most effectively communicated through conversations, research summaries, and meetings/symposia. Despite the need for more information, 65% of managers incorporate climate change into their invasive species management through strategic planning, preventative management, changing treatment and control, and increasing education and outreach. These results show the potential for incorporating climate change into management, but also highlight a clear and pressing need for more targeted research, accessible science communication, and two-way dialogue between researchers and managers focused on invasive species and climate change.
References
Allen JM, Bradley BA (2016) Out of the weeds? Reduced plant invasion risk with climate change in the continental United States. Biol Conserv 203:306–312. https://doi.org/10.1016/j.biocon.2016.09.015

Archie KM, Dilling L, Milford JB, Pampel FC (2012) Climate change and western public lands: a survey of U.S. Federal land managers on the status of adaptation efforts. Ecol Soc. https://doi.org/10.5751/ES-05187-170420

Archie KM, Dilling L, Milford JB, Pampel FC (2014) Unpacking the 'information barrier': comparing perspectives on information as a barrier to climate change adaptation in the interior mountain West. J Environ Manag 133:397–410. https://doi.org/10.1016/j.jenvman.2013.12.015

Arlettaz R, Schaub M, Fournier J, Reichlin TS, Sierro A, Watson JE, Braunisch V (2010) From publications to public actions: when conservation biologists bridge the gap between research and implementation. Bioscience 60(10):835–842

Barney JN, Schenk T, Haak DC, Salom S, Brown B, Hotchkiss ER (2019) Building partnerships and bridging science and policy to address the biological invasions crisis. Invasive Plant Sci Manag. https://doi.org/10.1017/inp.2018.33

Bayliss HR, Wilcox A, Stewart GB, Randall NP (2012) Does research information meet the needs of stakeholders? Exploring evidence selection in the global management of invasive species. Evid Policy J Res Debate Pract 8(1):37–56. https://doi.org/10.1332/174426412X620128

Bellard C, Bertelsmeier C, Leadley P, Thuiller W, Courchamp F (2012) Impacts of climate change on the future of biodiversity. Ecol Lett 15(4):365–377. https://doi.org/10.1111/j.1461-0248.2011.01736.x

Bellard C, Thuiller W, Leroy B, Genovesi P, Bakkenes M, Courchamp F (2013) Will climate change promote future invasions? Glob Change Biol 19(12):3740–3748. https://doi.org/10.1111/gcb.12344

Blackburn TM, Essl F, Evans T, Hulme PE, Jeschke JM, Kühn I et al (2014) A unified classification of alien species based on the magnitude of their environmental impacts. PLoS Biol 12(5):e1001850

Bradley BA, Blumenthal DM, Wilcove DS, Ziska LH (2010) Predicting plant invasions in an era of global change. Trends Ecol Evolut 25(5):310–318. https://doi.org/10.1016/j.tree.2009.12.003

Bradley BA, Beaury EM, Fusco EJ, Laginhas BB, Morelli TL, Pasquarella VJ (2018) Regional invasive species and climate change management challenge: preparing for sleeper species. Environ Conserv Educ Mater. https://doi.org/10.7275/R5F18WXT

Diez JM, D'Antonio CM, Dukes JS, Grosholz ED, Olden JD, Sorte CJ et al (2012) Will extreme climatic events facilitate biological invasions? Front Ecol Environ 10(5):249–257. https://doi.org/10.1890/110137

Dilling L, Lemos MC (2011) Creating usable science: opportunities and constraints for climate knowledge use and their implications for science policy. Glob Environ Change 21(2):680–689. https://doi.org/10.1016/j.gloenvcha.2010.11.006

Dukes JS, Mooney HA (1999) Does global change increase the success of biological invaders? Trends Ecol Evolut 14(4):135–139. https://doi.org/10.1016/S0169-5347(98)01554-7

Enquist CA, Jackson ST, Garfin GM, Davis FW, Gerber LR, Littell JA et al (2017) Foundations of translational ecology. Front Ecol Environ 15(10):541–550. https://doi.org/10.1002/fee.1733

Esler KJ, Prozesky H, Sharma GP, McGeoch M (2010) How wide is the "knowing-doing" gap in invasion biology? Biol Invasions 12(12):4065–4075

Fusco EJ, Allen JM, Beaury EM, Jackson MR, Laginhas BB, Morelli TL, Bradley BA (2018) Regional invasive species and climate change management challenge: why native? Benefits of planting native species in a changing climate. Environ Conserv Educ Mater. https://doi.org/10.7275/2248-hc42

Gallagher RV, Beaumont LJ, Hughes L, Leishman MR (2010) Evidence for climatic niche and biome shifts between native and novel ranges in plant species introduced to Australia. J Ecol 98(4):790–799. https://doi.org/10.1111/j.1365-2745.2010.01677.x

Hellmann JJ, Byers JE, Bierwagen BG, Dukes JS (2008) Five potential consequences of climate change for invasive species. Conserv Biol 22(3):534–543. https://doi.org/10.1111/j.1523-1739.2008.00951.x

Hopkinson P, Huber A, Saah DS, Battles JJ (2017) A word to the wise: advice for scientists engaged in collaborative adaptive management. Environ Manag 59(5):752–761. https://doi.org/10.1007/s00267-017-0825-4

Hulme PE (2017) Climate change and biological invasions: evidence, expectations, and response options. Biol Rev 92(3):1297–1313. https://doi.org/10.1111/brv.12282

Kelly M, Ferranto S, Lei S, Ueda K, Huntsinger L (2012) Expanding the table: the web as a tool for participatory adaptive management in California forests. J Environ Manag 109:1–11. https://doi.org/10.1016/j.jenvman.2012.04.035

Kettenring KM, Adams CR (2011) Lessons learned from invasive plant control experiments: a systematic review and meta-analysis. J Appl Ecol 48(4):970–979. https://doi.org/10.1111/j.1365-2664.2011.01979.x

Kuebbing SE, Simberloff D (2015) Missing the bandwagon: nonnative species impacts still concern managers. NeoBiota 25:73–86. https://doi.org/10.3897/neobiota.25.8921

Levine JM (2000) Species diversity and biological invasions: relating local process to community pattern. Science 288(5467):852–854. https://doi.org/10.1126/science.288.5467.852

Mack RN, Simberloff D, Lonsdale WM, Evans H, Clout M, Bazzaz FA (2000) Biotic invasions: causes, epidemiology, global consequences, and control. Ecol Appl 10(3):689–710. https://doi.org/10.1890/1051-0761(2000)010%5b0689:BICEGC%5d2.0.CO;2

Matzek V, Covino J, Funk JL, Saunders M (2014) Closing the knowing-doing gap in invasive plant management: accessibility and interdisciplinarity of scientific research. Conserv Lett 7(3):208–215. https://doi.org/10.1111/conl.12042

Matzek V, Pujalet M, Cresci S (2015) What managers want from invasive species research versus what they get. Conserv Lett 8(1):33–40. https://doi.org/10.1111/conl.12119

Meadow AM, Ferguson DB, Guido Z, Horangic A, Owen G, Wall T (2015) Moving toward the deliberate coproduction of climate science knowledge. Weather Clim Soc 7(2):179–191. https://doi.org/10.1175/WCAS-D-14-00050.1

Merow C, Bois ST, Allen JM, Xie Y, Silander JA (2017) Climate change both facilitates and inhibits invasive plant ranges in New England. Proc Natl Acad Sci 114(16):E3276–E3284. https://doi.org/10.1073/pnas.1609633114

Mihók B, Kovács E, Balázs B, Pataki G, Ambrus A, Bartha D et al (2015) Bridging the research-practice gap: conservation research priorities in a Central and Eastern European country. J Nat Conserv 28:133–148. https://doi.org/10.1016/j.jnc.2015.09.010

Moody ME, Mack RN (1988) Controlling the spread of plant invasions: the importance of nascent foci. J Appl Ecol 25(3):1009–1021. https://doi.org/10.2307/2403762

Peters CB, Schwartz MW, Lubell MN (2018) Identifying climate risk perceptions, information needs, and barriers to information exchange among public land managers. Sci Total Environ 616–617:245–254. https://doi.org/10.1016/j.scitotenv.2017.11.015

Petitpierre B, McDougall K, Seipel T, Broennimann O, Guisan A, Kueffer C (2016) Will climate change increase the risk of plant invasions into mountains? Ecol Appl 26(2):530–544. https://doi.org/10.1890/14-1871

Pfeffer J, Sutton RI (1999) Knowing "What" to Do Is Not Enough: turning knowledge into action. Calif Manag Rev 42(1):83–108. https://doi.org/10.2307/41166020

R Core Team (2018) R: a language and environment for statistical computing. R Foundation for Statistical Computing, Vienna, Austria. https://www.R-project.org/

Rafidimanantsoa HP, Poudyal M, Ramamonjisoa BS, Jones JPG (2018) Mind the gap: the use of research in protected area management in Madagascar. Madag Conserv Dev 13(1):1–2. https://doi.org/10.4314/mcd.v13i1.3

Rejmánek M, Pitcairn MJ (2002) When is eradication of exotic pest plants a realistic goal. In: Veitch CR, Clout MN (eds) Turning the tide: the eradication of invasive species. IUCN, Gland, pp 249–253

Renz M, Gibson KD, Hillmer J, Howe KM, Waller DM, Cardina J (2009) Land manager and researcher perspectives on invasive plant research needs in the midwestern United States. Invasive Plant Sci Manag 2(1):83–91. https://doi.org/10.1614/IPSM-08-109.1

Robison R, Schoenig S, Johnson DW, Brusati E, DiTomaso JM (2010) California invasive plant research needs assessment. Invasive Plant Sci Manag 3(4):470–481. https://doi.org/10.1614/IPSM-D-09-00018.1

Schwartz MW, Fleishman E, Williamson MA, Willians JN, Morelli TL (2019) The use of boundary-spanning organizations to bridge the knowledge-action gap in North America. In Closing the knowledge-implementation gap in conservation science - evidence transfer across spatiotemporal scales and different stakeholders. Springer, Berlin

Secretariat of the Convention on Biological Diversity (2014) Global biodiversity outlook 4. Montréal. https://www.cbd.int/gbo/gbo4/publication/gbo4-en.pdf. Accessed 5 Mar 2019

Shackleton RT, Adriaens T, Brundu G, Dehnen-Schmutz K, Estévez RA, Fried J et al (2019) Stakeholder engagement in the study and management of invasive alien species. J Environ Manag 229:88–101. https://doi.org/10.1016/j.jenvman.2018.04.044

Sorte CJB, Ibáñez I, Blumenthal DM, Molinari NA, Miller LP, Grosholz ED et al (2013) Poised to prosper? A cross-system comparison of climate change effects on native and non-native species performance. Ecol Lett 16(2):261–270. https://doi.org/10.1111/ele.12017

Stinson KA, Argetsinger S, Jackson MR, Coates-Connor E, Meadows-McDonnell M (2018) Here's the dirt: the newest recommendations for garlic mustard management. Environ Conserv Educ Mater. https://doi.org/10.7275/tmgn-7467

USGCRP (2018) In: Reidmiller DR, Avery CW, Easterling DR, Kunkel KE, Lewis KLM, Maycock TK, Stewart BC (eds) Impacts, risks, and adaptation in the United States: fourth national climate assessment, vol II. U.S. Global Change Research Program, Washington, DC. https://doi.org/10.7930/nca4.2018. Accessed 6 May 2019

Westbrooks RG (2004) New approaches for early detection and rapid response to invasive plants in the United States. Weed Technol 18:1468–1471

Wolkovich EM, Cleland EE (2011) The phenology of plant invasions: a community ecology perspective. Front Ecol Environ 9(5):287–294. https://doi.org/10.1890/100033

Ziska LR, George K (2004) Rising carbon dioxide and invasive, noxious plants: potential threat and consequences. World Resour Rev 16(4):427–447
Acknowledgements
We thank Jack Finn, Caroline Curtis, Meaghan Guckian, Audrey Barker-Plotkin, Anita Milman, and Ezra Markowitz for their help throughout this process and their insightful feedback. We are grateful to all natural resource managers who took the time to complete this survey and those engaging with the Northeast Regional Invasive Species and Climate Change (RISCC) Management Network. The project described in this publication was supported by Grant or Cooperative Agreement No. G12AC00001 from the U.S. Geological Survey and a Department of Interior Northeast Climate Science Center graduate fellowship awarded to Evelyn Beaury and Brittany Laginhas. Its contents are solely the responsibility of the authors and do not necessarily represent the views of the Northeast Climate Adaptation Science Center or the USGS. This manuscript is submitted for publication with the understanding that the U.S. Government is authorized to reproduce and distribute reprints for Governmental purposes. Any use of trade, firm, or product names is for descriptive purposes only and does not imply endorsement by the U.S. Government.
Additional information
Publisher's Note
Springer Nature remains neutral with regard to jurisdictional claims in published maps and institutional affiliations.
The original version of this article was revised due to a retrospective Open Access order.
Electronic supplementary material
Below is the link to the electronic supplementary material.
Appendix
Appendix
Survey administered between June 20 and August 10, 2018. This survey was distributed over email using Qualtrics. Not all results from the survey have been reported in the paper.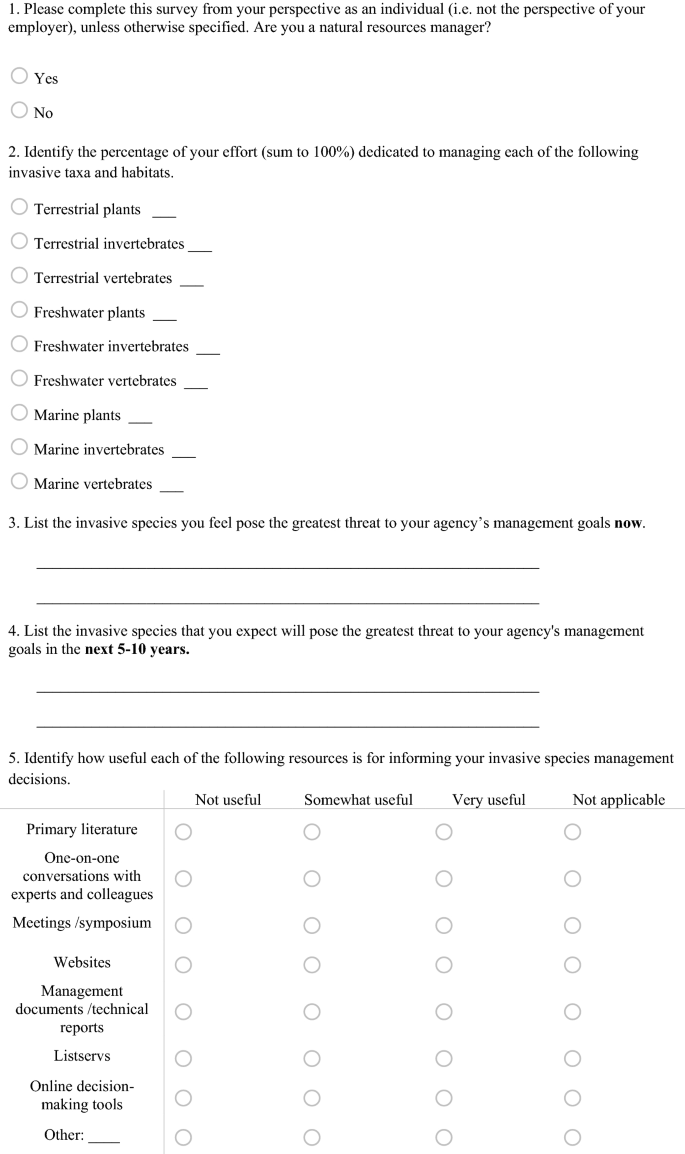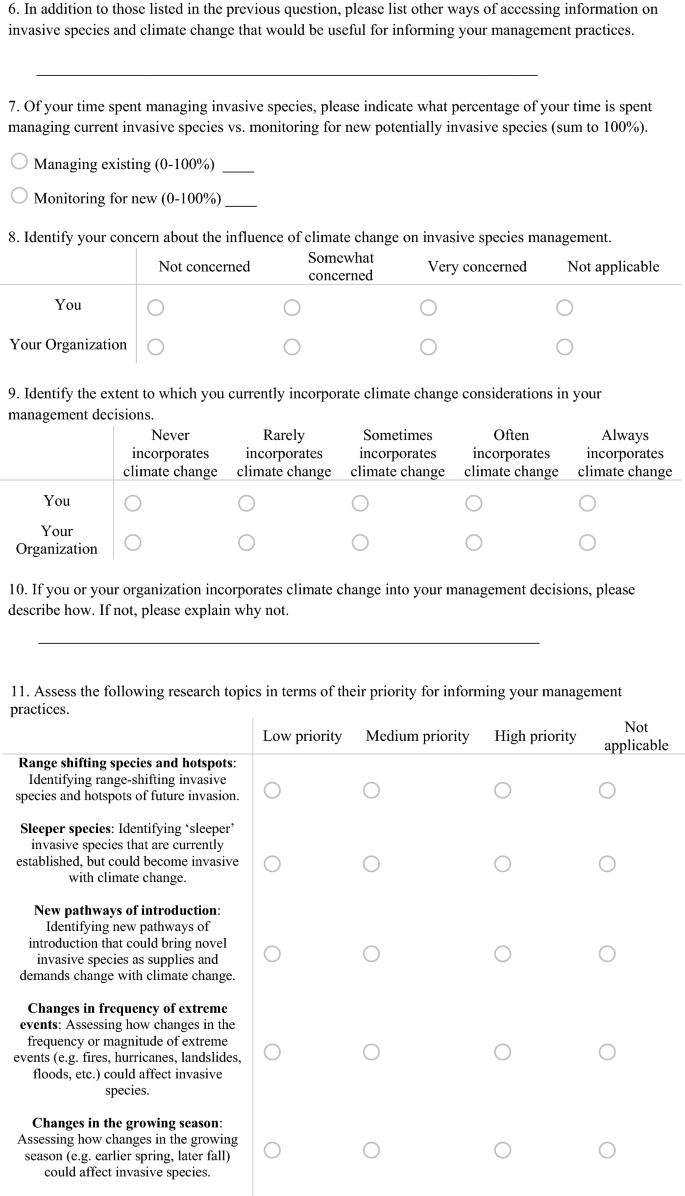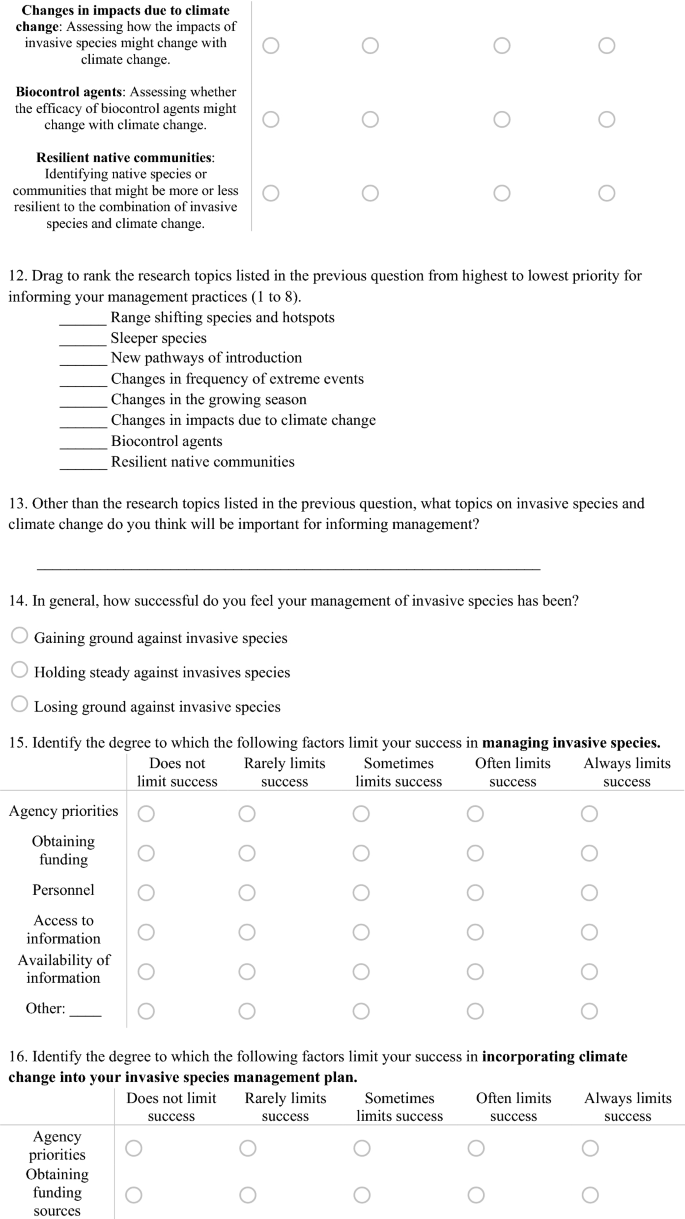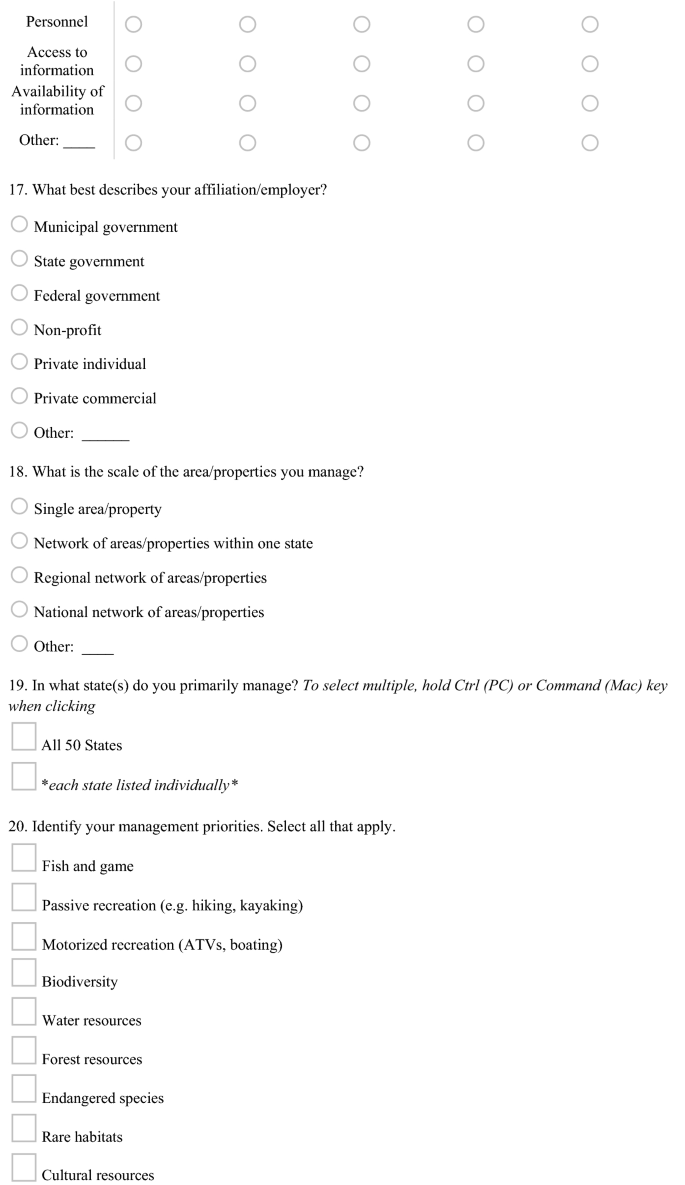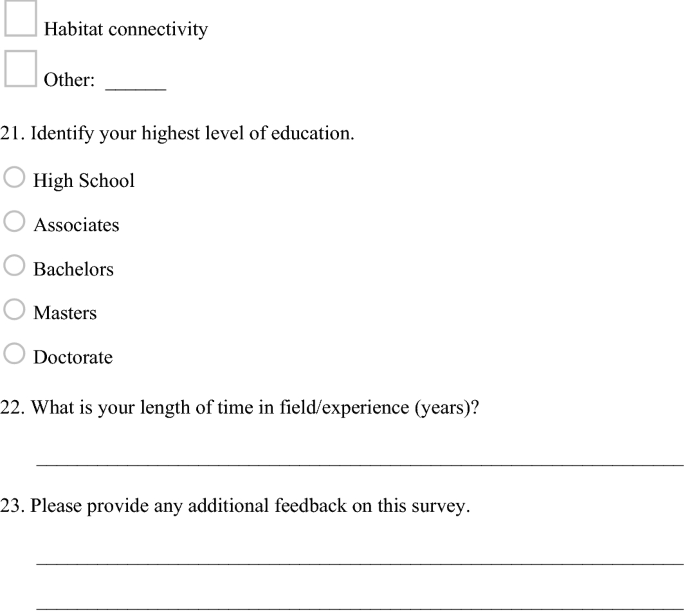 Rights and permissions
Open Access This article is licensed under a Creative Commons Attribution 4.0 International License, which permits use, sharing, adaptation, distribution and reproduction in any medium or format, as long as you give appropriate credit to the original author(s) and the source, provide a link to the Creative Commons licence, and indicate if changes were made.
The images or other third party material in this article are included in the article's Creative Commons licence, unless indicated otherwise in a credit line to the material. If material is not included in the article's Creative Commons licence and your intended use is not permitted by statutory regulation or exceeds the permitted use, you will need to obtain permission directly from the copyright holder.
About this article
Cite this article
Beaury, E.M., Fusco, E.J., Jackson, M.R. et al. Incorporating climate change into invasive species management: insights from managers. Biol Invasions 22, 233–252 (2020). https://doi.org/10.1007/s10530-019-02087-6
Received:

Accepted:

Published:

Issue Date:

DOI: https://doi.org/10.1007/s10530-019-02087-6
Keywords
Invasive species

Climate change

Management

Translational ecology