Abstract
Communication plans are fundamental for the success of conservation programs, especially when dealing with alien species. In a media-saturated society the effectiveness of communication could be evaluated through the information reported by the media, as an indicator of public attitudes towards a particular issue. We evaluated the effectiveness of a communication campaign by analysing the perception of the media towards management activities to control grey squirrel populations. A media content analysis was performed to classify the news in categories regarding their attitude towards the project. A total of 166 articles were analysed, which corresponds to a mean of one article every 9 days along the 4-years project. News followed peaks of interest in specific periods, generally related with milestones of the project. Half of the negative news regarded management activities in an urban area, despite the softer management approach adopted, with surgical sterilization of animals instead of their euthanasia after live-trapping. A reinforcement of the communication focused in Liguria inverted the trend of negative news which decreased over time, indicating the effectiveness of communication activities. Public support is fundamental for the successful implementation of eradication and control plans. Considering the role of media in informing and driving public opinion, media monitoring is routinely included in the development of management projects. We suggest that a media content analysis can be used as a performance indicator to evaluate the communication effectiveness of conservation projects, helping to identify negative trends so to proactively react.
Access options
Buy single article
Instant access to the full article PDF.
US$ 39.95
Tax calculation will be finalised during checkout.
Subscribe to journal
Immediate online access to all issues from 2019. Subscription will auto renew annually.
US$ 79
Tax calculation will be finalised during checkout.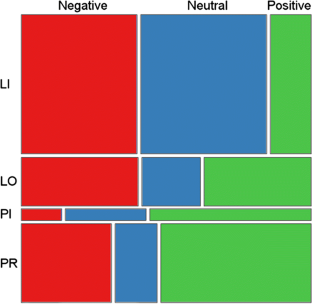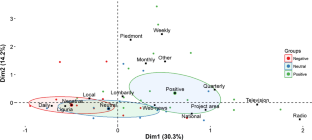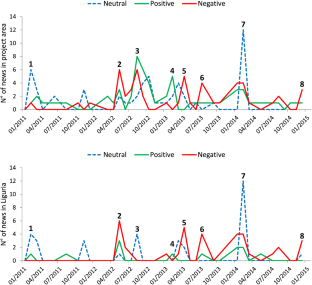 References
Baron N (2010) Escape from the ivory tower: a guide to making your science matter. Island Press, Washington

Bellard C, Cassey P, Blackburn TM (2016) Alien species as a driver of recent extinctions. Biol Lett 12:20150623. https://doi.org/10.1098/rsbl.2015.0623

Bengston DN (2000) Applications of computer-aided text analysis in natural resources. General technical report NC-211, U.S. Department of Agriculture, Forest Service, North Central Forest Experiment Station, St. Paul, MN

Bertolino S (2013) Eradicating American Eastern grey squirrels in Genoa Nervi urban park. In: van Ham C, Genovesi P, Scalera R (eds) Invasive alien species: the urban dimension. Case studies on strengthening local action in Europe. IUCN European Union Representative. Office, Brussels, pp 63–66

Bertolino S, Genovesi P (2003) Spread and attempted eradication of the grey squirrel (Sciurus carolinensis) in Italy, and consequences for the red squirrel (Sciurus vulgaris) in Eurasia. Biol Conserv 109:351–358

Bertolino S, Lurz PWW, Sanderson R, Rushton SP (2008) Predicting the spread of the American grey squirrel (Sciurus carolinensis) in Europe: A call for a co-ordinated European approach. Biol Conserv 141:2564–2575

Bertolino S, Montezemolo NC, Preatoni DG, Wauters LA, Martinoli A (2014) A grey future for Europe: Sciurus carolinensis is replacing native red squirrels in Italy. Biol Invasions 16:53–62

Bhatia S, Athreya V, Grenyer R, Macdonald DW (2013) Understanding the role of representations of human–leopard conflict in Mumbai through media-content analysis. Conserv Biol 27:588–594

Bomford M, O'Brien P (1995) Eradication or control for vertebrate pests? Wildl Soc Bull 23:249–255

Bremner A, Park K (2007) Public attitudes to the management of invasive non-native species in Scotland. Biol Conserv 139:306–314

Cappella JN, Jamieson KH (1997) Spiral of cynicism: the press and the public good. Oxford University Press, New York

Chandelier M, Steuckard A, Mathevet R, Diwersy S (2018) Content analysis of newspaper coverage of wolf recolonization in France using structural topic modeling. Biol Conserv 220:254–261

Di Febbraro M, Martinoli A, Russo D, Preatoni D, Bertolino S (2016) Modelling the effects of climate change on the risk of invasion by alien squirrels. Hystrix 27:22–29

Di Febbraro M, Menchetti M, Russo D, Ancillotto L, Aloise G, Roscioni F, Preatoni DG, Loy A, Martinoli A, Bertolino S, Mori E (2019) Integrating climate and land-use change scenarios in modelling the future spread of invasive squirrels in Italy. Divers Distrib 25:644–659

Downs A (1972) Up and down with ecology—the "Issue-Attention Cycle". Public Interest 28:38–50

Entman RM (1993) Framing: toward clarification of a fractured paradigm. J Commun 43:51–58

Fish TE, Recksiek H, Fan DP (2002) Uses, values, stakeholders, and opinions associated with marine protected areas: a content analysis of news media, 1995–2001. Technical paper, Coastal Services Center, National Oceanic and Atmospheric Administration, Charleston, South Carolina

Fraser A (2006) Public attitudes to pest control: a literature review. Department of Conservation, Wellington

Gamson WA, Modigliani A (1989) Media discourse and public opinion on nuclear power: a constructionist approach. Am J Sociol 95:1–37

García-Llorente M, Martín-López B, González JA, Alcorlo P, Montes C (2008) Social perceptions of the impacts and benefits of invasive alien species: implications for management. Biol Conserv 141:2969–2983

Genovesi P (2005) Eradications of invasive alien species in Europe: a review. Biol Invasions 7:127–133

Genovesi P, Bertolino S (2001) Human dimension aspects in invasive alien species issues: the case of the failure of the grey squirrel eradication project in Italy. In: McNeely JA (ed) The great reshuffling: human dimensions of invasive alien species. IUCN, Gland, pp 113–119

Gurnell J, Wauters LA, Lurz PWW, Tosi G (2004) Alien species and interspecific competition: effects of introduced eastern grey squirrels on red squirrel population dynamics. J Anim Ecol 73:26–35

Hart PS, Nisbet EC, Shanahan JE (2011) Environmental values and the social amplification of risk: an examination of how environmental values and media use influence predispositions for public engagement in wildlife management decision making. Soc Nat Resour 24:276–291

Heberlein TA (2012) Navigating environmental attitudes. Oxford University Press, Oxford

Jacobs MH, Vaske JJ, Dubois S, Fehres P (2014) More than fear: role of emotions in acceptability of lethal control of wolves. Eur J Wildl Res 60:589–598

Jacobson SK, Langin C, Carlton JS, Kaid LL (2012) Content analysis of newspaper coverage of the Florida panther. Conserv Biol 26:171–179

Janovsky RM, Larson ER (2019) Does invasive species research use more militaristic language than other ecology and conservation biology literature? NeoBiota 44:27–38

Jones HP, Holmes ND, Butchart SHM, Tershy BR, Kappes PJ, Co Jones HP, Holmes ND, Butchart SHM, Tershy BR, Kappes PJ, Corkery I, Aguirre-Muñoz A, Armstrong DP, Bonnaud E, Burbidge AA, Campbell K, Courchamp F, Cowan P, Cuthbert RJ, Ebbert S, Genovesi P, Howald GR, Keitt BS, Kress SW, Miskelly CM, Oppel S, Poncet S, Rauzon MJ, Rocamora G, Russell JC, Samaniego-Herrera A, Seddon PJ, Spatz DR, Towns DR, Croll DA (2016) Invasive mammal eradication on islands results in substantial conservation gains. PNAS 113:4033–4038

Krippendorff K (2004) Content analysis: an introduction to its methodology. Sage Publications, Thousand Oaks

Lai LSL, To WM (2015) Content analysis of social media: a grounded theory approach. J Electron Commer Res 16:138–152

Larson BM (2005) The war of the roses: demilitarizing invasion biology. Front Ecol Environ 3:495–500

Macnamara J (2005) Media content analysis: its uses, benefits and best practice methodology. Asia Pac Public Relat J 6:1–34

Manfredo MJ, Teel TL, Henry KL (2009) Linking society and environment: A multilevel model of shifting wildlife value orientations in the western United States. Soc Sci Q 90:407–427

Mayring P (2000) Qualitative content analysis. Forum Qual Soc Res 1(2):20. https://doi.org/10.17169/fqs-1.2.1089

McCombs M (2005) A look at agenda-setting: past, present and future. Journal Stud 6:543–557

McCombs M (2018) Setting the agenda: mass media and public opinion. Wiley, Hoboken

McCombs ME, Shaw DL (1972) The agenda-setting function of mass media. Public Opin Q 36:176–187

Park MS, Kleinschmit D (2016) Framing forest conservation in the global media: an interest-based approach. Forest Policy Econ 68:7–15

Phillis C, O'Regan C, Green SM, Bruce SJ, Anderson SC, Linton JN, Earth2Ocean Research Derby, Favaro B (2013) Multiple pathways to conservation success. Conserv Lett 6:98–106

Romeo C, McInne CJ, Dale TD, Shuttleworth C, Bertolino S, Wauters LA, Ferrari N (2018) Disease, invasions and conservation: no evidence of squirrelpox virus in grey squirrels introduced to Italy. Anim Conserv 22:14–23. https://doi.org/10.1111/acv.12433

Roskos-Ewoldsen DR, Roskos-Ewoldsen B, Dillman-Carpentier FR (2002) Media priming: a synthesis. In: Bryant J, Zillmann D (eds) Media effects: advances in theory and research. Lawrence Erlbaum Associates, Mahwah, pp 97–120

R Core Team (2015) R: a language and environment for statistical computing. R Foundation for Statistical Computing, Vienna. https://www.R-project.org. Accessed 10 Jan 2019

Scapin P, Ulbano M, Ruggiero C, Balduzzi A, Marsan A, Ferrari N, Bertolino S (2019) Surgical sterilization of male and female grey squirrels (Sciurus carolinensis) of an urban population introduced in Italy. J Vet Med Sci 81:641–645

Seebens H, Blackburn TM, Dyer EE, Genovesi P, Hulme PE, Jeschke JM, Pagad S, Pyšek P, Winter M, Arianoutsou M, Bacher S, Blasius B, Brundu G, Capinha C, Celesti-Grapow L, Dawson W, Dullinger S, Fuentes N, Jäger H, Kartesz J, Kenis M, Kreft H, Kühn I, Lenzner B, Liebhold A, Mosena A, Moser D, Nishino M, Pearman D, Pergl J, Rabitsch W, RojasSandoval J, Roques A, Rorke S, Rossinelli S, Roy HE, Scalera R, Schindler S, Štajerová K, Tokarska-Guzik B, van Kleunen M, Walker K, Weigelt P, Yamanaka T, Essl F (2017) No saturation in the accumulation of alien species worldwide. Nat Commun 8:14435. https://doi.org/10.1038/ncomms14435

Shih TJ, Wijaya R, Brossard D (2008) Media coverage of public health epidemics: linking framing and issue attention cycle toward an integrated theory of print news coverage of epidemics. Mass Commun Soc 11:141–160

Shoemaker P, Reese S (1996) Mediating the message: theories of influences on mass media content. Longman, White Plains

Simberloff D (2003) Confronting introduced species: a form of xenophobia? Biol Invasions 5:179–192

Takahashi B (2011) Framing and sources: a study of mass media coverage of climate change in Peru during the V ALCUE. Public Underst Sci 20:543–557

Tattoni C, Preatoni D, Lurz P, Rushton S, Tosi G, Bertolino S, Martinoli A, Wauters L (2006) Modelling the expansion of a grey squirrel population: implications for squirrel control. Biol Invasions 8:1605–1619

Tompkins DM, Sainsbury AW, Nettleton P, Buxton D, Gurnell J (2002) Parapoxvirus causes a deleterious disease in red squirrels associated with UK population declines. Proc R Soc Lond Ser B Biol Sci 269:529–533

Vilà M, Basnou C, Pyšek P, Josefsson M, Genovesi P, Gollasch S, Nentwig W, Olenin S, Roques A, Roy D, Hulme PE, DAISIE Partners (2010) How well do we understand the impacts of alien species on ecosystem services? A pan-european, cross-taxa assessment. Front Ecol Environ 8:135–144

Wauters LA, Martinoli A (2018) Urban biological invasions: when vertebrates come to town. In: Ossola A, Niemelä J (eds) Urban biodiversity: from research to practice. Routledge studies in urban ecology. Routledge, Oxon, pp 87–100

Weaver D (1977) Political issues and voter need for orientation. In: Shaw D, McCombs M (eds) The emergence of American political issues: the agenda-setting function of the press. West Pub. Co, St. Paul, pp 107–119

Weber RP (1990) Basic content analysis, 2nd edn. Sage, Newbury Park

Whatmough S, Van Putten I, Chin A (2011) From hunters to nature observers: a record of 53 years of diver attitudes towards sharks and rays and marine protected areas. Mar Freshw Res 62:755–763
Acknowledgements
This work was realized under the LIFE09 NAT/IT/000095 EC-SQUARE project. This is paper no. 16 of the EC-SQUARE project. Jacopo Cerri and an anonymous referee provided useful suggestions to early drafts of the manuscript.
Additional information
Publisher's Note
Springer Nature remains neutral with regard to jurisdictional claims in published maps and institutional affiliations.
Electronic supplementary material
Below is the link to the electronic supplementary material.
About this article
Cite this article
Lioy, S., Marsan, A., Balduzzi, A. et al. The management of the introduced grey squirrel seen through the eyes of the media. Biol Invasions 21, 3723–3733 (2019). https://doi.org/10.1007/s10530-019-02084-9
Received:

Accepted:

Published:

Issue Date:
Keywords
Alien species

Control plan

Eradication

Media content analysis

Public attitude