Abstract
Understanding the dynamics of public interest in invasive alien species (IAS) is important for the establishment of effective strategies to prevent their spread and mitigate the negative social impacts thereof. Our knowledge of this topic is still limited, however, largely because of the difficulty in collecting data regarding public interest in IAS at a sufficiently large scale and for a long period. Here, we use relative search volume (RSV) on Google as a proxy of the general public's interest in IAS and investigate its spatio-temporal distributions and drivers in Japan. We analyzed the data for 31 major IAS in Japan and found that the spatial distribution of RSV was predicted by both the actual distribution of IAS and the number of news articles featuring these species. Path analyses revealed that the presence of IAS increased RSV both directly and indirectly thorough an increase in the total number of news articles in local newspapers. Also, time-series analysis of the RSV for serial invasion of Solenopsis invicta, a recently detected IAS in Japan, demonstrated that the local RSV for this species increased sharply after the official announcement of its invasion was made. Overall, our study demonstrates that public interest in IAS varies greatly both spatially and temporally, and this variation was predicted by both ecological and social factors associated with IAS. Understanding the patterns of variation in public interest in IAS and its key drivers should help us to design more responsive and effective strategies to control these species.
Access options
Buy single article
Instant access to the full article PDF.
US$ 39.95
Tax calculation will be finalised during checkout.
Subscribe to journal
Immediate online access to all issues from 2019. Subscription will auto renew annually.
US$ 79
Tax calculation will be finalised during checkout.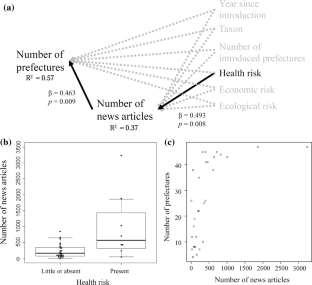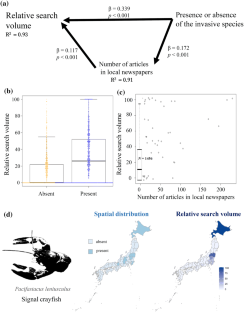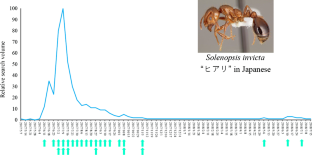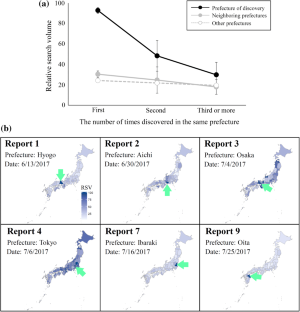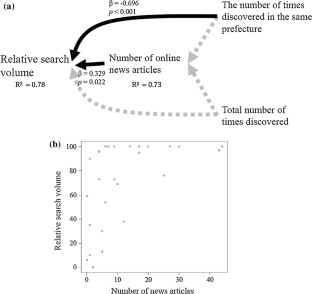 References
Andrew L, Arndt D, Beristain N et al (2016) Changes in United States' citizens' interest in sustainability (2004–2014). Life Excit Biol 4:138–164. https://doi.org/10.9784/LEB4(3)Andrew.01

Archibald CL, Butt N (2018) Using Google search data to inform global climate change adaptation policy. Clim Change. https://doi.org/10.1007/s10584-018-2289-9

Bartlett-Healy K, Hamilton G, Healy S et al (2011) Source reduction behavior as an independent measurement of the impact of a public health education campaign in an integrated vector management program for the Asian tiger mosquito. Int J Environ Res Public Health 8:1358–1367. https://doi.org/10.3390/ijerph8051358

Bates D, Maechler M, Bolker B, Walker S (2014) lme4: linear mixed-effects models using Eigen and S4. R package version 1:1-23

Bremner A, Park K (2007) Public attitudes to the management of invasive non-native species in Scotland. Biol Conserv 139:306–314. https://doi.org/10.1016/j.biocon.2007.07.005

Burivalova Z, Butler RA, Wilcove DS (2018) Analyzing Google search data to debunk myths about the public's interest in conservation. Front Ecol Environ. https://doi.org/10.1002/fee.1962

Carneiro HA, Mylonakis E (2009) Google trends: a web-based tool for real-time surveillance of disease outbreaks. Clin Infect Dis 49:1557–1564. https://doi.org/10.1086/630200

Correia RA (2018) Google trends data need validation: comment on Durmuşoğlu (2017). Hum Ecol Risk Assess 7039:1–4. https://doi.org/10.1080/10807039.2018.1446322

Davies T, Cowley A, Bennie J et al (2018) Popular interest in vertebrates does not reflect extinction risk and is associated with bias in conservation investment. PLoS ONE 13:e0203694. https://doi.org/10.1371/journal.pone.0203694

Development Core Team R (2010) R: a language and environment for statistical computing. R Found. Stat. Comput, Vienna

Do Y, Kim JY, Lineman M et al (2015) Using internet search behavior to assess public awareness of protected wetlands. Conserv Biol 29:271–279. https://doi.org/10.1111/cobi.12419

Dunn M, Marzano M, Forster J, Gill RMA (2018) Public attitudes towards "pest" management: perceptions on squirrel management strategies in the UK. Biol Conserv 222:52–63. https://doi.org/10.1016/j.biocon.2018.03.020

Dyer EE, Cassey P, Redding DW et al (2017) The global distribution and drivers of alien bird species richness. PLoS Biol 15:1–25. https://doi.org/10.1371/journal.pbio.2000942

Ehrenfeld JG (2010) Ecosystem consequences of biological invasions. Annu Rev Ecol Evol Syst 41:59–80. https://doi.org/10.1146/annurev-ecolsys-102209-144650

Ficetola GF (2013) Is interest toward the environment really declining? The complexity of analysing trends using internet search data. Biodivers Conserv 22:2983–2988. https://doi.org/10.1007/s10531-013-0552-y

Funk SM, Rusowsky D (2014) The importance of cultural knowledge and scale for analysing internet search data as a proxy for public interest toward the environment. Biodivers Conserv 23:3101–3112. https://doi.org/10.1007/s10531-014-0767-6

García-Llorente M, Martín-López B, González JA et al (2008) Social perceptions of the impacts and benefits of invasive alien species: implications for management. Biol Conserv 141:2969–2983. https://doi.org/10.1016/j.biocon.2008.09.003

Groom MJ, Meffe GK, Carroll CR (2006) Principles of conservation biology. Sinauer Associates, Sunderland

Gutrich JJ, VanGelder E, Loope L (2007) Potential economic impact of introduction and spread of the red imported fire ant, Solenopsis invicta, in Hawaii. Environ Sci Policy 10:685–696. https://doi.org/10.1016/j.envsci.2007.03.007

Hausmann A, Toivonen T, Slotow R et al (2018) Social media data can be used to understand tourists' preferences for nature-based experiences in protected areas. Conserv Lett 11:1–10. https://doi.org/10.1111/conl.12343

Houston MJ, Bruskotter JT, Fan D (2010) Attitudes toward wolves in the United States and Canada: a content analysis of the print news media, 1999-2008. Hum Dimens Wildl 15:389–403. https://doi.org/10.1080/10871209.2010.507563

Kim JY, Do Y, Im RY et al (2014) Use of large web-based data to identify public interest and trends related to endangered species. Biodivers Conserv 23:2961–2984. https://doi.org/10.1007/s10531-014-0757-8

Ladle RJ, Correia RA, Do Y et al (2016) Conservation culturomics. Front Ecol Environ 14:269–275. https://doi.org/10.1002/fee.1260

Le Nghiem TP, Papworth SK, Lim FKS, Carrasco LR (2016) Analysis of the capacity of google trends to measure interest in conservation topics and the role of online news. PLoS ONE 11:1–12. https://doi.org/10.1371/journal.pone.0152802

Lefcheck JS (2016) piecewiseSEM: piecewise structural equation modelling in r for ecology, evolution, and systematics. Methods Ecol Evol 7:573–579. https://doi.org/10.1111/2041-210X.12512

Lowe S, Browne M, Boudjelas S, De Poorter M (2000) 100 of the world's worst invasive alien species: a selection from the global invasive species database. Invasive Species Specialist Group, Auckland

McCallum ML (2019) Perspective: global country-by-country response of public interest in the environment to the papal encyclical, Laudato Si'. Biol Conserv 235:209–225. https://doi.org/10.1016/j.biocon.2019.04.010

Mccallum ML, Bury GW (2013) Google search patterns suggest declining interest in the environment. Biodivers Conserv 22:1355–1367. https://doi.org/10.1007/s10531-013-0476-6

McCallum ML, Bury GW (2014) Public interest in the environment is falling: a response to Ficetola (2013). Biodivers Conserv 23:1057–1062. https://doi.org/10.1007/s10531-014-0640-7

McComas K, Shanahan J (1999) Telling stories about global climate change. Commun Res 26:30–57. https://doi.org/10.1177/009365099026001003

Murakami T (2018) Three case studies for control of invasive alien ant spesies, fire ant (Solenopsis invicta, Formicidae) in Japan. Ketsudan Kagaku 4:33–42

Papworth SK, Nghiem TPL, Chimalakonda D et al (2015) Quantifying the role of online news in linking conservation research to Facebook and Twitter. Conserv Biol 29:825–833. https://doi.org/10.1111/cobi.12455

Pejchar L, Mooney HA (2009) Invasive species, ecosystem services and human well-being. Trends Ecol Evol 24:497–504. https://doi.org/10.1016/j.tree.2009.03.016

Proulx R, Massicotte P, Pépino M (2014) Googling trends in conservation biology. Conserv Biol 28:44–51. https://doi.org/10.1111/cobi.12131

Pyšek P, Richardson DM (2010) Invasive species, environmental change and management, and health. Annu Rev Environ Resour 35:25–55

Sato H (2003) Agenda setting for smoking control in Japan, 1945–1990: influence of the Mass Media on National Health Policy Making. J Health Commun 8:23–40. https://doi.org/10.1080/10810730305731

Secretariat of the Convention on Biological Diversity (SCBD) (2010) Global biodiversity outlook 3. SCBD, Montreal

Seifter A, Schwarzwalder A, Geis K, Aucott J (2010) The utility of "Google Trends" for epidemiological research: lyme disease as an example. Geospat Health 4:135–137. https://doi.org/10.4081/gh.2010.195

Shackleton RT, Richardson DM, Shackleton CM et al (2018) Explaining people's perceptions of invasive alien species: a conceptual framework. J Environ Manag 1:21. https://doi.org/10.1016/j.jenvman.2018.04.045

Sharp RL, Larson LR, Green GT (2011) Factors influencing public preferences for invasive alien species management. Biol Conserv 144:2097–2104. https://doi.org/10.1016/j.biocon.2011.04.032

Simberloff D, Martin JL, Genovesi P et al (2013) Impacts of biological invasions: what's what and the way forward. Trends Ecol Evol 28:58–66. https://doi.org/10.1016/j.tree.2012.07.013

Troumbis AY (2017) Declining Google trends of public interest in biodiversity: semantics, statistics or traceability of changing priorities? Biodivers Conserv 26:1495–1505. https://doi.org/10.1007/s10531-017-1294-z

Vilà M, Espinar JL, Hejda M et al (2011) Ecological impacts of invasive alien plants: a meta-analysis of their effects on species, communities and ecosystems. Ecol Lett 14:702–708. https://doi.org/10.1111/j.1461-0248.2011.01628.x

Zavaleta ES, Hobbs RJ, Mooney HA (2001) Viewing invasive species removal in a whole-ecosystem context. Trends Ecol Evol 16:454–459. https://doi.org/10.1016/S0169-5347(01)02194-2

Zmihorski M, Dziarska-Palac J, Sparks TH, Tryjanowski P (2013) Ecological correlates of the popularity of birds and butterflies in Internet information resources. Oikos 122:183–190. https://doi.org/10.1111/j.1600-0706.2012.20486.x
Acknowledgements
We thank T. Amano and T. Sasaki for useful comments on an earlier draft of this paper.
Ethics declarations
Conflict of interest
We have NO affiliations with or involvement in any organization or entity with any financial interest or non-financial interest in the subject matter or materials discussed in this manuscript.
Additional information
Publisher's Note
Springer Nature remains neutral with regard to jurisdictional claims in published maps and institutional affiliations.
Electronic supplementary material
Below is the link to the electronic supplementary material.
About this article
Cite this article
Fukano, Y., Soga, M. Spatio-temporal dynamics and drivers of public interest in invasive alien species. Biol Invasions 21, 3521–3532 (2019). https://doi.org/10.1007/s10530-019-02065-y
Received:

Accepted:

Published:

Issue Date:
Keywords
Google trends

Internet

Management

Invasive species

Fire ant

Culturomics