Abstract
Understanding the potential outcomes of interactions between native insects and invasive plants is important for predicting the magnitude of effects caused by an invader in its new environment. Here, we investigate the ability of the native western leaf beetle, Chrysochus cobaltinus, and a hybrid of North American Chrysochus species, (hybrid of eastern C. auratus and western C. cobaltinus) to initiate a novel association with introduced pale swallow-wort (Vincetoxicum rossicum) (Apocynaceae). This European vine is invasive in eastern North America but has not yet been encountered by C. cobaltinus in the field. Lab tests demonstrate that C. cobaltinus can feed on introduced V. rossicum foliage, and that they are not locally-specialized to hosts from which they were collected. Thus, adult C. cobaltinus may use V. rossicum as a transient host when encountered in the field. Chrysochus hybrids were unable to feed on introduced V. rossicum (similar to their C. auratus parents) but did feed on native North American Asclepias spp. (similar to their C. cobaltinus parents). Hybridization and subsequent gene introgression may explain both decreased feeding by western C. cobaltinus and increased feeding by eastern C. auratus on native Asclepias spp. in this region, but does not appear to affect feeding on V. rossicum. We predict the potential novel association between native C. cobaltinus and invasive V. rossicum will have a positive or neutral outcome for the beetles, but is unlikely to slow the spread of the vine in North America unless further adaptation occurs.
Access options
Buy single article
Instant access to the full article PDF.
US$ 39.95
Tax calculation will be finalised during checkout.
Subscribe to journal
Immediate online access to all issues from 2019. Subscription will auto renew annually.
US$ 79
Tax calculation will be finalised during checkout.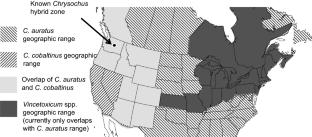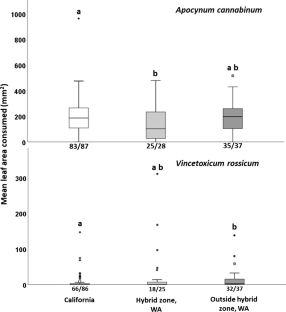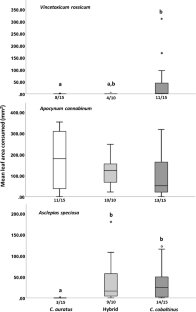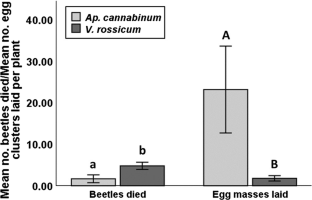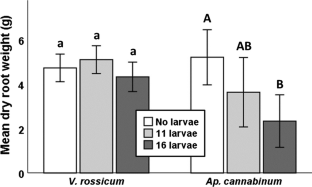 References
Abbott R, Albach D, Ansell S, Arntzen JW, Baird SJE, Bierne N et al (2013) Hybridization and speciation. J Evol Biol 26:229–246

Agosta SJ (2006) On ecological fitting, plant–insect associations, herbivore host shifts, and host plant selection. Oikos 114:556–565

Agrawal AA, Kotanen PM (2003) Herbivores and the success of exotic plants: a phylogenetically controlled experiment. Ecol Lett 6:712–715

Averill KM, DiTommaso A, Morris SH (2008) Response of pale swallow-wort (Vincetoxicum rossicum) to Triclopyr application and clipping. Invasive Plant Sci Manag 1:196–206

Bertheau C, Brockerhoff EG, Roux-Morabito G, Lieutier F, Jactel H (2010) Novel insect–tree associations resulting from accidental and intentional biological "invasions": a meta-analysis of effects on insect fitness. Ecol Lett 13:506–515

Bezemer TM, Harvey JA, Cronin JT (2014) Response of native insect communities to invasive plants. Annu Rev Entomol 59:119–141

Carlsson NOL, Sarnelle O, Strayer DL (2009) Native predators and exotic prey—An acquired taste? Front Ecol Environ 7:525–532

Carroll SP (2007) Brave new world: the epistatic foundations of natives adapting to invaders. Genetica 129:193–204

Casagrande RA, Dacey JE (2007) Monarch butterfly oviposition on swallow-worts (Vincetoxicum spp.). Environ Entomol 36:631–636

Chupp AD, Battaglia LL (2014) Potential for host shifting in Papilio palamedes following invasion of laurel wilt disease. Biol Invasions 16:2639–2651

Cogni R (2010) Resistance to plant invasion? A native specialist herbivore shows preference for and higher fitness on an introduced host. Biotropica 42:188–193

Dai H, Lu X, Zhang J, Ding J (2014) Responses of a native beetle to novel exotic plant species with varying invasion history. Ecol Entomol 39:118–124

Dalin P, Bjorkman C (2006) Chapter four: native insects colonizing introduced tree species—patterns and potential risks. In: Paine TD (ed) Invasive forest insects, introduced forest trees and altered ecosystems. Springer, Berlin, pp 63–77

Dalosto MM, Palaoro AV, Souty-Grosset C, Bueno SLDS, Loureiro TG, Almerão MP et al (2015) One step ahead of the enemy: investigating aggressive interactions between invasive and native crayfish before the contact in nature. Biol Invasions 17:3503–3515

deJonge RB, Bourchier RS, Smith SM (2017) Initial response by a native beetle, Chrysochus auratus (Coleoptera: Chrysomelidae), to a novel introduced host-plant, Vincetoxicum rossicum (Gentianales: Apocynaceae). Environ Entomol 46:617–625

DiTommaso A, Losey JE (2003) Oviposition preference and larval performance of monarch butterflies (Danaus plexippus) on two invasive swallow-wort species. Entomol Exp Appl 108:205–209

Dobler S, Farrell BD (1999) Host use evolution in Chrysochus milkweed beetles: evidence from behaviour, population genetics and phylogeny. Mol Ecol 8:1297–1307

Douglass CH, Weston LA, Wolfe D (2011) Phytotoxicity and potential allelopathy in pale (Cynanchum rossicum) and black swallowwort (C. nigrum). Invasive Plant Sci Manag 4:133–141

Ernst CM, Cappuccino N (2005) The effect of an invasive alien vine, Vincetoxicum rossicum (Asclepiadaceae), on arthropod populations in Ontario old fields. Biol Invasions 7:417–425

Frankham R (2005) Genetics and extinction. Biol Conserv 126:131–140

Futuyma DJ, Mitter C (1996) Insect–plant interactions: the evolution of component communities. Philos Trans Biol Sci 351:1361–1366

García-Robledo C, Horvitz CC (2012) Jack of all trades masters novel host plants: positive genetic correlations in specialist and generalist insect herbivores expanding their diets to novel hosts. J Evol Biol 25:38–53

Gassmann A, Leroux AM, Bennett M, Penic M (2011) Weed biological control: quarterly report 30 June 2011. Delemont, CH

Gassmann A, Bennett M, Penic M, Leroux AM (2012) Biological control of swallow-worts, Vincetoxicum rossicum and V. nigrum—Annual Report 2011. Delemont, CH

Gotelli N, Ellison A (2004) A primer of ecological statistics. Sinauer Associates Inc, Sunderland

Graves SD, Shapiro AM (2003) Exotics as host plants of the California butterfly fauna. Biol Conserv 110:413–433

Harris P (1991) Classical biocontrol of weeds: its definition, selection of effective agents, and administrative-political problems. Can Entomol 123:827–849

Hatch M (1953) The beetles of the Pacific Northwest. Washington University Press, Seattle, pp 157–239

Hinz HL, Schwarzlander M, Gassmann A, Bourchier RS (2014) Successes we may not have had: a retrospective analysis of selected weed biological control agents in the United States. Invasive Plant Sci Manag 7:565–579

Jobin A, Schaffner U, Nentwig W (1996) The structure of the phytophagous insect fauna on the introduced weed Solidago altissima in Switzerland. Entomol Exp Appl 79:33–42

Keeler MS, Chew FS (2008) Escaping an evolutionary trap: preference and performance of a native insect on an exotic invasive host. Oecologia 156:559–568

Lawlor FM, Raynal DJ (2002) Response of swallow-wort to herbicides. Weed Sci 50:179–185

Lawton JH, Schroder D (1977) Effects of plant type, size of geographical range and taxonomic isolation on number of insect species associated with British plants. Nature 265:137–140

Mattila HR, Otis GW (2003) A comparison of the host preference of monarch butterflies (Danaus plexippus) for milkweed (Asclepias syriaca) over dog-strangler vine (Vincetoxicum rossicum). Neth Entomol Soc 107:193–199

McDonald JH (2014) Handbook of biological statistics, 3rd edn. Sparky House Publishing, Baltimore

McEvoy PB (2002) Insect–plant interactions on a planet of weeds. Entomol Exp Appl 104:165–179

Messina FJ, Durham SL (2013) Adaptation to a novel host by a seed beetle (Coleoptera: Chrysomelidae: Bruchinae): effect of source population. Environ Entomol 42:733–742

Milbrath LR, Biazzo J (2012) Development and reproduction of the foxglove aphid (Hemiptera: Aphididae) on invasive swallow-worts (Vincetoxicum spp.). Environ Entomol 41(3):665–668

Pearse IS, Altermatt F (2013) Predicting novel trophic interactions in a non-native world. Ecol Lett 16:1088–1094

Pearse IS, Harris DJ, Karban R, Sih A (2013) Predicting novel herbivore-plant interactions. Oikos 122:1554–1564

Peterson MA, Dobler S, Holland J, Tantalo L, Locke S (2001) Behavioral, molecular, and morphological evidence for a hybrid zone between Chrysochus auratus and C. cobaltinus (Coleoptera: Chrysomelidae). Entomol Soc Ams 94:1–9

Peterson MA, Monsen KJ, Pedersen H, McFarland T, Bearden J (2005) Direct and indirect analysis of the fitness of Chrysochus (Coleoptera: Chrysomelidae) hybrids. Biol J Lin Soc 84:273–286

Pfammatter JA, Krause A, Raffa KF (2015) Evaluating predators and competitors in Wisconsin red pine forests for attraction to mountain pine beetle pheromones for anticipatory biological control. Environ Entomol 44:1161–1171

R Core Team (2016) R: a language and environment for statistical computing. R Foundation for Statistical Computing, Vienna, Austria. http://www.r-project.org. Accessed 1 Feb 2017

Rhymer JM, Simberloff D (1996) Extinction by hybridization and introgression. Annu Rev Ecol Syst 27:83–109

Rodriguez LF (2006) Can invasive species facilitate native species? Evidence of how, when, and why these impacts occur. Biol Invasions 8:927–939

Sanderson LA, Antunes PM (2013) The exotic invasive plant Vincetoxicum rossicum is a strong competitor even outside its current realized climatic temperature range. NeoBiota 16:1–15

Schaffner U (2001) Host range testing of insects for biological weed control: How can it be better interpreted? Bioscience 51:951–959

Schaffner U, Smith L, Cristofaro M (2018) A review of open field host range testing to evaluate non-target use by herbivorous biological control candidates. Biocontrol 63:405–416

Schirmel J, Bundschuh M, Entling MH, Kowarik I, Buchholz S (2016) Impacts of invasive plants on resident animals across ecosystems, taxa, and feeding types: a global assessment. Glob Change Biol 22:594–603

Schlaepfer MA, Sherman PW, Blossey B, Runge MC (2005) Introduced species as evolutionary traps. Ecol Lett 8:241–246

Schwarz D, Matta BM, Shakir-botteri NL, Mcpheron BA (2005) Host shift to an invasive plant triggers rapid animal hybrid speciation. Nature 436:546–549

Scriber JM (2002) Evolution of insect–plant relationships: chemical constraints, coadaptation, and concordance of insect/plant traits. Entomol Exp Appl 104:217–235

Seehausen O (2004) Hybridization and adaptive radiation. Trends Ecol Evol 19:198–207

Sforza R (2011) Testing agents for the biological control of swallow worts (Vincetoxicum spp.) in North America Phase II USDA-ARS project 2009–2010

Sheeley SE, Raynal DJ (1996) The distribution and status of species of Vincetoxicum in eastern North America. Bull Torrey Bot Club 123:148–156

Sheldon SP, Creed RPJ (2003) The effect of a native biological control agent for Eurasian watermilfoil on six North American watermilfoils. Aquat Bot 76:259–265

Tewksbury L, Casagrande R, Blossey B, Häfliger P, Schwarzländer M (2002) Potential for biological control of Phragmites australis in North America. Biol Control 23:191–212

USDA-APHIS Technical Advisory Group (2018) Technical Advisory Group for biological control of weeds TAG petitions—APHIS action. http://www.aphis.usda.gov/plant_health/permits/tag/downloads/TAGPetitionAction.pdf. Accessed 20 July 2018

van Lenteren JC, Bale JS, Bigler E, Hokkanen HMT, Loomans AM (2006) Assessing risks of releasing exotic biological control agents of arthropod pests. Annu Rev Entomol 51:609–634

Weed AS, Casagrande RA (2010) Biology and larval feeding impact of Hypena opulenta (Christoph) (Lepidoptera: Noctuidae): a potential biological control agent for Vincetoxicum nigrum and V. rossicum. Biol Control 53:214–222

Weed AS, Gassmann A, Casagrande RA (2011a) Effects of leaf and root herbivory by potential insect biological control agents on the performance of invasive Vincetoxicum spp. Biol Control 56:50–58

Weed AS, Gassmann A, Leroux AM, Casagrande RA (2011b) Performance of potential European biological control agents of Vincetoxicum spp. with notes on their distribution. J Appl Entomol 135:700–713
Acknowledgements
Technical assistance by J. Baici, B. DeJonge, L. Fluit-DeJonge, H. J. and W. deZoete, I. Hu, A. Stepniak, N. Sokolov, and T. Ung, as well as editing and guidance by R. Dickinson, M.A. Peterson, J. Dickinson, P. Kotanen, S. Murphy, and M. Cadotte is appreciated. Thanks also to Yosemite National Park, UC Davis Hastings Research Centre, and Royal Botanical Gardens, for use of their properties. This research was funded by the Invasive Species Centre, Agriculture and Agri-Food Canada, Faculty of Forestry, Ontario Ministry of Natural Resources and Forestry, and an Ontario Graduate Scholarship to R. B. deJonge.
Additional information
Publisher's Note
Springer Nature remains neutral with regard to jurisdictional claims in published maps and institutional affiliations.
Electronic supplementary material
Below is the link to the electronic supplementary material.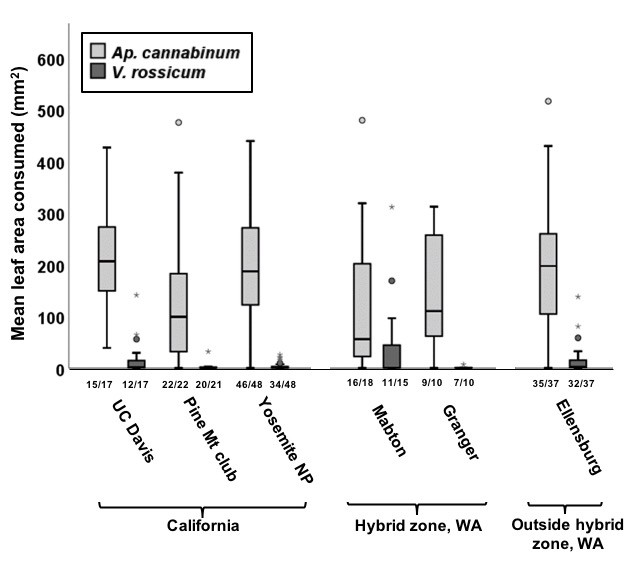 Mean leaf area of Apocynum cannabinum and Vincetoxicum rossicum fed on by Chrysochus cobaltinus beetles collected among three sites within California, two sites within the Chrysochus hybrid zone in Washington State, and one site outside of the Chrysochus hybrid zone in Washington State during 2013. Box plots are arranged from south to north, and represent a 5 number summary of the data (minimum, first quartile, median, third quartile, and maximum). Open circles represent outliers (1.5 × interquartile range (IQR). Stars represent extreme values (3 × IQR). There were no significant differences between sites for either plant species. Numbers below the bars represent the number of beetles that fed versus the number of beetles tested. (JPEG 48 kb)
About this article
Cite this article
deJonge, R.B., Bourchier, R.S., Jones, I.M. et al. Predicting the outcome of potential novel associations: interactions between the invasive Vincetoxicum rossicum and native western Chrysochus beetles. Biol Invasions 21, 3169–3184 (2019). https://doi.org/10.1007/s10530-019-02043-4
Received:

Accepted:

Published:

Issue Date:
Keywords
Novel association

Novel host

Invasive species

Biological control

Hybridization

Insect–plant interaction

Enemy release

Adaptation