Abstract
In second-growth forest the abundance and diversity of non-native plant species often differ considerably with stand age and the history of disturbance. To understand the role of agricultural history in shaping non-native forest floras, we compared successional trajectories between second-growth stands that were formerly cultivated and pastured, two historically common land uses differing in soil disturbance and vegetation structure. Successional change was inferred from a replicated chronosequence consisting of 40 second-growth stands in southeastern Ohio, USA. The non-native flora was described in terms of community composition and individual species abundance and compared across biotic and abiotic gradients. Abundance of non-native species generally declined through the chronosequence in both land-use categories but was significantly greater in formerly cultivated sites. Non-native richness in the oldest post-agricultural sites was significantly greater than in undisturbed forest, implying that the nonnative flora has not stabilized after 80 years. Species dispersing seeds by ingestion were more abundant in formerly pastured sites; clonal species were more common in cultivated stands. Thus, the non-native forest flora shows a long-lived legacy of variation between stands of different agricultural histories. The distribution of non-native species suggests colonization of established forest as well as relictual survival from the open, agricultural stage. Although non-native abundance declines with successional time, a subset of shade tolerant species should be considered a long-term component of the second-growth flora.
Access options
Buy single article
Instant access to the full article PDF.
US$ 39.95
Tax calculation will be finalised during checkout.
Subscribe to journal
Immediate online access to all issues from 2019. Subscription will auto renew annually.
US$ 79
Tax calculation will be finalised during checkout.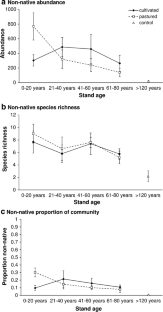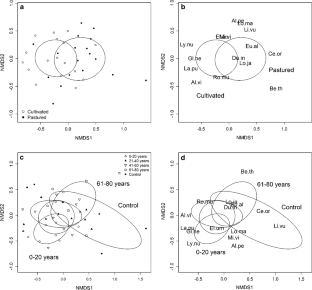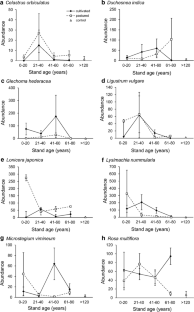 References
Anderson MJ (2001) A new method for non-parametric multivariate analysis of variance. Aust Ecol 26:32–46. https://doi.org/10.1111/j.1442-9993.2001.01070.pp.x

Banasiak SE, Meiners SJ (2009) Long term dynamics of Rosa multiflora in a successional system. Biol Invasions 11:215–224. https://doi.org/10.1007/s10530-008-9226-1

Bellemare J, Motzkin G, Foster DR (2002) Legacies of the agricultural past in the forested present, an assessment of historical land-use effects on rich mesic forests. J Biogeogr 29:1401–1420. https://doi.org/10.1046/j.1365-2699.2002.00762.x

Bertin RI, Parise CM (2014) Patterns and changes in the non-native flora of Worcester County, Massachusetts. NE Nat 172:37–60. https://doi.org/10.1674/0003-0031-172.1.37

Bonilla NO, Pringle EG (2015) Contagious seed dispersal and the spread of avian-dispersed exotic plants. Biol Invasions 12:3409–3418. https://doi.org/10.1007/s10530-015-0966-4

Bormann FH, Likens GE (1979) Catastrophic disturbance and the steady state in northern hardwood forests: a new look at the role of disturbance in the development of forest ecosystems suggests important implications for land-use policies. Am Sci 67:660–669

Bossuyt B, Hermy M, Deckers J (2001) Migration of herbaceous plant species across ancient–recent forest ecotones in central Belgium. J Ecol 87:629–638. https://doi.org/10.1046/j.1365-2745.1999.00379.x

Braun EL (1950) Deciduous forests of North America. The Blankiston Company, Philadelphia

Brockman S (1998) Physiographic regions of Ohio. Division of Geological Survey, Columbus

Brown JR, Archer S (1999) Shrub invasion of grassland: recruitment is continuous and not regulated by herbaceous biomass or density. Ecology 80:2385–2396. https://doi.org/10.1890/0012-9658(1999)080%5b2385:SIOGRI%5d2.0.CO;2

Brunet J, Valtinat K, Mayr M, Felton A, Lindbladh M, Bruun H (2011) Understory succession in post-agricultural oak forests: habitat fragmentation affects forest specialists and generalists differently. For Ecol Manag 262:1863–1871. https://doi.org/10.1016/j.foreco.2011.08.007

Canham CD (1990) Suppression and release during canopy recruitment in Fagus grandifolia. Bull Torrey Bot Club 117:1–7. https://doi.org/10.2307/2996410

Chancellor RJ (1985) Changes in the weed flora of an arable field cultivated for 20 years. J Appl Ecol. https://doi.org/10.2307/2403180

Christen DC, Matlack GR (2009) The habitat and conduit functions of roads in the spread of three invasive plant species. Biol Invasions 11:453–465. https://doi.org/10.1007/s10530-008-9262-x

Cole PG, Weltzin JF (2004) Environmental correlates of the distribution and abundance of Microstegium vimineum, in east Tennessee. SE Nat 3:545–562. https://doi.org/10.1656/1528-7092(2004)003%5b0545:ECOTDA%5d2.0.CO;2

Cole PG, Weltzin JF (2005) Light limitation creates patchy distribution of an invasive grass in eastern deciduous forests. Biol Invasions 7:477–488. https://doi.org/10.1007/s10530-004-5171-9

Compton JE, Boone RD, Motzkin G, Foster DR (1998) Soil carbon and nitrogen in a pine-oak sand plain in central Massachusetts, role of vegetation and land-use history. Oecologia 116:536–542. https://doi.org/10.1007/s004420050619

Daehler CD (2003) Performance comparisons of co-occurring native and alien invasive plants: implications for conservation and restoration. Annu Rev Ecol Syst 34:183–211. https://doi.org/10.1146/annurev.ecolsys.34.011802.132403

DeGasperis BG, Motzkin G (2007) Windows of opportunity: historical and ecological controls on Berberis thunbergii invasions. Ecology 88:3115–3125. https://doi.org/10.1890/06-2014.1

Dlugos DM, Collins H, Bartelme EM, Drenovsky RE (2015) The non-native plant Rosa multiflora expresses shade avoidance traits under low light availability. Am J Bot 102:1323–1331. https://doi.org/10.3732/ajb.1500115

Dupouey J, Dambrine LE, Laffite JD, Moares C (2002) Irreversible impact of past land use on forest soils and biodiversity. Ecology 83:2978–2984. https://doi.org/10.1890/0012-9658(2002)083%5b2978:IIOPLU%5d2.0.CO;2

Falkengren-Gerup U, ten Brink DJ, Brunet J (2006) Land use effects on soil N, P, C and pH persist over 40–80 years of forest growth on agricultural soils. For Ecol Manag 225:74–81. https://doi.org/10.1016/j.foreco.2005.12.027

Fenneman NM, Johnson DJ (1946) Physiographic divisions of the conterminous United States. U.S. Geological Survey, Reston

Flinn KM (2007) Microsite-limited recruitment controls fern colonization of post-agricultural forests. Ecology 88:3103–3114. https://doi.org/10.1890/06-2124.1

Flinn KM, Marks PL (2004) Land-use history and forest herb diversity in Tompkins County, New York, USA. In: Honnay O, Verheyen K, Bossuyt B, Hermy M (eds) Forest biodiversity: lessons from history for conservation. CAB International, Wallingford

Flinn KM, Marks PL (2007) Agricultural legacies in forest environments, tree communities, soil properties, and light availability. Ecol Appl 17:452–463. https://doi.org/10.1890/05-1963

Flory SL, Clay K (2005) Invasive shrub distribution varies with distance to roads and stand age in eastern deciduous forests in Indiana, USA. Plant Ecol 184:131–141. https://doi.org/10.1007/s11258-005-9057-4

Fraterrigo JM, Turner MG, Pearson SM (2006) Interactions between past land use, life-history traits and understory spatial heterogeneity. Landsc Ecol 21:777–790. https://doi.org/10.1007/s10980-005-5955-z

Gibson DJ, Spyreas G, Benedict J (2002) Life history of Microstegium vimineum (Poaceae), an invasive grass in southern Illinois. J Torrey Bot Soc 129:207–219. https://doi.org/10.2307/3088771

Gilbert B, Lechowicz MJ (2005) Invasibility and abiotic gradients: the positive correlation between native and exotic plant diversity. Ecology 86:1848–1855. https://doi.org/10.1890/04-09997

Goebel PC, Hix DM, Semko-Duncan M (2005) Composition and structure of two old-growth forest ecosystem types of Southeastern Ohio. Ohio J Sci 105:8–16

Gosper CR, Stansbury CD, Vivian-Smith G (2005) Seed dispersal of fleshy-fruited invasive plants by birds: contributing factors and management options. Divers Distrib 11:549–558. https://doi.org/10.1111/j.1366-9516.2005.00195.x

Halls LK (1977) Southern fruit producing woody plants used by wildlife. In: General technical reports SO-16. US Dept of Agriculture, Forest Service, Southern Forest Experiment Station, New Orleans

Hermy M, Stieperaere H (1981) An indirect gradient analysis of the ecological relationships between ancient and recent riverine woodlands to the south of Bruges (Flanders, Belgium). Vegetation 44:43–49. https://doi.org/10.1007/BF00119802

Hermy M, Verheyen K (2007) Legacies of the past in the present-day forest biodiversity: a review of past land-use effects on forest plant species composition and diversity. In: Nakashizuka T (ed) Sustainability and diversity of forest ecosystems. Springer, Tokyo, pp 361–371

Holmes MA, Matlack GR (2017a) Forest micro-environment develops through time: changes in physical and structural heterogeneity follow abandonment from two forms of agriculture. For Ecol Manag 404:55–64. https://doi.org/10.1016/j.foreco.2017.08.034

Holmes MA, Matlack GR (2017b) Agricultural history drives structure and tree-species composition of second growth forest over 100 years in southeastern Ohio, USA. J Veg Sci 28:736–746. https://doi.org/10.1111/jvs.12516

Holmes MA, Matlack GR (2018) Assembling the forest herb community after abandonment from agriculture: long-term successional dynamics differ with land-use history. J Ecol 106:2121–2131. https://doi.org/10.1111/1365-2745.12970

Hothorn T, Hornik K (2015) ExactRankTests, exact distributions for rank and permutation tests. R package version 0.8-28. http://CRAN.R-project.org/package=exactRankTests. Accessed 4 Apr 2017

Knops JM, Tilman D, Haddad NM, Naeem S, Mitchell CE, Haarstad J, Ritchie ME, Howe KM, Reich PB, Siemann E, Groth J (1999) Effects of plant species richness on invasion dynamics, disease outbreaks, insect abundances and diversity. Ecol Lett 2:286–293. https://doi.org/10.1046/j.1461-0248.1999.00083.x

Koerner W, Dupouey J, Dambrine E, Benoit M (1997) Influence of past land-use on the vegetation and soils of present day forest in the Vosges Mountains, France. J Ecol 85:351–358. https://doi.org/10.2307/2960507

Leatherman AD (1955) Ecological life-history of Lonicera japonica Thunb. Dissertation, University of Tennessee

Leicht-Young SA, Silander JA Jr, Latimer AM (2005) Comparative performance of invasive and native Celastrus species across environmental gradients. Oecologia 154:273–282. https://doi.org/10.1007/s00442-007-0839-3

Livingston RB, Allessio M (1968) Buried viable seed in successional field and forest stands, harvard forest, Massachusetts. Bull Torrey Bot Club 95:58–69. https://doi.org/10.2307/2483807

Lucht TE, Anderson KM, Brown DL, Martin NN (1985) Soil survey of Athens County Ohio. Soil Conservation Service, US Department of Agriculture, Washington, DC

Lundgren MR, Small CJ, Dreyer GD (2004) Influence of land use and site characteristics on invasive plant abundance in the Quinebaug Highlands of southern New England. NE Nat 11:313–332. https://doi.org/10.1656/1092-6194(2004)011%5b0313:IOLUAS%5d2.0.CO;2

MacDougal AS, Turkington R (2005) Are invasive species the drivers or passengers of change in degraded ecosystems? Ecology 86:42–55. https://doi.org/10.1890/04-0669

Martin PH, Canham CD, Marks PL (2009) Why forests appear resistant to exotic plant invasions: intentional introductions, stand dynamics, and the role of shade tolerance. Front Ecol Environ 7:142–149. https://doi.org/10.1890/070096

Matlack GR, Schaub JR (2008) Long-term persistence and spatial assortment of non-native plant species in second-growth forests. Ecography 34:649–658. https://doi.org/10.1111/j.1600-0587.2010.06654.x

Mattingly WB, Orrock JL (2013) Historic land use influences contemporary establishment of invasive plant species. Oecologia 172:1147–1157. https://doi.org/10.1007/s00442-012-2568-5

McDonnell MJ, Stiles EW (1983) The structural complexity of old field vegetation and the recruitment of bird-dispersed plant species. Oecologia 56:109–116. https://doi.org/10.1007/BF00378225

Meiners SJ (2007) Native and exotic plant species exhibit similar population dynamics during succession. Ecology 88:1098–1104. https://doi.org/10.1890/06-1505

Meiners SJ, Cadenasso ML, Pickett STA (2004) Beyond biodiversity: individualistic controls of invasion in a self-assembled community. Ecol Lett 7:121–126. https://doi.org/10.1111/j.1461-0248.2003.00563.x

Merriam RW (2003) The abundance, distribution and edge associations of six non-indigenous, harmful plants across North Carolina. J Torrey Bot Soc 130:283–291. https://doi.org/10.2307/3557546

Meyerson LA, Mooney HA (2007) Invasive alien species in an era of globalization. Front Ecol Environ 5:199–208. https://doi.org/10.1890/1540-9295(2007)5%5b199:IASIAE%5d2.0.CO;2

Monsted J (2018) Forest regeneration and land use history in southeast Ohio. Masters Thesis in the Department of Environmental and Plant Biology, Athens

Mosher ES, Silander JA Jr, Latimer AM (2009) The role of land-use history in major invasions by woody plant species in the northeastern North American landscape. Biol Invasions 11:2317. https://doi.org/10.1007/s10530-008-9418-8

Oades JM (1993) The role of biology in the formation, stabilization and degradation of soil structure. Geoderma 56:377–400. https://doi.org/10.1016/B978-0-444-81490-6.50033-9

Oksanen J, Blanchet FG, Kindt R, Legendre P, Minchin PR, O'Hara RB, Simpson GL, Solymos P, Henry M, Stevens H, Wagner H (2013) Vegan, community ecology package. R package version 2.0-9. http://CRAN.R-project.org/package=vegan. Accessed 4 Apr 2017

Oliver CD, Larson BC (1996) Forest stand dynamics. Wiley, New York

Olivero AM, Hix DM (1998) Influence of aspect and stand age on ground flora of southeastern Ohio forest ecosystems. Plant Ecol 139:177. https://doi.org/10.1023/A:1009758501201

Pascarella JB, Mitchell Aide T, Serrano MI, Zimmerman JK (2000) Land-use history and forest regeneration in the Cayey Mountains, Puerto Rico. Ecosystems 3:217–228. https://doi.org/10.1007/s100210000021

Pickett ST (1989) Space-for-time substitution as an alternative to long term studies. In: Likens GE (ed) Long-term studies in ecology. Springer, New York, pp 110–135

Pulliam HR (1988) Sources, sinks, and population regulation. Am Nat 132:652–661. https://doi.org/10.1086/284880

R Core Team (2013) R, a language and environment for statistical computing. R Foundation for Statistical Computing, Vienna. http://www.R-project.org/. Accessed 4 Apr 2017

Redwood ME, Matlack GR, Huebner CD (2018) Seed longevity and dormancy state suggest management strategies for garlic mustard (Alliaria petiolata) and Japanese stiltgrass (Microstegium vimineum) in deciduous forest sites. Weed Sci 66:190–198. https://doi.org/10.1017/wsc.2017.74

Rejmánek M (1989) Invasibility of plant communities. In: Drake JA et al (eds) Biological invasions, a global perspective. Wiley, New York, pp 369–388

Robertson DJ, Robertson MC, Tague T (1994) Colonization dynamics of four exotic plants in a Northern Piedmont natural area. Bull Torrey Bot Club 121:107–118. https://doi.org/10.2307/2997162

Ross LC, Lambdon PW, Hulme PE (2008) Disentangling the roles of climate, propagule pressure and land use on the current and potential elevational distribution of the invasive weed Oxalis pes-caprae L. on Crete. Perspect Plant Ecol Evol Syst 10:251–258. https://doi.org/10.1016/j.ppees.2008.06.001

Silander JA, Klepeis DM (1999) The invasion ecology of Japanese barberry (Berberis thunbergii) in the New England landscape. Biol Invasions 1:189–201. https://doi.org/10.1023/A:1010024202294

Slade AJ, Hutchings MJ (1987) The effects of light intensity on foraging in the clonal herb Glechoma Hederacea. J Ecol 75:639–650. https://doi.org/10.2307/2260196

United States Geological Survey (2016) Earth explorer. http://earthexplorer.usgs.gov/. Accessed 31 Sept 2014

Vellend M (2010) Conceptual synthesis in community ecology. Q Rev Biol 85:183–206. https://doi.org/10.1086/652373

Von Holle B, Motzkin G (2007) Historical land use and environmental determinants of non-native plant distribution in coastal southern New England. Biol Conserv 136:33–43. https://doi.org/10.1016/j.biocon.2006.10.044

Williams M (1989) Americans and their forests, A historical geography. Press Syndicate of the University of Cambridge, Cambridge

Yates ED, Levia DF Jr, Williams CL (2004) Recruitment of three non-native invasive plants into a fragmented forest in southern Illinois. For Ecol Manag 190:119–130. https://doi.org/10.1016/j.foreco.2003.11.008
Acknowledgements
The authors acknowledge the Philadelphia Botanical Club and the Ohio Center for Ecology and Evolutionary Studies for funding, and the Ohio Department of Natural Resources for site access.
Additional information
Publisher's Note
Springer Nature remains neutral with regard to jurisdictional claims in published maps and institutional affiliations.
About this article
Cite this article
Holmes, M.A., Matlack, G.R. Non-native plant species show a legacy of agricultural history in second-growth forests of southeastern Ohio. Biol Invasions 21, 3063–3076 (2019). https://doi.org/10.1007/s10530-019-02029-2
Received:

Accepted:

Published:

Issue Date:
Keywords
Non-native species

Chronosequence

Dispersal

Invasion

Land-use history

Life history