Abstract
Habitat patch composition and configuration mediate the fitness and distribution of many species. However, we know little about how this landscape complementation may influence the distribution of an invasive species' ecological impacts and, in turn, how this affects ecosystem resilience to disturbance. We surveyed > 820 km of coastline to evaluate how landscape complementation mediates patterns in invasive feral hog (Sus scrofa) rooting, trampling and wallowing disturbances in southeastern US salt marshes and assessed marsh resilience to these behaviors in an 8-site survey and 13-month field experiment. We discovered that hog rooting and trampling most often occur where hardwood forest comprises > 30% and salt marsh < 22% of habitat surrounding each surveyed site, respectively, while wallowing correlated most strongly with salt marsh invertebrate densities. At the 8 survey sites, vegetation cover, soil organic carbon, and surface elevation were consistently lower, and soil anoxia and porewater ammonium-nitrogen higher, in hog-disturbed relative to undisturbed areas. The experiment revealed that vegetation can recover when rooted or trampled, but remains depressed when wallowed or repeatedly disturbed. Together, these findings provide novel evidence that habitat patch composition at landscape scales can act together with local habitat attributes to dictate invasive species' disturbance patterns and highlight areas most vulnerable to invaders. In salt marshes, insights gleaned from such consideration of landscape complementation can inform conservation and management strategies for curbing the impact of this prolific, global invader.
Access options
Buy single article
Instant access to the full article PDF.
US$ 39.95
Tax calculation will be finalised during checkout.
Subscribe to journal
Immediate online access to all issues from 2019. Subscription will auto renew annually.
US$ 79
Tax calculation will be finalised during checkout.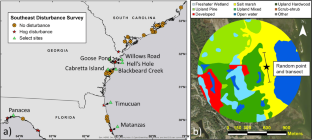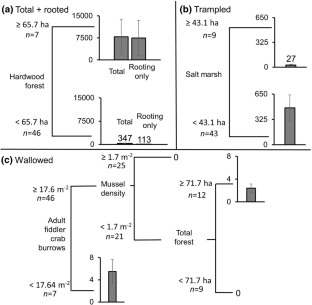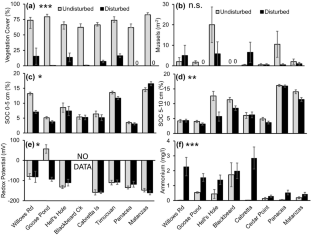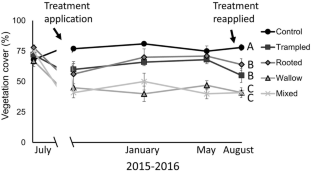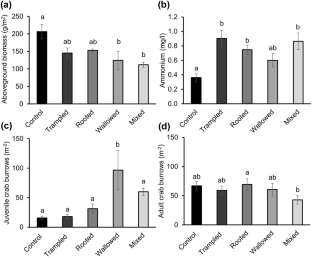 References
Angelini C, van Montfrans SG, Hensel MJS et al (2018) The importance of an underestimated grazer under climate change: how crab density, consumer competition, and physical stress affect salt marsh resilience. Oecologia 187:205–217. https://doi.org/10.1007/s00442-018-4112-8

Atwood EL (2007) Life history studies of nutria, or coypu, in coastal Louisiana. J Wildl Manage 14:249. https://doi.org/10.2307/3796144

Barbier EB, Hacker SD, Kennedy C et al (2011) The value of estuarine and coastal ecosystem services. Ecol Monogr 81:169–193. https://doi.org/10.1890/10-1510.1

Barrios-Garcia MN, Ballari SA (2012) Impact of wild boar (Sus scrofa) in its introduced and native range: a review. Biol Invasions 14:2283–2300. https://doi.org/10.1007/s10530-012-0229-6

Bates D, Martin M, Bolker B, Walker S (2015) Fitting linear-effects models using lme4. J Stat Softw 67:1–48

Bertness M (1985) Fiddler crab regulation of Spartina alterniflora production on a New England salt marsh. Ecology 66:1042–1055

Bertness MD, Miller T (1984) The distribution and dynamics of Uca pugnax (Smith) burrows in a New England salt marsh. J Exp Mar Bio Ecol 83:211–237. https://doi.org/10.1016/S0022-0981(84)80002-7

Bracke MBM (2011) Review of wallowing in pigs: description of the behaviour and its motivational basis. Appl Anim Behav Sci 132:1–13. https://doi.org/10.1016/j.applanim.2011.01.002

Campbell Grant EH, Lowe WH, Fagan WF (2007) Living in the branches: population dynamics and ecological processes in dendritic networks. Ecol Lett 10:165–175. https://doi.org/10.1111/j.1461-0248.2006.01007.x

Chmura GL, Anisfeld SC, Cahoon DR, Lynch JC (2003) Global carbon sequestration in tidal, saline wetland soils. Global Biogeochem Cycles 1:1. https://doi.org/10.1029/2002gb001917

Choquenot D, Ruscoe WA (2003) Landscape complementation and food limitation of large herbivores: habitat-related constraints on the foraging efficiency of wild pigs. J Anim Ecol 72:14–26. https://doi.org/10.1046/j.1365-2656.2003.00676.x

Costello DM, Tiegs SD, Lamberti GA (2011) Do non-native earthworms in Southeast Alaska use streams as invasional corridors in watersheds harvested for timber? Biol Invasions 13:177–187. https://doi.org/10.1007/s10530-010-9800-1

Craft CB, Seneca ED, Broome SW (1991) Loss on ignition and kjeldahl digestion for estimating organic carbon and total nitrogen in estuarine marsh soils: calibration with dry combustion. Estuaries 14:175–179. https://doi.org/10.1007/BF02689350

Day JW, Kemp GP, Reed DJ et al (2011) Vegetation death and rapid loss of surface elevation in two contrasting Mississippi delta salt marshes: the role of sedimentation, autocompaction and sea-level rise. Ecol Eng 37:229–240. https://doi.org/10.1016/j.ecoleng.2010.11.021

Dunning JB, Danielson BJ, Pulliam HR (1992) Ecological processes that affect populations in complex landscapes. Oikos 65:169. https://doi.org/10.2307/3544901

Fagan WF (2002) Connectivity, fragmentation, and extinction risk in dendritic metapopulations. Ecology 83:3243–3249. https://doi.org/10.1890/0012-9658(2002)083%5b3243:CFAERI%5d2.0.CO;2

Ford MA, Grace JB (1998) Effects of vertebrate herbivores on soil processes, plant biomass, litter accumulation and soil elevation changes in a coastal marsh. J Ecol 86:974–982. https://doi.org/10.1046/j.1365-2745.1998.00314.x

González-Bernal E, Greenlees M, Brown GP, Shine R (2012) Cane toads on cowpats: commercial livestock production facilitates toad invasion in tropical Australia. PLoS ONE 7:e49351. https://doi.org/10.1371/journal.pone.0049351

Graves HB (2016) Behavior and Ecology of Wild and Feral Swine (Sus Scrofa). J Anim Sci 58:482–492. https://doi.org/10.2527/jas1984.582482x

Gurevitch J, Fox GA, Wardle GM et al (2011) Emergent insights from the synthesis of conceptual frameworks for biological invasions. Ecol Lett 14:407–418. https://doi.org/10.1111/j.1461-0248.2011.01594.x

Hobbs RJ (2001) Synergisms among habitat fragmentation, livestock grazing, and biotic invasions in Southwestern Australia. Conserv Biol 15:1522–1528. https://doi.org/10.1046/j.1523-1739.2001.01092.x

Holling CS (1973) Resilience and stability of ecological systems. Annu Rev Ecol Syst 4:1–23. https://doi.org/10.1146/annurev.es.04.110173.000245

Hothorn T, Bretz F, Westfall P (2008) Simultaneous inference in general parametric models. Biom J 50:346–363

Kaller MD, Kelso WE (2006) Swine activity alters invertebrate and microbial communities in a coastal plain watershed. Am Midl Nat 156:163–177. https://doi.org/10.1674/0003-0031(2006)156%5b163:saaiam%5d2.0.co;2

Keuling O, Stier N, Roth M (2008) Annual and seasonal space use of different age classes of female wild boar Sus scrofa L. Eur J Wildl Res 54:403–412. https://doi.org/10.1007/s10344-007-0157-4

Milbau A, Stout JC, Graae BJ, Nijs I (2009) A hierarchical framework for integrating invasibility experiments incorporating different factors and spatial scales. Biol Invasions 11:941–950. https://doi.org/10.1007/s10530-008-9306-2

Persico E, Sharp S, Angelini C (2017) Feral hog disturbance alters carbon dynamics in southeastern US salt marshes. Mar Ecol Prog Ser 580:57–68. https://doi.org/10.3354/meps12282

Polis GA, Anderson WB, Holt RD (1997) Toward an integration of landscape and food web ecology: the dynamics of spatially subsidized food webs. Annu Rev Ecol Syst 28:289–316. https://doi.org/10.1146/annurev.ecolsys.28.1.289

Pope SE, Fahrig L, Merriam HG (2009) Landscape complementation and metapopulation effects on leopard frog populations. Ecology 81:2498–2508. https://doi.org/10.1890/0012-9658(2000)081%5b2498:LCAMEO%5d2.0.CO;2

Porter KM, DePerno CS, Krings A et al (2014) Vegetative impact of feral horses, feral pigs, and white-tailed deer on the Currituck National Wildlife Refuge, North Carolina. Castanea 79:8–17. https://doi.org/10.2179/13-037

R Core Team (2014) R: A language and environment for statistical computing

Rodríguez-Estévez V, Sánchez-Rodríguez M, Gómez-Castro AG, Edwards SA (2010) Group sizes and resting locations of free range pigs when grazing in a natural environment. Appl Anim Behav Sci 127:28–36. https://doi.org/10.1016/J.APPLANIM.2010.08.010

Roe JH, Georges A (2007) Heterogeneous wetland complexes, buffer zones, and travel corridors: landscape management for freshwater reptiles. Biol Conserv 135:67–76. https://doi.org/10.1016/j.biocon.2006.09.019

Schrama M, Heijning P, Bakker JP et al (2013) Herbivore trampling as an alternative pathway for explaining differences in nitrogen mineralization in moist grasslands. Oecologia 172:231–243. https://doi.org/10.1007/s00442-012-2484-8

Sharp SJ, Angelini C (2016) Whether disturbances alter salt marsh soil structure dramatically affects Spartina alterniflora recolonization rate. Ecosphere 7:e01540. https://doi.org/10.1002/ecs2.1540

Silliman BR, Zieman JC (2001) Top-down control of Spartina alterniflora production by periwinkle grazing in a Virginia salt marsh. Ecology 82:2830–2845. https://doi.org/10.1890/0012-9658(2001)082%5b2830:TDCOSA%5d2.0.CO;2

Silliman BR, van de Koppel J, Bertness MD et al (2005) Drought, snails, and large-scale die-off of southern U.S. salt marshes. Science 310:1803–1806. https://doi.org/10.1126/science.1118229

Singer FJ, Swank WT, Clebsch EEC (1984) Effects of wild pig rooting in a deciduous forest. J Wildl Manage 48:464–473. https://doi.org/10.2307/3801179

Soh MC, Sodhi NS, Seoh RK, Brook BW (2002) Nest site selection of the house crow (Corvus splendens), an urban invasive bird species in Singapore and implications for its management. Landsc Urban Plan 59:217–226. https://doi.org/10.1016/S0169-2046(02)00047-6

Therneau T, Atkinson B (2017) rpart: Recursive partioning and regression trees. R package version 4.1-13. http://CRAN.R-project.org/package=rpart

Wiegand T, Moloney KA, Naves J, Knauer F (1999) Finding the missing link between landscape structure and population dynamics: a spatially explicit perspective. Am Nat 154:605–627. https://doi.org/10.1086/303272

Wood GW, Brenneman RE (1980) Feral hog movements and habitat use in coastal South Carolina. J. Wildl. Manage 44:420–427

Zervanos SM, McCort WD, Graves HB (1983) Salt and water balance of feral versus domestic Hampshire hogs. Physiol Zool 56:67–77. https://doi.org/10.1086/physzool.56.1.30159967
Acknowledgements
We thank E. Persico, E. Johnson, A. Bersoza, S. Crotty, K. Prince, and T. Sanville for many hours of field work. We also thank the Georgia Department of Natural Resources, University of Georgia Marine Institute, Georgia Coastal Ecosystems Long-Term Ecological Research site, and the Guana Tolomato Matanzas National Estuarine Research Reserve for logistical support. This work was supported through awards from Society of Wetland Scientists, Timucuan Trail Parks Foundation, HT Odum Fellowship and the NSF EAGER 1546638 award.
Additional information
Publisher's Note
Springer Nature remains neutral with regard to jurisdictional claims in published maps and institutional affiliations.
Electronic supplementary material
Below is the link to the electronic supplementary material.
About this article
Cite this article
Sharp, S.J., Angelini, C. The role of landscape composition and disturbance type in mediating salt marsh resilience to feral hog invasion. Biol Invasions 21, 2857–2869 (2019). https://doi.org/10.1007/s10530-019-02018-5
Received:

Accepted:

Published:

Issue Date:
Keywords
Carbon sequestration

Invasive species

Landscape complementation

Spartina alterniflora
Sus scrofa