Abstract
The faucet snail (Bithynia tentaculata) was introduced to the Great Lakes region in the late 1800s. Faucet snails alter native community dynamics and are an intermediate host for multiple trematode parasites that can be lethal to waterfowl when the snails are consumed. Although faucet snails have been established in the Great Lakes for over a century, their populations appear to have remained small for most of this period and their known distribution was limited to the lower Great Lakes, though basin-wide surveys were lacking until recently, so snails may have gone undetected. We compiled data from a five-year coastal wetland monitoring program spanning all of the Great Lakes, providing a basin-wide inventory of faucet snail populations and confirming the snail's presence in every Great Lake. Further, we identified potential drivers of faucet snail occurrence and abundance (individuals per sampling replicate) across the basin and within individual lakes to identify factors that could lead to elevated risk of range expansion. Across the basin and within individual lakes, faucet snail occurrence was related to human recreational transport (proximity to a boat launch) and eutrophication (anthropogenic land-use, elevated nutrient concentrations). In addition, at sites where faucet snails occurred, they were most abundant at wetlands with surrounding forest cover, suggesting that the species can thrive in a range of environmental conditions. Our results suggest that limiting passive transport of faucet snails is vital to minimizing their spread to remote wetlands where the snails may thrive once established.
Access options
Buy single article
Instant access to the full article PDF.
US$ 39.95
Tax calculation will be finalised during checkout.
Subscribe to journal
Immediate online access to all issues from 2019. Subscription will auto renew annually.
US$ 79
Tax calculation will be finalised during checkout.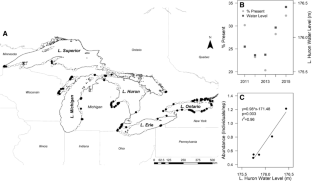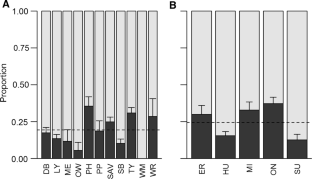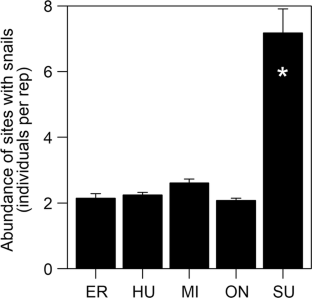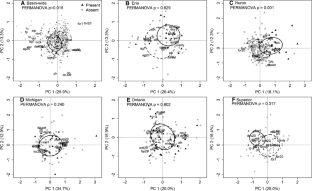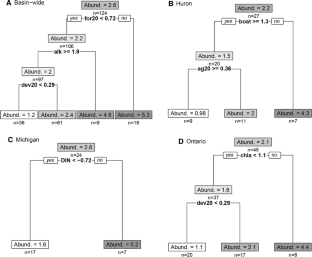 References
Aho K, Derryberry D, Peterson T (2014) Model selection for ecologists: the worldviews of AIC and BIC. Ecology 95:631–636

Albert DA, Simonson L (2004) Coastal wetland inventory of the Great Lakes region (GIS coverage of U.S. Great Lakes: www.glc.org/wetlands/inventory.html), Great Lakes Consortium, Great Lakes Commission, Ann Arbor, MI

Anderson P, Davie RD (2004) Use of transparency tubes for rapid assessment of total suspended solids and turbidity in streams. Lake Reserv Manag 20:110–120. https://doi.org/10.1080/07438140409354355

APHA (2005) Standard methods for the examination of water and wastewater, 25th edn. American Public Health Association, Washington DC

Baker FC (1928) The American bithynia not wholly an introduced species. Trans Illinois State Acad Sci 20:56–62

Barton K (2016) MuMIn: multi-model inference. R package version 1.40.0. https://CRAN.R-project.org/package=MuMIn

Blakeslee AMH, McKenzie CH, Darling JA et al (2010) A hitchhiker's guide to the maritimes: anthropogenic transport facilitates long-distance dispersal of an invasive marine crab to Newfoundland. Divers Distrib 16:879–891. https://doi.org/10.1111/j.1472-4642.2010.00703.x

Buchan LAJ, Padilla DK (1999) Estimating the probability of long-distance overland dispersal of invading aquatic species. Ecol Appl 9:254–265

Burnham KP, Anderson D (2002) Model selection and multi-model inference: a practical information-theoretic approach. Springer, New York

Byers JE (2002) Impact of non-indigenous species on natives enhanced by anthropogenic alteration of selection regimes. Oikos 97(3):449–458

Cardinale BJ, Burton TM, Brady VJ (1997) The community dynamics of epiphytic midge larvae across the pelagic–littoral interface: Do animals respond to changes in the abiotic environment? Can J Fish Aquat Sci 54:2314–2322

Colautti RI, Niimi AJC, van Overdijk DA, Mills EL, Holeck K, MacIsaac HJ (2003) Spatial and temporal analysis of transoceanic shipping vectors to the Great Lakes. In: Ruiz GM, Carlton JT (eds) Invasive species. Vectors and management strategies. Island, Washington DC, pp 227–246

Colautti RI, Grigorovich IA, MacIsaac HJ (2006) Propagule pressure: a null model for biological invasions. Biol Invasions 8:1023–1037. https://doi.org/10.1007/s10530-005-3735-y

Cooper MJ, Lamberti GA, Uzarski DG (2014) Spatial and temporal trends in invertebrate communities of Great Lakes coastal wetlands, with emphasis on Saginaw Bay of Lake Huron. J Great Lakes Res 40:168–182

Crooks JA, Chang AL, Ruiz GM (2010) Aquatic pollution increases the relative success of invasive species. Biol Invasions 13:165–176. https://doi.org/10.1007/s10530-010-9799-3

Fox J, Weisberg S (2011) An R companion to applied regression, 2nd edn. Sage, Thousand Oaks

Fry JA, Xian G, Jin S, Dewitz JA, Homer CG, Yang L, Barnes CA, Herold ND, Wickham JD (2011) Completion of the 2006 national land cover database for the conterminous United States. Photogramm Eng Remote Sensing 77:858–864

Gathman JP, Burton TM (2011) A Great Lakes coastal wetland invertebrate community gradient: relative influence of flooding regime and vegetation zonation. Wetlands 31:329–341

Hastings A, Cuddington K, Davies KF, Dugaw CJ, Elmendorf S, Freestone A, Harrison S, Holland M, Lambrinos J, Malvadkar U, Melbourne BA, Moore K, Taylor C, Thomson D (2005) The spatial spread of invasions: new developments in theory and evidence. Ecol Lett 8:91–101. https://doi.org/10.1111/j.1461-0248.2004.00687.x

Havel JE, Bruckerhoff LA, Funkhouser MA, Gemberling AR (2014) Resistance to desiccation in aquatic invasive snails and implications for their overland dispersal. Hydrobiologia 741:89–100. https://doi.org/10.1007/s10750-014-1839-z

Hoeve J, Scott ME (1988) Ecological studies on Cyathocotyle bushiensis (Digenea) and Sphaeridiotrema globulus (Digenea), possible pathogens of dabbling ducks in southern Québec. J Wildl Dis 24:407–421

Huffman JE, Roscoe DE (1986) Acquired resistance in mallard ducks (Anas platyrhynchos) to infection with Sphaeridiotrema globulus (Trematoda). J Parasitol 72:958–959

Ingram J, Holmes K, Grabas G, Watton P, Potter B, Gomer T, Stow N (2004) Development of a coastal wetlands database for the Great Lakes Canadian shoreline. Technical report to Great Lakes Commission: WETLANDS2-EPA-03

Jokinen E (1992) The freshwater snails (Mollusca: Gastropoda) of New York State. The university of the State of New York, The State Education Department, The New York State Museum, Albany, p 12230

King RS, Brazner JC (1999) Coastal wetland insect communities along a trophic gradient in Green Bay, Lake Michigan. Wetlands 19:426–437

Kolar CS, Lodge DM (2001) Progress in invasion biology: predicting invaders. Trends Ecol Evol 16:199–204. https://doi.org/10.1016/S0169-5347(01)02101-2

Kovalenko KE, Brady JV et al (2014) Congruence of community thresholds in response to anthropogenic stress in Great Lakes coastal wetlands. Freshw Sci 33:958–971

Lodge DM, Williams S, Macisaac HJ et al (2006) Biological Invasions: recommendations for U.S. policy and management. Ecol Appl 16:2035–2054

Merritt RW, Benbow ME, Hudson PL (2002) Wetland macroinvertebrates of Prentiss Bay, Lake Huron, Michigan: diversity and functional group composition. Gt Lakes Entomol 35:149–160

Merritt RW, Cummins KW, Berg MB (2008) An introduction to the aquatic insects of North America, 4th edn. Kendall/Hunt Publishing Co., Dubuque

Mills EL, Leach JH, Carlton JT, Secor CL (1993) Exotic species in the Great Lakes: a history of biotic crises and anthropogenic introductions. J Great Lakes Res 19:1–54. https://doi.org/10.1016/S0380-1330(93)71197-1

Mitchell AJ, Cole RA (2008) Survival of the faucet snail after chemical disinfection, pH extremes, and heated water bath treatments. North Am J Fish Manag 28:1597–1600. https://doi.org/10.1577/M07-211.1

Molnar JL, Gamboa RL, Revenga C, Spalding MD (2008) Assessing the global threat of invasive species to marine biodiversity. Front Ecol Environ 6:485–492. https://doi.org/10.1890/070064

Morrice JA, Trebitz AS, Kelly JR, Sierszen ME, Cotter AM, Hollenhorst T (2011) Determining sources of water to Great Lakes coastal wetlands: a classification approach. Wetlands 31(6):1199–1213

Nalepa TF, Fanslow DL, Lansing MB et al (2002) Abundance, biomass, and species composition of benthic macroinvertebrate populations in Saginaw Bay, Lake Huron, 1987–1996. Ann Arbor, MI

Oksanen J, Blanchet FG, Kindt R et al (2016) vegan: community ecology package. R package version 2.4-4. https://CRAN.R-project.org/package=vegan

Parker I, Simberloff D, Lonsdale W (1999) Impact: toward a framework for understanding the ecological effects of invaders. Biol Invasions 1:3–19. https://doi.org/10.1023/A:1010034312781

R Core Team (2016) R: a language and environment for statistical computing

Ricciardi A (2006) Patterns of invasion in the Laurentian Great Lakes in relation to changes in vector activity. Divers Distrib 12:425–433

Ricciardi A, Whoriskey FG, Rasmussen JB (1997) The role of the zebra mussel (Dreissena polymorpha) in structuring macroinvertebrate communities on hard substrata. Can J Fish Aquat Sci 54:2596–2608

Richardson MF, Sherman CDH, Lee RS et al (2016) Multiple dispersal vectors drive range expansion in an invasive marine species. Mol Ecol 25:5001–5014. https://doi.org/10.1111/mec.13817

Roy CL, St-Louis V, House J (2016) Seasonal distribution of the invasive snail, Bithynia tentaculata, within infested waterbodies in Minnesota, USA, including waterfowl migration. Biol Invasions 18:2923–2941. https://doi.org/10.1007/s10530-016-1183-5

Sakai AK, Allendorf FW, Holt JS et al (2001) The population biology of invasive species. Annu Rev Ecol Syst 32(1):305–332

Sauer JS, Cole RA, Nissen JM (2007) Finding the exotic faucet snail (Bithynia tentaculata): investigation of waterbird die-offs on the upper Mississippi River National Wildlife and Fish Refuge. Reston, VA

Schneider P, Sager PE (2007) Structure and ordination of epiphytic invertebrate communities of four coastal wetlands in Green Bay, Lake Michigan. J Gt Lakes Res 33:342–357

Schock NT, Murry BA, Uzarski DG (2014) Impacts of agricultural drainage outlets on Great Lakes coastal wetlands. Wetlands 34:297–307

Simberloff D (2009) The role of propagule pressure in biological invasions. Annu Rev Ecol Evol Syst 40:81–102. https://doi.org/10.1146/annurev.ecolsys.110308.120304

Therneau T, Atkinson B, Ripley B (2015) rpart: recursive partitioning and regression trees. R package version 4.1-11. https://CRAN.R-project.org/package=rpart

Thorp JH, Covich AP (2010) Ecology and classification of North American freshwater invertebrates, 4th edn. Academic Press, San Diego

Trebitz A, Shepard G, Brady V, Schmude K (2015) The non-native faucet snail (Bithynia tentaculata) makes the leap to Lake Superior. J Great Lakes Res 41:1197–1200. https://doi.org/10.1016/j.jglr.2015.09.013

Uzarski DG (2009) Wetlands of Large Lakes. Encyclopedia of inland waters. (Likens GE, editor). Elsevier, Oxford, pp. 599–606

Uzarski DG, Burton TM, Genet JA (2004) Validation and performance of an invertebrate index of biotic integrity for Lakes Huron and Michigan fringing wetlands during a period of lake level decline. Aquat Ecosyst Health Manag 7:269–288. https://doi.org/10.1080/14634980490461498

Uzarski DG, Brady VJ, Cooper MJ et al (2017) Standardized measures of coastal wetland condition: implementation at a Laurentian Great Lakes basin-wide scale. Wetlands. https://doi.org/10.1007/s13157-016-0835-7

Vadeboncoeur Y, Lodge DM, Carpenter SR (2001) Whole-lake fertilization effects on distribution of primary production between benthic and pelagic habitats. Ecology 82:1065–1077

Vander Zanden MJ, Olden JD (2008) A management framework for preventing the secondary spread of aquatic invasive species. Can J Fish Aquat Sci 65:1512–1522. https://doi.org/10.1139/F08-099

Von Holle B, Motzkin G (2007) Historical land use and environmental determinants of nonnative plant distribution in coastal southern New England. Biol Conserv 136:33–43. https://doi.org/10.1016/j.biocon.2006.10.044

Wood AM, Haro CR, Haro RJ, Sandland GJ (2011) Effects of desiccation on two life stages of an invasive snail and its native cohabitant. Hydrobiologia 675:167–174. https://doi.org/10.1007/s10750-011-0814-1
Acknowledgements
Funding for the wetland monitoring program was provided by the Great Lakes National Program Office under the United States Environmental Protection Agency, Grant Number GL-00E00612-0. Although the research described in this work has been partly funded by the United States Environmental Protection Agency, it has not been subjected to the agency's peer and policy review and therefore does not necessarily reflect the views of the agency and no official endorsement should be inferred. This paper is Contribution Number 126 of the Central Michigan University Institute for Great Lakes Research. We thank Alexandria Bozimowski, Bridget Wheelock, Laura Moore, Kylie McElrath, Dr. Valerie Brady, Gary Neuderfer, Greg Grabas, Dr. Joeseph Gathman, Dr. Lucinda Johnson, Dr. Gary Lamberti, Michael Brueseke, Jessica Kosiara, Dr. Doug Wilcox, and Dr. Ely Koznicki for providing field, laboratory, and editorial assistance.
Additional information
Publisher's Note
Springer Nature remains neutral with regard to jurisdictional claims in published maps and institutional affiliations.
Electronic supplementary material
Below is the link to the electronic supplementary material.
About this article
Cite this article
Schock, N.T., Reisinger, A.J., Reisinger, L.S. et al. Relationships between the distribution and abundance of the invasive faucet snail (Bithynia tentaculata) and environmental factors in Laurentian Great Lakes coastal wetlands. Biol Invasions 21, 2613–2628 (2019). https://doi.org/10.1007/s10530-019-02000-1
Received:

Accepted:

Published:

Issue Date:
Keywords
Bithynia tentaculata

Faucet snail

Coastal wetland

Great Lakes

Great Lakes Coastal Wetland Monitoring Program