Abstract
To control invasive species and prioritize limited resources, managers need information about population size to evaluate the current state of the problem, the trend in population growth through time, and to understand the potential magnitude of the problem in the absence of management actions. This information is critical for informing management actions and allocating resources. We used two national-scale data sets to estimate historical, current, and future potential population size of invasive wild pigs (Sus scrofa; hereafter wild pigs) in the United States. Between 1982 to present, the Southeastern Cooperative Wildlife Disease Study mapped the distribution of wild pigs in the United States. In addition, recent research has predicted potential population density of wild pigs across the United States by evaluating broad-scale landscape characteristics. We intersected these two data sets to estimate the population size of wild pigs in 1982, 1988, 2004, 2010, 2013, and 2016. In addition, we estimated potential population size if wild pigs were present at equilibrium conditions in all available habitat in each state. We demonstrate which states have experienced recent population growth of wild pigs and are predicted to experience the greatest population increase in the future without sufficient management actions and policy implementation. Regions in the western, northern, and northeastern United States contain no or few wild pig populations, but could potentially support large numbers of these animals if their populations become established. This information is useful in identifying regions at greatest risk if wild pigs become established, which can assist in prioritizing management actions aimed at controlling or eliminating this invasive species across broad to local scales.
Access options
Buy single article
Instant access to the full article PDF.
USD 39.95
Price excludes VAT (USA)
Tax calculation will be finalised during checkout.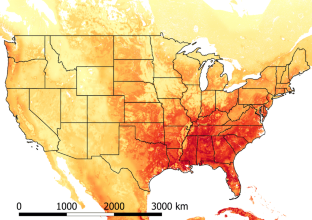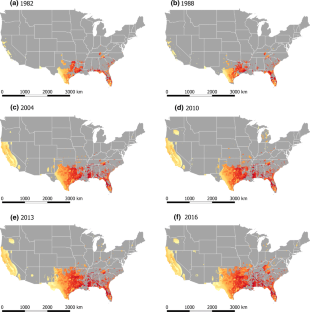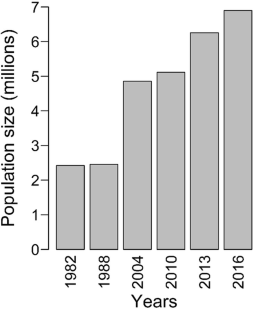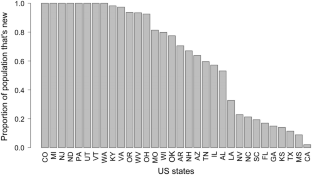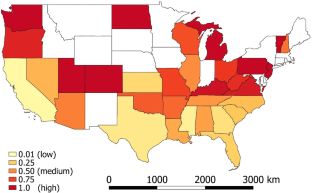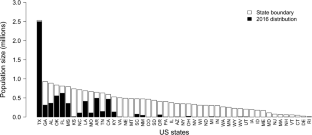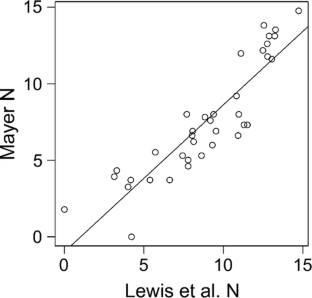 References
Anderson A, Slootmaker C, Harper E et al (2016) Economic estimates of feral swine damage and control in 11 US states. Crop Prot 89:89–94

Barrios-Garcia MN, Ballari SA (2012) Impact of wild boar (Sus scrofa) in its introduced and native range: a review. Biol Invasions 14:2283–2300

Bevins SN, Pedersen K, Lutman MW et al (2014) Consequences associated with the recent range expansion of nonnative feral swine. Bioscience 64:291–299

Brook RK, van Beest FM (2014) Feral wild boar distribution and perceptions of risk on the central Canadian prairies. Wildl Soc Bull 38:486–494

Brown JH, Mehlman DW, Stevens GC (1995) Spatial variation in abundance. Ecology 76:2028–2043

Centner TJ, Shuman RM (2015) Governmental provisions to manage and eradicate feral swine in areas of the United States. Ambio 44:121–130

Corn JL, Jordan TR (2017) Development of the national feral swine map, 1982–2016. Wildl Soc Bull 41:758–763

Davis AJ, Hooten MB, Miller RS et al (2016) Inferring invasive species abundance using removal data from management actions. Ecol Appl 26:2339–2346

Early R, Bradley BA, Dukes JS et al (2016) Global threats from invasive alien species in the twenty-first century and national response capacities. Nat Commun 7:12485. https://doi.org/10.1038/ncomms12485

Frauendorf M, Gethöffer F, Siebert U et al (2016) The influence of environmental and physiological factors on the litter size of wild boar (Sus scrofa) in an agriculture dominated area in Germany. Sci Total Environ 541:877–882

Gipson PS, Hlavachick B, Berger T (1998) Range expansion by wild hogs across the central United States. Wildl Soc Bull 26:279–286

Google Earth Engine Team (2016) Google Earth Engine: a planetary-scale geospatial analysis platform. https://earthengine.google.com/

Hawthorne T, Elmore V, Strong A et al (2015) Mapping non-native invasive species and accessibility in an urban forest: a case study of participatory mapping and citizen science in Atlanta, Georgia. Appl Geogr 56:187–198

Herborg L-M, Mandrak NE, Cudmore BC et al (2007) Comparative distribution and invasion risk of snakehead (Channidae) and Asian carp (Cyprinidae) species in North America. Can J Fish Aquat Sci 64:1723–1735

Hernández FA, Parker BM, Pylant CL et al (2018) Invasion ecology of wild pigs (Sus scrofa) in Florida, USA: the role of humans in the expansion and colonization of an invasive wild ungulate. Biol Invasions. https://doi.org/10.1007/s10530-018-1667-6

Hone J (2012) Applied population and community ecology: the case of feral pigs in Australia. Wiley, Oxford

Hulme PE (2006) Beyond control: wider implications for the management of biological invasions. J Appl Ecol 43:835–847

Jay MT, Cooley M, Carychao D et al (2007) Escherichia coli O157: H7 in feral swine near spinach fields and cattle, central California coast. Emerg Infect Dis 13:1908–1911

Jerde CL, Mahon AR, Chadderton WL et al (2011) "Sight-unseen" detection of rare aquatic species using environmental DNA. Conserv Lett 4:150–157

Keiter DA, Mayer JJ, Beasley JC (2016) What is in a "common" name? A call for consistent terminology for nonnative Sus scrofa. Wildl Soc Bull 40:384–387

Lewis JS, Farnsworth ML, Burdett CL et al (2017) Biotic and abiotic factors predicting the global distribution and population density of an invasive large mammal. Nat Sci Rep 7:44152. https://doi.org/10.1038/srep44152

Long JL (2003) Introduced mammals of the world: their history, distribution and influence. Csiro Publishing, Collingwood VIC

Lowe S, Browne M, Boudjelas S et al (2000) 100 of the world's worst invasive alien species: a selection from the global invasive species database. Invasive Species Specialist Group Species Survival Commission, World Conservation Union (IUCN), Aukland, pp 1–12

Mack RN, Simberloff D, Mark Lonsdale W et al (2000) Biotic invasions: causes, epidemiology, global consequences, and control. Ecol Appl 10:689–710

Massei G, Kindberg J, Licoppe A et al (2015) Wild boar populations up, numbers of hunters down? A review of trends and implications for Europe. Pest Manag Sci 71:492–500

Mayer JJ (2014) Estimation of the number of wild pigs found in the United States. SRNL-STI-2014-00292. Savannah River National Laboratory, Aiken, SC

Mayer JJ, Brisbin Jr IL (2009) Wild pigs: biology, damage, control techniques and management. SRNL-RP-2009-00869. Savannah River National Laboratory, Aiken, SC, USA

McClure ML, Burdett CL, Farnsworth ML et al (2015) Modeling and mapping the probability of occurrence of invasive wild pigs across the contiguous United States. PLoS ONE 10:e0133771

Meng X, Lindsay D, Sriranganathan N (2009) Wild boars as sources for infectious diseases in livestock and humans. Philos Trans R Soc Lond B Biol Sci 364:2697–2707

Miller RS, Sweeney SJ, Slootmaker C et al (2017) Cross-species transmission potential between wild pigs, livestock, poultry, wildlife, and humans: implications for disease risk management in North America. Sci Rep 7:7821

Miller RS, Susan MO, Webb CT (2018) Determinants of invasive species policy: print media and agriculture determine United States invasive wild pig policy. Ecosphere 9(8):e02379

NISC (2016) National invasive species council, management plan: 2016–2018. Washington, DC

Pimentel D (2007) Environmental and economic costs of vertebrate species invasions into the United States. In: Witmer GW, Pitt WC, Fagerstone KA (eds) Managing vertebrate invasive species: proceedings of an international symposium. USDA/APHIS/WS, National Wildlife Research Center, Fort Collins, CO, USA

QGIS Development Team (2016) QGIS 2.14.3 Geographic information system. Open source geospatial foundation project. http://qgis.osgeo.org

Rosatte R, Donovan D, Allan M et al (2009) The control of raccoon rabies in Ontario Canada: proactive and reactive tactics, 1994–2007. J Wildl Dis 45:772–784

R Development Core Team (2017) R: a language and environment for statistical computing. R Foundation for Statistical Computing. Vienna, Austria

Simberloff D (2009) We can eliminate invasions or live with them. Successful management projects. Biol Invasions 11:149–157

Snow NP, Jarzyna MA, VerCauteren KC (2017) Interpreting and predicting the spread of invasive wild pigs. J Appl Ecol 54:2022–2032

Street GM, Rodgers AR, Avgar T et al (2017) Comparing resource selection and demographic models for predicting animal density. J Wildl Manag 81:16–25

Tabak MA, Piaggio AJ, Miller RS et al (2017) Anthropogenic factors predict movement of an invasive species. Ecosphere 8:e01844

Tabak MA, Webb CT, Miller RS (2018) Propagule size and structure, life history, and environmental conditions affect establishment success of an invasive species. Sci Rep 8(1):10313

Timmons JB, Higginbotham B, Lopez R, et al (2012) Feral hog population growth, density and harvest in Texas. Texas A&M AgriLIFE, SP-472. Texas A&M University, College Station, TX

USDA (2015) Feral swine damage management: a national approach. Final environmental impact statement

USDOI (2016) The U.S. Department of the interior, safeguarding America's lands and water from invasive species: a national framework for early detection and rapid response. Washington, DC, p 55

Vetter SG, Ruf T, Bieber C et al (2015) What is a mild winter? Regional differences in within-species responses to climate change. PLoS ONE 10:e0132178

Wilcove DS, Rothstein D, Dubow J et al (1998) Quantifying threats to imperiled species in the United States. Bioscience 48:607–615

Williams BK, Nichols JD, Conroy MJ (2002) Analysis and management of animal populations. Academic Press, San Diego

Yiming L, Wilcove DS (2005) Threats to vertebrate species in China and the United States. Bioscience 55:147–153
Acknowledgements
This study was funded and supported by the Wildlife Services/National Wildlife Research Center and Veterinary Services/Center for Epidemiology and Animal Health programs of the US Department of Agriculture/Animal and Plant Health Inspection Service, the National Feral Swine Damage Management Program, Colorado State University, Conservation Science Partners, and Arizona State University. Funding for preparation of the SCWDS distribution maps and development and maintenance of the NFSMS was through Cooperative Agreements with the U.S. Department of Agriculture, Animal and Plant Health Inspection Service, Veterinary Services. Support for this study was provided by the Department of Energy to the Savannah River National Laboratory under contract DE-AC09-08SR22470. J. Anderson assisted with calculation of prediction intervals. We thank B. Dickson and reviewers for providing thoughtful feedback that improved earlier versions of this paper.
Additional information
Publisher's Note
Springer Nature remains neutral with regard to jurisdictional claims in published maps and institutional affiliations.
For inquiries about how this work informs the National Feral Swine Damage Management Program please contact ryan.s.miller@aphis.usda.gov.
Electronic supplementary material
Below is the link to the electronic supplementary material.
About this article
Cite this article
Lewis, J.S., Corn, J.L., Mayer, J.J. et al. Historical, current, and potential population size estimates of invasive wild pigs (Sus scrofa) in the United States. Biol Invasions 21, 2373–2384 (2019). https://doi.org/10.1007/s10530-019-01983-1
Received:

Accepted:

Published:

Issue Date:

DOI: https://doi.org/10.1007/s10530-019-01983-1
Keywords
Feral swine

Invasive species

Introduced species

Population size

Range expansion